In Stride
Scott Fauble Seeks Redemption at the Marathon Project
After finishing a disappointing 12th place at the 2020 Olympic Trials, he is looking to close out the year with a big win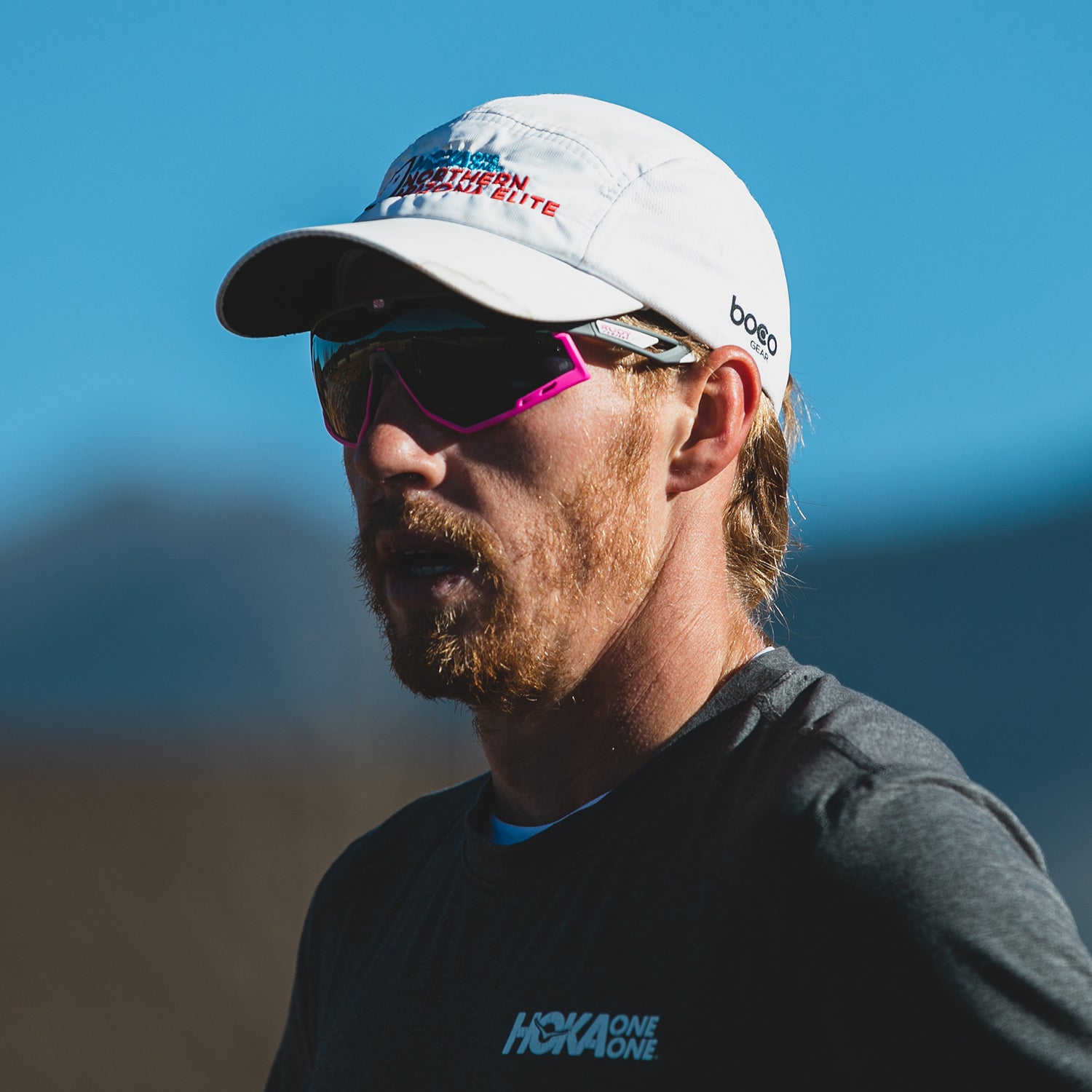 Rabbitwolf Creative(Photo)
Heading out the door? Read this article on the new Outside+ app available now on iOS devices for members! Download the app.
In the most recent edition of the Boston Marathon, which took place a mere 20 months ago, Scott Fauble had the race of his life. The then-27-year-old member of the Northern Arizona Elite team ran 2:09:09 on Patriot's Day 2019, establishing himself as an instant contender to make the U.S. Olympic team at the Olympic Trials the following year.
But it was not to be. At the Trials in Atlanta in late February, Fauble lost contact with the lead pack early on and spent much of the second half of the race engaged in a lonesome battle against the wind. He finished a disappointing 12th. Just a few weeks later, the pandemic sent everyone's racing ambitions into an extended hiatus. 
On December 20, Fauble will take part in an elites-only race near Phoenix, Arizona, called The Marathon Project. It is the first large-scale professional stateside marathon since Atlanta and includes several top-ranked Americans (like Kellyn Taylor, Augustus Maiyo, and, in a late entry, 2016 Olympian Jared Ward) who narrowly missed making the U.S. Olympic team. Although safety protocols mandate that there be no spectators on hand, there will be pacers and the flat, looped course was designed to produce quick times: sub-2:10 for men; sub-2:24 for women. For many, The Marathon Project will offer a last-gasp opportunity to salvage something from an otherwise grim year.
I spoke with Fauble to get his thoughts on the upcoming race, how he rebounded from his Trials disappointment, and the impact of the pandemic on professional marathoning. 
OUTSIDE: What made you want to run this marathon? Is it just the fact that it provided a rare racing opportunity in a year that offered very few, or did you have an additional incentive?
Fauble: I don't understand why I have been asked that so much. In a normal fall, if I chose to run New York, Chicago, Berlin, or CIM, nobody would have asked me why I'm racing. I'm racing because I like racing and because it's my job. And this happens to be kind of the only opportunity to run a marathon at a high level. 
I think it's partially due to that absence of "normal" races. The question of incentive suddenly comes up in a way it didn't before. Does The Marathon Project have prize money for the winner?I don't want to speak out of turn because I'm not the person figuring out the sponsorships and stuff, but my agent, Josh Cox, is one of the people who is heading up The Marathon Project, as well as my coach, Ben Rosario. They both told me that they worked really hard on getting sponsors and funding to be able to put up prize money. I don't think it has been officially announced yet, but I think people are really working on making that happen. 
Right now, the most optimistic scenario is that major marathons will return in the fall of 2021. Obviously, that's a major drag for you, but is there a silver lining or any potential advantages or opportunities to having an open spring season without a Boston Marathon? I'm not sure I would call it an advantage. I would much rather be going to Boston. I love that race. But I think if organized races aren't able to resume until, most optimistically, next summer, and major marathons don't come back until the fall, that does give us a little window where we are able to do unique, little time trial things. If there are no organized races, I don't see why we couldn't do something cool like take another shot at the hour record, set an American record in the 10-mile, or maybe run a 25K—some of these off-distances that you don't usually get to race. Maybe we figure out a really fast, elites-only half-marathon like what we just did a few weeks ago in Michigan. 
How has the pandemic impacted your athletic life, aside from the cancellation of races? One of the more insidious aspects of the coronavirus is the way that it can affect people so differently. Some people get it and have only mild symptoms or none at all, while for others it's fatal. Then there are those who are suffering long-lasting after-effects. As someone who relies on his lung power to make a living, are you especially wary?  
No. I'm trying not to get COVID because, according to some epidemiologists, the number of people you are likely to spread it to is five. If I get COVID, I probably won't die from it or have a horrible reaction, but there's a pretty good chance I would give it to someone who might—and that is why I'm trying to be very responsible and wear a mask all the time, and keep my circle small, and not be indoors with people where I can't verify that they have also been responsible. My personal health is sort of secondary to the societal responsibility that we all have to be good neighbors. 
You didn't get the result you wanted in Atlanta. How do you reset after so much build-up and hype over one race? Is the process of recalibrating the same as it would be for an annual event like Boston, or is it fundamentally different for an event that only happens once every four years?
I would say that the resetting process took longer after the Olympic Trials, but it wasn't necessarily different. I think once something was scheduled that I was really excited for, which was the Michigan half marathon ekiden that we got to do and then this Marathon Project, then I got my head straight again. I think the reason that the decompression and resetting phase lasted so long after the Trials was because there wasn't anything scheduled at first. Two or three weeks after the Trials, the world shut down and there were no more races, period. There was nothing to look forward to. So I was just sad for a while. Which is fine. It's natural and healthy. Because I was really sad after the Trials. I really, really wanted it. I trained hard for it and felt like I prepared as well as I could given the circumstances and I wasn't good enough. Which is something that is OK to be disappointed about. But once there's a new opportunity you have to figure out a way to get motivated again. 
The redemption story is a big sports cliché but, looking ahead to this race you have coming up, is there any sense that you are trying to redeem yourself? Or do you feel more like there's no sense in dwelling on the past?
I think it's probably a combination of those two things. It depends on where I'm at, on a day-to-day level. If I'm not feeling good and I'm tired and it's tough for me to get out the door or tough for me to do my rehab exercises, or whatever it may be, then I do remember how shitty it felt to get beat by eleven people and not make an Olympic team and squander a chance. Then there's a little fire I can light when I think back on that. But, once I'm out the door and engaged in an activity that I think is going to help for The Marathon Project—then that's what I'm focused on. Just trying to be present in the moment and engaged in the task at hand.  
Especially in pro running, there's so much hype around the Olympics. But the Games only happen every four years, which I think makes it difficult to sustain momentum and enthusiasm during non-Olympic years. Do you agree that the Olympics might carry too much weight, or do you like the idea of having this quadrennial mega event?
I think it's awesome that the Olympics are a big deal. But I think what you are asking is a little bit of a false choice in that there's no reason the Olympics can't be a big deal and why we can't also sustain the momentum year-round. In my perfect dreams of what the sport could be, our sport looks more like golf. Where it's like, yes, the Masters are awesome, but so is the U.S. Open and so is the British Open and the PGA and the Ryder Cup. So it's not like it's the Masters and then golf goes away for eleven months. I think it's important to have those huge peaks, even if they only come every four years. I think the issue in the past has been not capitalizing on those events and carrying that wave of momentum forward when we do have a captive audience and people who are really engaged in the sport. Hopefully we can have an opportunity to use the Olympics as a springboard next fall. God willing the Olympics will happen in August and then we could have Boston, London, Berlin, New York, Tokyo, Chicago—all six Marathon Majors will be in the fall. If we can't keep people's attention and get new viewers while having seven huge marathons in a five-month span, then we don't deserve that audience.
Last thing, to come back to where we began. What are your goals for The Marathon Project?  
I'd like to win. Pretty simple. I think the time, like everything else, will fall into place if I can be at the front and compete for the win. 
Lead Photo: Rabbitwolf Creative