So I'm Dating an Ultrarunner
On working through the lifestyle changes—from pizza to chafing—that come with an obsessed significant other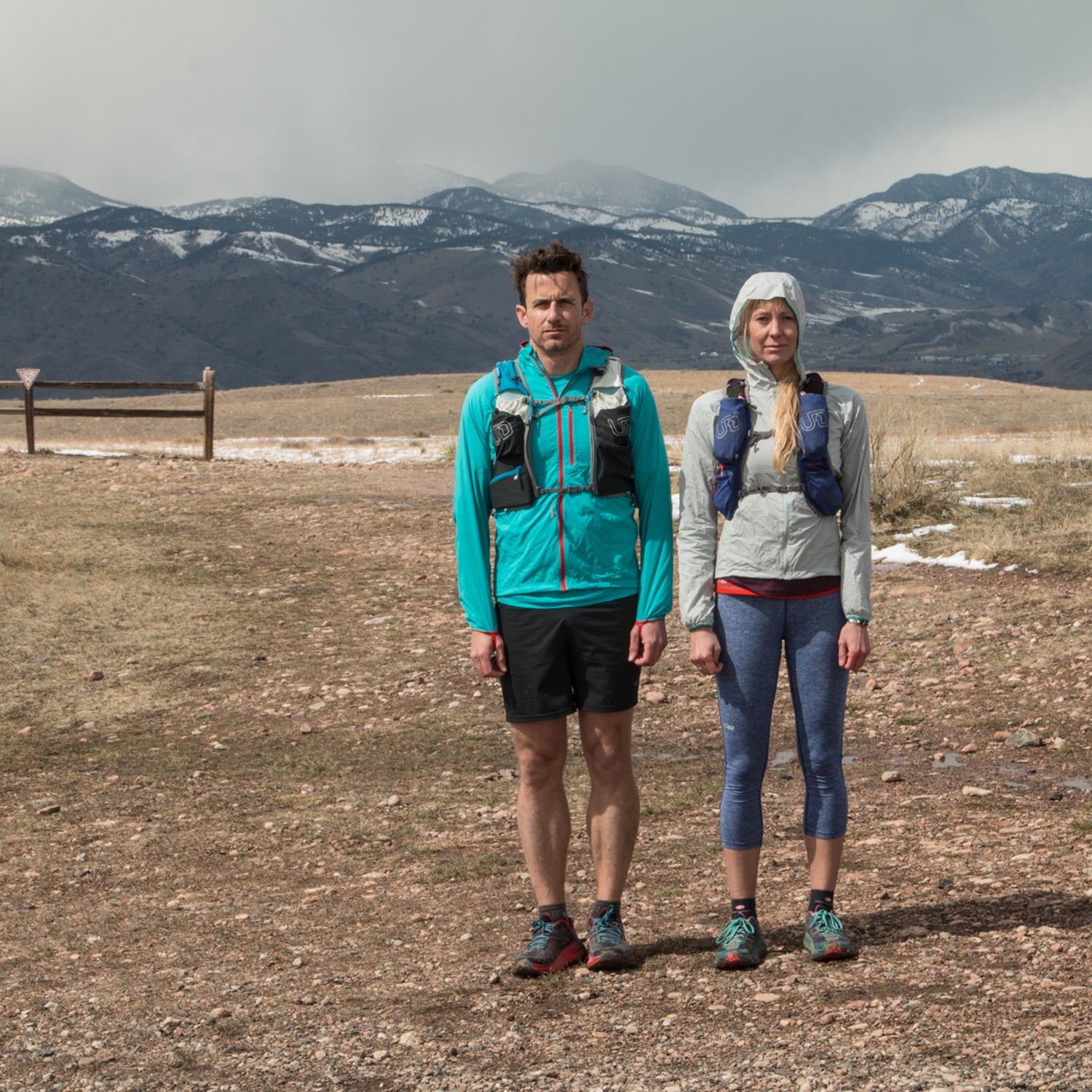 Heading out the door? Read this article on the new Outside+ app available now on iOS devices for members! Download the app.
I never imagined I'd finish my first marathon by plodding laps back and forth across an empty parking lot, with only my boyfriend, Brendan, to see it. No cheering fans. Nobody handing me a banana or a finisher's medal. Then again, when I laced my shoes that morning, I had no intention of running a marathon.
Brendan had been traveling a lot and had recently been bitten by the ultrarunning bug, so I thought I'd join him for his weekend training run and share some quality time. His training schedule said 25 miles that day, so I figured I'd try to keep up for as much as I could. Over the miles, it came out that I'd never run a marathon before. "Well, if you're shooting to run 25 today, why not just do 26.2?" he said, glancing first at his GPS watch and then sidelong to gauge my salt-encrusted expression. "It's just another 15 minutes."
And that—plus a healthy dose of cajoling, a few miles of walking, and several bathroom breaks—is how I found myself dragging my feet across the trailhead parking spots with Brendan, his eyes glued to his watch, waiting for it to register the magic number 26.2. As I finally disintegrated into my car seat after a sopping hug and high-five, I wondered: Is this what dating an ultrarunner looks like?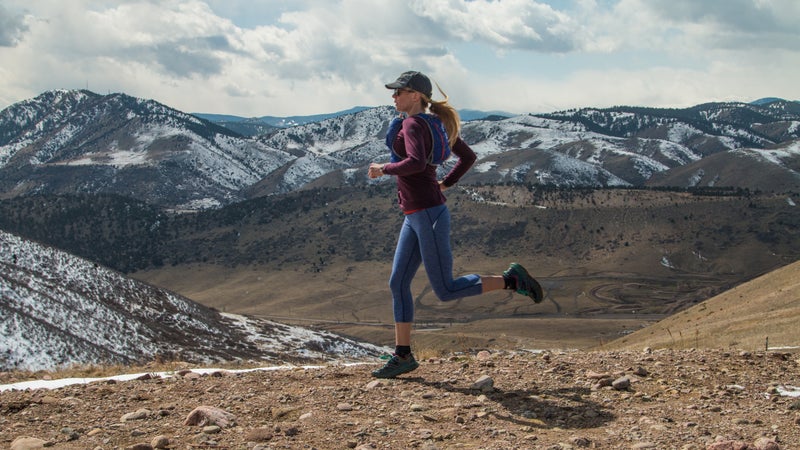 Brendan hasn't always been an ultrarunner. In fact, I'm used to wearing the running shorts in the relationship. I'm one of those messed-up people who thinks I actually enjoy the activity. High school cross-country and track were both sweet solace for me through awkward phases; in college, I found a similar refuge in trail running. In my twenties, I entered half marathons once in a while, but I've almost never run with a watch, and I rarely think about time or specific distances. I relish running as more of a spontaneous, natural expression of joy that happens to be good for me. Brendan? He's different. He's quick to say he doesn't like running—he likes having run. So, when he registered for his first 50K after we'd been together for three years, I was a little surprised but supportive. When he finished his second 50-miler and started looking for 100-mile races, I began to anticipate some major lifestyle adjustments. Like getting schooled at the dinner table.
"Twenty miles is automatic pizza," Brendan declared one evening, holding the door for me at our favorite deep-dish joint in Denver. Problem was, that day I didn't run the 25 miles with him—I only ran five. "You got this," he said as my eating pace slowed, leaving several slices untouched. He and his running partner hadn't stopped mowing into the pizza since it landed in front of them—and they invited me to go out for pie afterward. I always thought I was a good eater, but there was no way I could hang with these guys anymore. An hour later, I dropped my spoon into the berry-pie tin in defeat, tempted to unbutton my jean shorts. At home, it was barely an hour before Brendan was rummaging in the fridge for another snack.
Just as I've grown accustomed to hearing the phrase "I'm hungry" 200 times a day, I've also started to get used to a regular symphony of groans, gasps, and what Brendan calls "old-man noises" when he sits. And when he stands. And when he lies down. And especially when he dunks his feet into his weekly ice bath. I now refrain from panicking when I hear moans coming from behind the bathroom door.
Brendan and I are the kind of couple who generally leave the bathroom door closed, giving each other privacy. But applying Body Glide before a run awkwardly straddles the line between public and private—it just somehow seems more intimate than applying sunscreen. Just envision all those private places that might chafe when you're running five or more hours at a time. Not a very sexy thought. Casually strolling through the open bedroom door to talk about post-run plans, I found Brendan like a deer in headlights staring uncomfortably back at me, Body Glide in one hand, the waistband of his shorts bunched up in the other. His look warned, "You're not going to be able to unsee what I'm about to do; you should probably turn around."
Just as I've grown accustomed to hearing the phrase "I'm hungry" 200 times a day, I've also started to get used to a regular symphony of groans, gasps, and what Brendan calls "old-man noises" when he sits. And when he stands. And when he lies down.
Even my idea of what a run looks like has changed. Brendan and I don't always run together, but when we do, it's rarely a simple out-and-back anymore. Usually not a clean loop or lollipop trail, either. One day, hunched over Strava before we headed out, he turned the laptop around to show me how he managed to squeeze a few hundred more feet of elevation from our neighborhood streets on his last run. The map showed a row of teeth, the route's red line zigzagging up and down each block for almost two miles.
I blame most of this on the new GPS watch that Brendan uses to log his miles and elevation. Counting miles so carefully is new to me, and I'm beginning to learn that a trail run is rarely over just because we're back at the car. Odds are the watch still shows we need another half-mile. Or a third of a mile. Or a tenth of a mile. So I'm learning to swallow my laughter and my pride as we trot back and forth across a parking lot or jog in circles to reach the magic number on the training calendar.
In the end, all those parking-lot circles appear to be paying off. At the finish of the Run Rabbit Run 100 in Steamboat Springs last September, I stood with Brendan's parents and friends as the sun set and the red digital numbers on the race clock morphed from one into the next. It grew close to a half-hour until the cutoff, and we started to worry. But as Brendan and his buddy Jayson shuffled around the corner and across the finish line, I couldn't have been more proud. They might not have been the fastest, but they put in the work and accomplished what they set out to do.
And it wasn't long after Brendan's old-man noises from that race started to subside that we sat across the kitchen table from each other, staring into our laptops, and I quietly clicked "submit" to enter my own first 50K. Twenty miles equals automatic pizza, after all.
Lead Photo: Brendan Leonard