In Stride
So Long, Meb!
Others were faster, but nobody was better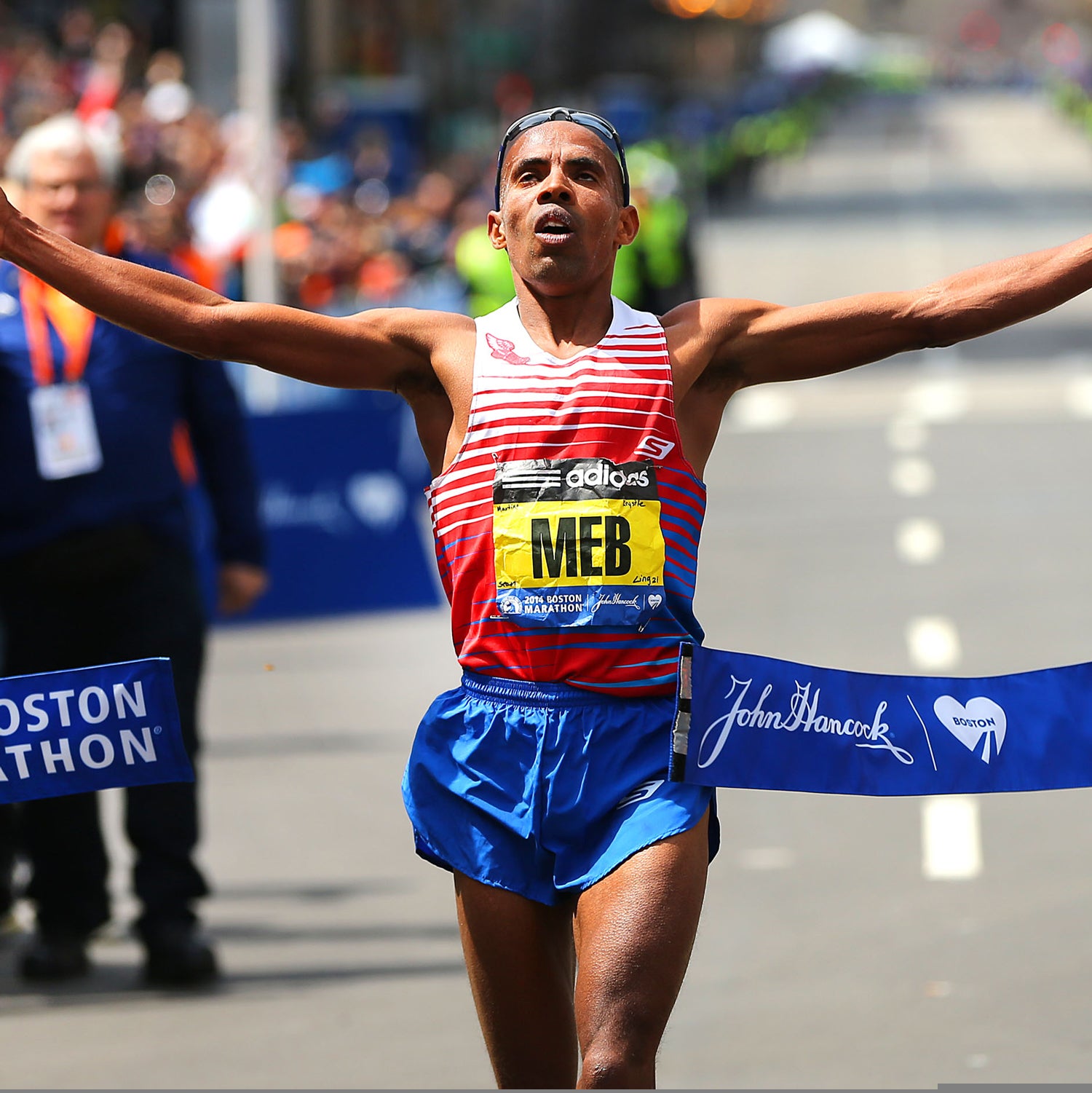 John Tlumacki/The Boston Globe/G(Photo)
Heading out the door? Read this article on the new Outside+ app available now on iOS devices for members! Download the app.
On Sunday, November 5, Mebrahtom "Meb" Keflezighi will conclude his career by running the New York City Marathon for the eleventh time. Even for a man who has built his reputation on staggering feats of perseverance, the fact that Meb is still competing among the world's elite at age 42 feels like a small miracle. No recent American distance runner, save perhaps Bernard Lagat, can match his longevity at the top level. When Meb won his first USATF National Championship, Bill Clinton was still in office.
It wasn't even his first major triumph at the national level. At UCLA, in the mid-1990s, Meb won four NCAA championships, though this was a mere overture for the highlights to come: a U.S. record in the 10,000 meters; four Olympic appearances (including a silver medal in 2004); victories at the New York City (2009) and Boston (2014) marathons; and that most American of accolades, a running shoe that bore his name.
Not that the essence of any great athlete's career is ever adequately distilled by simply reeling off a laundry list of achievements. This is true, in particular, for Meb Keflezighi. Because when he dropped his final challenger upon entering Central Park that morning in 2009—wearing a "USA" singlet that the race organizers had given him in acknowledgement of his Olympic medal—it was enough to make even the most cynical among us a little misty-eyed. The first American man to win the New York City Marathon in 27 years felt like an affirmation of everything this country could be at its best. Meb moved to San Diego with his family in 1987 as a refugee, fleeing the violence of the decades-long Eritrean war for independence. Although he spoke no English, Meb's talent as a runner (discovered, as the story goes, when he ran a 5:20 mile in middle school PE class) led to an athletic scholarship at UCLA. He became a U.S. citizen in 1998 and made his first Olympic team two years later. In a stroke of patriotic serendipity, Meb's New York City Marathon win coincided with the best showing of elite U.S. men in decades: six finishers in the top ten.
"It was a great day for me and a great day for us American guys," Meb told the New York Times after the race.
Us American guys.
This is a line worth pondering for a minute, especially since, after Galen Rupp's impressive triumph at the Chicago Marathon earlier this month, LetsRun.com chose to emphasize the significance of Rupp's being the first "American-born" man to win in Chicago in 35 years. The nativist subtext of this didn't sit well with everybody. At least from where I sit, if taking vicarious pride in an American triumph makes any sense at all, it's because we belong to a society that enables a 12-year-old refugee kid to develop into one of the best runners in the world. Meb never took this for granted, and it's becoming increasingly apparent that neither should we.
Then again, Meb is the kind of guy you would root for regardless of what country he represents. Typically not the fastest runner in the field, he excels at tough, strategic affairs like Boston, New York, and other unpaced "championship-style" marathons like what we see at the Olympics. In other words, Meb's preferred competitive milieu is actual racing—as opposed to pacemaker-aided attempts to run a ridiculous time.
But even on days when things didn't work out so well for him on the racing front, Meb always handled himself with grace and, perhaps more endearingly, a sense of humor. Among the sports clichés we like to impress upon young athletes is something along the lines of "true character" coming out not in victory, but in defeat. It's one of those stories we wish we could believe. Luckily, athletes like Meb make it a little easier to keep the faith. In 2013, he had an awful day at the New York City Marathon but didn't drop out. A top amateur runner who was also having a rough time of it caught up to him late in the race. They agreed to run the last few miles together, finishing hand-in-hand. (The local runner was so moved that he wrote an essay about the experience.) At the 2016 Olympic marathon last summer, an upset stomach undermined Meb's bid for another medal; he puked seven times en route to 33rd place. Inches from the finish, he suddenly slipped on the wet pavement and crashed to the ground—a final "fuck you" from a forgettable day in Rio.
Unfazed, Meb took the opportunity to do a few light pushups before rising to his feet, waving to the crowd, and stepping across the finish line.
Lead Photo: John Tlumacki/The Boston Globe/G