Super Friends
The next step in the smartphone revolution? Social fitness.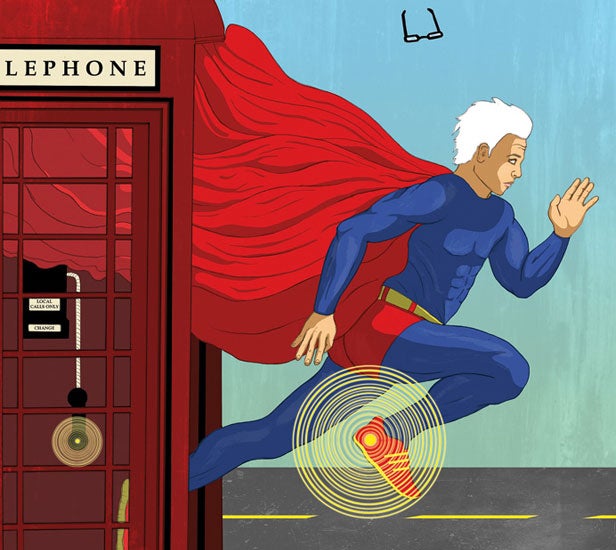 Heading out the door? Read this article on the new Outside+ app available now on iOS devices for members! Download the app.
RECENTLY, I LAUNCHED a well-equipped 3.2-mile assault on my favorite running trail: feet clad in stability shoes, head garlanded with a freshly bleached sweatband, right hand brandishing a new smartphone.
AN APP A DAY ...
Set your smartphone up for fitness

To connect your heart-rate monitor, GPS watch, or cycling meter to your iPhone, pick up an wireless sensor from Digifit (
digifit.com
) or Wahoo Fitness (
wahoofitness.com
). Bummer for Android users: While there are some very good workout-tracking and fitness apps on the market—like MyTracker, CardioTrainer, RunKeeper, and Endomondo—the only fitness gadget that currently connects to these phones is Zephyr's Bluetooth-enabled HxM heart-rate-monitor strap (;
zephyr-technology.com
).
Unless you've been shipwrecked for the past few years, you probably know that smartphones are fast becoming the fitness tool of choice, from pros to schmoes, thanks in part to vast libraries of apps that can do everything from measure power output on a bike to teach you how to pole dance.
The technology isn't perfect—as anyone who's hauled an iPhone, Android phone, or similar device along for a run or ride will attest. The apps can be buggy (one program I tested generously calculated that I'd run 62 miles on my three-mile training loop), and the devices are bulky and vulnerable to weather. The armband holster for my Droid X felt like a blood-pressure cuff, and holding the phone while running was only slightly less awkward than clutching a Tom Clancy paperback. But their ability to collect, collate, and share data is unprecedented—and improving by the week.
Smartphones are now able to communicate with dedicated fitness devices like heart-rate monitors, GPS units, and power-measuring devices. During the 2010 Tour de France, for example, the HTC-Columbia team used specialized versions of HTC's popular Android-based Legend smartphone, mounted under their saddles, to pick up data on every heartbeat and tire revolution during the race, and blasted it all live to Facebook, blogs, and Web sites. By early 2011, consumer versions of these fitness-gadget-compatible Android phones will be widely available to the general public.
Companies like Wahoo Fitness and Digifit offer universal wireless sensors (regrettably called "dongles") that plug into iPhones and sync with your existing fitness technology, like heart-rate-monitor chest straps and cycling power meters, using the industry-standard ANT+ wireless language. Handlebar-mounted setups like the iBike Dash turn your iPhone into a full-featured cyclocomputer, complete with a dashboard of pimped-out graphics displaying speed, distance, and other relevant metrics.
Most significant, however, is the way smartphones now let you instantly share all that information via Google, Facebook, Twitter, and a growing number of social-media sites, including runkeeper.com, movescount.com, and mapmyfitness.com. This development has powerful implications. Nike made that point crystal clear in 2006 with the launch of its Nike+ system, a pedometer embedded in your shoe that syncs with your iPod and uploads data about your run to Nike's community Web site, NikePlus.com. A peak of 3.3 million runners were drawn to the site, and it demonstrated that when runners are given an easy way to track their own progress, and automatic access to a community, they become far more dedicated to their training goals.
You can see where all this is going. Smartphones can now gather more comprehensive information (not just time and distance but also heart rate, power output, route maps, etc.), connect with more-personalized communities, like local clubs, and offer instant feedback from training groups. Need a dose of motivation? You can find it online: "If you share with other people, it makes you accountable," says Jeremy Duerksen, spokesman for Peaksware, a company that specializes in Web-based training software (and powers OutsideOnline.com's fitness plans). "And if you're accountable to someone else, that's the number-one issue that can effect positive change." Since smartphones are tailor-made for connectivity, they've also streamlined the process of uploading data. After a recent mountain-bike ride, when a friend wondered how far we'd ridden, I was able to e-mail her a route map, overlaid on Google Earth, complete with stats. And I bleemed it all from my car.
The current crop of Androids and iPhones are engineered for entertainment, not exercise, but the final leap—when smartphones become full-blown sport phones—is just over the horizon. In some ways, though, those dream devices might be a mixed blessing. After my inaugural 3.2-mile run, my Droid X informed me that it had taken me a deflating 33 minutes: I'd failed to break even a ten-minute mile pace, despite being drenched in sweat. Good thing sharing remains optional.
Trending on Outside Online