New York City Is a Marathon
Is "running everywhere" a feasible replacement for biking, cabs, and the subway? Noah Davis spent a week trying to find out.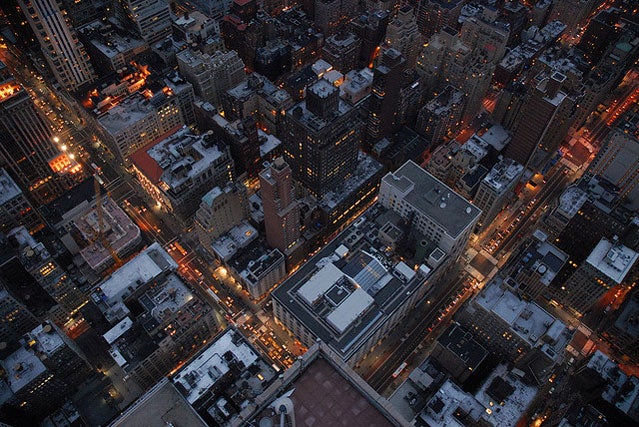 Zemlinki!/Flickr(Photo)
Heading out the door? Read this article on the new Outside+ app available now on iOS devices for members! Download the app.
Signs posted around New York City make a simple request: "If you see something, say something." The subways and the Long Island Rail Road do the same. If you happen upon a suspicious scene or activity, alert the authorities. It's safety through crowdsourcing, NYPD-style.
It's a nice thought, but I'm not sure it works. People are definitely seeing something, but they are not saying anything. They mostly just look at me strangely, mouth occasionally agape. And, I have to admit, it's with good reason. See, it's 9 p.m. on a rainy Tuesday in September. I'm running sub-eight-minute miles, wearing running shorts, an increasingly wet t-shirt, a broken Pele Sports-brand backpack that's cutting into my neck, and carrying two bricks in my arms. (Pro tip: If you ever find yourself needing to sort-of-sprint with bricks in hand, let your arms dangle down rather than curl up your biceps. It kills your form, but it's way easier on your extremities.) I weave in and out of people wandering the streets of Brooklyn Heights. They have fancy umbrellas and fancier outerwear; I look like someone who is probably up to no good.
Why the broken-down, active-mason look? I bought the bricks—$1.63 for the pair, not bad—for a friend who needs them to prop up her air conditioner. Oh, and for the past three days, I've been running everywhere. And by everywhere, I mean everywhere. The bodega down the street. Meetings in midtown Manhattan. Harlem for dinner. (I will explain.) The plan is to go for a week straight. I want to see if I can do it, but I also want to know if running would actually make a viable option for getting around Gotham. Forget the commuters with their subways and the bikers with their fixies and their air of superiority; I want to jog. So, for seven days, I am.
A COUPLE CAVEATS: I work from home, so it's not like I was commuting to an office every morning and evening. One day—Thursday—I didn't even leave my apartment. (I was working the entire time, honest.) But I have to travel to meetings, and I ran at least a mile every other day: nearly 35 total. That's not massive mileage, but it was enough to get a feel for the experiment. I could tell you all the things you'd learn running around New York for a week on your own—Fifth Avenue between 32nd and 38th is remarkably uphill; NYC is the last place in America the recession will hit because the well-dressed tourists in midtown constantly spend, spend, spend (and are oblivious to the location of their overstuffed, dangling shopping bags); a peanut-butter sandwich 45 minutes before a run is a colossal miscalculation—but this story is more about running as a means of transportation.
So, the question: Does running provide a viable substitute for the subway or a bike? Well, yes and no. There are definite advantages, but huge disadvantages, too. Mostly, they involve showing up everywhere dripping with sweat. New York is a hot, sticky place in the summer, but there's a distinct difference between arriving at an office with a look that says, "It was 90 degrees on the subway platform, and I started perspiring a little," and one that screams, "I just ran five miles, and my t-shirt is soaked through. I should've wrung it out. Sorry." It's also just a pain to explain to work acquaintances. And carrying stuff—bricks, extra clothes, keys, wallet, etc.—gets old pretty quickly.
Running does eliminate one of the most annoying x-factors about commuting in this city: timing. Namely, the variable amount of time it takes to get from place to place. The length of a subway journey fluctuates depending on a number of factors—construction, commuters blocking doors, time of day, train traffic—completely out of your control. Running? Less so. Add 30 seconds to your normal pace to account for waiting at traffic lights, multiply by the number of miles, and voila. You can actually plan an exact time of arrival.
For many trips—especially shorter ones—running is actually faster than taking the subway. I found the tipping point to be about five miles. (Of course, if you factor in the time it takes to stop sweating, you probably lose out. But still.) Frequently, it was dramatically faster to run. A friend and I left a bar at the same time Friday night. It was 1.7 miles away from my apartment. I made it home in 12 minutes. It took her 40. That was fun.
(Also nice: Running after two IPAs, which is just enough beer to encourage running fast and help mitigate any pain but not enough to slosh around uncomfortably in your stomach. Oh, and that time I learned you could get pints of ice cream delivered to your apartment. New York is an amazing city.)
On Saturday night, the last evening of my week-long quest, I attended a friend's birthday dinner in Harlem, roughly nine miles from my Brooklyn apartment. (Note to self: Find friends who live closer.) I jogged over the Manhattan Bridge for the third time in seven days, took a right on Bowery and started the roughly 135-block journey northwest during a tornado warning. It was pouring when I ran through the mass of tourists in Times Square. They gave me strange looks, but no one said anything because you're not supposed to talk to crazy people.
After arriving at the restaurant, I changed into jeans in the bathroom, ate a big Italian meal, and drank a couple glasses of wine. I would have run home, but by the time the check came it was close enough to midnight on the seventh day that I figured I'd done my duty. (I may have had something to do with that particular timing, but anyway.) We paid, left the restaurant, ambled to the 1 train, and rode back to Brooklyn. It took forever, but damn, it was easy.
Noah Davis (@noahedavis) is a freelance writer living in Brooklyn.
Lead Photo: Zemlinki!/Flickr
Trending on Outside Online