Seattle
TALL LATTE BEFORE WORK, double espresso in the afternoon, short cappuccino after dinner—it's the only way to tolerate Seattle's gray days. But when the clouds break and the Cascades, the Olympics, and Puget Sound appear, you know where you need to be. Grab a quadruple shot and get going.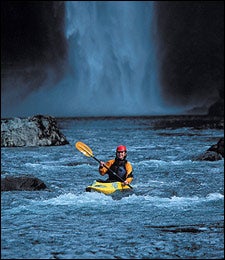 Jock Bradley
Heading out the door? Read this article on the new Outside+ app available now on iOS devices for members! Download the app.
THE HYPERACTIVE WEEKEND
The Adrenaline Rush
GO FOR TANDEM DROP with Kapowsin Skydiving, one hour south of Seattle (5 per person; 800-759-3484,
www.skydivenet.com
). Jump out of the plane at 13,000 feet, nearly even with the summit of Mount Rainier, 20 miles east, and free-fall for 60 seconds.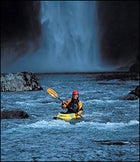 Muscling through the powerhouse run on Washington's Snoqualmie River.
FORGET FIGHTING Friday's post-work traffic—leave at 6 a.m. Saturday instead. Drive 25 miles east on I-90, take exit 25, continue about five miles, and drop your bags at the Salish Lodge and Spa, which overlooks 268-foot Snoqualmie Falls (doubles, $259-$359; 800-826-6124, www.salishlodge.com). From there, follow Washington 202 toward Fall City for three miles and go east on Fish Hatchery Road to reach the put-in for the Snoqualmie River's Class II Powerhouse kayak run, at the base of the falls. Paddle until 11 a.m., backtrack to I-90, head east for about 20 miles, and follow signs to Alpental ski area at exit 52. Hike the Snow Lake Trail for three miles, then follow the Source Lake Overlook Trail to The Tooth, a rock pyramid visible a mile across the valley (Snoqualmie Ranger District; 425-888-1421, www.fs.fed.us/r6/mbs/). Climb the four pitches, rated 5.3 to 5.6, for great views into the central Cascades. Rappel back to the trail by 4 p.m. and drive five miles west on I-90 to the Denny Creek exit, start of the Granite Mountain Fire Lookout Trail (which branches off the Pratt Lake Trail, 1.2 miles in). Speed-hike the four miles and 3,800 feet of elevation gain to watch the sun set behind the Olympics.

The next morning, head east with your mountain bike to exit 38 off I-90 to access the Iron Horse Trailhead. Spin up the old railroad tracks, now compact gravel doubletrack that never ascends more than a 2 percent grade. Bike about 16 miles to Snoqualmie Pass and the 2.3-mile tunnel that goes under it. Once through the tunnel, turn around for a gentle downhill ride back to the car. Next, drive four miles west on I-90 to exit 34 and follow signs to the Dutch Miller Gap Trail, 25 miles ahead. Hike along the Middle Fork of the Snoqualmie River until you find a hole teeming with rainbows. Catch a few for lunch. Return to the car by 4 p.m., drive 17 miles west on I-90, exit on Issaquah's Front Street, and follow it three miles to Seattle Paragliding.com ($125-$145 per person; 206-467-5944). Hanging at 4,000 feet in a harness, you'll see much of the wilderness you kayaked, hiked, climbed, fished, and biked in the last 36 hours.
THE WILDERNESS FORAY
IT'S A 20-MILE round-trip paddle from Anacortes, north of Seattle, to the tip of 15-square-mile Cypress Island, the largest undeveloped isle in the San Juan archipelago. The wildlife is what makes this adventure extra special: Orcas migrate down the west coast, and bald eagles nest in the evergreens and junipers. Contact Island Outfitters ($195 per person for a two-day trip; 866-445-7506, www.seakayakshop.com).

THE NEW, NEW THING
CAREEN DOWN Whistler Mountain, catch air at the jump park, or ride Vancouver's famed North Shore with the pros at just-opened Whistler Bike Camp in British Columbia. End your three-day stay with a little "heli-biking." A chopper pilot will grab you, your three or four friends, and a guide and drop you at a trail outside of Whistler for at least two hours of brake-burning downhill (three-day camp, $330; heli-biking, $80; 866-788-2453, www.whistlerbikecamp.com).

THE RECHARGE SPOT
AT THE 104-YEAR-OLD North Head Lighthouse Keeper's Residence ($252 per night, two-night minimum; 360-642-3078), four hours south of Seattle where the Columbia River meets the Pacific, you'll find three bedrooms, one bath, and blissful solitude. Hike the woods of Fort Canby State Park, then head to the two-mile-long sand beach—the perfect spot to fly a kite—or perch on the rocky headland and take in the view that thrilled Lewis and Clark.
Washington, D.C.
TIRED OF SWEATING OUT the armpits of every shirt you own? Life around the capital can get sticky. Here's your new national policy initiative: Get out of town for a blast of freewheeling enterprise.
The New, New Thing
EVER HEARD OF powered parachuting? After strapping into a 270-pound steel cage that resembles a go-cart, you'll rev up the tiny 52-horsepower engine and bobble down the runway for a 45-minute soar 500 feet above the Chesapeake Bay. Attached to the craft is a 40-foot chute, which gently carries you aloft as you gain speed. Bay Adventures Airsports in White Stone, Virginia, 147 miles from D.C., will furnish all equipment and coaching ($75; 804-435-6660).

Beltway begone: Hiking in Mount Rogers National Recreation Area, Virgina.
THE HYPERACTIVE WEEKEND
POINT YOUR CAR WEST on I-66, then south on I-81 three hours to Marion, Virginia, for a final 20-mile stint south on Virginia 16 to the Fox Hill Inn (doubles, $80-$90, including breakfast; 800-874-3313, www.bbonline.com/va/foxhill). Ask for room six, where, tucked into a four-poster bed, you'll wake to a sunrise view of the Blue Ridge Mountains.

Polish off a plate of pecan-and-blue-berry whole-wheat pancakes, then drive 15 miles on Virginia 16 south and U.S. 58 west to Grayson Highlands State Park and the trailhead for Mount Rogers in Mount Rogers National Recreation Area (entrance fee, $3; 276-783-5196, www.southernregion.fs.fed.us). Summit, descend, then saddle up with guides from Hopes and Dreams Unlimited ($60; 800-899-6554) for a 12-mile, three-hour horseback ride along the 67-mile Virginia Highlands Horse Trail. Later, continue west from Grayson Highlands 25 miles on U.S. 58 to Damascus, where you'll meet up with Tom Horsch of Adventure Damascus, a mountain-biking fiend who will haul you and your bike 21 miles to White Top Station ($10; 888-595-2453, www.adventuredamascus.com). From there it's a 17-mile, 1,600-vertical-foot plunge down an old railroad corridor back to town. Top off the day at the decadent River House Inn and Restaurant (336-982-2109, www.riverhouseinn.com) in Grassy Creek, just over the state line in North Carolina, 41 miles east of Damascus on U.S. 58, before crashing back at the Fox Hill Inn.
On Sunday, rendezvous with fly-fishing guru Bruce Wankel, who runs Trestle & Tailrace Fly Fishing in Abingdon, 30 miles west of the Fox Hill Inn on I-81, for private instruction on a nearby mountain trout stream ($200 per eight-hour day; 276-628-3826; vcflyshop.naxs.com/gservies.htm). In the afternoon, take a leisurely five-mile paddle down the Class I-II New River. The folks at New River Campground Canoeing and Kayaking, five miles south of Independence, Virginia, and 75 miles east of Abingdon, will rent you a boat and shuttle you to the put-in ($28-$38; 276-773-3412, www.canoeingthenew.com). Après-paddle, return to I-81 and drive north 90 miles to Roanoke, then east toward Lynchburg, home of High Peak Hang Gliding ($94; 804-401-3434, www.davismick.com/highpeak). Learn the basics, then soar across the sky and soak up the hazy Blue Ridge Mountain views. Exhale and head for home.

THE CLASSIC
BEACH-BOUND ON U.S. 50/I-301, you'll see signs near the Chesapeake Bay Bridge for the Harris Crab House (410-827-9500, www.harriscrabhouse.com), the preeminent local eatery for gorging on Maryland's state crustacean, the blue crab. Stop in and order at least a dozen.

THE ADRENALINE RUSH
A 10,000-FOOT, 45-second tandem free fall and subsequent six-minute paraglide over Maryland's Assawoman Bay is sure to get the blood flowing. For $200, the Skydiving Center in Ocean City, Maryland, preps you with essential first-jump training, then tosses you out of a plane two miles above the Atlantic (410-213-1319, www.skydiveoc.com).

THE RECHARGE SPOT
THE SPA AT the Hotel Hershey: A two-hour drive from D.C., east of Harrisburg, Pennsylvania, on U.S. 422, this 17,000-square-foot Hershey, Pennsylvania, spa can de-frazzle your body and soul with some downright bizarre cocoa-themed treatments. A la carte pampering: 60-minute chocolate fondue wrap ($114), cocoa latte frothing exfoliation ($66), or chocolate mud hydrotherapy ($66). (Doubles, $289-$319; 877-772-9988, www.spaathotelhershey.com.)
New York City
NEW YORK CITY HAS more than 1,700 designated green spaces, but spread those among 8,008,278 Gothamites and you barely have room to move. Our solutions: the Shawangunks, the Hudson River Gorge, fishing off Montauk Point…
The Classic
JUST 132 MILES FROM NYC, beyond the madding Hamptons, lies the tip of Long Island's South Fork: rocky Montauk Point, where you can surfcast for striped bass, bluefish, and sometimes bonito. Rent gear from Johnny's Tackle Shop on Main Street (631-668-2940). A less-crowded option: fish the North Fork's Orient Point.

Upward mobility: grabbing a hunk of the 'Gunks
THE HYPERACTIVE WEEKEND
AFTER WORK ON FRIDAY, head two hours north on I-87 to New Paltz, New York, gateway to the Shawangunk Mountains. Grab essential gear at Rock and Snow, on Main Street (845-255-1311, www.rocksnow.com), and bed down at the New Paltz Hostel (bunks, $20 per person; doubles, $55-$75; 845-255-6676, www.newpaltzhostel.com), with both private rooms and bunk-style digs.

Bright and early on Saturday, head for nearby 6,400-acre Mohonk Preserve (vehicle pass, $8; 845-255-0919, www.mohonkpreserve.org), the epicenter of 'Gunks climbing. Park at the West Trapps trailhead to access the Trapps, with 700 climbs on a mile-long quartzite stretch of cliffs, a half-mile in (for a guide, contact Mountain Skills, 845-687-9643, www.climbingusa.com). After a morning of trad-climbing anything from 5.0 to 5.13, head back to the car and drive about a half-mile to the Coxing Kill Trail parking lot. Take a dip in the Split Rock swimming hole, then picnic on the banks. After lunch, drive about 70 miles northwest (via I-87, New York 28, and New York 30) to the Plattekill ski area, take the chairlift up, and bomb down on your full-suspension ride (lift ticket, $23; single ride, $8; bike rentals available; 800-633-3275, www.plattekill.com). In the late afternoon, go skydiving over the town of Gardiner, near New Paltz ($185 per person for a tandem jump with Skydive The Ranch; 845-255-4033, www.skydivetheranch.com).

On Sunday, start the day with a 3.5-mile trail run to Awosting Lake in the Minnewaska State Park Preserve, just west of town (entrance fee, $6; 845-255-0752, www.nysparks.state.ny.us). Later that morning, head a few miles north on I-87 and New York 28 to Onteora Lake, near Kingston, where you can click into some steep, rocky Catskills singletrack via a doubletrack trail from the parking lot (info at www.fatsinthecats.com). After lunch, head west on New York 28 to Phoenicia for a whitewater tube ride on the Esopus River (tubes, $12; Town Tinker Tube Rentals; 845-688-5553, www.towntinker.com). Later, drive southwest on U.S. 209 to chill out in the Ellenville Ice Caves in Sam's Point Preserve (The Nature Conservancy; parking fee, $5; 914-244-3271), a short hike from the parking lot. Back in New Paltz, trade tales over a plate of jaeger schnitzel and a Three Pines IPA at the Gilded Otter Brewing Company (845-256-1700, www.gildedotter.com) before heading back to the city.

THE ADRENALINE RUSH
RAFT THE 17-mile, Class III-IV Upper Hudson River Gorge, a few hours north of Manhattan. Overnight guided trips run the gorge and sections below it ($195 per person) or take a two-day intensive skills kayak clinic ($200) with Wild Waters Outdoor Center in Warrensburg (800-867-2335, www.wildwaters.net).

THE NEW, NEW THING
THE ADIRONDACKS ARE New York's answer to Moab, sort of. The Speculator Loop, completed in June, is the beginning of what will be a 40-mile network of singletrack, doubletrack, and dirt roads spiraling from the town of Speculator. From the Oak Mountain Ski Area parking lot, ride 15.4 miles past Elm Lake and along the Kunjamuk River. From I-90 take exit 27 to New York 30 north to Speculator. Stop in at the Speculator chamber of commerce (518-548-4521; www.adrkmts.com) for a free map.

THE RECHARGE SPOT
SHELBURNE FARMS, a Vanderbilt-Webb estate built in 1886 on Lake Champlain in Shelburne, Vermont (doubles, $95-$365; 802-985-8498, www.shelburnefarms.org), is now a nonprofit that promotes conservation and sustainable forestry. The 1,400-acre farm is crisscrossed with patches of pristine woods, gardens, and fields, and the restaurant of the 24-room inn features farm-raised all-organic dairy products, garden greens, and free-range meats.
Boston
A MAZE OF one-way streets and the interminable Big Dig, a 14-year tunnel project, have turned Boston into the hectic city you love. But sometimes you gotta have elbow room; here's where to find it, from Vermont's hills to Martha's Vineyard's cliffs.
The Wilderness Foray
SPEND THREE DAYS and two nights sea kayaking through the protected coves of Muscongus Bay, about three and a half hours north of Boston, camping out on spruce-covered islands inhabited by puffins, ospreys, and seals. Contact Maine Sport Outfitters ($395 per person; 207-236-8797,
www.mainesport.com
).

Pedaling off that cheddar in Vermont.
THE HYPERACTIVE WEEKEND
BLOW OUT OF TOWN on Friday afternoon heading north to Quechee, Vermont (I-93 to I-89 to U.S. 4 west), a tranquil pocket of gentlemen's farms and general stores two hours and 20 minutes from Boston. Check into the white clapboard Quechee Inn at Marshland Farm (doubles, $90-$240, including breakfast; 802-295-3133, www.quecheeinn.com). Grab your fishing gear (or rent it from Wilderness Trails, $6-$30; 802-295-7620; in the red barn in back of the inn) and cross the street to the edge of Dewey's Mills Pond for a little pre-dinner bass fishing.

After a 7 a.m. breakfast, hop on your road bike and turn right on Main Street to kick off a somewhat hilly 25-mile, three-hour loop through the rolling farmlands of Woodstock, South Pomfret, and North Pomfret. Post-pedal, pick up Vermont cheddar and munchies at the Taftsville Country Store on U.S. 4 (800-854-0013), then head for the Kedron Valley Stables in South Woodstock, about 12 miles away, for a one-hour trail ride ($35 per person; 802-457-1480, www.kedron.com). If you're game for a four-mile paddle on the Connecticut River, drive about 25 miles to the North Star Canoe Livery in Cornish, New Hampshire (canoe rental, $15 per person; 603-542-5802, www.kayak-canoe.com); the put-in is just north of the 450-foot Cornish-Windsor covered bridge, the nation's longest. After you take out, drive five miles north to Plainfield and the Home Hill Inn, a trs French provincial mansion across the road from the river (doubles, $175-$325; 603-675-6165, www.homehillinn.com).
On Sunday morning, drive south about 20 miles on New Hampshire 12A to the Morningside Flight Park in Charlestown for a 20-minute tandem hang-gliding aero-tow flight ($125 per person; 603-542-4416, www.flymorningside.com). Back on earth, cross the Connecticut River to Vermont and head for 3,144-foot Mount Ascutney, which you can climb via the Windsor Trail (5.5 miles, round-trip). After descending, cross back into New Hampshire and follow New Hampshire 11 to Lake Sunapee, about 50 minutes away. Rent a kayak in George's Mills at Sargents Marina ($25 per half-day; 603-763-5036, www.bbmarina.com/sargents.htm) to paddle around Sunapee Harbor before heading back to Boston.

THE ADRENALINE RUSH
THIRTY-THREE TIMES A YEAR, from May through October, scheduled dam releases turn the Monroe Bridge Dryway on the Deerfield River in western Massachusetts (a little less than three hours from Boston) into ripping, technical Class IV whitewater—and the most exciting rafting in New England. If you don't want to go it alone, join Zoar Outdoor ($93-$97 per person, including lunch; 800-532-7483, www.zoaroutdoor.com).

THE NEW, NEW THING
CHECK OUT THE LATEST all-terrain toy at Sunday River Ski Resort in Bethel, Maine—the Diggler Mountain Scooter, which carves like a snowboard and tracks like a bike. Hit the jumps, ramps, and rolls of the lift-served (and newly expanded) South Ridge mountain park ($35 per day, including rental, lift, and trail access; 207-824-3000).

THE RECHARGE SPOT
THE OUTERMOST INN (doubles, $210-$340, including breakfast; 508-645-3511, www.outermostinn.com) sits alone on 20 Martha's Vineyard acres atop the red-clay Gay Head Cliffs. Owners Jeanne and Hugh Taylor (yes, brother of James) have kept the place free of the cute-bombs that have gone off in other island inns. Walls are painted white, wood floors are exposed, and curtainless picture windows frame sensational water views in three directions. And there's a quiet beach below the cliffs, a ten-minute walk away.
Los Angeles
IN THIS PARKLAND-POOR metropolis, it's easy to forget that escape is only a freeway away. The green Santa Monica Mountains to the northwest roll into khaki beaches. Eastward lie the San Bernardino Mountains, and to the west is the blue Pacific. So don't let the city limits limit you.
The Adrenaline Rush
IMAGINE AN HOURLONG glide across the Pacific, powered by a 200-pound thresher shark. That's the goal on Coastal Kayak Fishing's one-day thresher-shark clinics in Malibu, open to experienced kayak anglers hoping to reel in the big one ($85; 818-345-5824;
www.kayakfishing.com
). Co-owner Dennis Spike advocates catch-and-release and careful hook removal to protect the feisty, long-tailed carnivores.

SoCal's big, blue backyard: surfing C Street, Ventura
THE HYPERACTIVE WEEKEND
LEAVE THE OFFICE EARLY on Friday and drive up California 1 to Leo Carrillo State Park, 28 miles northwest of Santa Monica. Drop your camping gear (tent sites, $12; 805-488-5223, www.parks.ca.gov) and go directly to the beach. Surf until the sun sets. Rent boards at Zuma Jay's ($20 per day; 310-456-8044) in Malibu.

No time for pancakes—you're on the road by 8 a.m. on Saturday. Drive five miles to Point Mugu State Park (parking, $3; 818-880-0350, www.parks.ca.gov) for a mountain-bike ride on the six-mile Overlook Trail. Two hours later you're back on California 1, continuing north 15 miles to Oxnard. From there, head north on U.S. 101 and east on California 33 to Ojai, and check into the Emerald Iguana Inn (doubles, $105-$165, including breakfast; 805-646-5277, www.emeraldiguana.com), an artsy enclave with eight cottages. Don't get sidetracked by the pepper-tree- shaded Jacuzzi. Dump your bags, unload your bike, and cycle scenic California 150 seven miles to Lake Casitas Recreation Area (805-649-2233). Rent a kayak from Lake Casitas Marina ($12.50 per hour; 805-649-2043) for a leisurely paddle. Cycle back to the Emerald Iguana. Soak in the Jacuzzi.

Sunday, drive north on California 33 about 20 miles to Sespe Gorge in Los Padres National Forest (entry fee, $5; 805-968-6640, www.r5.fs.fed.us/lospadres/). Climb the cracks on the 300-foot granite face until your fingers cramp. Then drive back through Ojai to Ventura, about 35 miles, for a surf at the "C Street" beach (board rentals, $15 at Ventura Surf Shop, 805-643-1062). Take the coast route home, stopping at Point Dume State Beach (310-457-8143) to hike the two-mile Point Dume Bluff Trail. Take your time getting back to the car; the weekend's a goner.

THE NEW, NEW THING
THE APPALACHIAN TRAIL took 70 years to complete. By those standards, the California Coastal Trail is way ahead of schedule. For 20 years, coastal-access advocates have been building a path that parallels California's 1,200-mile coastline, starting at Borderfield State Park south of San Diego and ending at Pelican Bay State Beach, Oregon. Hikers can further the cause by becoming volunteer mappers, using GPS units and cameras to pinpoint gaps in the trail. For information, contact Coastwalk at 800-550-6854 or www.coastwalk.org.

THE CLASSIC
BEST PLACE TO CONVERT anyone who thinks they hate L.A.: Malibu's Charmlee Wilderness Park (parking, $3; 310-457-7247). The fact that this 590-acre reserve sees so little foot and bike traffic is one of L.A.'s greatest mysteries. A narrow 3.1-mile path from the visitor center spits you onto an ocean overlook with views of the Channel Islands.

THE RECHARGE SPOT
BY THE TIME you reach Gold Mountain Manor (doubles, $125-$225, including breakfast; 800-509-2604, www.goldmountainmanor.com), a 1928 log-cabin inn on the north side of pine-rimmed Big Bear Lake, two hours east of Los Angeles, the transformation from cranky commuter to mellow mountain dweller should be complete. Any remaining stress can be treated with the owner's homemade milk bath dissolved in a claw-foot tub. Wrap yourself in a plush robe and doze off next to the in-room fireplace. Wake to a candle-lit breakfast of banana fritters and strawberry crepes. Then hike it off on a portion of the Pacific Crest Trail, which passes through the San Bernardino National Forest in the inn's backyard.
Chicago
MAN-MADE PINNACLES crowd the lakefront skyline, but every so often Second City inhabitants need to see nature's peaks. And if too many late-night dogs at Wiener's Circle have left your body nitrate-saturated, detox with a ramble to the rolling hinterland.
The Adrenaline Rush
DIVE DOWN to 75 feet in temperatures that can fluctuate wildly, from 40 to 70 degrees, to explore the Prins Willem V off Milwaukee. Thanks to Lake Michigan's salt-free water, the 258-foot Dutch freighter is in pristine shape, except for the 20-foot gash that sank it in 1954 ($50 for a one-dive trip, $80 for two dives, with Pirate's Cove Diving, 414-482-1430).

Wicked vista: Devil's Lake State Park, Wisconsin.
THE HYPERACTIVE WEEKEND
ON FRIDAY afternoon your derriere is nestled into leather, cruising 190 miles west on I-90 toward a campsite in Tower Hill State Park, three miles south of Spring Green, Wisconsin (tent sites, $9-$11; vehicle pass, $10 per day; 608-588-2116, www.wiparks.net). Pull up to your oak-shaded pad and snuggle in for the night.

Saturday morning, carbo-load tofu chilaquiles and home fries at the Spring Green Café and General Store, a five-minute drive up Wisconsin 23. Then grab your bike and pedal a half-mile to the Frank Lloyd Wright Visitor Center, starting point for the Frank Lloyd Wright Tour, a 20-mile-loop road ride that winds over velvety green-gold hills on farm roads (for directions, order a copy of the Wisconsin Biking Guide, free; 800-432-8747). Later, drive Wisconsin 23 north to Bob's Riverside Resort (canoe rental, $20; shuttle, $26; 888-844-2206, www.bobsriverside.com) for a 15-mile paddle down the Lower Wisconsin. Pull out in Gotham and take Bob's shuttle back to your car. Pack up and drive south on Wisconsin 23 about 15 miles to Governor Dodge State Park to pitch a tent at Cox Hollow Campground (tent sites, $10-$13; 888-947-2757, www.wiparks.net). Hike until the sun sets along the 8.1-mile Lost Canyon Trail.

Sunday: Hop on your fat-tire beast for a workout at the Governor Dodge knobbydrome. Warm up on 3.3-mile Mill Creek Loop singletrack, then link with 6.8-mile Meadow Valley Trail doubletrack, hammering through grass meadows and up sandstone bluffs. Next, drive north up Wisconsin 23, head east on U.S. 14, and take a right on South Valley Road (35 miles total) to fish for wild browns from Black Earth Creek (guiding and instruction by Madison Outfitters, $175 per half-day; 608-833-1359, www.wisconsindrifters.com). Once you've snagged your third box elder, it's time to go. Replenish caffeine reserves at the Lunch Bucket Café in Black Earth on your way west along U.S. 14, then north on Wisconsin 78. It's just 26 miles to tendon-popping fun on more than 1,500 climbs over red-purple quartzite at Devil's Lake State Park (vehicle pass, $10 per day; 608-356-8301). Hit the East Bluff's west-facing climbs to catch the last rays before hitting the citybound lanes of I-90.
THE NEW, NEW THING
IN NOVEMBER 2001, LaPorte County, Indiana, finished mapping and signing 400-plus miles of backroads cycling routes. It's easy to connect the 20 color-coded loops (from 12 to 33 miles) or hook up with routes in neighboring Berrien County, Michigan. On the 27-mile Heston loop you'll pump past apple and peach orchards and horse farms. Head west to camp at one of 25 walk-in sites at Indiana Dunes National Lakeshore's Dunewood Campground (sites, $10; 219-926-7561, www.nps.gov/indu). For maps, contact the LaPorte County Convention and Visitors Bureau (800-634-2650, www.harborcountry-in.org).

THE CLASSIC
BEST NATURAL PHENOMENON: the sandhill crane migration at Indiana's Jasper-Pulaski Fish and Wildlife Area, about 90 miles southeast of Chicago (219-843-4841, www.in.gov/dnr/fishwild/pubs/cranes.htm). Up to 15,000 cranes stage on the marshy fields; the numbers peak in late October.

THE RECHARGE SPOT
JUST 90 MILES SOFT of the Loop, circled by 32 acres of Illinois corn and soybeans, is The Heartland Spa, a retreat with zero attitude. In the barn, soak in the whirlpool, work out, or balance your chakras with a hot-basalt and cold-marble-stone massage. After a tough day of tai chi, yoga, and meditation classes, claim a sofa for napping in the Quiet Room. Mountain bikes are also available to tool around Gilman's stick-straight farm roads (doubles, $920 per weekend; 800-545-4853, www.heartlandspa.com).
Minneapolis
IN THE WARMER MONTHS, Twin Cities denizens tumble out of their houses like snow melting off a roof. Unless you feel rejuvenated by the tangled web of training wheels, 20-foot dog leashes, and entwined lovers around the Minneapolis lakes, it's time to get away. Hear the wind blow through prairie grass, feel the river sand between your, and let the only sweat you
The New, New Thing
SURF'S UP —at least for the members of the newly formed Lake Superior Surfing Club. Join Bob Tema, the club's co-founder, and his buddies on the shores of Stony Point, 15 miles north of Duluth. Hardbodies, beware: This is not a place to show off your pipes. You'll need full body armor to fend off Superior's icy 33-degree grip. For more information visit
www.superior-surf.com
.

Fire, the ice: maples ablaze in northern Minnesota.


THE HYPERACTIVE WEEKEND
PICK UP YOUR GANG BY 5 p.m. on Friday and drive 45 miles south on U.S. 52 to Cannon Falls for a quick in-line skate along the 19.7-mile Cannon Valley Trail ($3; www.cannonvalleytrail.com). Grab a burger at the Mill Street Tavern and hop back on U.S. 52 for the two-hour drive to Harvest Farm Campground (tent sites, $10-$14; 563-883-8562, www.harvestfarmcampground.com), five miles south of Harmony.

On Saturday, bike 12 miles on the Harmony-Preston Bike Trail, accessible from downtown Harmony. At Preston, head up Filmore Street, turn right on St. Paul Avenue, and head to Minnesota 16 via U.S. 52. Bike 12 miles through rolling farm country on Minnesota 5 to Forestville State Park ($4; 507-765-2785, www.mnhs.org), an 1860s-era trading outpost. Hike a steep one-mile path to the spooky hilltop cemetery. Back in Forestville, straddle your bike and follow signs to Mystery Cave, ten miles away ($7; 507-937-3251, www.dnr.state.mn.us). Take a two-hour guided tour of Minnesota's largest cavern, then bike 28 miles back to Harvest Farm via Minnesota 44, eat s'mores, enjoy the blissful wind-down, then gratefully hit the sack.

On Sunday morning, drive 15 minutes to Kendallville, Iowa, on Iowa 139 to paddle on the swift Class I-II water of the Upper Iowa River past limestone palisades to Bluffton (canoe rental at Hruska's Canoe Livery, $37, including shuttle; 563-547-4566, www.bluffcountry.com/hruska's.htm). After the shuttle drops you at your car, drive three hours north on U.S. 52 to Nerstrand Big Woods State Park ($4; 507-334-8848, www.dnr.state.min.us). Hike the 1.5-mile Fox Trail in the last remains of the Minnesota Big Woods, what was once a 3,000-mile swath of thick forest. Drive 20 minutes to Northfield to nosh on bar snacks at The Tavern, then hike up the hill to join Carleton College students playing Ultimate. Postpone Monday by staying Sunday night at the Archer Historic Inn, a 100-year-old French Revival manor on Northfield's Main Street (doubles, $75-$140; 800-247-2235, www.archerhouse.com). Get up at 6 a.m., drive an hour back to Minneapolis, suck down a Turtle Mocha from Caribou Coffee, and let the caffeine work its magic.

THE ADRENALINE RUSH
LAKE WACONIA, 30 miles west of Minneapolis, is the Midwest's answer to Maui's Kanaha Beach Park. But Hawaiians, take note: Minnesota kitesurfers are getting big air on that chilly lake water—must be those prairie typhoons (lessons with Scuba Center Windsurfing, $75-$100 per hour; 612-925-4812, www.windancing.com).

THE WILDERNESS FORAY
IF A FIVE-HOUR drive north to the Boundary Waters Canoe Area Wilderness sounds daunting, get your paddling fix on the Upper St. Croix River, only 70 miles from downtown St. Paul. Put in at Thayers Landing, near Danbury, Wisconsin, and you'll paddle past rocky pine islands and blazing maples. Camp at one of 15 primitive sites along the way, and be sure to bring a fishing rod—walleye and smallmouth bass love that clean St. Croix water. On Sunday, 32 miles downstream, pull out at Minnesota 70.

THE RECHARGE SPOT
THE MOMENT YOU STEP onto the Stout's Island ferry, 2.5 hours from the Twin Cities in Birchwood, Wisconsin, life's hassles melt away. After all, you're headed for "The Island of Happy Days." The private 26-acre rock in Red Cedar Lake is home to Stout's Island Lodge (doubles, $179-$229, including breakfast; 715-354-3646, www.stoutslodge.com), a 100-year-old Adirondack-style retreat on the National Registry of Historic Places, with 42 guest rooms. On crisp fall evenings eat fresh walleye, fall veggies, and artery-clogging Wisconsin cheeses next to a roaring fire. Work it off the next morning by doing laps on the one-mile path that circumnavigates the island. Then indulge in a facial in the renovated boathouse spa.
Denver
THE SIGHT OF the Rockies gleaming behind downtown Denver's skyline is inexorably pulling you westward. We say don't resist.
The Recharge Spot
CRESTONE, A TINY TOWN south of Denver in the San Luis Valley, is crawling with Buddhists, Carmelites, yoga disciples, and interdisciplinarians of every stripe. Soak up the vibe at the Silver Star Bed and Breakfast (doubles, $50; 719-256-4686), a four-room lodge surrounded by piñons and aspens, with sweeping views of the valley and walking access to the trails that scale 14,165-foot Kit Carson Peak.

wheels up, west of Winter Park.
THE HYPERACTIVE WEEKEND
ABOUT FOUR HOURS northwest of Denver, feel your shoulders relax as you cross 9,426-foot Rabbit Ears Pass, about 2,600 feet above Steamboat Springs. In town, find the Steamboat Bed and Breakfast, a butter-colored Victorian house with green trim and seven guest rooms, on Pine Street (doubles, $99-$169; 877-335-4321, www.steamboatb-b.com).

Take an early Saturday morning bike ride a couple of miles out of town for the 7 a.m. balloon departure with Wild West Balloon Adventures ($110 per adult for a half-hour flight; 970-879-7219, www.wildwestballooning.com). Drift 3,000 feet above the Yampa River valley, toast your landing with champagne, and pedal back through downtown to Elk Park. Meet the fly-fishing folks from Straightline Outdoor Sports (970-879-7568, www.straightlinesports.com), who'll supply you with a flyless rod and teach you to cast into a pond. The two-hour clinic is free, but you need to make reservations. After lunch, drive 30 miles northeast to the Slavonia trailhead just outside the Mount Zirkel Wilderness Area (Routt National Forest: 970-879-1870, www.fs.fed.us/r2/mbr), put on your skivvies, and take a nine-mile trail run to Gilpin Lake, over the 9,840-foot saddle behind it, and down the Gold Creek Lake Trail back to your car. Then head to Strawberry Park Natural Hot Springs, as relaxing as any martini ($10; 970-879-0342, www.strawberryhotsprings.com), which also has a platoon of massage therapists on hand. Go back to your B&B. Sleep.
On Sunday, take an early-morning, 56-mile road-bike ride through ranchland along County Road 129 to Steamboat Lake and back. Then wind down with a little in-line skating on the municipal bike path, which follows the Yampa River for five miles. After lunch, climb the 5.8-5.10 routes of Seedhouse Rock, about 20 miles north of town, under the watchful eyes of the climbing instructors from Rocky Mountain Ventures ($65 per person for a group of two to five, equipment and transportation included; 970-870-8440, www.verticalgrip.com). As the day fades, head back into town and place your tired and grateful self on the back of a horse from Sombrero Ranch, next to the rodeo grounds ($45 per person, including dinner; 970-879-2306, www.sombrero.com). Ride through the dusk along the flanks of 7,136-foot Emerald Mountain. An hour into the ride, dismount and dig into the guide-prepared steak dinner.

THE ADRENALINE RUSH
CAPITAL PEAK RISES 14,130 feet from deep in the Maroon Bells-Snowmass Wilderness Area (for trail information, contact the Aspen Ranger District, 970-925-3445), about five hours southwest of Denver. Near the summit is an unavoidable, highly exposed knife-edge ridge that plunks even the most cavalier mountaineer onto her butt. If you drop your trail mix here, let it slide.

THE NEW, NEW THING
THERE'S A BRAND-NEW addition to the 600-mile trail system around Winter Park, which a growing corps of mountain bikers believe is the best in the state. The wide, flat spur runs eight miles from Fraser toward Granby—great access for mountain bikers staying at Fraser's Anna Leah, a five-room bed-and-breakfast with a whopping mountain view (doubles, $110-$195; 970-726-4414, www.annaleah.com), or Devil's Thumb Ranch, near Fraser, a 3,700-acre spread with 14 lodge rooms and seven cabins (doubles, $69-$119; cabins, $139-$279; 800-933-4339, www.devilsthumbranch.com).

THE CLASSIC
IN THE FALL, Rocky Mountain National Park's aspens are in golden splendor, and many members of its resident 3,000-strong elk herd are busy mating, strutting, hooting, and hollering. Though the meadows are off-limits from 5 p.m. to 7 a.m. to give the elk a little privacy, you can watch from the sidelines. Best viewing times: dusk and dawn (Rocky Mountain National Park: $15 for a one- to seven-day pass; camping, $18 per site; 970-586-1206, www.nps.gov/romo).
San Francisco
IF YOU'VE HAD your fill of lingering summer fog, yoga-mat gridlock, and a whole lotta dazed and confused former dotcommers, now's the time to leave your heart in San Francisco but take the rest of you out yonder to Sierra peaks and serene redwood forests.
The Adrenaline Rush
YET ANOTHER urban-extreme-sport has gone mainstream: Experience the butt-numbing luge down 2.5-mile-long Dinosaur Point, the country's longest recreational street-luging road, in Pacheco State Park, 100 miles south of San Francisco. Wild Fro Racing will help you navigate it ($195; 866-584-3888,
www.wildfro.com
).

Deetjen's Big Sur Inn
THE HYPERACTIVE WEEKEND
LEAVE THE CITY BY 3 p.m. on Friday and head 55 miles south on California 1 to Costanoa Coastal Lodge and Camp, a sprawling 40-acre compound near Pescadero with a 40-room lodge, cabins, tent cabins, and RV and tent sites surrounded by 30,000 acres of trails (tent sites to premium lodge rooms, $30-$240; 650-879-1100, www.costanoa.com). Drop off your bags and ride your mountain bike 9.5 miles from Costanoa to Big Basin Redwoods State Park (831-338-8860, www.parks.ca.gov), turning around at Sunset Camp.

On Saturday, hike the three-mile Ohlone Ridge Loop from Costanoa before driving a half-hour to Santa Cruz for a lesson at the Richard Schmidt Surf School ($80 per hour; 831-423-0928, www.richardschmidt.com). Then head 25 minutes south on California 1 to Kayak Connection, the first driveway past Moss Landing State Beach. Rent a kayak ($30 per four hours; 831-724-5692, www.kayakconnection.com) and paddle alongside the sea otters, pelicans, and seals of the Elkhorn Slough Sanctuary (831-728-2822, www.elkhornslough.org). Later, drive six miles past Carmel on California 1 and look for pull-out parking on the left near a row of cypress trees. Hike the 4.5-mile Rocky Ridge loop trail up into Soberanes Canyon in Garrapata State Park (831-624-4909). From there it's 30 minutes south on California 1 to Deetjen's Big Sur Inn, a rustic, Norwegian-style lodge tucked into Castro Canyon (doubles, $75-$195; 831-667-2377, www.deetjens.com).
Next morning, drive ten minutes south to Julia Pfeiffer Burns State Park (831-667-2315) for a hike along the 4.5-mile redwood-canopied Ewoldsen Trail before turning your car northward. Just east of Monterey, take California 68 toward Salinas, stopping off at Fort Ord Public Lands (831-394-8314, www.ihns.net/fortordpl/), an untamed wilderness with some 90 miles of trails. Mountain bike the double- and singletrack Guidotti Goat Trail Loop for 13 miles of Salinas Valley views. Continue about 45 minutes to Hollister and a 6 p.m. skydiving date ($239 per person, oxygen included; Adventure Center Skydiving, 800-386-5867) before the 1.5-hour drive via U.S. 101 back home.

THE WILDERNESS FORAY
THE BIG PICTURE: Caught in the crawl space between Lake Tahoe and Yosemite, the Mokelumne Wilderness straddles the central Sierra Nevada with 100-plus miles of difficult trails. A sampler: a 20-mile round-trip summit of 9,332-foot Moke-lumne Peak. Resources: Pick up a USGS Mokelumne Wilderness map and your free overnight permit at the Amador District Ranger Office, about 20 miles east of Jackson on California 88 (209-295-4251).

THE NEW, NEW THING
TWENTY YEARS and 10,000 volunteers later, the 165-mile Tahoe Rim Trail, a hiking, biking, and equestrian loop that circumnavigates Lake Tahoe, is open for business. One particularly salivating overnight stretch: Christopher's Loop, a 1.2-mile spur trail 12 miles in from the Spooner Summit North trailhead. The hike is at 8,600 feet, but it seems you can almost reach out and touch the aquamarine water, 6,300 feet below (775-588-0686, www.tahoerimtrail.org).

THE RECHARGE SPOT
ONE GUEST-BOOK notation reads, "I feel like creamed corn." No doubt you, too, will feel mushy at the Milliken Creek Inn, a 12-room hideaway that opened in August 2001, five minutes east of Napa, set on three acres of oak and pine alongside the Napa River (doubles, $295-$525; 707- 255-1197, www.millikencreekinn.com). If the mellow background jazz and the pillow menu at check-in don't hook you, the breakfast served anywhere you want it, candlelit Jacuzzis, custom massages, and private yoga lessons will.
Trending on Outside Online