In Stride
17-Year-Old Tierney Wolfgram's Meteoric Rise
After running 2:31:49 and setting a U.S. junior record in the marathon, college freshman Tierney Wolfgram wants to try her hand at shorter events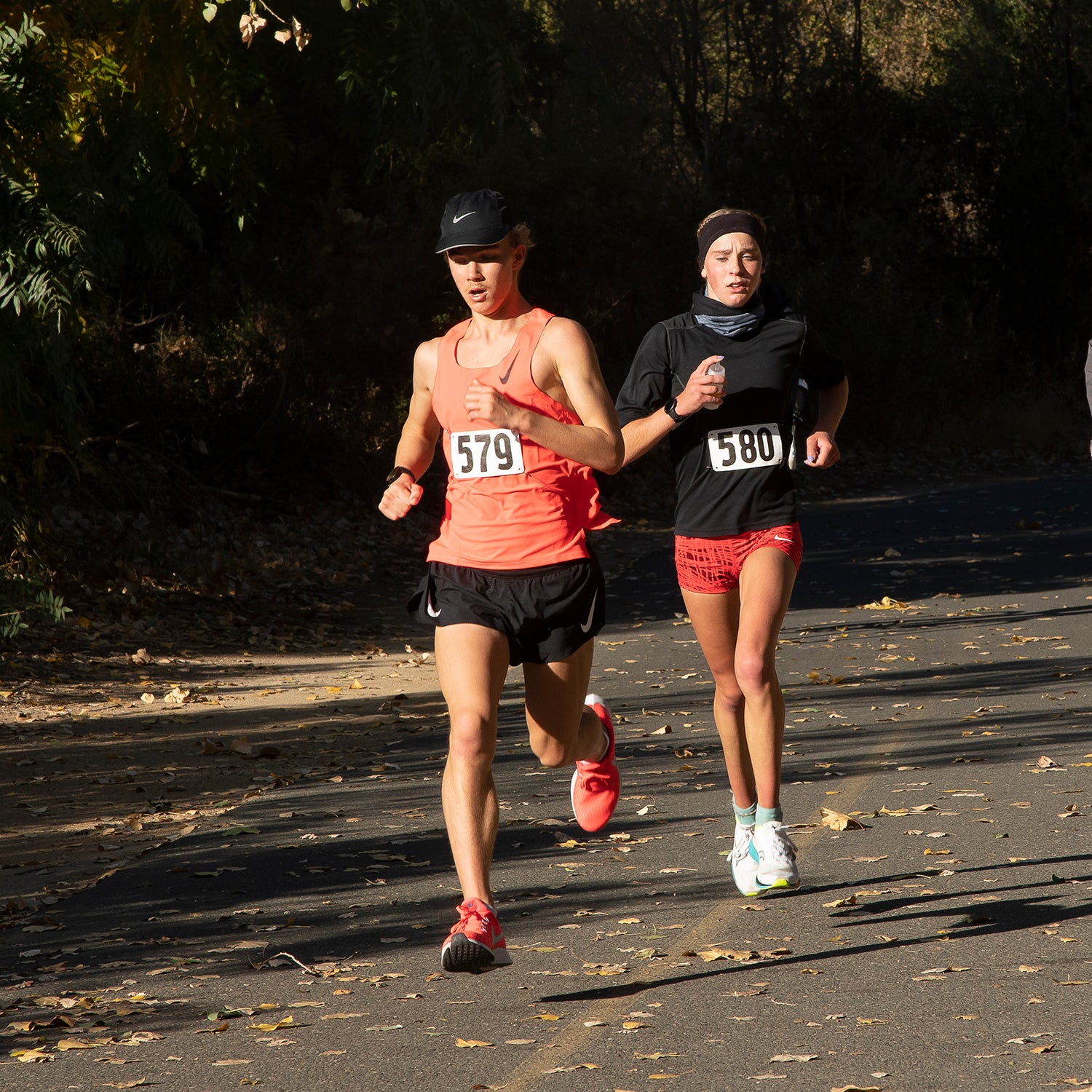 Erik Elias(Photo)
Heading out the door? Read this article on the new Outside+ app available now on iOS devices for members! Download the app.
Conventional wisdom holds that the most promising career trajectory for an elite runner is to start out with shorter distances on the track and target longer events later on. For one thing, the idea is that when raw speed and anaerobic potential start to decline, professional athletes can still be competitive on the roads where having a fast finishing kick is less essential to success. There's also a durability factor: having a strong foundation from years of quality speed work, the theory goes, makes an athlete better prepared for high-volume marathon training. Before Eliud Kipchoge was the greatest marathoner of all time, and somehow impervious to injury in this most grueling event, he was the 2003 world champion in the 5,000-meters. 
And yet, at least in the short term, youth and marathon success aren't mutually exclusive. In 2018, when Tierney Wolfgram was a 15-year-old high school sophomore in Woodbury, Minnesota, she ran her first marathon in 2:40:03. It was a precocious debut, and one which made her the youngest qualifier for last February's U.S. Olympic Trials. But she paid a high price—she spent most of 2019 dealing with injuries, which were very likely the result of a marathon training regimen which saw her run up to 120 miles a week. 
Wolfgram scaled back her training dramatically to prepare for the Trials in Atlanta, capping her mileage at around 85 miles per week. She finished 76th, running 2:42:47 in difficult conditions. At the time, she thought she could do better. She was right. On Saturday, Wolfgram, now 17, set a new (yet to be ratified) U.S. women's junior record in the marathon by running 2:31:49 at the Parkway Marathon in Sacramento, California. (The previous record of 2:34:24 was set by Cathy Shiro, way back in 1984.) The event was specifically created for the record attempt and only had three participants: Wolfgram, who is now a freshman at the University of Nevada, was paced by Adam Sjolund and Carson Leavitt, two of her teammates on Nevada's cross-country team.
I spoke to Wolfgram about her record, how her approach to training has evolved, and the perils of early success.
OUTSIDE: You were 15 when you ran your first marathon. At the time, you ran five minutes under the Olympic Trials qualifying standard. What made you want to race that distance at that age? WOLFGRAM: What got me into the marathon was actually a disappointing track season. My 2018 track season went way worse than what I had hoped for. I was struggling to figure out why that was and my 15-year-old self came to the conclusion that it was that track races were just too short for me. So, I went a little too extreme in the other direction by jumping right to the marathon. But I wanted to find myself again in running and, back then, I found myself in running through success. I believed that I would get faster as the distances got longer. It was good experience, if not the most mature decision. But I'm still glad that I did it.
On that note, I read in the Fast Women newsletter that you were running up to 120 miles per week when preparing for that first marathon. That's a level of volume that would make a lot of coaches very nervous—particularly for a runner who is still in high school. How did you end up running that much?
I think I mention this in that article as well, but my parents and I were prescribing my training, and we were obviously not educated. My parents didn't have any background in running, but they like to say they are "experts in Tierney." My high school coaches were in the loop, but didn't want to be directly involved with my marathon training. So my parents and I basically just pieced it together, day by day, which is how we ended up with such high weekly mileage. My dad would take me out in the morning and I'd do, like, 13 miles. And then the next day, we thought, since I can do 13, why not do 14? It kind of gradually built like that. On top of my runs with my dad in the morning, I'd do cross-country practice after school, and the mileage would fluctuate there, too. So some days I would double by doing 15 in the morning and still have an eight-mile afternoon run. So, it was quite a lot and we didn't know what we were doing. It put a lot of stress on my body and that showed the next year, when I got injured constantly. 
If I understand correctly, you were planning on stepping away from the marathon after the Trials, but the pandemic changed your plans. How did the Parkway Marathon come about?
After the Trials, I made it pretty public that I was done until, possibly, 2024. But, as you said, COVID happened and postponed our cross-country season. Coach had us get on a Zoom call for a team meeting where he said that he didn't want us sitting around and losing motivation to train. So he told us to come up with individual goals, just to help keep us moving, and also team goals. My goal was obviously the marathon, but it did take me a while to talk to him about it. When I did, I was super nervous. He was cautious in the beginning, but when he realized how serious I was about it—that I'd do anything I could to get the record, but that my health was even more important to me—once he was confident in that, he jumped on board immediately. We were planning on doing CIM. Once that got canceled we got in touch with one of the CIM race directors, and we asked what we could do to put an event together to get this record. So we set that up. With COVID, we knew that things could change and that our private event might not end up happening, but everything went to plan, so I'm very grateful that everything fell into place.
Since the marathon is not an official event in NCAA competition, is the plan to stick with shorter races, regardless of how your collegiate career goes? Despite having the junior record, are you wary of committing to the marathon too soon? 
Coach and I have been talking about that. Even though it's pretty far out, our new goal is to put me in contention in an event to make an Olympic team in 2024. So, these next years are really just going to be about putting me in different events to see where I can succeed the most and also where I could maybe squeak onto the Olympic team. So that could be the marathon. It could be the 10K, the 5K, or the steeplechase. Nothing is set in stone, but obviously, trying to make an Olympic team is really important to an elite athlete. But I'm not committing myself to an event right now. 
Most runners aren't typically bombarded with media attention, but you've gotten a lot of publicity this year. A potential downside of that is that the hype can create a sense of expectation: a young athlete produces a super fast time and everyone expects them to be the salvation for U.S. distance running. What are your thoughts on that? Is this interview doing more harm than good? 
I think I fell victim to this a little bit, even just last year. I guess you could say I'd gotten addicted to the success that my running had brought me. That kind of morphed running into being pretty much my whole identity, which is something I would struggle with a lot. When I didn't have a good run or workout, my whole day was bad just because that was my whole life. Then, if I had a good workout, I was on cloud nine. So there were good days and bad days. But I couldn't live with those extremes, so I really did struggle to find a balance with running and also have a life outside of running. I'm still working towards that balance and don't believe that I've found it. But I'm definitely in a better, healthier mindset. I think I just had to grow up a bit, too. 
Do you think it helps to articulate that? As in, does acknowledging that running is becoming too essential to your identity help mitigate the problem?
It definitely helps to vocalize those thoughts. Right after the marathon, coach pulled me aside and told me that he wanted me to understand that with everybody who came to support me, they don't love me because I was trying to get that record, but they love me because of me—which is also something I struggle with because I did equate my identity to being completely about running, so I thought that's what other people saw, too. So I think that's why I also put a ton of pressure on myself to perform because everybody wants to be loved. I thought people would love me more if I ran faster and won races, which is also something I had to get over.  
You're making me emotional. Fortunately, I just have one more question. The NCAA seems to be in the process of changing its rules about athletes using their "name, image, and likeness" for financial gain. Allie Ostrander told me that she wished that had been the case when she was in school. As a collegiate runner with an increasingly high profile, is that something that you are conscious of at all? 
I honestly have never been big on social media. I had friends who live and breathe their followers and likes, but it was never something I got attached to. But just yesterday, coach and I talked about maybe having a potential future of running professionally and he brought up that the NIL rules were subject to change. He said that could potentially be something to look into—to build up my name. So we had a brief conversation about that. But, I don't know. I've never been big on social media. 
Lead Photo: Erik Elias
Trending on Outside Online