In Stride
Top 8 Ultra-Long Distance Adventure Runs
Challenge your abilities with these iconic runs through the wilds of America.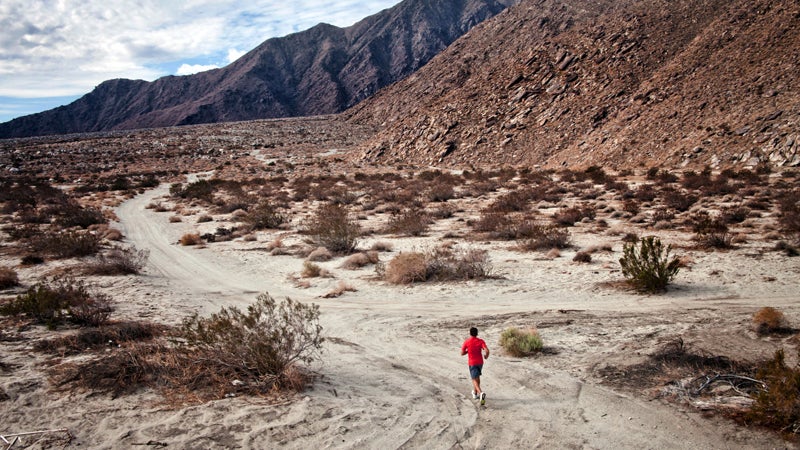 Heading out the door? Read this article on the new Outside+ app available now on iOS devices for members! Download the app.
Trail-running is exploding in popularity, and for good reason. What's not to like about a sport that requires virtually no equipment—except (maybe) shorts and trail running shoes—and allows you to explore vast mountain ranges and terrain that most people will never experience? Even better, our country has some of the most beautiful and remote lines in the world.
Here are our picks for the best long-distance adventure trail-running routes in the country.
Wonderland Trail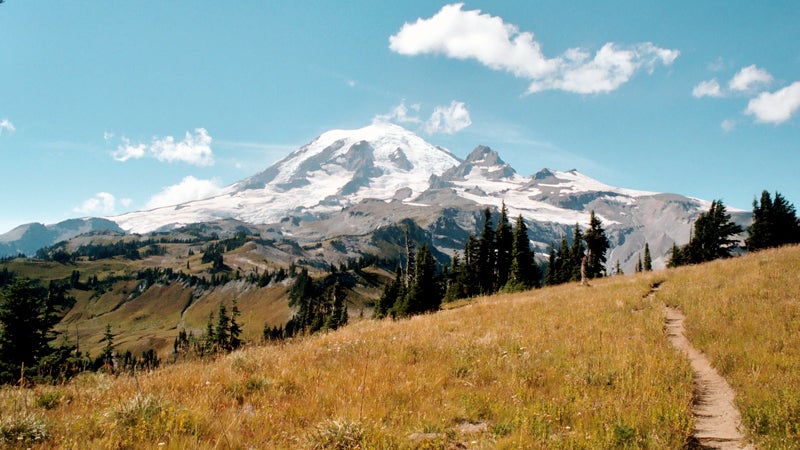 Mount Rainier National Park, Washington (93 miles, 24,000 feet of ascent)
It doesn't get much better than running around the crown jewel of the Pacific Northwest, 14,410-foot Mount Rainier. The active volcano is the most glaciated peak in the contiguous United States. Phase change is visibly and audibly evident as you cross over sculpted valleys and moraines along the 93-mile Wonderland Trail. The 360-degree view of Mount Rainier starts at Longmire Visitor Center traveling counter-clockwise to Mowich Lake, then White River Campground before arriving back at Longmire. These are also the vehicle accessible locations where you can drop food and water if you'd prefer to break the route up into manageable chunks. Vast and remote in scope, the well-worn trail—often wide enough to run side by side—traverses through peaceful old-growth forests and subalpine meadows of wildflowers.
The Fastest Known Time: Kyle Skaggs; 20 hours, 53 minutes; September 23, 2006
Zion Traverse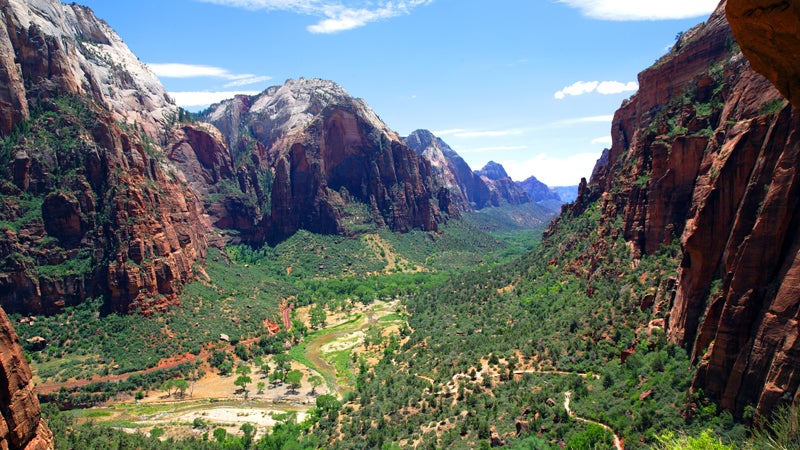 Zion National Park, Utah (48 miles, 9,000 feet of ascent)
This 48-mile route takes you on a tour of massive red cliffs and lush green valley floors as you run across the entire National Park. Just six years ago, this challenging point-to-point was virtually unknown. Then, two of ultrarunning's hardmen revived the route and brought it into the sport's consciousness. Most choose to run west, getting the big climb out of Zion Canyon over with early in their adventure. The views from the West Rim are breathtaking, but what makes this route amazing is its diversity: slot canyons with flash flood potential, switchbacks up sheer cliffs, jagged peaks, expansive sandstone slabs, improbable mounds of earth, sandy creek beds, and valley floors. The trail out of Zion Canyon uses about half of the Angel's Landing hike, which you should include as an out-and-back add-on because it's one of the best hikes on earth.
The Fastest Known Time: Mike Foote & Justin Yates, 7 hours 22 minutes, May 26, 2013
Softrock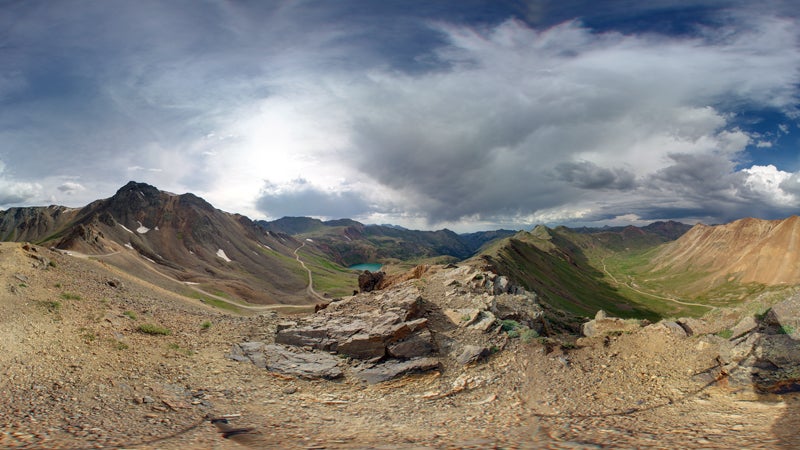 Silverton-Telluride-Ouray, Colorado (100 miles, 34,000 feet of ascent)
One race has captured the attention of the best mountain runners in the world—the Hardrock 100 Mile Endurance Run. It's so coveted, in fact, that it's nearly impossible to gain entry (first-time applicants have about a 1.4 percent chance). A popular way to experience the majestic 100-mile loop through the San Juan Mountains is to break it into three days ranging from 28-45 miles—a so-called "Softrock." This ultra-tour of the iconic towns of Telluride and Ouray averages over 11,000 feet in elevation, with a total of 34,000 feet of uphill. Lacking the requisite oxygen to move anywhere near your sea-level potential (the race's nickname is the "Hardwalk"), your rewards for the pain are plenty: alpine lakes, alpine meadows, remote mountain passes (Virginius pass is only as wide as a VW bus), gnarly scree fields, and the highest point on the course—14,048 feet Handies Peak. By the time you finish this one you will either swear off ultrarunning or throw your name into the lottery.
The Fastest Known Time: Kyle Skaggs; 23 hours, 23 minutes; August 5, 2008
Grand Canyon, Rim to Rim to Rim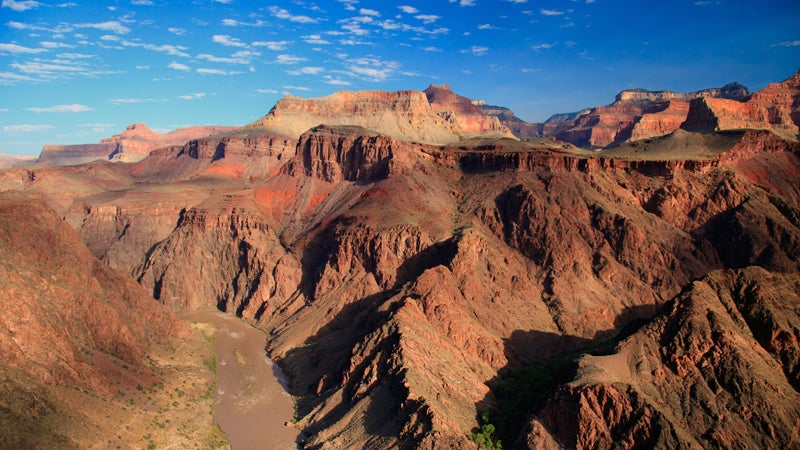 Arizona (42 miles, 10,700 feet of ascent)
Dropping into the South Rim of the Grand Canyon on the South Kaibab Trail is a quasi-religious experience. However, the sheer immensity of it all won't hit home until you arrive at the North Rim—21 miles from where you started—and realize you now have to run back. Running into and out of the six-million-year-old hole has become a rite of passage for North American ultrarunners. There are some miles of mellow flat running along the Colorado River, but this route is defined by its two massive climbs through millions of years of rock sediment. If you under-hydrate or under-fuel the final 4,860 foot ascent will turn into a death-march (and you'll understand why entire books have been written about deaths in the Grand Canyon).
The Fastest Known Time: Rob Krar, 6 hours, 21 minutes, May 11, 2013
Teton Circ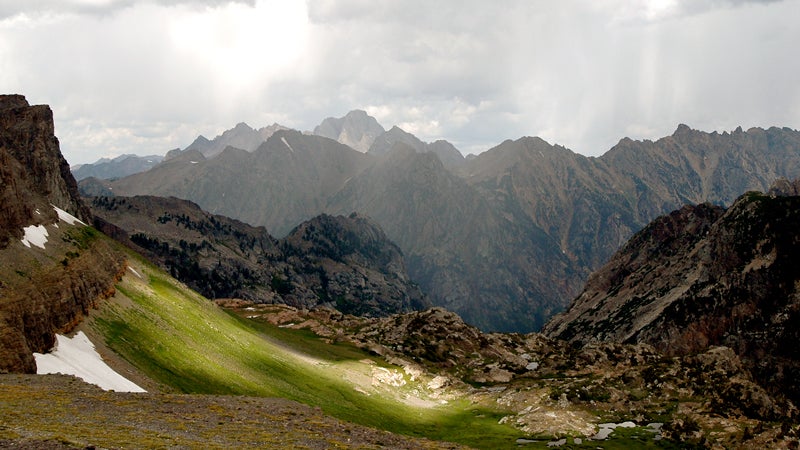 Jackson, Wyoming (34 miles, 8,200 feet of ascent)
Starting at String Lake and following Cascade Canyon the well-maintained trail quickly covers 10,700 foot Hurricane Pass, where you will literally be stopped in your tracks by the view of the South, Middle, and Grand Teton mountains. Circling the youngest range in the Rocky Mountains is not for the faint of heart. The snowy steep descent from Static Peak divide is "no fall terrain," and this adventure run is almost always a solitary endeavor. Bull moose and black bears will be your only company as you travel over lingering snowfields, past turquoise alpine lakes and paintbrush floral arrangements.
The Fastest Known Time: Evan Honeyfield, 5 hours, 34 minutes, September 17, 2009
Maroon Bells Four Pass Loop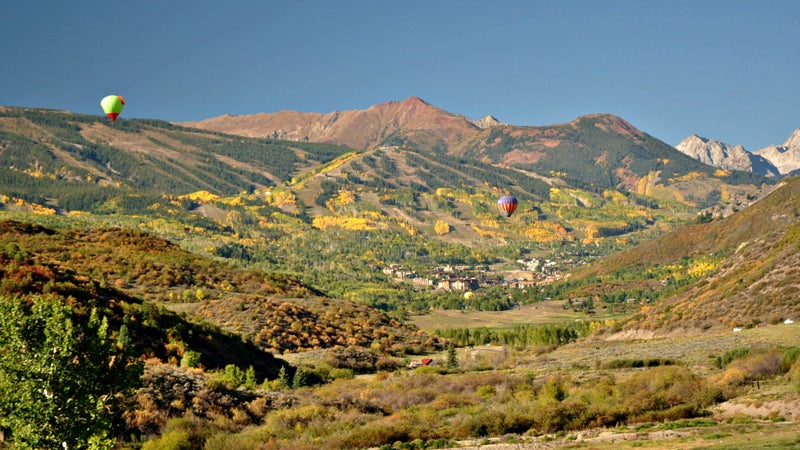 Aspen, Colorado (27 miles, 8,000 feet of ascent)
If the three-day Softrock is a bit more than you want to bite off, the Four Pass Loop is a more reasonable portion of big Colorado mountain running. Located just outside of Aspen, in the Elk Mountains, the loop starts at 9,500 feet and is the easily the best one-day ultra-run in all of Colorado. The 27-mile journey is an altitude runner's dreamscape, with 8,000 feet of climbing and four passes over 12,000 feet in elevation (Buckskin, Trail Rider, Frigid Air, and West Maroon passes). If you have the lungs, almost every step is runnable (hence the blindingly fast FKT). Those fit enough to complete the loop are rewarded with some of Colorado's world-class terrain, with impossibly clear lakes, waterfalls, bald mountains, and endless ridges framing the route.
The Fastest Known Time: Sage Canaday, 4 hours, 27 minutes, September 5, 2013
*Lance Armstrong ran the loop in 5 hours, 40 minutes, August 26, 2012.
Kalalau Trail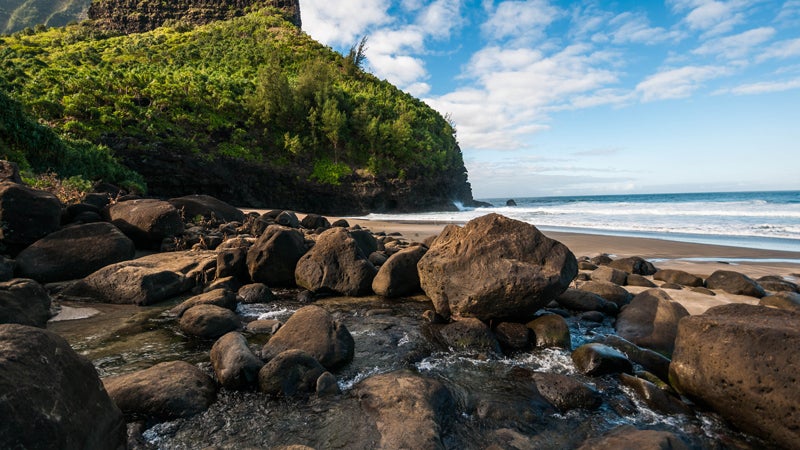 NaPali Coast, Kauai, Hawaii (22 miles, 10,000 feet of ascent)
This 11-mile out-and-back on the northern shore of the island of Kauai feels like you are running along the edge of a deserted island. Dramatic 4,000-foot cliffs shoot out of the Pacific Ocean, covered in nothing but dark green vegetation and broken only by dark brown rock. From the Ke'e trailhead most tourists only venture as far as Hanakapiai beach, just two miles along the route. Those who continue are treated to three of the seven Na Pali (which means "high cliffs") valleys, each barricaded from the next by sheer cliffs. When the trail isn't engulfed in vegetation, it provides stunning views of the coastline. Switchbacks take you from beach, over high cliffs, to high ridges and back again, until you are dropped onto the remote Kalalau beach. There is no road access to this beach, so to enjoy its tranquility you have to earn it on foot (or cheat by boat).
The Fastest Known Time: Max King, 4 hours, 59 minutes, January 22, 2012
Presidential Traverse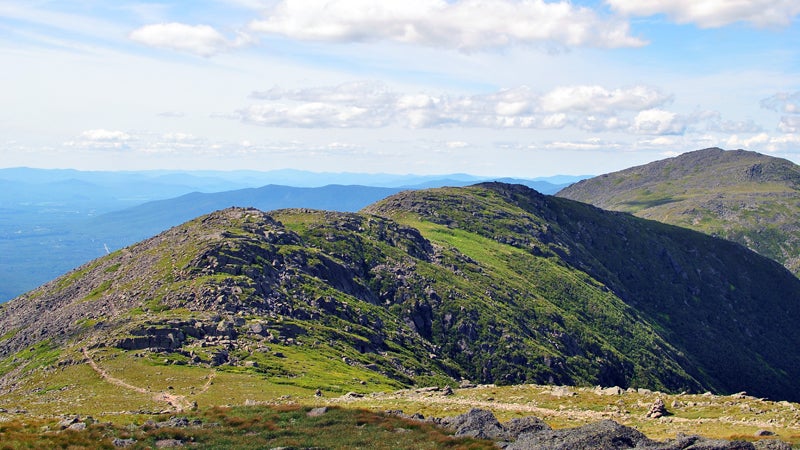 Gorham, New Hampshire (26 miles, 9,600 feet of ascent)
What the "Presi-Traverse" lacks in feet-above-sea-level it more than makes up for in rugged rocky terrain. This is "peak-baggin'" at its best, a point-to-point route from Pinkham to Crawford Notch that summits the nine mountains of New Hampshire's Presidential Range. The traverse is so technical that it's hard to get into a rhythm or to feel like you are running for any significant length of time. "Running" through the most extensive above tree line area in the East means conditions can be harsh. Mount Washington, the highest peak on the route (and in New Hampshire) at 6,288 feet, has had some of the highest winds in recorded history, and has killed hikers of hypothermia in the summertime. Although not an official "ultra-distance" this route runs more like a mountain 50k than a trail marathon.
The Fastest Known Time: Ben Nephew, 4 hours, 34 minutes, September 7, 2013