In Stride
Tracksmith's Unapologetic Elitism
How should we feel about the boutique New England running brand?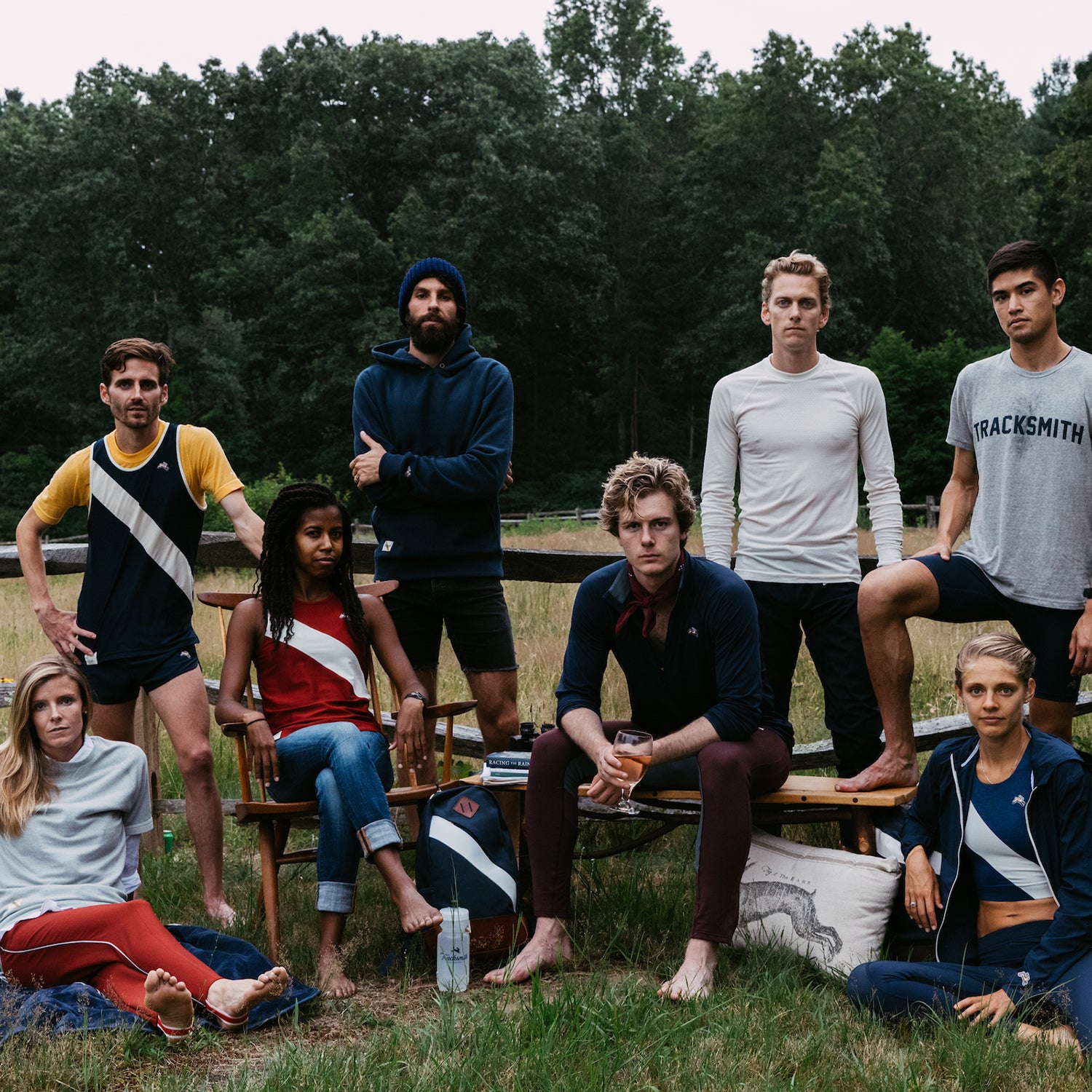 Heading out the door? Read this article on the new Outside+ app available now on iOS devices for members! Download the app.
On its website, apparel company Tracksmith describes itself as a "champion for the Running Class." Who belongs in this mysterious demographic? From the looks of Tracksmith's fall catalog (theme: Camp Tracksmith), the Running Class is composed of slender youths who spend their days scampering through the pastoral idylls of New England, lounging in airy mansions, staring into the half-distance, and wearing a lot of maroon and navy. Flipping through the catalog's pages (and scrolling through Tracksmith.com), one becomes wistful that one never ran cross-country at an Ivy League institution. Who would have thought that running, of all things, could make for such effective aspirational branding?
Tracksmith CEO and co-founder Matt Taylor, for one. He competed for Yale in track and cross-country in the late 1990s, an experience that would lay the foundation for his future career. After graduating, Taylor entered the sportswear industry, eventually rising to head of global marketing in Puma's running department. In 2014, he partnered with Rapha co-founder Luke Scheybeler to launch Tracksmith, a company hoping to distinguish itself in a running apparel landscape that, as Taylor saw it, had become too homogenous. Rather than the flashy colors favored by major running brands, the Tracksmith style would take inspiration from past eras of New England running culture and prioritize understated, classic design over the glitz of ephemeral trends. As for his nascent brand's target audience, Taylor (a 4:10 miler and 2:40 marathoner) wanted Tracksmith to register with runners like himself—that subset of devotees who were obsessed with the sport but would never run professionally.
The Running Class, it turns out, isn't populated solely by the woodland sprites bounding through the pages of the Tracksmith catalog, but by anyone whose relationship to the sport is defined by more than just a casual fling. As Taylor explained it to me:
"It's people who are competitive but not professional and people who are competitive but not participatory. Ultimately, running gear can be used for a lot of different activities, but our sweet spot are those people who have a strong commitment and passion for running—it's more of a psychographic than a demographic for us."
To some extent, Tracksmith's air of exclusivity is more a product of preppy branding than exorbitant price tags.
In other words, it's an attitude thing. Nevertheless, making any sort of distinction between a "competitive" runner, as opposed to a "participatory" one, can be a delicate business (believe me, I know). Though Taylor told me that his company doesn't categorize customers based on how many miles they run or how fast they are, some aspects of the brand's ethos might still register as elitist. For one, Tracksmith sells a BQ Singlet that is available only to those who have qualified and registered for the Boston Marathon. (The company verifies qualifying times and race entry status at the time of purchase.) After I'd spent some time on the site, the banner ad that pursued me around the web didn't mince words: "Tracksmith: Premium Apparel for the Competitive Runner."
Unsurprisingly, the most common grievance one encounters online is that Tracksmith charges too much for its wares. The Running Class, a cynic might protest, is basically anyone who would shell out $90 for a pair of sweatpants. This sentiment is creatively echoed on a parody website that substitutes Tracksmith's golden hare logo with a golden dachshund and with a mission statement reading, in part: "We created a luxury brand. To intimidate those who can't afford it. To make people feel that you have to look a certain way to run. And looking a certain way costs money."
Is such criticism fair? To some extent, Tracksmith's air of exclusivity is more a product of preppy branding than exorbitant price tags. As far as the latter goes, Nike, still by far the biggest player on the running apparel scene, doesn't shy away from asking $150 for a pair of running tights, and its new marathon racing shoe retails for a steep $250. Furthermore, if your running shirt has a swoosh on it, chances are it was manufactured in China, Sri Lanka, or Cambodia, whereas a handful of Tracksmith items—like the Grayboy T-shirt and the Run Bra—are Massachusetts-made. When I spoke to Taylor, he said that one distinction between the pro runner and the dedicated amateur is that the professional is inundated with free stuff, and hence incentivized to toss a piece of gear as soon as it shows signs of wear. Tracksmith's products, according to Taylor, are made with the expectation that they will be worn and washed "hundreds and hundreds of times" and potentially "handed down."
I have to admit that the idea of bequeathing used half-tights to my eventual offspring—the jock equivalent of the proverbial grandfather's watch—strikes me as pretty bizarre. Then again, recasting ordinary sportswear as a luxury "heritage" item is central to Tracksmith's special alchemy. If they've been manufactured by Tracksmith, the aforementioned half-tights will have been made from the company's special Inverno Blend fabric—an Italy-sourced micro-nylon lauded in the catalog for its "buttery-soft" feel. I hereby challenge anyone who is still with me here to name another running apparel brand that describes one of its products as "buttery."
So, does it all amount to a kind of snobbery? Of course it does. It's the kind of snobbery that, as someone often unimpressed with a lot of mass-market running clothes, I'll be the first to admit I find very seductive. (But I'm also the kind of guy who, at least according to my Facebook ad algorithm, would spring for those horrible tech-bro loafers.) On the whole, I agree with the Letsrun.com poster who was grateful to Tracksmith for infusing the running apparel scene with some much-needed variation, even if he didn't necessarily view himself as a potential Tracksmith customer. But as I've mentioned elsewhere, variation on the running scene isn't only a matter of product selection, but, more crucially, of making sure the sport isn't prepackaged as an activity reserved for suburbanites with six-figure incomes.
In that sense, when you base your brand's identity on the legacy of New England running culture, you have your work cut out for you.
Lead Photo: Courtesy Tracksmith