Trail Hog
An overweight ex-drunk decides to crash-train for a 16-mile race up and down a mountain. Hey, what could go wrong?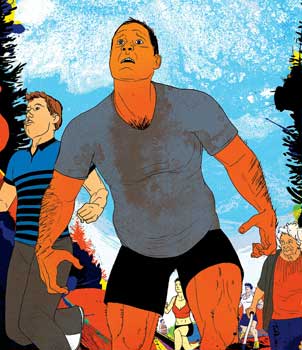 Jacob Thomas
Heading out the door? Read this article on the new Outside+ app available now on iOS devices for members! Download the app.
THE RACE DIRECTOR says it's sleeting at the top of the hill. Everybody laughs, but I don't. I crank my neck up to look at the ­escarpment, an ominous shelf of black rock where on sunnier days hang gliders launch from 1,300 feet.
I have no business doing this. I've never run a race in my life, much less a 16-mile bone crusher like the Hyner. I could barely get down the stairs this morning, having injured my right ankle logging too many fat-guy training miles. But here I am. I lean right to test the ankle. I wince.
Out of courtesy, I limp away from the starting line, where the real runners are: lanky young men and women in track shorts and lightweight trail shoes, all hoping to finish this preposterous race in two or three hours. Farther back I see older, rounder people. People with hiking boots and trekking poles and CamelBaks. People hoping to run-walk their way to the finish before darkness sets in. My people.
On this cold spring morning, I'm shivering in my T-shirt and shorts. My only gear is a greasy Ziploc filled with Cheez-It crumbs and four Vicodin. I don't have pockets, so I clutch the baggie and wait. When the enormous herd finally lurches into the hills, I feel compelled to follow. Obsessed, even. Which is strange. Four months ago, I would have dropped out of this godawful event without a second thought.
THE HYNER VIEW Trail Challenge will do that to you. Founded in 2007 and named for a local state park, it has become one of the largest trail-running events east of the Mississippi. It's also the strangest, owing to the fact that it's held in a small north-central Pennsylvania town called Renovo.
I grew up about 70 miles from here, in Ridgway, which I always considered fairly remote and rustic. But Renovo is a whole different story. A few years ago, National Geographic Adventure published an article about this region, describing it as "a bona fide, 21st-century Eden." The story quoted a Wildlife Conservation Society report that placed "the rugged woodlands on par with Brazil's Pantanal and China's Gobi as one of the last untarnished tracts on Earth. Only 1.3 percent of the lower 48 is as pure."
Rugged I can buy, but pure? I think N.G.A. missed a few contraindicators. The town of Williams­port, about 50 miles down the Susquehanna River from Renovo, was known as the lumber capital of the world through most of the 1800s. Later, the timbering inched west, ushering in what one Forest Service historian has called "the highest degree of forest utilization that the world has ever seen in any commercial lumbering era." Then came coal mines, oil derricks, and natural-gas wells.
Renovo, an old railroad town set amid some of the most hostile terrain in the state, got hit hard. In 1950, locals drilled what was then the most productive natural-gas strike ever recorded in the eastern United States. Wells popped up everywhere, and there was so much gas in the air that people in bars were afraid to light cigarettes. In the late 1960s, the federal government developed a plan to drill a hole two-thirds of a mile deep and drop an atomic bomb into it. The idea was to crack open new gas deposits and ­create a 2.7-million-cubic-foot gas-storage cavern. A grassroots campaign stopped the project, but not until the last minute.
In the fifties, a defense contractor tried to build a nuclear-powered jet engine in the woods outside town, but that failed, too, and it took about 50 years to clean up the radioactive waste left behind. In 1982, a railcar factory and a Piper Aircraft plant closed, putting 700 people out of work. In a town of about 1,500, the unemployment rate grew as high as 85 percent.
There was more. In 1983, a powerful congressman named Joe McDade convinced investors to open a factory. Up to 500 locals would be employed making cargo containers for the Navy. Nobody cared that the company had the comically sinister name of United Chem-Con Corp. or that the 29-year-old president sometimes commuted to work in a helicopter.
By 1987, Chem-Con had gone bankrupt. In 1989, the president and six other executives were convicted of cheating the federal government out of $12 million. McDade was indicted on conspiracy, bribery, and racket­eering charges. He was later acquitted, but the damage was done.
As you can imagine, I grew up regarding Renovo as a forbidding place with no jobs and some very weird radiation issues. I wasn't sure what to make of it—although everyone I knew agreed that it was probably the worst place in the world to get in a bar fight.
SO I WAS SURPRISED when someone from Renovo invited me to come talk about business in October 2009. (I was working on a state-funded economic-­development initiative at the time.) I would be meeting with the Western Clinton [County] Sportsmen's Association. Not many towns put the fish-hatchery people in charge of community revitalization, but that's Renovo.
The youngest guy in the room was Ray Werts, a fit, bearded 58-year-old who served as president of the WCSA. He was an avid hunter and fisherman, despite having lost a leg in an accident as a child. But he had moved on, and Renovo had upgraded. Rivers that once flowed orange with mine runoff were becoming trophy trout streams again. The WCSA guys told me about the annual Flaming Foliage Festival, which draws thousands of visitors. "And the race," Werts said. "The race is huge."
"What race?" I asked.
"The Hyner View Trail Challenge," he said. "People come from all over to run up the hill."
"What hill?"
He pointed out the window of the WCSA's newly constructed Nature and Environmental Center to a black wall looming above the Susquehanna, a spot so high that it draws hang gliders from all over.
"Nobody runs up that hill," I said.
"Sure they do. We had about 750 runners last year, from 18 or 20 states. They run up that hill then down the other side. They run all over. It's about 4,300 feet of vertical gain over 16 miles. It's brutal."
"Why the hell would anyone do that?"
"I run in it," Werts said. "It's fun."
"What?"
"If I can do it, you can," he said, patting his prosthetic leg and laughing. "Come down and run it with us in April."
"Nope," I said. I looked back up at the wall. Ridiculous.
IF RENOVO IS THE LEAST likely place for a trail race, I am the least likely person to run that race, and I'm still not entirely sure why I decided to do it. It started when an ­editor from this magazine called and asked me some­thing like, "Got any funny ideas that relate to you being pathetically out of shape?"
Why, yes!
I played high school football in the early nineties, but I gained about 100 pounds in college, mostly from drinking beer. I gained about 50 more after I graduated. Then I went flat broke in 2000. To dig myself out, I lived on $8 a week for a year, eating a diet of water, canned tuna, and lentils, an ordeal laid out in my 2009 book The Urban Hermit. This regimen helped me shed 160 pounds. The weight loss had nothing to do with exercise, though. I hate exercise.
I've kept most of the weight off, but … you know. I got married, and we had some kids. Then I got a desk job. The 32-inch waist became a 34. Maybe a 36. I was soft again, and suddenly I had decided to run in this punishing trail race. I had to start training immediately.
I didn't. Instead I spent half of November drinking beer. When I finally bought a pair of running shoes and hit the pavement, I was optimistic. It was a brisk morning. I had some coffee, stretched, did a few push-ups, and off I went.
I had to stop at half a mile.
But I kept running, and after a week I was up to a mile and a half per day. I can do this, I thought. Then my knee started to hurt, so I stopped for a week. No need to push it. When I started running again, the other knee began to hurt. Then the ankle. Then came the holidays.
My wife intervened in January. "You can't just go run up the side of a mountain," she said. "You need to ask a doctor if you can do this."
I did, and the news was grim. My cholesterol was sky-high: 266. It should have been 200 tops. The doctor told me I had to go on medication. I refused.
Then it snowed and my legs hurt and I didn't train, and before I knew it there were only three months left until the race. I limped upstairs and got on my wife's treadmill, waddling through four or five miles at a time.
Eventually, I started limping up real hills and stopped eating so much. My pants got looser and the pain disappeared. I felt great. I can do this, I thought. Even weirder, I wanted to do it.
FOR THIS I BLAME Craig Fleming.
Fleming has been race director of the Hyner since its inception. Like me, he's in his late thirties. The son of a paper-mill worker, he was a jock in high school, but mostly he played basketball. After graduating from Penn State, he took a job working for a mental-health agency in State College, about 60 miles from Renovo.
One day back in the late 1990s, he was walking in the woods, exercising his dog, when he encountered something very strange. "All of a sudden, I see this guy," Fleming says. "And this guy is running. He's running in the woods. I was like, Hey, that looks pretty cool. Can you do that?"
So he started running in the woods with his dog, then with his wife, then with friends. In 2005, he bought an athletic-shoe store in Lock Haven.
Lock Haven is home to a state university, so there are lots of fitness types around. Fleming started a group called the PA Trail Dogs and got involved with the Bald Eagle Megatransect, a local 25-mile trail race first held in 2003.
Then, one day in 2007, a state forester walked into Fleming's store with maps. "He had this idea that we could do something like the Megatransect up around Renovo," Fleming says. "That's when it started to happen."
Working with the WCSA and other community players, Fleming made the thing come together, attracting more than 400 runners for the first race. By 2011, that number had grown to more than 1,000.
"All of a sudden, this area is becoming a mecca for trail running," Fleming says. "Now we have an official Grand Slam, with the Mega, the Hyner, the Dam Half/Full Trail Marathon, and the Rothrock Challenge. People from outside the region are starting to notice."
But that's not what hooked me. What's really cool is to sit down with Werts and Fleming and see two guys from different universes tell you about a dreadlocked kid from the university, an old lady from Renovo, and a marathon runner from Penn State—all volunteering to clear trails in the dead of winter. A WCSA newsletter calls the race "an experiment in getting Guys and Gals in Camo to stand side by side with the Guys and Gals in Spandex to create a unified and powerful force."
I wanted to be part of that, and as I got into it, I wanted something more: to ­become a serious trail runner.
A WEEK BEFORE THE RACE, my wife sent me back to the doctor. He didn't recognize me. From early February to early April, I'd lost 31 pounds (down from 225) and slashed my cholesterol by 25 percent. I still had a week to train, so I trained hard.
Alas, everything fell apart. I made the ­obvious mistake of trying to run through pains in my right ankle and knee, which made the injuries worse. The doctor injected a steroid into my knee. It didn't help. Then he prescribed a pain medication that didn't work. So I called a guy I know and scored some Vicodin.
The first leg of the race—with two soothing Vicodin coursing through my system—was tolerable enough, a flat stretch across a bridge and down a road. Then I tried to pick up my pace and nearly collapsed from stabbing pain in both knees and ankles. By the time we got to the uphill trail, I was stuck in the traffic jam with the rest of the plodders.
I made it to the top of the first hill, where a guy wearing Dockers and a pair of loafers passed me like I was standing still. A couple of old ladies stopped to ask me if I was OK. I lied, and they left me in their dust.
I did reasonably well on the uphill sections; I even passed a few people. But going down was a disaster. I fell a few times when my ankle couldn't bear my weight. At one point I was fighting back tears. I thought about quitting, but at that stage I was eight miles deep in the woods. Near the end, a roundish, fortysomething guy passed me on the right, then stopped and turned around.
"Hey," he said. "I started right next to you." He looked familiar, but I couldn't manage a response.
"You've been limping like that since the first step of the race."
"Yeah," I said.
"You trail-running guys are crazy," he said with a huge grin. "That's hardcore! Congratulations."
The winner of the 2010 Hyner Challenge, a guy from Carlisle, Pennsylvania, finished in 2 hours and 22 minutes. The guy in second, from Portland, Oregon, finished about two minutes later. I staggered home in 6 hours and 21 minutes, 754th out of the 904 people who completed the race. And I was in agony.
Fortunately, my wife and my sisters were on hand to lend support (and heckle). One of my sisters had been taking pictures of all the people who finished ahead of me, like the nine-year-old boy who crushed me by half an hour. "There was even a guy with a prosthetic leg," my sister said. "He finished about 20 minutes ago."
"That's Ray," I said. "That's awesome." And I meant it. Then I hobbled off and got a beer.
THE NEXT DAY I couldn't walk, so I went back to the doctor. The first diagnosis was chondromalacia patella, a softening of the kneecap cartilage that often strikes teenage girls during puberty. "It's usually when their hips start to widen," he said.
I demanded a second opinion in the form of an X-ray. Thank God I did, since I didn't want to be felled by the world's most embarrassing sports injury. The doctor's office called to tell me to stay on the crutches: I had stress fractures. There were a series of them in both knees and both ankles.
But make no mistake, if you run the Hyner, or limp through it, things change. In the months since, I have recruited an unlikely coalition of factory workers, barflies, and old ladies to organize a similar event in the woods around Ridgway. Only we want ours to be longer, with even steeper hills.
I'm still running, and I plan to stick with it. Because if there's one thing I've learned, it's that even a beer-drinking hillbilly with legs like a teenage girl can become hardcore.
Trending on Outside Online