7 Weeks Out from New York City/ Scott Fauble's Marathon Training
Even the best have ups and downs during the heart of marathon training. Sometimes you need to drop out of a workout, sometimes it flows—sometimes in the same week.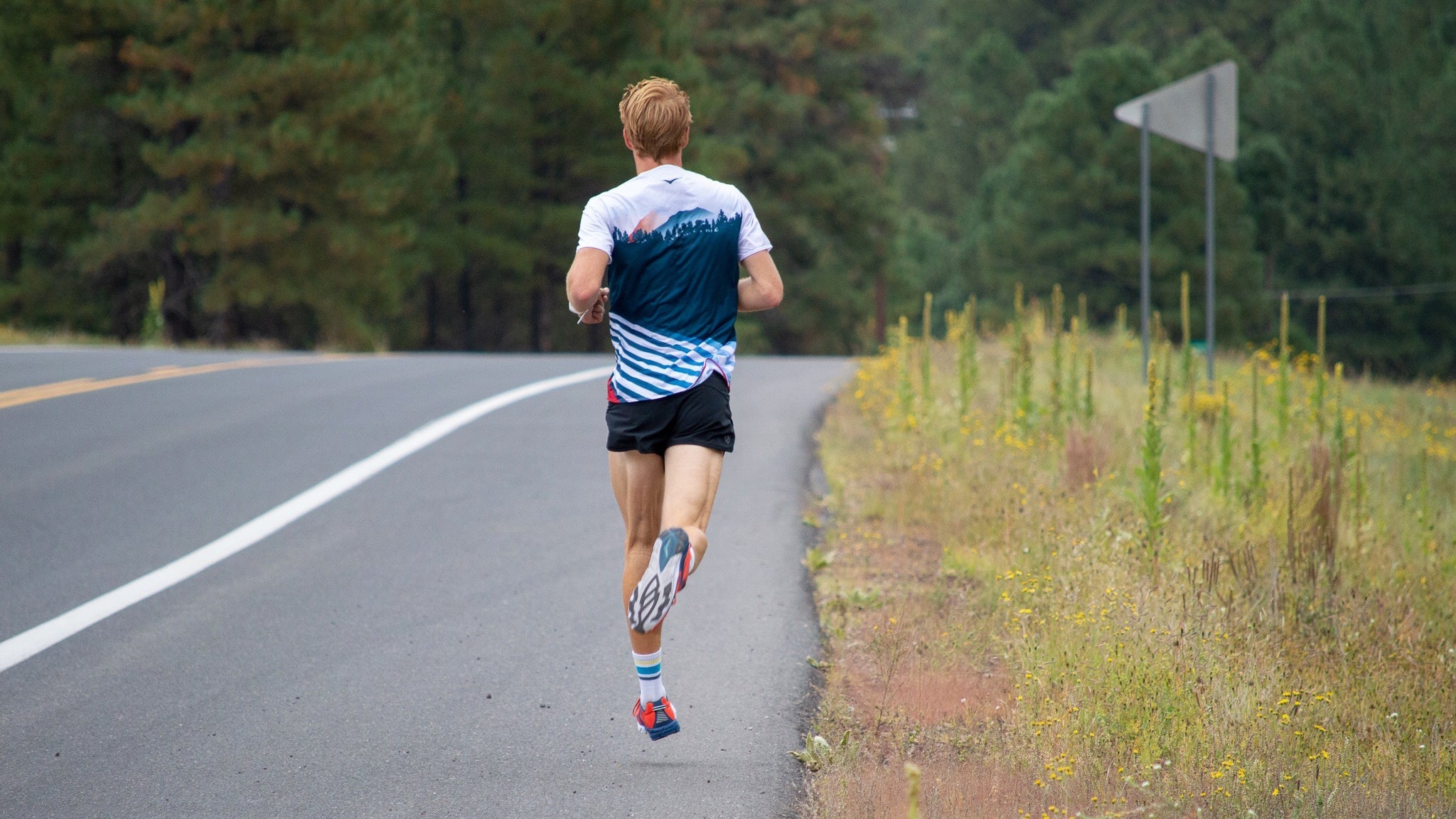 Heading out the door? Read this article on the new Outside+ app available now on iOS devices for members! Download the app.
The excerpt below from Inside A Marathon details Scott Fauble's training from September 17 through 23, 2018. We had come off an easy week after the Great North Half Marathon (where Scott had finished fourth in 1:02:18) and were getting back into the swing of things before a big final push for home.
The first of two hard sessions this week did not go well, and you will read about how we each dealt with that fact below. Hopefully, you can gain some insight into how to shrug off a less-than-stellar day, as I have to say I think we did a pretty good job of that…at least this time. The weekend workout was much better and we were back on track with about one month of hard training to go. — Ben Rosario
Inside A Marathon: Boston Edition
Before we dig into the training, we've got big news: After the success of Inside A Marathon, and after Scott ran 2:09:09 at the Boston Marathon in April, we decided to release a second edition of the book that includes a brand new chapter called BOSTON. The Boston chapter follows the same format as the rest of the book; I give my account of the race, followed by Scott giving his account.
We are both really proud of the 11 pages that re-live our experiences from that day and some of the major workouts that led up to it. We wanted to give readers a moment-by-moment look into the mind of a coach and an athlete during a race as special as that one turned out to be. You will hear and feel my disappointment when Scott falls off the pack at halfway and my elation when he goes back to the front. You will hear and feel Scott's concern about a nagging hamstring injury that worried him 5k into the race. And you will get an intimate view of exactly what he was thinking when he pushed the pace through the Newton Hills, whittling the lead pack from 18 down to eight.
You will also get a full-size color photo of Scott coming down the homestretch and pointing to the crowd as the clock hits 2:09 and the shot of him burying his face in his hands as he realizes exactly what he just accomplished. We cannot wait for readers to get a hold of this book. It's everything we could have hoped for when we began this project back in the summer of 2018. You can order your copy HERE.
On to the training: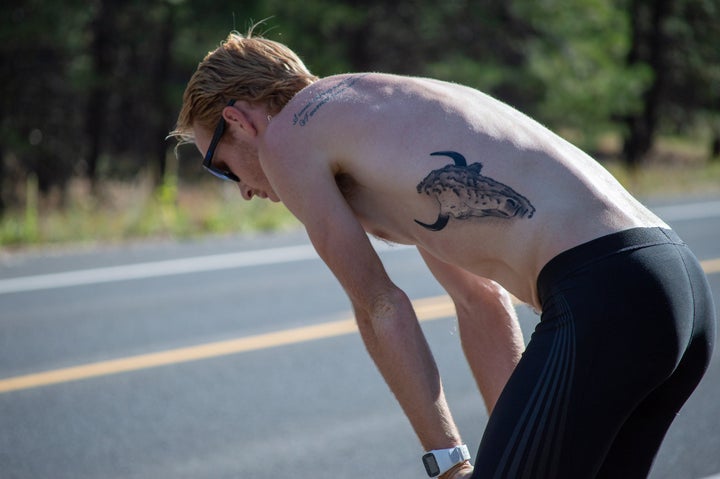 Got a Tattoo Today (September 17-23)
Monday
AM: 8 miles- 55:00

Strength- 1:00; Physical Therapy

PM: 4 miles- 29:00

Spent the morning run discussing if the Breakfast club holds up to modern day standards in terms of gender relations. I re-watched it last night after an 80s-themed barbecue. My contention is that it does not.
Tuesday
AM: 8 miles- 55:00

Foam rolling, mobility- 45:00; Normatec-10:00

PM- 4 miles- 29:00 + drills and strides.

Got a tattoo today: A buffalo head where one side is alive and fury and the other side is a skull. It's on my ribs and hurt really badly and has no symbolic importance to me, I just thought it would look cool. It was approximately 25% larger than I had pictured it, and the artist was a weird guy. I basically clenched all my core muscles for the entire two hour process and now I am sore all over.
Wednesday
AM: 3-mile warm-up. 4 x 1.5 miles at 5:10 pace with .5 mile oats in 3:00-3:10 as recovery, 1 mile cool down. 11.5 total- 63:00.

Nap; Massage; Mobility-30:00

PM: O

I was supposed to do 6 reps, but I didn't sleep well last night. I felt really nauseous and kind of feverish, but I didn't throw up and I felt ok in the morning so I decided to try to do the workout. I felt really smooth and easy through 3 reps, but on the 4th, though, I got nauseous again and thought I was gonna throw up, so I pulled the plug early. Ran 7:30, 7:40, 7:41, 7:40 on the mile and half sections and averaged 3:05 on the half mile oats. I didn't feel good for the rest of the day, but I didn't get worse.
Thursday
AM: 10 Miles-1:10

Strength: 1:10; Foam rolling-30:00; Normatec-10:00

PM: O

Everything was fine for most of the day, in fact I woke up feeling good. It was super weird, though, around 3:00 pm I got really nauseous and threw up. I didn't have any other cold or flu symptoms and my appetite never went away. In fact almost immediately after throwing up, I ate a bagel and soup and then later a pizza for dinner, which is a good sign.
Friday
AM:10 miles- 1:09

Foam rolling, mobility- 45:00

PM: 4 miles- 30:00 + drills and strides

I've said it before, and I'll say it again, breaking 7 min pace is not my favorite thing. Gonna start getting dropped on easy runs if this continues.
Saturday
AM: 10 miles easy. 63 min fartlek of 1/2/3/3/2/1 repeating with 1 min recovery in between everything. 2 mile cool down. 23 miles total- 2:26

Normatec-35:00; Core, mobility, foam rolling- 1:00

PM: O

Went down to Sedona, and ran on a hilly dirt road with kind of bad footing in some places. Ran the first 10 miles in 1:08. The splits were all over the place, but I felt pretty smooth and strong. Even 18+ miles in I was still popping off the ground pretty well and felt pretty efficient.
Sunday
AM: 10 miles- 1:13:00

Mobility- 45:00

PM: 5 miles-36:00

73 mins for 10 miles is perfect. It's so great. It's easy, but it doesn't take forever. I am so good at running easy when I am alone. Like, it's probably one of my top 5 skills as a runner.
Totals
97 miles- 11 runs
Strength, mobility, foam rolling- 6:25:00 / 1 Physical Therapy / 1 Massage
BEN
This was an in-between sort of week for us. We had the clear down week last week, but I didn't want to just jump back in full throttle. We've done that before, and it's sort of negated the advantages the down week gives you. Instead of being refreshed, you just exhaust yourself. I wanted this week to serve as a bridge between last week, where we didn't do much at all, and next week where we'll really be getting after it. So the plan was to run 109 miles with one mid-week marathon-pace workout that wasn't terribly hard, and then a weekend long run that would involve a 54-minute fartlek to remind the body that we're trying to prepare for major pace change in New York and very late into the race.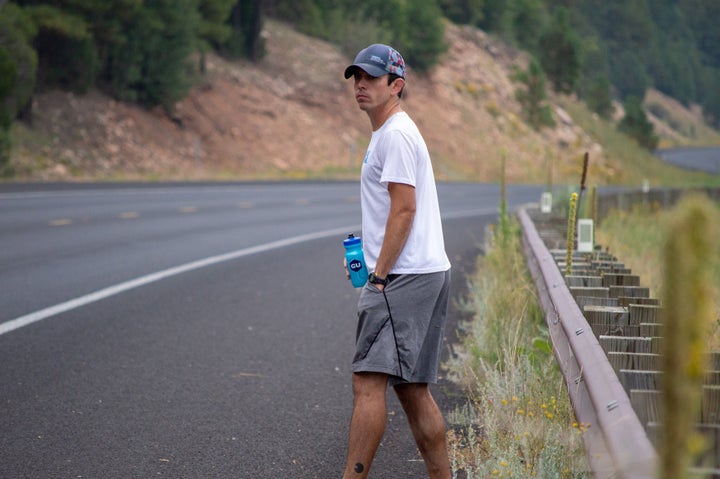 Unfortunately, we had a little hiccup on Wednesday. The session called for Scott to run 6 x 1.5 miles at 5:10 pace with a half-mile mile float recovery in 3:00 to 3:15. I like this workout, which I did a few times during my years on the Hansons team, because each repeat is short enough to really just work on mastering being as relaxed as possible at marathon effort. That way, when we run at that same pace with no recovery we can be controlled and efficient. Scott didn't tell me, but he had been up during the night battling some nausea. Apparently he woke up, got some food down and felt better, and decided to give it a go. But after 7.5 miles, his stomach was not agreeing with him, and he had to call it. I was bummed but not too concerned. The workout, again, was meant to serve as a prerequisite for what's to come, and I think he got enough in that we accomplished that.
He finally did vomit on Thursday, and that seemed to do the trick. After that we has fine. He had only missed the end of Wednesday's workout and the afternoon run on Thursday. So all things considered—not that bad. He was ready to go for Saturday's long run which, though it wouldn't have been the end of the world, I really didn't want him to miss.
I picked Scott up at 6:30am on Saturday to go down to Sedona so he and Futsum could run on Road 525—a hilly gravel road at 4,000 feet where we can get after it a little bit more, pace-wise, than when we're up in Flagstaff. The plan was to run 10 miles easy and then run fartlek style for the next 54 minutes, going 1-minute hard, 1-minute easy, 2-minutes hard, 1-minute easy, 3-minutes hard, 1-minute easy, 3-minutes hard, 1-minute easy, 2-minutes hard, 1-minute easy, 1-minute hard, 1-minute easy, on repeat. I wanted the 3-minute segments at marathon effort, the 2-minute segments at half marathon effort, and the 1-minute segments at 10k effort. With only one-minute jog recoveries in between everything, and on hilly terrain, I thought this would be a tough session. And then I wanted them to cool-down until we got to 22 on the day.
The only thing we screwed up is that there are a couple of forks in the road and we took the wrong one about six miles in, and then we took another wrong one during the fartlek. That second mistake was a bummer because it meant some of their fartlek was run on terrain that was too rocky and too drastically up and down if you wanted to really crush it. I turned them around and we got back on the right road, but I was fairly angry that I had screwed that up.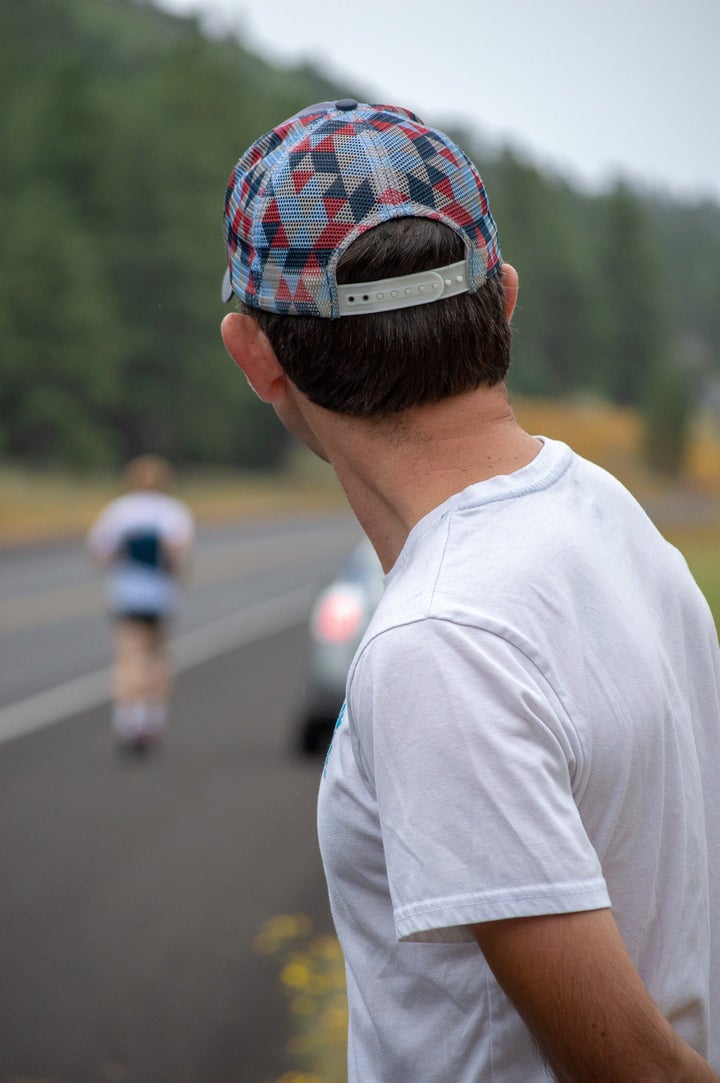 No matter, they did indeed get rolling toward the end of the fartlek. But we had one more blip. Faubs read the workout as 54 minutes of hard work, not 54 minutes total. Meaning he thought he still had a good 20-something minutes to go when I wanted him to stop. And I think he had really left something in the tank. You could see he was disappointed. I let him run all the way to 23 miles on the day. It was the first time this segment (and one of the only times ever) I can remember him expressing a little concern that we haven't been pushing hard enough. He's a guy that, probably since early 2016, I've pushed as hard as anyone on the team so it's a rare moment that he worries about not doing enough. If anything, he's had to tell me a couple of times that a workout is too aggressive—even for him.
I assured him that everything is designed so he'll be ready on the day and that the crazy hard sessions, which he thrives on, are coming. But I have to say that his concern did cause me to go home and really examine the schedule. My conclusion was mostly affirmation that we are absolutely going to be ready. But I do think what I have for next Sunday, and the following Wednesday, could and should be a touch harder. And I will most likely make them so. However, I would never want to give off the feeling that I'm not confident in the plan. So much of a coach/athlete relationship, at least the ones that have worked in my experience, relies on the coach's 100% belief in what he or she has written. So what I'll do instead is wait until after this coming Wednesday's session and after it goes well, which I think it will, I will tell them that they looked awesome and that they're ready to push the envelope even a little more than originally planned.
SCOTT
It was a strange week. On one hand, I experienced intermittent nausea that didn't seem to be connected to any single event or cause but forced me to drop out of a workout (I have a sneaking suspicion that the nausea was caused by the tattoo because it really hurt a lot and took almost two-and-a-half hours and I was super tense for the majority of that time. I think it's very possible that my body was thrown off by that, but I am really hoping that's not the case, because illness from a tattoo would be one of the most embarrassing reasons to skip a couple of runs).
On the other hand, I finished the week with a long run in Sedona where I was running 4:40 pace—and feeling smooth doing it—with two hours and over 18 miles on my legs. It's strange to try to reconcile incongruent experiences like this, where one day it feels like you should maybe just sleep for the next 72 hours, and then a few days later you feel like you could take on the world.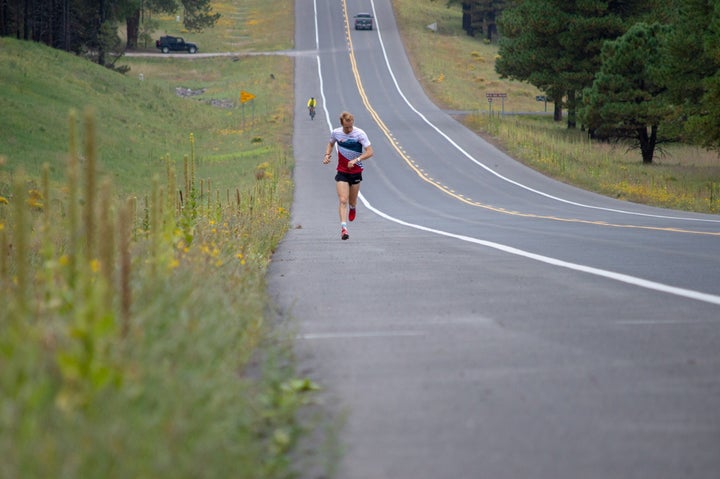 I have plenty of experience with dropping out of workouts, which is not the best, because doing these workouts is how you get fit, and being fit and racing well is my job. The upside of having dropped out of a number of workouts, though, is that after you have to do it a few times, you kind of realize that no single workout really matters all that much. It's all about consistency over an entire season and, even more than that, fitness is about consistency over a two-plus year period.
In fact, you could make the argument that dropping out of the occasional workout is actually a good thing. If you and your coach are pushing the envelope in training, occasionally you are going to go over the line and push a little too far. Not being able to do the occasional workout just means that you are training really hard and overdid it.
Anecdotally, I have found that racing actually goes better when I have to drop out of the occasional session. I dropped out of one of my last workouts before I was fourth at the Olympic Trials in 2016. I dropped out of my last workout before making the World Championship Cross Country Team in 2017 and then also before I got 36th at those World Championships. I dropped out of one of my last workouts before I got second at the US 7-mile championships last year, and then had to stop a 14-mile steady-state before Frankfurt—at about the same point in that segment as where we are now. All of those races went better than the times when I didn't have a workout that I pulled the plug on, like the 2017 Houston Half Marathon. Training for that race went pretty much perfectly—I was absolutely crushing workouts. But then in the race I was flat and tired and not very smooth and was finding it hard to mentally engage. I felt all the feelings that usually signal that it's a good day to drop out of a workout, but that time it was race day.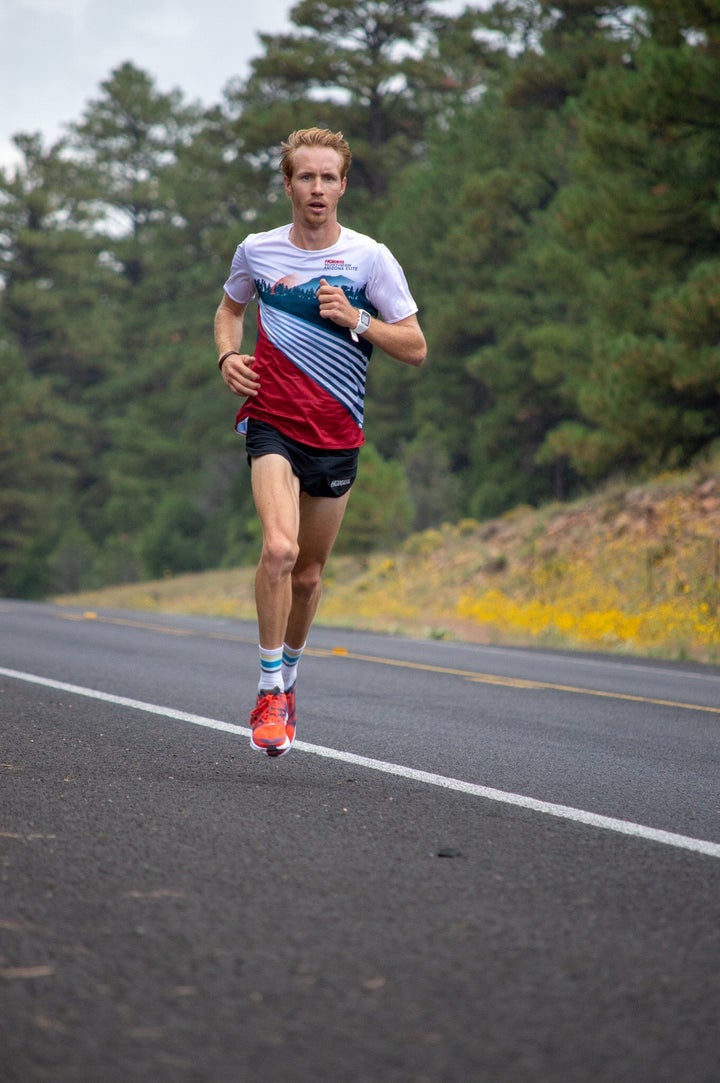 I've mentioned mindfulness a few times so far in this book, and I think it's applicable to this chapter as well. Mindfulness is the practice of attending to, and experiencing, the present moment. After a little over a year of pretty steady and consistent mindfulness-based meditation, I have certainly gotten better at leaving the past in the past. At previous points in my career I might have come into Saturday either too conservatively, worried that I was about to dig myself a hole and make myself worse, or I would have approached Saturday's workout feeling like I had something to prove. This week, though, I just let the workout come to me. I tried to find the right efforts and just focused on being smooth. I let it flow and it was a good day.
Excerpted and adapted from Inside a Marathon by Scott Fauble and Ben Rosario
From PodiumRunner