Chasing the One Percent—Lessons from the INEOS 1:59 Challenge
When does the quest for every second become a distraction that threatens the fundamentals and the calm confidence needed for success?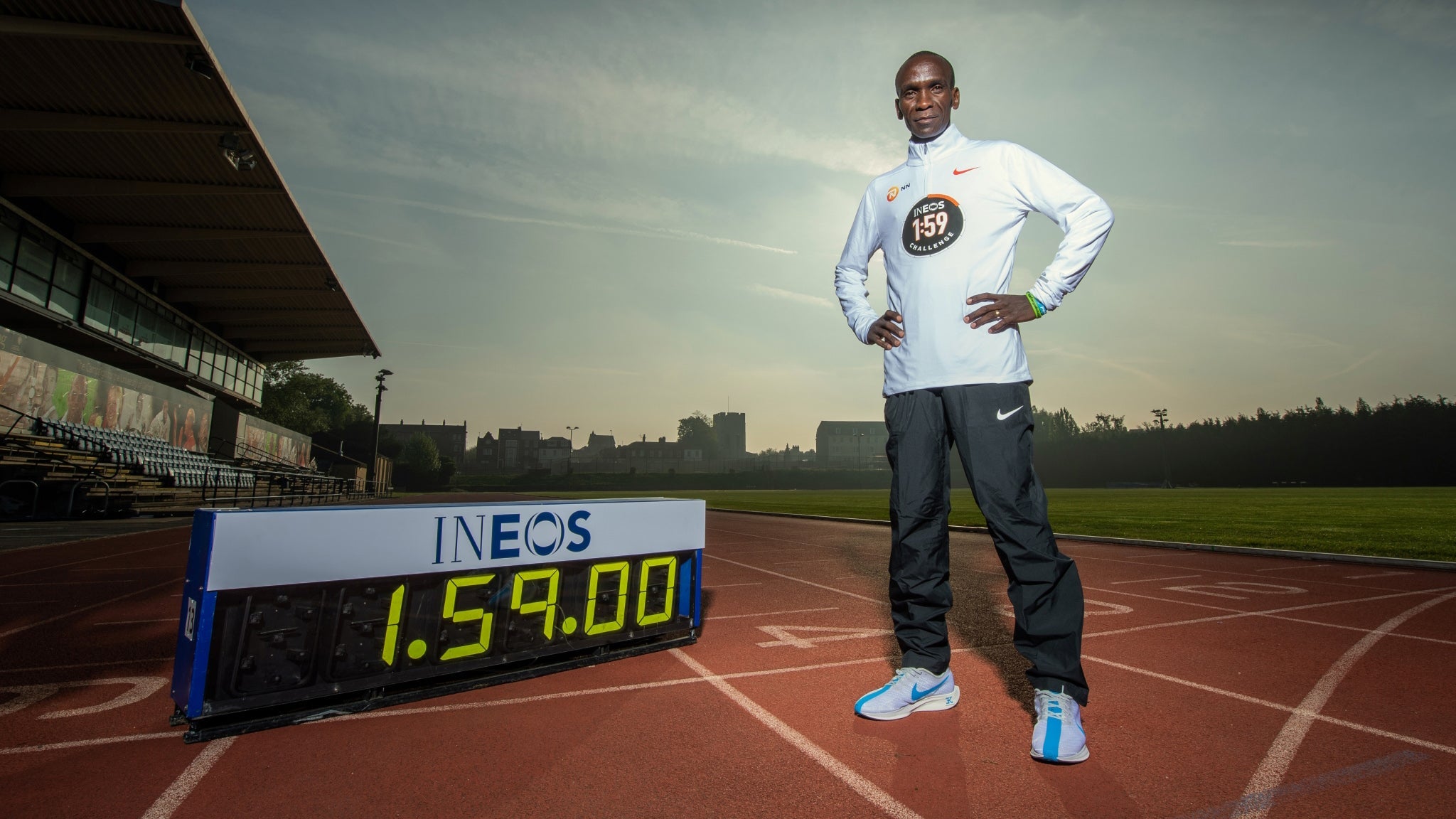 Thomas Lovelock for london marathon events
Heading out the door? Read this article on the new Outside+ app available now on iOS devices for members! Download the app.
Deciding what to focus on most when you are training towards a hoped-for landmark marathon performance can be a tricky business.
Just ask Eliud Kipchoge, the fastest man over 26.2 miles on the planet. For all his laudable qualities and hard work, it seems even the great Kenyan—who will make his second all-out bid to break two hours next month in Vienna—can err in his preparations.
"Eliud's fueling will be a little bit different from Monza in 2017 [the Nike Breaking2 attempt], because we realized there the drinking wasn't good enough—he didn't get in enough," says his long-term manager Valentijn Trouw. "It was simply too hard for him at that high pace."
Since Breaking2, Kipchoge's team has taken fluid intake more seriously, simulating their race strategy in his long runs of 21 to 25 miles (35 to 40km). "He gets his drink every 5km so that when he comes to racing his body is already used to getting it in," Trouw says. "He practiced more in training and it has already worked in big city marathons."
No Stones Unturned
Kipchoge had some of the best minds in sports science poring over every possible performance factor two years ago, but he finished 26 seconds short of his sub-two-hour target. And it's not like the Nike Breaking2 team failed to pay attention to his fueling—he just didn't get good enough at it, according to Trouw.
Kipchoge's marathon-running success (he's won 11 of the 12 races he's competed in) has earned him impressive support again for the INEOS 1:59 Challenge in Vienna.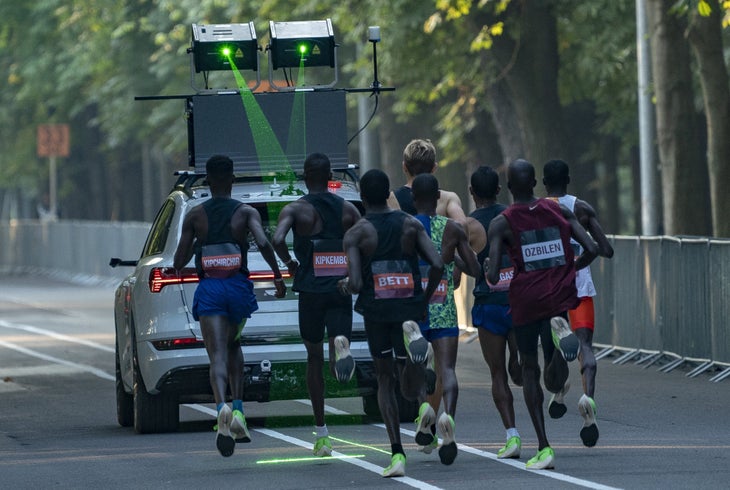 A team of elite pacemakers—including Paul Chelimo and Bernard Lagat—have been signed up for the run which is scheduled for October 12. Optimal drafting formations have been studied, aerodynamics and weather experts from professional cycling and sailing engaged, and the course in the Austrian capital picked for its consistent conditions.
The drive for a sub-two time is fascinating and, while Kipchoge's bid won't make the official record books because of the methods used, there are lessons to be learnt for everyday runners from his efforts.
The main lesson is obvious: Practicing matters. For all the hard work of scores of experts, the skill of taking in fuel while pushing physical limits wasn't honed enough before Monza. Buying the right drink, planning the fueling strategy, having all the logistics in place are inadequate without practicing the tactics and training the body—for any of us.
A Free and Calm Mind
Another takeaway which Kipchoge and his camp say should help him achieve his target in Vienna is the value of experience and brain training—that belief and confidence really count.
"In 2017, it took him a lot of effort and time to convince his mind and internalize that he really believed he was going to break two hours," said Trouw. "Now he has been through that process, it feels much more natural and he knows deep inside himself that he is able to break two hours if everything goes right on the day.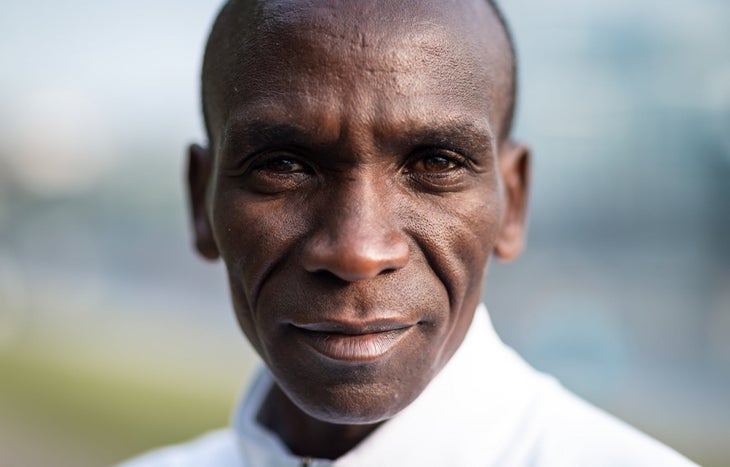 "Eliud realizes the mind also needs training and he takes that very seriously," Trouw says. "In his daily routine he internalizes what to expect in his next race and works step by step on what is going to be needed on that day."
Having a "free and calm mind" on the start line, as Trouw puts it, is a trained talent of Kipchoge and one that anyone who has gone for a marathon PR knows can prove elusive.
There are just so many distractions on the way to race day, particularly for runners who don't have scores of experts taking care of the small stuff. Questions about everything from shoes to beet juice to electrolytes can become the accompanying soundtrack of many a training journey—and choosing which to pay attention to isn't always obvious.
Complexity or Clarity
Some handle the noise better than others and find chasing small potential advantages can be worth the effort. Charlie Wartnaby, a British masters runner, thrives on the minutiae; he trims the heels of his race shoes, weighs socks, and is banging out sub-2:45 marathon times despite being just a year short of 50.
Others, like Oregonian Peter Bromka, keep it simple. He has made remarkable progress in the last six years, dropping his marathon time from 2:56 in 2013 to a 2:19:40 PR—just 40 seconds outside the Olympic Trials Qualifying standard—in Sacramento last year. Aged 38, Bromka will again go after the OTQ time at CIM in December.
"Sometimes runners overburden their minds with the difficulty of it all," says the runner who trains with the amateur group at Bowerman Track Club. "For me, it's about managing stress rather than coming up with a perfect solution that I need to test in the lead up to a race. The real fitness gains I've made over six years, the body-changing strength and elevation of fitness level, you can't even get in two or three weeks. That's hard for most runners to grasp."
Alex Hutchinson understands Bromka's point well and has resided on both sides of the marginal gains fence.
He's a former Canadian national team runner with a 2003 PR of 13:52 in the 5k and has since studied the intricacies of endurance as well as the science of all the latest techniques, technologies and hacks.
"There were times in my life when chasing the one percents absolutely were worth it," says Hutchinson, the author of Endure. "If you'd told me smearing seagull crap on my head would help, I would have done it. Now I'm at a different point in my life and 99 percent is pretty good." Today, Hutchinson even eschews the benefits of a GPS watch these days because, as a self-confessed data nerd, he knows his "weakness."
Overriding the obsessive side of our personalities isn't easy for everyone, however, and there are plenty of things that make it tough. Studies are being released all the time about the latest way to get a competitive running edge—strategies as diverse as taking baking soda, electrical brain stimulation and adding carbon fiber plates to midsoles have all been looked at.
Then there is the frustratingly fluid nature of scientific research, which means seldom is anything definitive; contradictions and nuances are regularly teased out, adding to the internal noise and doubt. Having the knowledge and time to differentiate between credible and dubious studies is a whole other level, and whether all the marginal gains aggregate anyway is moot.
Fundamentals First
The solution, top coaches say, is to zero in on the basics. "You can focus on sleep and nutrition and do very well," says Boulder-based elite coach Brad Hudson. "First get the fundamentals, then worry about the Vaporfly, the beet juice, depletion diets and so on. If you get more elite, you're going to look for a little edge—half a percent here or there—but for the most part, people are better training well, getting an extra hour's sleep and forgetting the compression boots."
Great podcast with @cragcrest
Key message to optimise recovery:

1) Prioritise at least 7 hours of sleep
2) Manage psychological stress
3) Find relaxation ritual
Prioritise these over methods such as foam rolling, massage, cryotherapy, compression etc.https://t.co/pXAipYiCF9

— Andreas Hessner (@Physio_Digital) September 6, 2019
Recovery has also become big business but the placebo effect here appears as strong, if not stronger, than in some more direct performance products.
Christie Aschwanden studied and tried out many of the healing tools on the market, looked at the research behind them and came to a very simple conclusion.
"I have to laugh when I see these athletes trying to 'biohack' their way to better performance with tricks that at best promise only small gains, especially if they are neglecting the fundamentals that truly matter—sleep, recovery, basic good nutrition and stress reduction" says the author of Good To Go. "You could be going after every marginal gain possible and it's all for naught if you're not sleeping enough."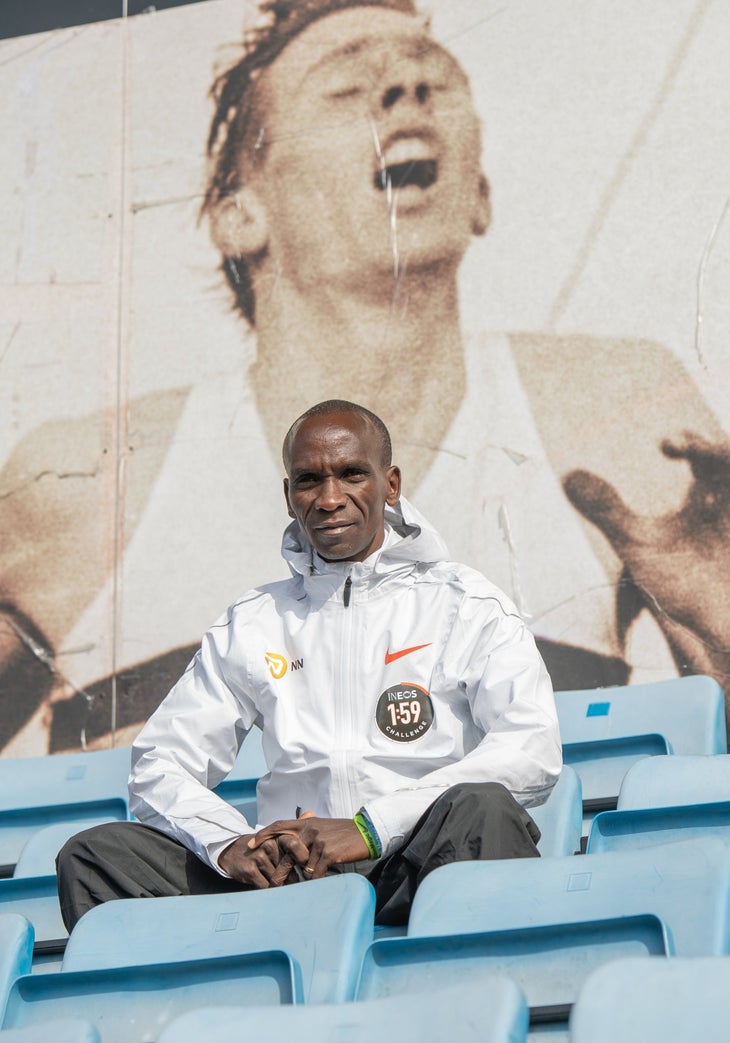 For all the attention to details in the INEOS 1:59 Challenge,Kipchoge has put his success down to hard work and keeping things simple. He's been quoted as saying: "You run, eat, sleep, walk around—that's how life is. You don't get complicated. The moment you get complicated it distracts your mind."
His attempts to break the two-hour barrier in the marathon may have been accompanied by a great many people sweating the small stuff for him, but unless you have the same support—or thrive on the details—follow his lead: focus on the fundamentals, practice, and show up on race day calm and confident.
From PodiumRunner Lead Photo: Thomas Lovelock for london marathon events
Trending on Outside Online