How Connor McMillan Trained To Run an 11-minute PR of 2:12:07 at New York
9 training principles and one key race strategy led to his breakthrough marathon—and can work for you.
Heading out the door? Read this article on the new Outside+ app available now on iOS devices for members! Download the app.
In last week's New York City Marathon, little-known BYU grad Connor McMillan, whose previous marathon best was 2:23:28, ran 2:12:07 to finish 10th overall, placing third American behind longtime USA stars Jared Ward, sixth, and Abdi Abdirahman, ninth. How did McMillan pull this off?
The story begins in late July when McMillan, who turns 24 on November 15, finished a surprising fourth in the USATF National Champs 10,000m in Des Moines. That left him with a difficult choice: Should he continue his track season, perhaps picking up a couple of European meets with good weather and fast fields? Or should he move up to the marathon?
Choosing a Marathon Focus
McMillan decided to "follow the money." He didn't have a sponsor at the time, and couldn't imagine earning anything on the track circuit. "In that regard, you could say the marathon chose me rather than me choosing the marathon," he notes. "I also realized that I'm basically a rhythm runner who does better at tempos and long runs, so that pointed to the marathon."
McMillan decided to run a couple of road races on the way to a fall marathon, and picked the New York City Marathon because it afforded more training time than Chicago. It didn't hurt that frequent training partner Jared Ward would be returning to New York after his strong sixth-place finish the previous year.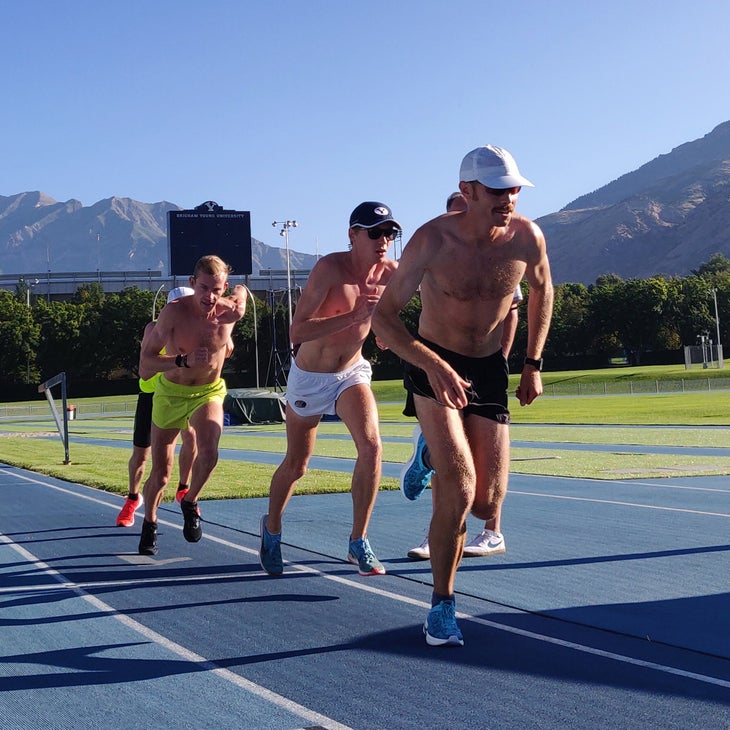 Three years ago in Chicago, McMillan had run a "disappointing" 2:23:28 during a red-shirt year at BYU. He wanted much more than that in New York, and devoted himself to an improved, marathon-specific training plan.
Here are the main points of the training program he carved out with BYU coach, Ed Eyestone, himself a two-time Olympic Marathon competitor.
Marathon Training Principles
"Drink from a fire hose." Eyestone's philosophy is to get runners as fit as they can be with a wide variety of workouts. Or, as McMillan puts it, "The training was a bit like drinking from a fire hose. There's so much coming at you that you can't take it all in. But you get what you need."
Go really long. McMillan logged four 25-mile long runs prior to New York. These included three to four miles at marathon pace toward the end.
Take an "active recovery" day off after the long run. McMillan did his long runs on Saturdays, and then took Sundays off. After six hard training days ending with a 25-miler, he needed the rest. "Recovery was tough sometimes," he admits. "But I made myself go to the park to play catch or go for a walk. The more active recovery I got, the better I'd feel for my next hard workout on Tuesday."
Train with other strong runners. McMillan did about 70 percent of his training with marathon ace Jared Ward. "That was a big confidence builder," he says. "It helped a lot to know I was training with one of the best." They were often joined by Clayton Young, who won the NCAA 10,000 in early June, and Micah Adams, a 67-minute half-marathoner.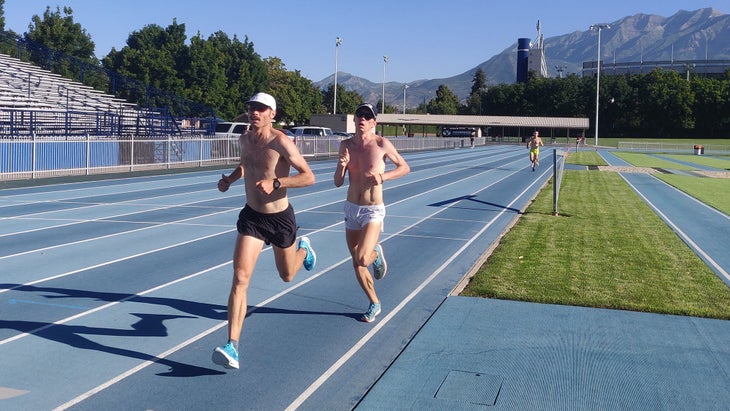 Ride out the fatigue. For the first month of his marathon training, as he built from about 90 miles a week to 110 and sometimes more, McMillan experienced high fatigue. He wasn't sure he could get through the next two months. "I was scared. I didn't know if I could pull it off," he says. Soon things got better. "It gets easier on your mind as well as your body," he notes.
Use other road races as tuneups. McMillan ran the New Haven 20K on Labor Day and the Twin Cities 10-Mile in early October. Both are USA national championships with good prize money for Americans. He finished sixth in New Haven for Burger King money–$600. But he ran stronger at Twin Cities, third in 46:58, to bring home $7000.
Expect bad days and even bad weeks. Don't let them get you down. During his 12-week training buildup, McMillan hit just one bump in the road: He caught a cold. "I had one workout that I had to cut short, and a couple of super-easy days," he says. "But I bounced back quickly, and everything else was fantastic."
Do long tempo runs. McMillan increased the length of his long tempo runs to 12 miles at marathon pace. He hit 5:01 pace on that 12-miler, at Provo's 4500-foot altitude.
Sometimes, while modestly tired,  train faster than marathon pace. In another key workout, McMillan and friends ran eight miles at about 6:00 pace, and then finished on the track with three or four 1-mile repeats. "We started at 4:32 pace, and then worked down from there," he says.
Race-Day Strategy
Stick to your race plan. Three miles into the New York City Marathon, McMillan found himself running on Ward's heels, and with the large lead pack. That was nice. "I would have loved to run more miles with Jared and the leaders," McMillan says.
However, the pace was a tad too rich—in the mid- to low-4:50s—and McMillan knew it. He opted to stick with his marathon goal pace—5:00—and let the frontrunners go.
That made things tough. "I was screwed," he admits. "I was trapped in a place where I had to run most of the race alone."
But there was a payoff. He felt "in control" the whole way, even the last six miles, where he had trailed off dramatically in his 2016 Chicago Marathon. In New York, he barely slowed after 20—and ran his last mile in 5 flat—en route to his PR.
"Looking back, I think I could have run a little faster," he says.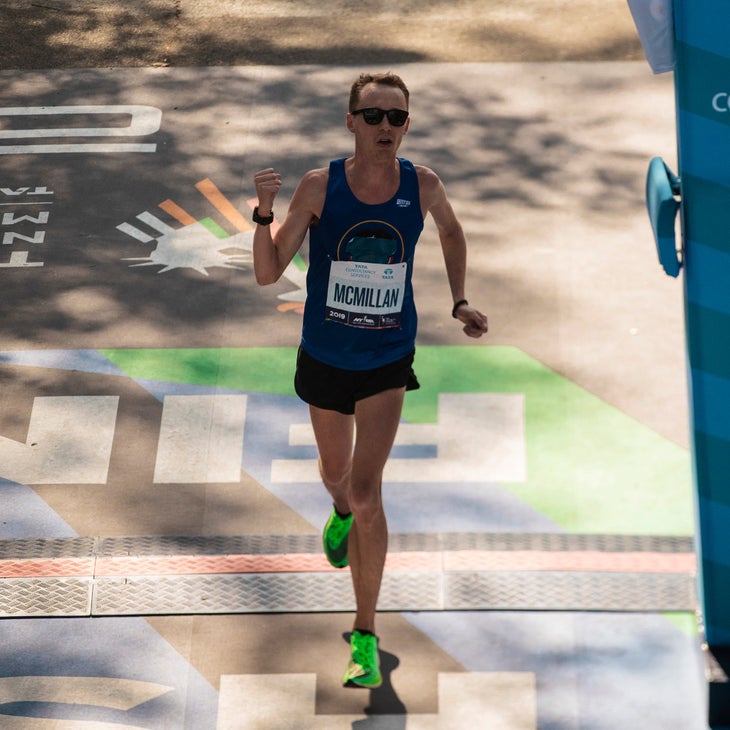 On to Atlanta
McMillan has now joined the impressive number of other American marathoners who ran 2:10 to 2:12 this fall—all of them on courses considered several minutes faster than New York. That puts him in rarefied air, and indicates he could run well on the hilly, technical Atlanta course. Those who have sampled it say there's virtually no flat. Everything either goes up or down.
"I'm super excited about my chances to make the Olympic team, but I'm also going to stay mellow in my approach," McMillan says.  "Maybe I'll just try to train a little more, a little faster.
"There will be a lot of great runners on the line in Atlanta. I'm not going to obsess about my chances. I believe in taking one training block at a time. First you've got to do the training, then you've got to execute in the race."
From PodiumRunner
Trending on Outside Online