Ritz on Running: Marathon Training Taper Trouble
Marathon training rarely goes as planned. Don't panic. Use your taper to get to the start line as ready as you can be on that day.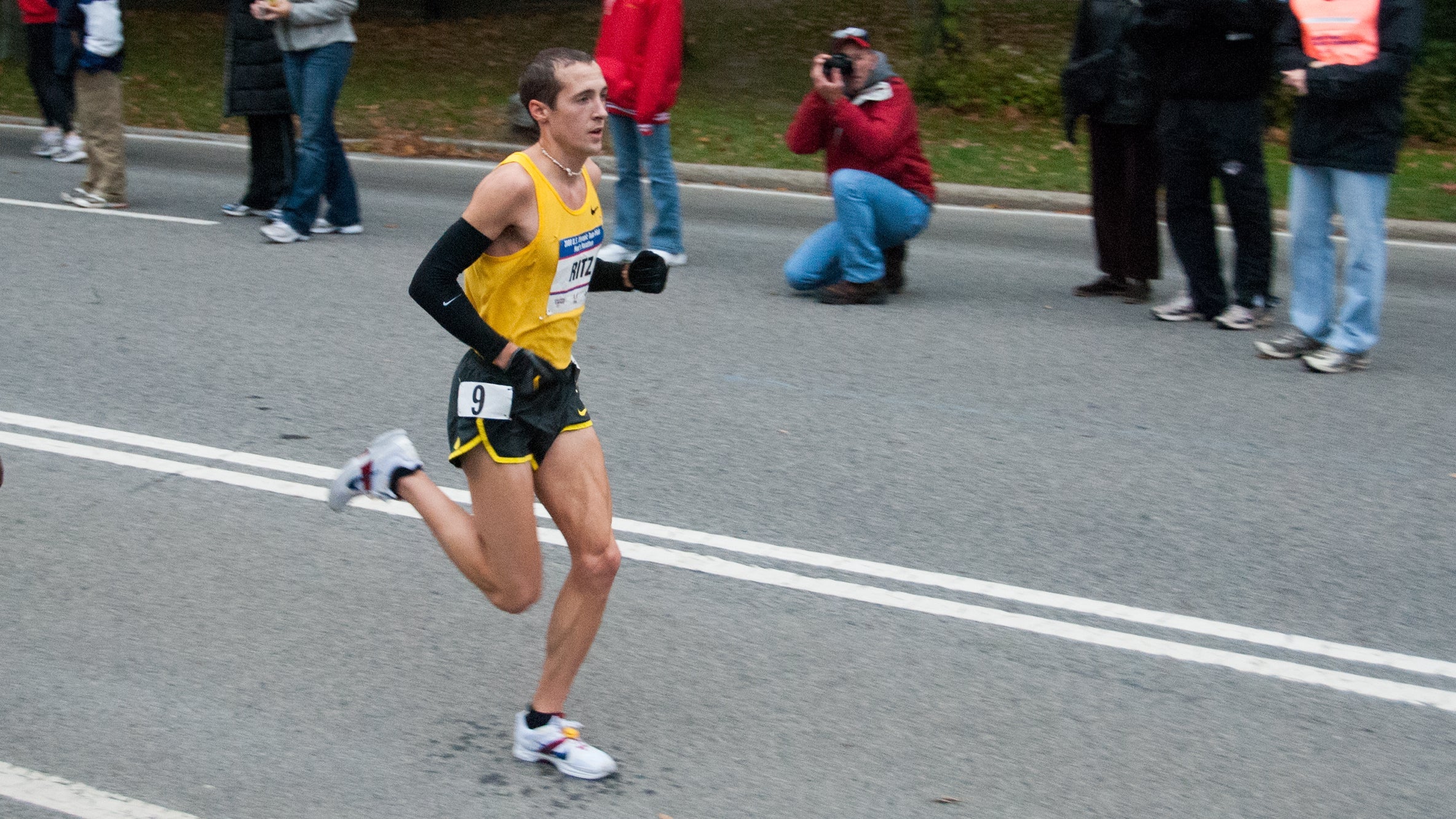 Heading out the door? Read this article on the new Outside+ app available now on iOS devices for members! Download the app.
The training taper. For spring marathoners, it's getting to be that time. Some runners cherish it, some dread it. You have spent months grinding away. Long runs, tempos, intervals and tons of mileage. Whether you like it or hate it, you need to reduce training to some extent to be your best on race day.
My general rule of thumb is, the more beat up you are, the longer the taper should be. Three weeks is a good time to start taking out some of the factors that have led to fatigue and nagging injuries. Training for a marathon is hard work, and the cumulative beating that the body takes requires extra time in the final weeks to catch up on therapy and recovery.
You have a plan set out for your final weeks—but what happens if something pops up in the final stages of your training? This happens all the time to runners, and how you deal with the unexpected and approach those final couple of weeks can make all the difference on race day.
The taper might not be enough to get you to the start at 100%. In fact, I think in only half of my marathons have I gone in with 12–16 weeks of solid, fairly uninterrupted training. Quite often I have had to use the last weeks of the taper to nurse injuries or deal with last minute problems that popped up.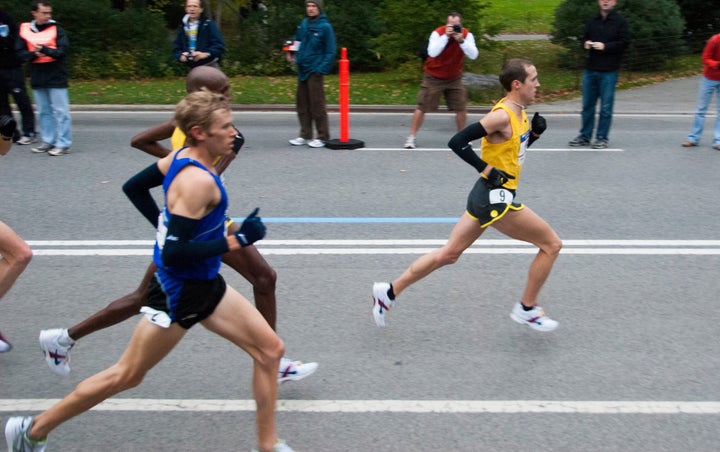 These are my 11 marathons. Only about 50% of them have followed months of smooth sailing.
Debut Marathon NYC 2006

Training: 100% healthy, no problems. Result: My slowest marathon in 2:14:01. 11th place.

 Olympic Trials Marathon 2007

Training: Significant disruptions with Anemia/Peroneal Tendon split tear five weeks out. Result: 2:11:07. 2nd place. Made the Olympic Team.

Beijing Olympic Marathon 2008

Training: Injured all spring with stress fracture, but 12 solid weeks of training. Result: 2:11:59. 9th place.

London Marathon 2009

Training: Barely made the line, injured achilles three weeks out and very disrupted taper. Result: 2:10:00. 11th place.

NYC Marathon 2010

Training: Good solid block for last twelve weeks. Result: 2:12:35. 8th place.

Olympic Trials Marathon 2012

Training: Injured most of the previous year but five good healthy months. Result: 2:09:55. 4th place.

Chicago Marathon 2012

Training: Healthiest year I ever had. Except, with 10 days to go I developed the start of a stress reaction in my foot. I ran the whole race with a hole cut out of the sole under my 3rd metatarsal. Result: PR of 2:07:47. 9th place.

Chicago Marathon 2013

Training: A very healthy year until the last 10 weeks. Very bad plantar fasciitis. Also strained posterior tibial tendon in my ankle 2.5 weeks out. Almost didn't make the line. Result: 2:09:45, 5th place.

Boston Marathon 2015

Training: Injured much of the year before. Three months of solid training but injured cuboid bone in my foot four weeks out. Took almost a week off, almost pulled out. Result: 2:11:20, 7th place.

Olympic Trials Marathon 2016

Training: Great training leading up to the race. 100% healthy. Then three days before the race strained a back muscle, significant pain running. Result: Dropped out at 20 miles with leg cramping.

New York City marathon 2016

Training: Very good training for much of the year. The last two months were plagued with bad plantar fasciitis. Almost didn't make the start line. Result: Ruptured plantar fascia at mile 19 and dropped out.
As you can see, some races I was 100% going in—and they didn't end up being great! For others, however, I had some nagging injury going into the race and I was able to overcome many of them to have a successful day. Those races in which I had problems, I still ran the best I could on that day.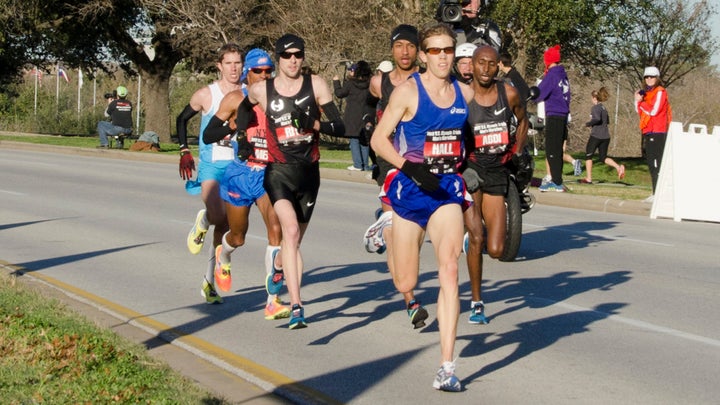 Sometimes it can throw you off mentally when you are training great, then right before the race something happens that stops your momentum. When that happens, I always tell myself I am not about to let all the training go to waste. Try to get all your problems under control in the taper weeks but don't freak out if something is still nagging at you when you're on the line. Do the best you can but don't obsess on race day; obsessing won't make any difference in improving the injury, and it will take away from your performance.
When I ran my marathon PR of 2:07, I ran the whole race with a hole cut out of the bottom of my shoe to take pressure off the bone. I didn't let it rattle me. Instead, I just focused on keeping everything as normal as possible. I can tell you my foot was on fire and blistered badly but it allowed me to run the race and finish with a new PR.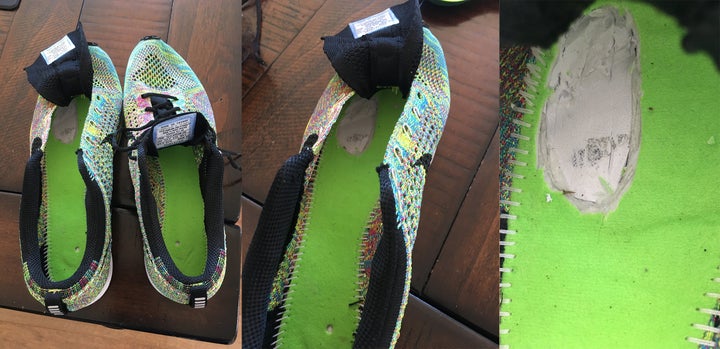 These nagging things can also be a good distraction. If you find yourself in the position of dealing with something during tapering, use the nervous energy most of us get in the last weeks to focus on getting those issues "good enough" for race day.
If you have something going on, find what aggravates it most and take that out. If it is volume, take that away first. If it is speed, take that away first. But try to maintain the best balance of training you can.
The body loves consistency, and changing everything will do more damage than good. Don't all of the sudden stop training or change everything you do, instead make small adjustments and focus that extra time and energy on rehab. You have made it through months of hard training and there are a lot of other runners on the line who are a little dinged up.
Heed the advice and consult of your doctor or physical therapist if they tell you not to run. But if they give you the green light and you have been able to continue most of your training, you can still have a very good result on race day even when you're not 100%.
Meb Keflezghi said it best: "Winning is getting the best out of yourself that day."
From PodiumRunner