Meb Says Marathon Success is Not About Talent or Luck
Keflezighi talks about his career and his new book, which offers 26 takeaways for running 26.2 miles.
Heading out the door? Read this article on the new Outside+ app available now on iOS devices for members! Download the app.
When Meb Keflezighi finished his first marathon—New York City in 2002—his first thought was the same one most first-time marathoners have: "I don't want to ever do this again."
And like most first-time marathoners, he found himself on the starting line of another marathon (Chicago) less than a year later. And another one after that, and another one after that, until finally, he'd run 26 marathons in 15 years, winning New York, Boston, and an Olympic silver medal along the way.
Early on during this venture, Keflezighi says he "decided to be a student of the sport." He would apply what he learned from each race to future races, which eventually allowed him to dial in the physical preparation and mental fortitude necessary to become one of the world's best marathoners—and a four-time Olympian.
Keflezighi stresses the importance of his upbringing in learning the value of preparation. Keflezighi was a refugee from Eritrea, who moved to the United States with his parents and siblings in 1987. "My parents taught me that the key to life is education, the key to life is preparation," he says. "I'm not the most talented guy, but I try to work hard and do things the right way."
What does this mean in terms of running? Keflezighi doesn't rely on talent or luck, but trusts his training. As an example, he says that if someone asked him to run a half marathon at five-minute pace right now, he would struggle. But a month or two from now? Bring it on. "I believe in the process, I believe in the training," he says. He knows exactly the type of workouts—intervals, tempos, long runs, strides—necessary to be successful at a certain distance and pace, and knows that he can't have success without diligently following the process.
"We all have this body, we have to nurture it," he says. "If I train consistently, I will have good results." Those results are predictable and consistent. Keflezighi completed 19 of his 26 marathons between 2:08 and 2:14 and 8 of them between 2:09 to 2:10. "I'm the same person, so I don't expect to be all over the chart if I do the process right," he says.
Consistency is also necessary in nutrition; in addition to finding foods that worked for him, Keflezighi weighed himself almost every day when he was competing. "I would take the scale with me when I traveled," he remembers. "Efficiency is important, and I knew what I had to weigh to be efficient."
That racing weight is 121 pounds for the 5 foot, 5 inch Keflezighi. He says he weighed that even at the Rio Olympics despite joking with his wife that, due to Rio also being a family vacation, he was "going to gain 50 pounds and show up on the starting line looking like a black Stay Puft Marshmallow Man next to the world's top marathoners."
Keflezighi retired from competitive running in 2017 after running the New York City Marathon for the eleventh time. He now works full time as a brand ambassador for his sponsors and as a general ambassador for the sport of running. He's also the founder of the MEB Foundation, which funds programs that promote fitness and other positive lifestyle choices for children. "I'm not competing, but I'm still busier than ever," he says. "People still want to see me whether it's at 8-minute pace in a race or at a speaking engagement."
"I'm honored to be on that pedestal," he says, "and I'm honored that people want to learn from what I've done right and what I've done wrong." One way he's passing on those lessons was to write his new book, 26 Marathons: What I learned about Faith, Identity, Running, and Life from my Marathon Career. Keflezighi wrote the book with Scott Douglas (who was also Keflezighi's co-author on the 2015 New York Times best-seller Meb for Mortals: How to Run, Think, and Eat like a Champion Marathoner).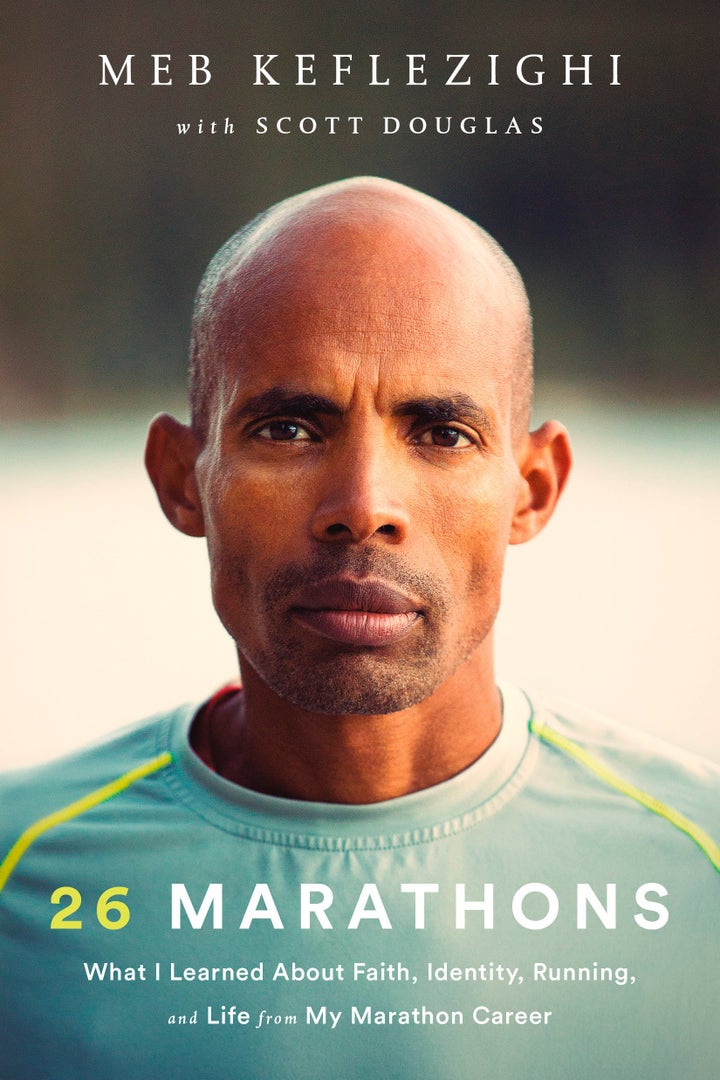 In 26 Marathons, Keflezighi chronicles his races and their respective lessons. The races are presented chronologically, each as its own chapter, with the big takeaways as the chapter theme. For example:
• Olympics 2004: Experience isn't everything. Have belief in your abilities and confidence in your preparation.
• New York 2005: Small personal victories can show you that even greater things are possible in the future.
• Boston 2010: It's better to be 90 percent ready and make it to the start line than to panic and become either overtrained or unable to start the race.
• Boston 2014: We all have our day when everything clicks. If you recognize when it's happening, you can produce something that's bigger than yourself.
• New York 2014: Mother Nature and other forces outside your control will always be a factor, but you can't let them ruin your race.
Keflezighi writes in the book's preface, "I hope that this book inspires you to run to win on your terms, in running and in life."
26 Marathons goes on sale March 19 and costs $25.
From PodiumRunner
Trending on Outside Online