Why Even Healthy Runners Should Spend Time in the Pool
4 ways every runner can benefit from supplementing their road miles with time training in the water.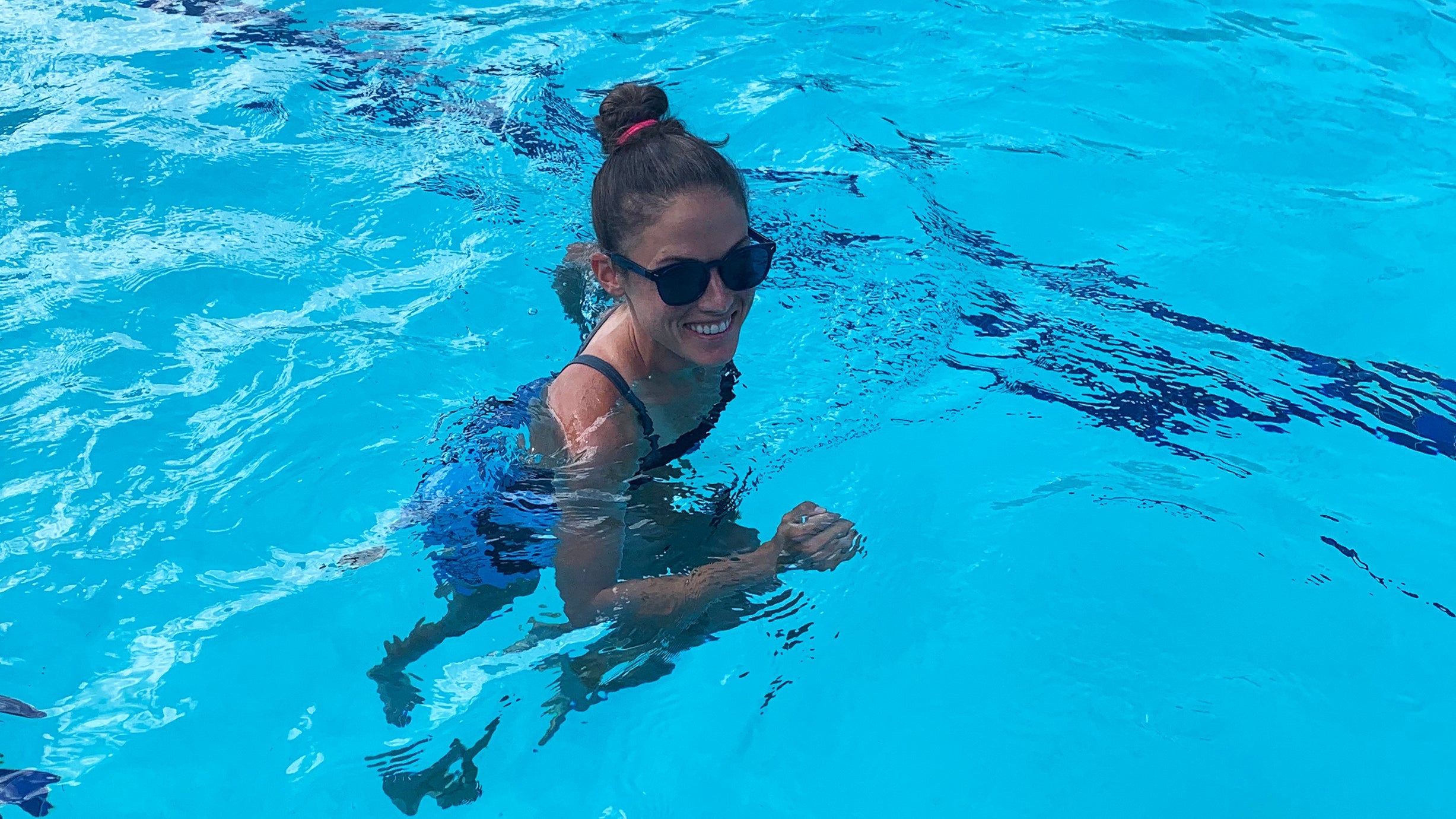 Heading out the door? Read this article on the new Outside+ app available now on iOS devices for members! Download the app.
A runner in a swimming pool is usually not a good sign. It elicits the assumption that he or she is on the brink of injury, coming back from injury, or straight-up injured. And because of that negative association—not to mention the isolation and ineptness many of us feel in the water—the pool is commonly the last place a runner wants to be. Since as many as 90 percent of us will be injured in a given year, we wait to swap our trainers for fins until we inevitably must.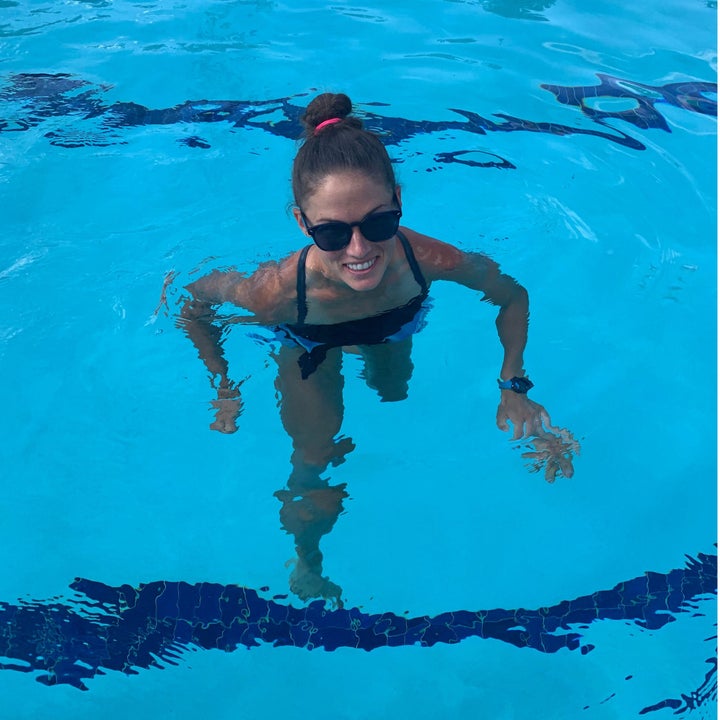 Research suggests that it's worth reconsidering our relationship with the water. From boosting muscle repair and facilitating fitness to strengthening the core and encouraging form work, there are a multitude of benefits offered by a regular dose of time in the pool—and hot tub (you're welcome). You need not be injured or even injury prone to take full advantage.
Here are four ways to incorporate water into your training program, with tips from runners who have reaped the benefits:
1) Water Running
Before New Zealand marathoner Mary Davies ran her 2:28 personal record, she was in the pool six times a week for a minimum of 45 minutes per session: one long (8-15 minute) interval session and five easy-to-moderate recovery runs. "Water jogging was an essential part of my training," she says. It allowed her to get in what she and her coach called "hidden mileage" with no impact while helping to alleviate muscular tightness and fatigue. As a bonus, Davies' time in the pool also lent itself to mental training. When done right, she says, "Water running is pretty tough mentally." The extra focus required in the pool translated to the roads, boosting her confidence along the way.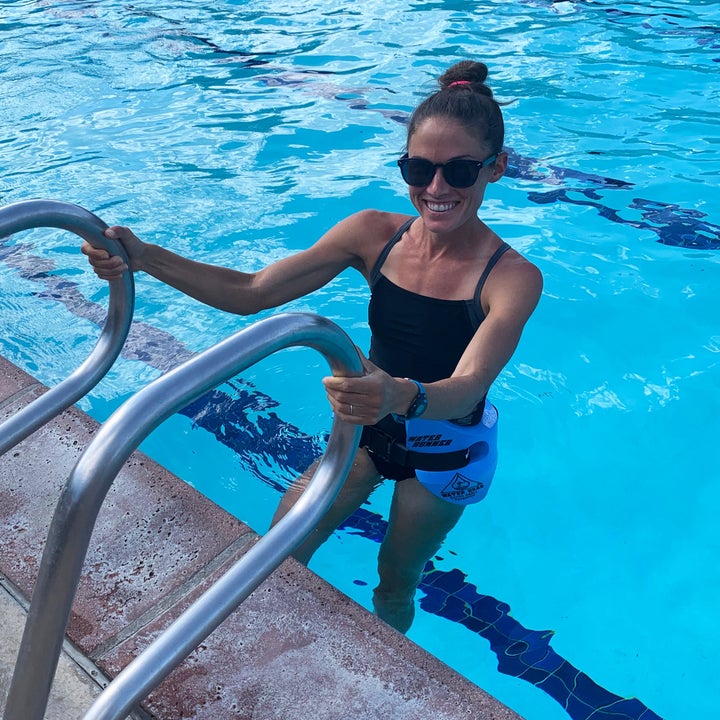 Tips: To get the most out of yourself while water jogging, Davies recommends using a lightweight floatation belt that allows you to maintain proper form and keep your heartrate elevated. Hold your body upright with a slight lean and slice your arms through the water near your sides, just as you do on land. Davies also suggests wearing a waterproof heartrate strap so you can gauge your intensity. "It's very easy to get in the pool and not work hard enough," she warns. So by monitoring your heartrate—and keeping in mind that it will be slightly lower in water than on land—you can ensure that you are working at an appropriate level.
2) Lap Swimming
In her preparation for the 2019 IAAF World Championships, where she will represent Great Britain in the marathon, Tish Jones is churning out laps in more ways than one. Beyond her track and road sessions, she also logs time in the pool, swimming lengths for 30–60 minutes three to five times a week. It has become an integral part of her program whether healthy or hurt. "The water is very therapeutic for the legs and body," Jones says. She believes that the elongated position of swimming, submersion in water, and lack of impact encourages circulation and serves as a nice flush-out between workouts on land.
Tips: If you are a fragile, low mileage, or overly-fatigued runner, Jones recommends a swim as an alternative to a recovery jog or double run. Even if you are healthy and able to handle high mileage, the pool can be a great venue for therapy and recovery. If you do add swimming to your repertoire, Jones emphasizes that, like running, "Swimming requires energy too. It's just as important to fuel around your pool work as it is to fuel your running."
3) Hot Tubbing
Magdalena Boulet, whose accolades range from 2008 Olympic marathoner to 2015 Western States Endurance Run Champion, is well-versed in the importance of recovery. One of her go-to methods is heat therapy, preferably in the form of post-run hot tubbing. Boulet explains that, during a post-run soak her heart rate continues to rise due to the heat, and doubles the amount of blood it pumps, acting as a passive cardiovascular workout. All this happens, she says, "While I relax and meditate." Even with the packed schedule of an ultrarunner, a mother, and the head of Innovation and Product Development at GU Energy Labs, Boulet aims to spend 30–45 minutes in a hot tub three times per week.
Tips: Make a habit of ending a couple of runs a week in a hot tub. Rather than seeing it as a guilty pleasure, frame those sessions as part of your training—no different than pre-run activation, post-run foam rolling, or the occasional massage. For further justification, keep in mind the host of benefits offered by a good sweat, which Boulet says includes improved endurance, particularly in heat, growth of new brain cells, improved focus, decreased stress, and better sleep.
4) A Combination
For Joey Berriatua, a steeplechaser training with Boulder, Colorado's Tinman Elite, running and pooling have always gone hand-in-hand. He swam a lot in high school and college to supplement his relatively low running volume, and as his mileage increased, kept the pool in the equation as a recovery tool. Currently, Berriatua aqua jogs three to four times a week, either as a substitution for a second run or as a post-workout or -long run flush-out. Most pool sessions end with a relaxing stint in the hot tub or sauna. "If anything," Berriatua says, "It's nice to jump in the pool after a long day at work and just zone out if I'm alone or hang out and talk with my teammates if they're in the pool too."
Tips: Whether swimming, aqua jogging, or hot tubbing, keep yourself accountable by recruiting a training partner (or several) to meet you at the pool. Berriatua says Tinman coach Tom Schwartz is a big proponent of water jogging as a recovery and cross training tool, so all of his teammates get in the water on a regular basis too. While aqua jogging, Berriatua suggests focusing on each stride, practicing good form, and visualizing how you want to feel on land. If the purpose of your session is recovery, keep it comfortable. If you want to add some aerobic work, Berriatua recommends 20 to 30-second "striders" to get your heart pumping without inducing much muscular fatigue.
—
Becky Wade, 2:30 marathoner and author of the memoir Run the World: My 3,500-Mile Journey Through Running Cultures Around the Globe will always prefer her time on the trails to dips in the pool, but has found that two to four 30-minute water jogging sessions a week helps to keep her healthy and fresh.
From PodiumRunner