Inside a Tune-Up Race
Scott Fauble and coach Ben Rosario give us an insightful look at the training leading to the Beach to Beacon 10K and the exciting race-day experience.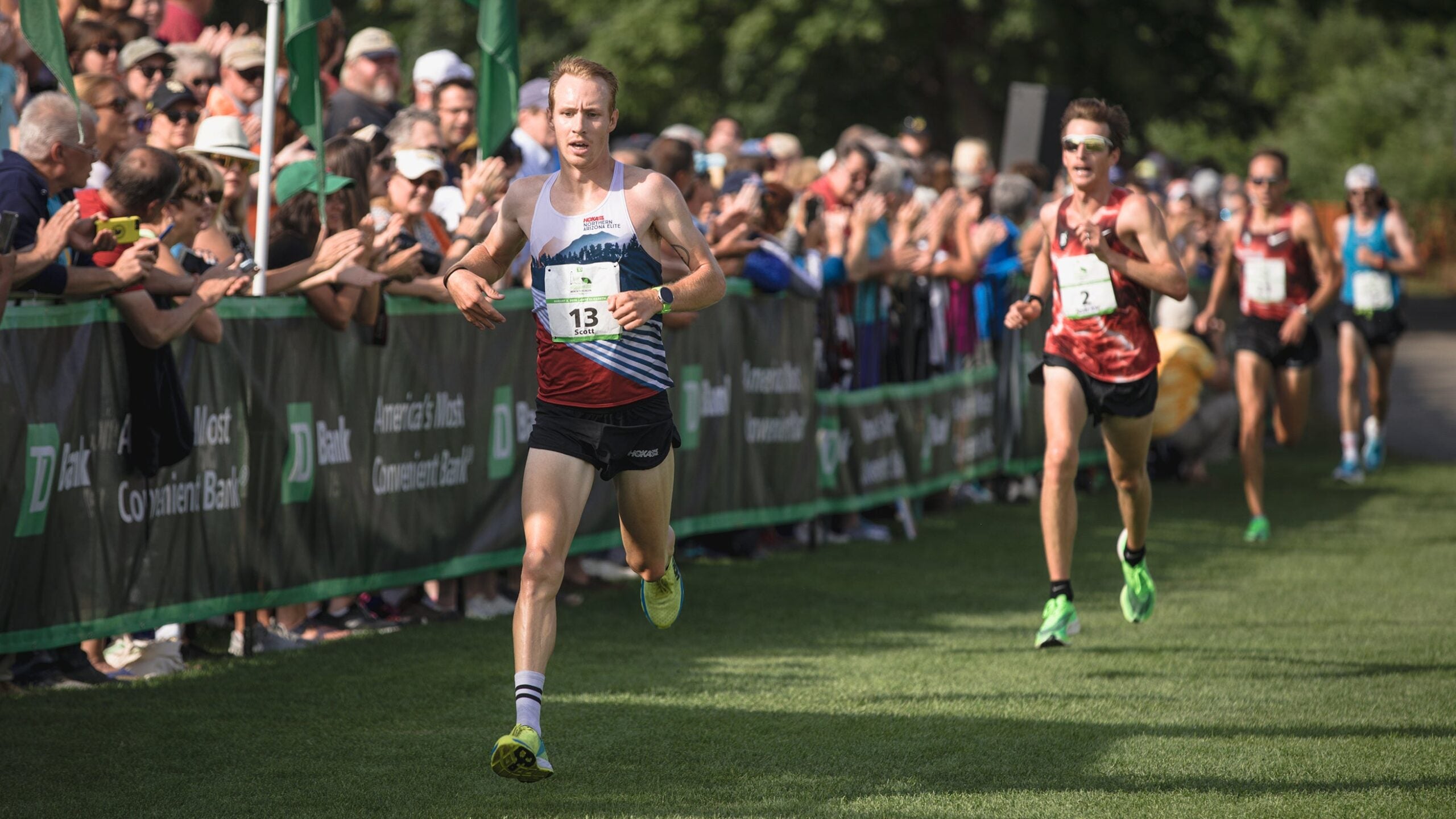 Heading out the door? Read this article on the new Outside+ app available now on iOS devices for members! Download the app.
Scott Fauble, professional runner with the HOKA Northern Arizona Elite who placed seventh at Boston last April, is training for a goal half marathon in the fall. He ran the Beach to Beacon 10K in Cape Elizabeth, Maine, on August 3 as a tune-up race, early in the training cycle. Here, Fauble and his coach, Ben Rosario, take us through the training since Boston, how they fit a tune-up race into the training schedule, how Scott felt going into the race, and, mile-by-mile, how the race went. 
BEN
This past weekend was a bit unusual for us. Scott was racing the Beach to Beacon 10K in Maine, one of the country's most prestigious road races. Scott's run plenty of big races in his career, so that wasn't the unusual part. What was out of the ordinary was that I think if we were both being honest we weren't 100% sure we were ready.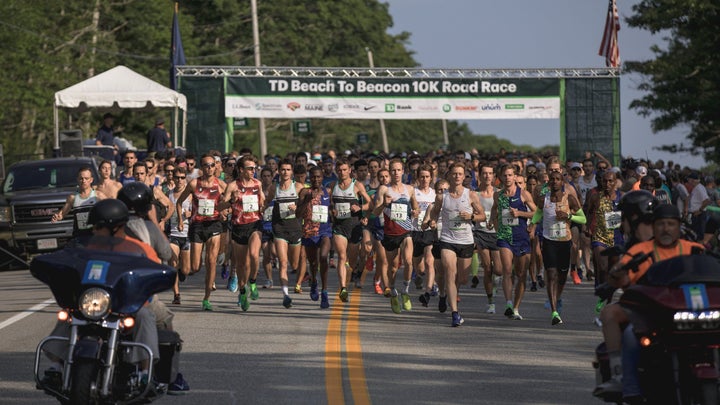 Scott ran the best marathon of his life—the best race of his life—in April at the Boston Marathon where he finished seventh place in 2:09:09. But as so many runners can relate to, sometimes our best performances are followed by a bit of a hangover. You come off of this huge high and it's as if there's nowhere to go but down, at least for a little while.
The good thing was we prepared for that. Scott went to Portland after the race to hang out with his girlfriend for a couple of months. He was able to relax and have some fun and try to enjoy the aftermath of his big run. And I think we got that part right. He needed that. So if we are talking about dealing with the emotional and physical toll a big marathon can take on you, we certainly addressed the former. Unfortunately, the latter was somewhat out of our control. A nagging hamstring issue didn't allow us to put in the exact training we would have liked in July—we had to be more conservative than we'd been in the past. I believe this will pay off in the long run, but wasn't exactly doing us many favors heading into Beach to Beacon.
Therein lies the point of this article, however. When you have a big race scheduled for the end of your season—like Boston was for Scott last spring—you have to plan and execute training and racing with that particular race in mind, always. This fall, for Scott, that big race happens to be a half marathon, but the same principle applies whatever your goal race. Any races you do in the build-up toward that big one can be fun, you can get nervous about them, you can try to set a personal best—but they have to be run in the context of a larger puzzle. If we had pushed the envelope to get ready for Beach to Beacon we may have jeopardized the race that we've circled as most important this fall.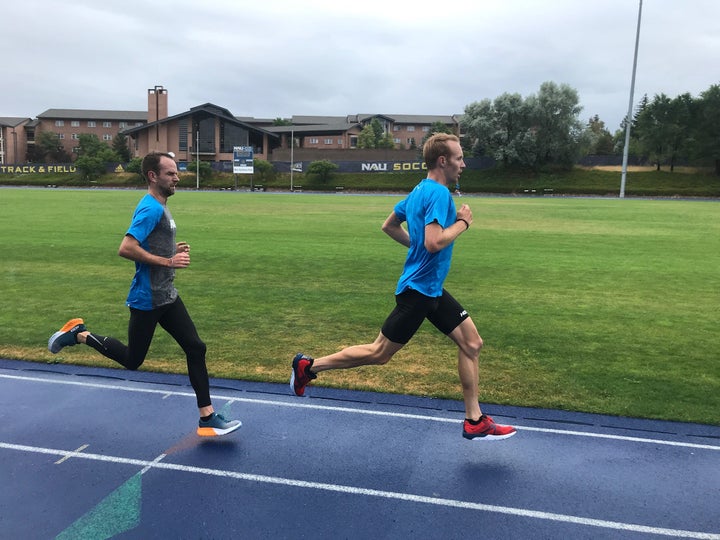 In the above case, the risk was being injured. Early in Scott's Boston segment, when he was completely healthy, we had to make sure we did not compromise any workouts we needed for the marathon in order to be slightly more prepared for the USATF Cross Country Championships or the Gasparilla Half Marathon. Then we had to make sure he recovered from those races so as not to put himself in a hole with the biggest and most important marathon specific workouts still to come.
Putting together training is a puzzle: We have to first figure out the pieces and then we have to put them together in the correct order. It is not an easy thing, but just remember to keep your eyes on the prize.
 SCOTT
This past weekend I ran the Beach to Beacon 10k in Cape Elizabeth, Maine. I was sixth place in 28:59, which is a fine performance—but I'll tell you about later. Before we get to the race, I have to tell you about the lead up to it.
It's been three and a half months since I ran 2:09:09 at the Boston Marathon. In that period, training has embodied mediocrity, for a lot of reasons. The biggest of which was a pesky hamstring injury that flared up about three weeks before Boston. We were able to get it under control in time for the race, but I definitely re-aggravated it during the marathon and, as it turns out, tendonitis doesn't really just go away with time off. Tendons have to be loaded and worked and rehabilitated. And unless drinking Bloody Mary's and eating burritos is a form of hamstring rehab, I was not rehabbing in the weeks after Boston.
We finally got the hamstring under control enough to start workouts at the very end of May—but even then, things were moving really slowly. I'd spent my break in Portland, Oregon and by the time I got back to Flagstaff I had lost my altitude adaptations. For the first month back at 7,000 feet I was struggling to run marathon pace for even 2 minutes at a time.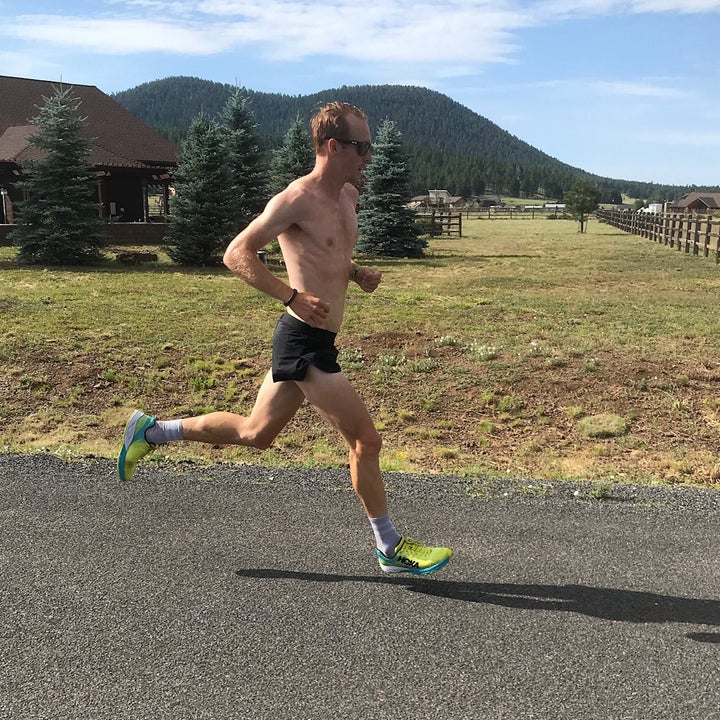 In a 3-mile tempo as recently as the middle of June, I was only able to average 5:05s (for reference, in one of my last big workouts in Flagstaff before Boston, I averaged 4:59 pace for 12 miles in a 2 X 6 mile workout). They were ugly 5:05s at that. What I'm saying is, things were not clicking. It felt more like we were trudging through mud—working really hard to see very minimal forward progress. It was the first time in the last three years that felt like that, and it was really frustrating.
All I wanted was to have a day where things clicked and I was able to surprise myself. I just wanted a day where I could come out of a workout and know that I was ready to crush this quickly-approaching race. That day never really came. I had a few sessions where it seemed like I was right on the cusp of that kind of day—but it never quite happened.
The Buildup
My last few workouts before Beach To Beacon were:
July 17: 20 X 400m @ 70, 8 X 100m strides. Had to deal with a lot of wind on this one so the splits were all over the map. This is usually a gimme, and it was really hard this time. I really had to push to get even close to the splits.
July 20: 3-mile tempo @ 4:50 pace + 6 X 1 minute hills. This workout actually went really well. I averaged 4:48s and felt strong on the hills at the end.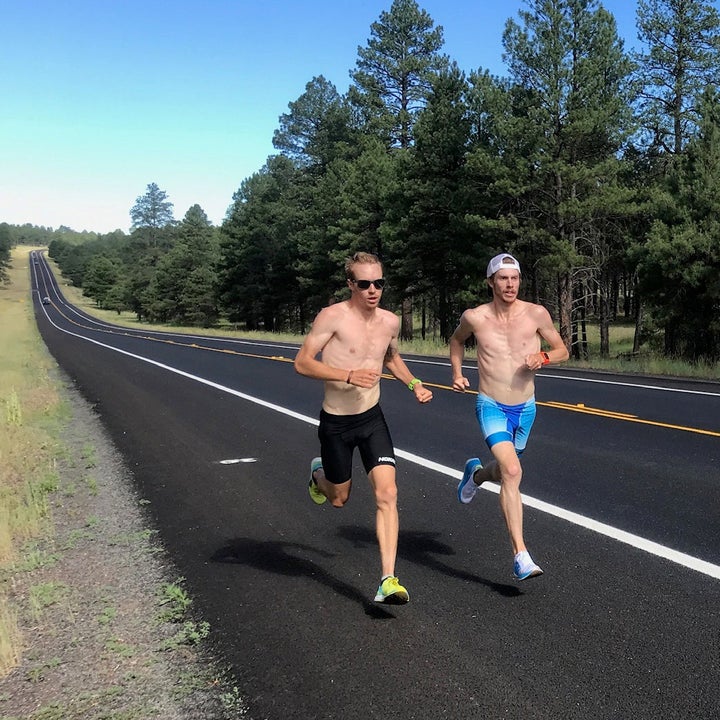 July 25: 8 X 1K @ 3:02, 1 X 1500m FAST. Felt flat from the start. I hit the pace for the Ks but I had to take extra rest between intervals and I had to really push to hit it. I couldn't rip the 1500 and only managed a 4:21—before the session I thought I could get closer to 4:10.
July 28: 10 miles @ 5:10–5:15, 8 X 30 seconds hard with 45 seconds rest. Only made it 8 miles because I was really struggling to run 5:15 (the slower end of marathon effort).
It was a stretch to hit where I really wanted to be, where I was really expecting to be excellent. But instead I was only mediocre. I was trying to force it and the fitness just wasn't coming.
The Context
I tell this story for a few reasons. First of all because it's the actual story that happened and I feel like telling the truth is cool. But I also mention all this because, while this time around might have been a little more exaggerated than other seasons, this is kind of how training goes when you're getting ready for a race that isn't going to be the main focal point of the season. We're kind of in the place in the season where your legs don't feel good and you have to start stacking workouts on each other in order to get ready for your big race down the road. The key races of the season are still later in the year. Which means that we kind of have to just train through these early season races.
This is particularly true when you're preparing for a marathon. A marathon is so hard, and such a specific physical challenge, that you really have to train for the challenges of a marathon, which are so different than the challenges of a race like a 10k or even a half marathon. The full marathon is just a different beast and if you want to be ready for it, you can't ever really take your focus away from it. That means that if you run other races in your build-up—which I really think you should do because racing is really fun—then you have to accept that you probably shouldn't taper for them and you're probably not going to do the ideal workouts to prep for them and your legs probably aren't going to feel sharp and poppy like you may want them to.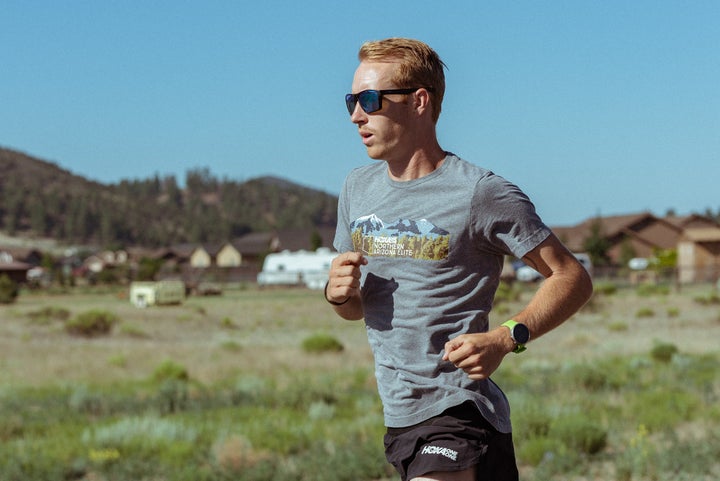 In preparation for this race, for example, doing a pretty hard, pretty long marathon-pace workout wouldn't be my first choice for a workout 6 days out from a race—and not finishing it definitely wouldn't be my preference. I would rather do something shorter and faster, something more similar to the challenges of the actual race. That being said, I know that this race isn't what this season is about and if I am going to rip a half marathon later in the fall I just kind of have to accept that we can't get super tuned-up and perfectly prepared for every race. You can't be in perfect shape for every distance all year round—that's just the way it goes.
One way that I square the knowledge that my preparation hasn't been perfect with the confidence that I will run well on race day is by thinking about the race as if it were a really hard workout. If Ben had scheduled a really hard tempo for six days after a long marathon-pace workout, I would believe that it was going to go well and that I would be ready for it.
Ready or Not
So with that mindset in tow we entered race week. I was nervous—way more nervous than I usually am before a race. I was worried that my fitness, or more specifically my potential lack of fitness, would be exposed at this historic Beach to Beacon race. It's a race that hosts genuine world beaters and often requires performances in the 27:40s or better to win. My 10k PR, which I ran on the track, is only 28:00. So while I was hopeful that I would be able to get into the lead pack and compete for the win, I was also nervous that I was going to get my doors blown off.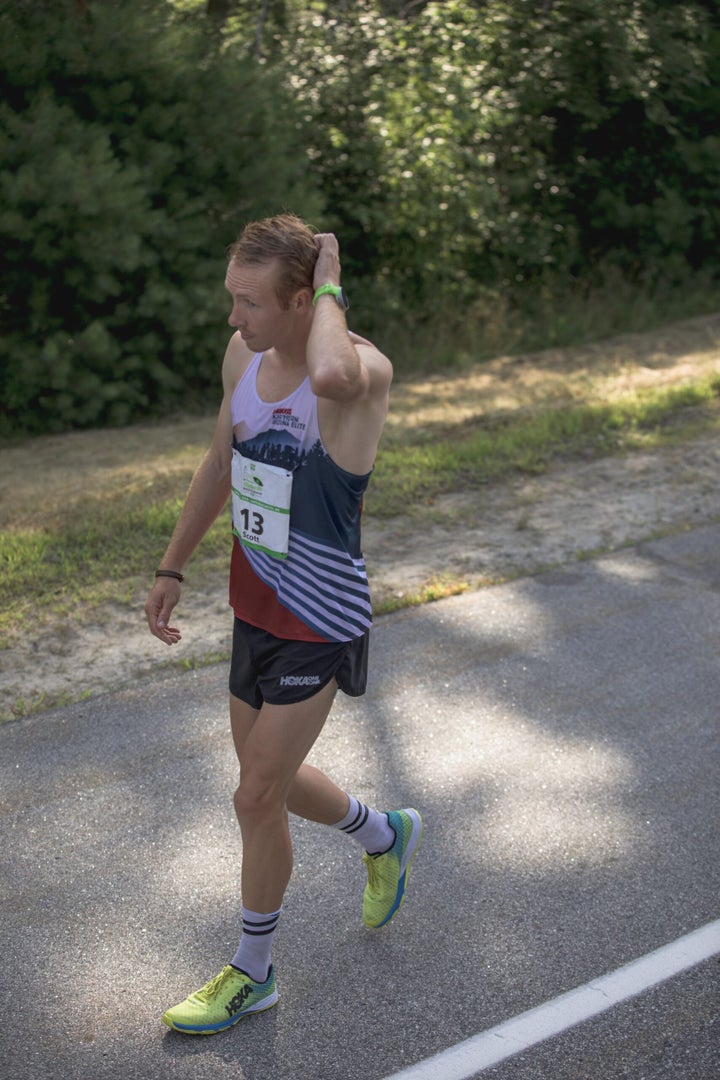 As expected, the field looked really solid. It was headlined by a number of very good Kenyan runners who had world-class credentials, along with a few very good Europeans and a solid American field. When I discussed the race with Ben we agreed that there was a chance that the leaders were just simply going to run faster than what I was ready to do, and in that case I was going to try to feel out the right pace and just race the other guys in that range.
The nervousness persisted through the week and all the way to the start line. As I stood there between a sub 8:00 steeple chaser and a few guys who had broken 61:00 in the half marathon, adrenaline surged through my body and my heart fluttered in my chest. After what felt like an eternity, the horn finally sounded and off we went.
After only about 600 meters—where it felt like we were pushing pretty hard—groups started to form. The front group had the two Kenyans, a very talented Belgian guy, and an Aussie. There was a British guy—Callum Hawkins, 10that last year's London with a 2:08—a few second back of the leaders, and then a big group of Americans a few second back of Hawkins. I slotted into the second group as we started up the first incline to the mile mark.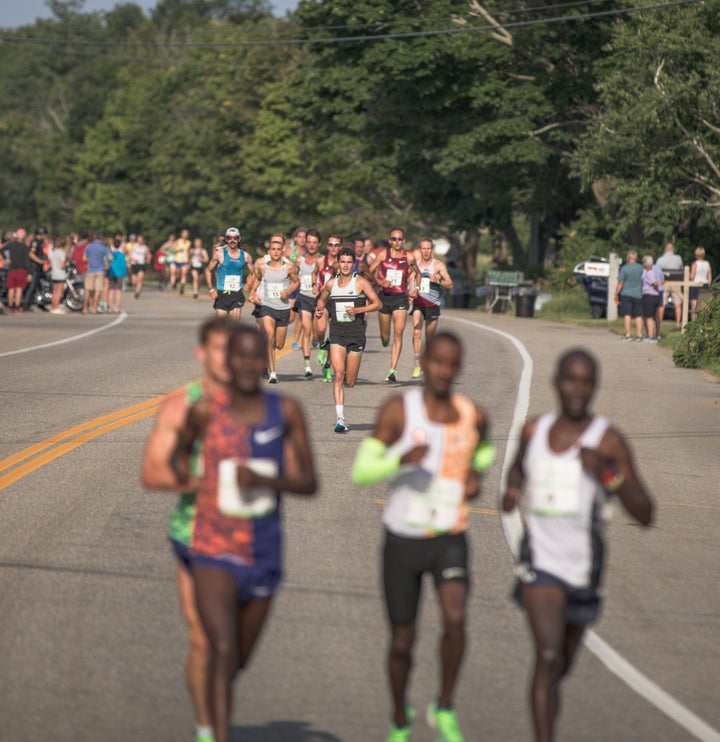 The lead group passed the first mile mark in 4:20, and we came through 10 seconds back. I felt like we were pushing really hard. I was uncomfortable and wanted to ease off the pace, but knew that I had to stay with the group. That feeling of pressing really hard continued for the next two miles.
After we got through the 5K in about 14:30, we started down a big hill and I was able to regroup a little bit. Noah Droddy, a fellow American who I have raced a number of times and have become friends with, went to the front of our group and was doing almost all of the leading. The lead group had broken up and the top three were out of sight, but the Aussie who had gone out hard had fallen off and was about 30 seconds up the road. Hawkins was only about five or six seconds ahead.
Noah was driving our group hard and it felt like I was on the ropes. I had to really focus on staying with him and occasionally I would accidentally let a small gap open up. I kept telling myself, "Just get to five miles. Your legs will be there" and, "Fuck this, I'm not getting dropped here."
When we got to five miles, I decided to try to make a move. There was a tiny gap opening up behind me and I wanted to attack while some of the other guys were on the back foot. Hawkins was still about four seconds ahead and I pressed up a little hill to try to get up to him. Noah and Andrew Bumbalough covered my acceleration.
I kept pressing as we went downhill—we weren't closing the gap to Hawkins and we were running out of real estate. As we climbed one of the last little hills on the course I made another move. I knew the last 600 meters had two quick right hand turns, one really steep little pop-up hill, and a really narrow path before a downhill finish. I felt like it was going to be really difficult to pass once we made the first right hand turn, so I hammered up that last little hill and then into the first turn.
I knew I had a little gap on Bumbalough and Droddy and I turned all my attention onto holding that gap. My legs were burning as I made the final turn and climbed the short steep little incline. "Keep pressing, you can go deeper, go get Callum!" I kept telling myself.
I was trying to sprint down the hill to the finish but Hawkins was moving really well and I wasn't closing even a step on him. Finally I saw the finish line, 60 meters away. Just a few more seconds of agony and I was across it in sixth place in 28:59. Hawkins finished two seconds ahead of me and Bumbalough two seconds back.
I didn't run quite as fast as I thought I might be able to, but it was a good first race of the season and a great step forward. We're going for it again in two weeks at Falmouth.
—
Scott Fauble and Ben Rosario are the authors of Inside a Marathon, An All-Access Pass to a Top-10 Finish at NYC.
From PodiumRunner