Ritz on Running: Don't live and die by the numbers
Trust your body, your mind and your training over the data from specific workouts.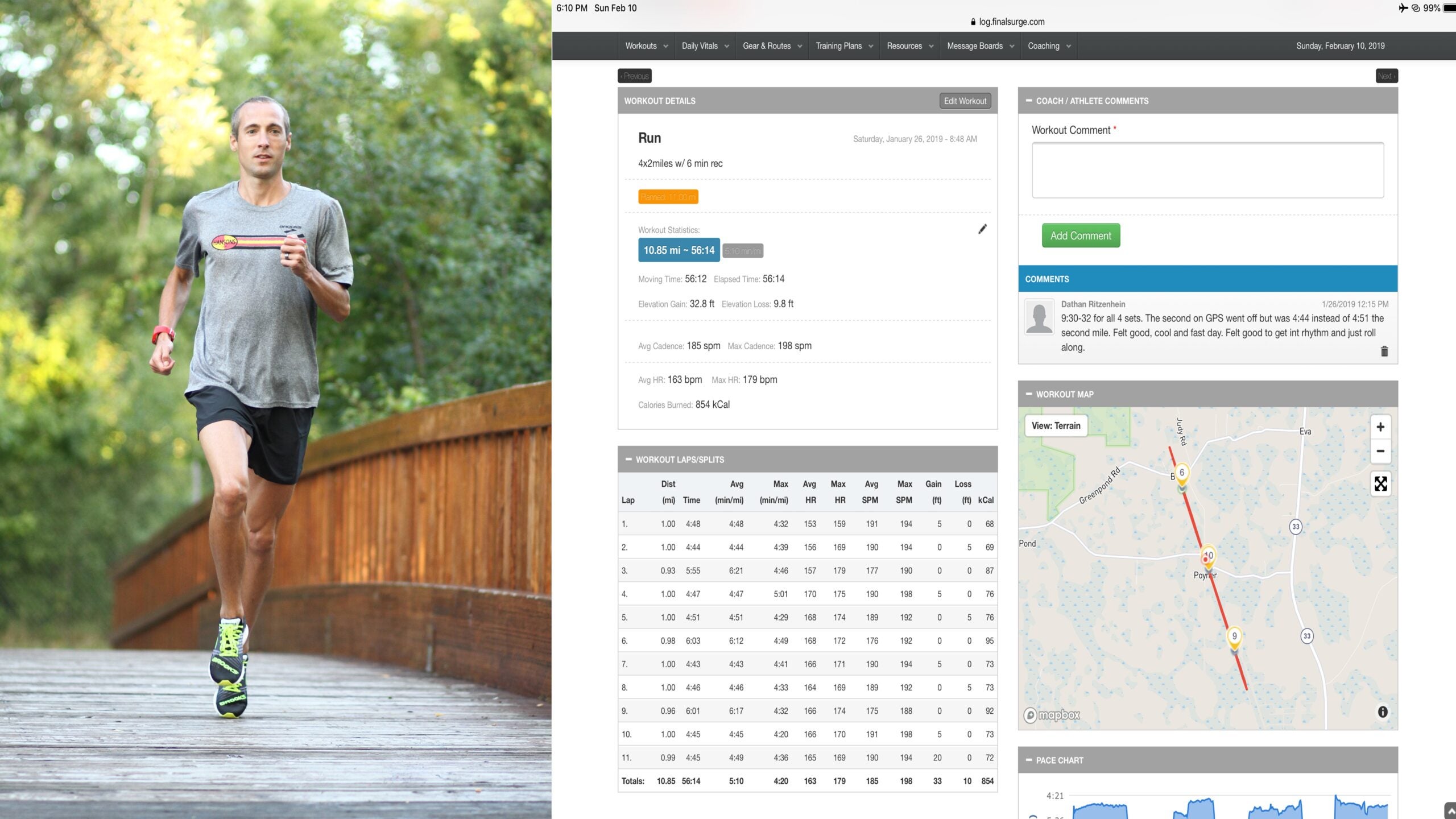 Heading out the door? Read this article on the new Outside+ app available now on iOS devices for members! Download the app.
As athletes we crave data. We always have GPS watches and measured courses. Benchmark workouts are always in the playbook to make us feel ready for race day. We track and log our metrics and sessions in a constant attempt to validate the gains we are looking for in fitness level.
I do this too, its natural. I think it is important to record all training. It can help us understand adjustments needed in future training, when to back it off, and more. But with the help of all those workout benchmarks and numbers, sometimes we lose sight of the most basic indicators of what we can do when we are actually racing.
It is so easy to limit yourself when you look at only specific training sessions. We all have key workouts and everybody knows what they did for their best time on that course, or the fastest they ran that workout before a PR. These sessions get cemented into our brains. And instead of using our workouts to get better, we sometime start to look at them as validation for what
we are capable of on race day.
This past weekend I won the Rock N' Roll Half Marathon in New Orleans in a time of 61:24. Truthfully, I was a little surprised.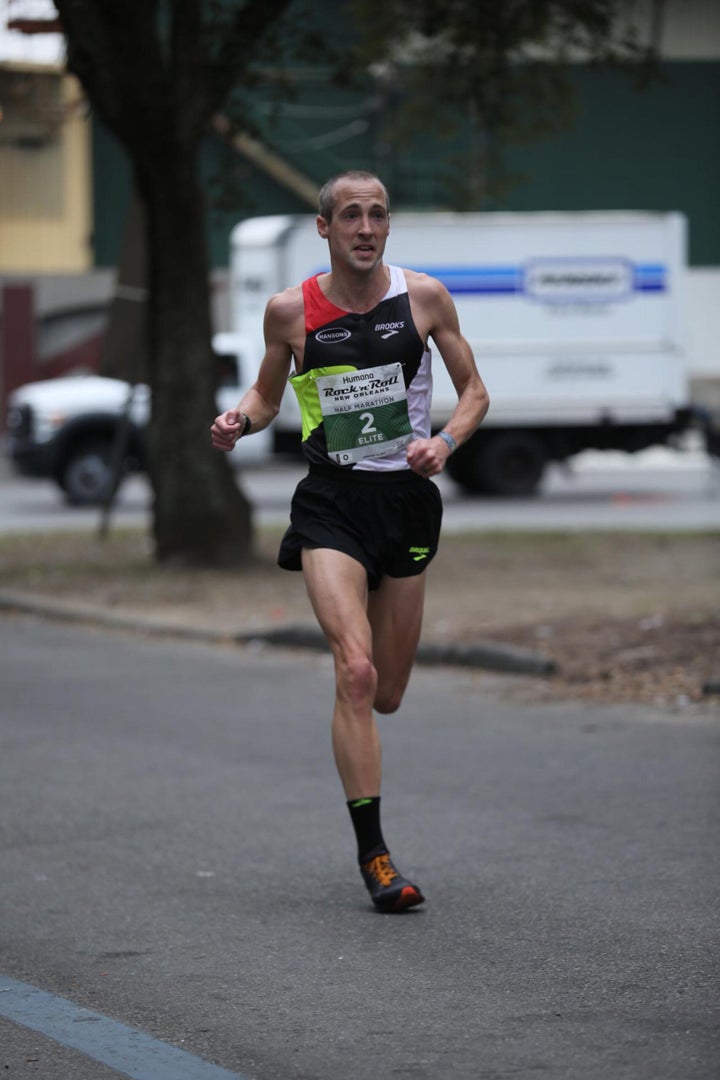 As I was training in the months and weeks leading up to the race I thought a good day might be running under 63:00. I really hadn't done anything in training that made me think I was capable of running basically the same time I ran for my first
half marathon 13 years ago at the Great North Run in 2006 (61:23). I had somewhat of a bumpy fall training block, with minor setbacks and no really good sessions to give me the confidence I was ready to run a fast time.
But the deceiving thing was that I also had a solid nine weeks of training and 20+ years of hard workouts and 75,000+ miles. So while my big sessions weren't anything to write home about, I had just healthy steady training and a mountain of residual fitness. This is something that is important for any runner, but I think sometimes even more so for a seasoned racer. On race
day, the mind does not forget, and those competitive instincts take over.
I got out there and was able to run at a level I had not touched in practice on any one occasion recently. I had, however, done two months of good solid non-fancy work and more killer sessions than I can remember for years. In fact I was disappointed with a lot of my faster sessions. That has become a theme as I get older! However, despite not really crushing my sessions in the months leading up to the race I found myself surprised at how good I felt at a pace that I hadn't run much in training.
I do believe there are times you need to really see what you're made of in training. For runners who are still finding out what they are capable of and trying to improve, that's important. Developing professional runners or recreational athletes who are relatively new to running sometimes need to have those sessions to believe they are capable of something more. You
need to test your mettle and see if your mind is ready to go to the next level on occasion. And some sessions will take you to another fitness level short-term, especially if you are getting ready for a race very soon.
But more seasoned runners can trust that your body and mind will remember when you get on the course for race day. Focus instead on being consistent and not worrying too much about having the big benchmark sessions. Sometimes you can push too hard trying to hit the results of the past.
Here's an example of what was going through my mind two weeks ago:
Before the NYC half marathon last year, where I ran 62:42, I did 5 x 2 miles at about 4:42 ave with a fast/moderate 1k recovery at 5:30–45 average pace. Here is the workout from my training log.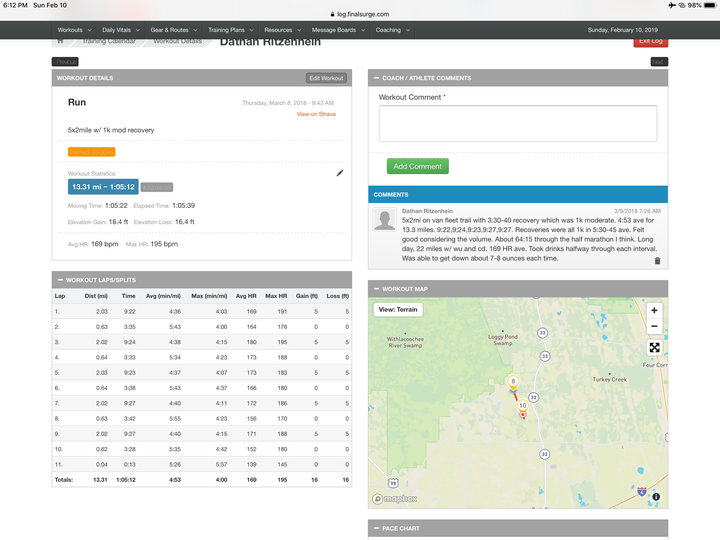 Here is another session I ran shortly before that workout last year. It is 4 x 2 miles at around 4:45 average on a much
tougher course with a moderate 800m recovery at around 5:50 pace.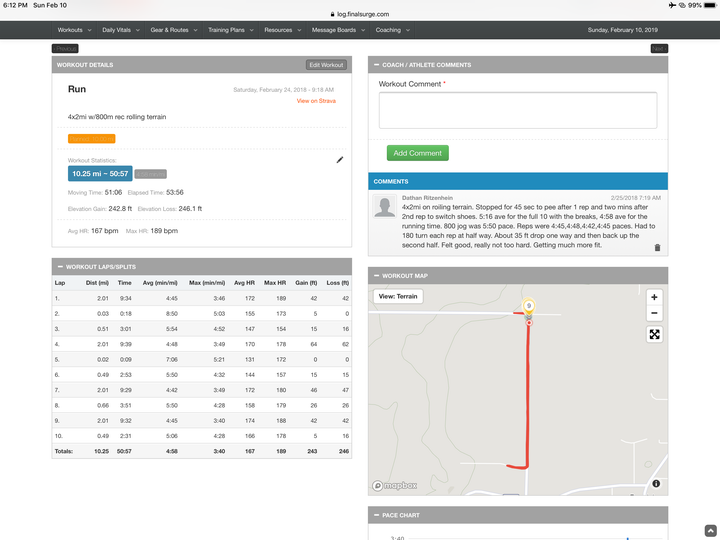 Now here is the only longer hard session I did two weeks before the half marathon last weekend. I did it on the same course as the 2 x 5 miles but only ran 4 x 2 miles at 4:46 average with about 1 mile easy recovery at 6:15–20 pace—not nearly as impressive as the two last year.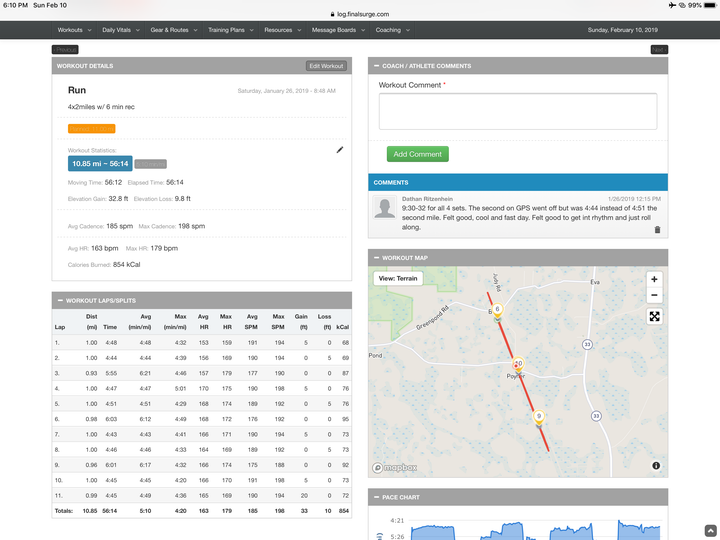 So you can see why after my session a few weeks ago I thought a sub 63:00 would be good. It was a shorter workout, with easier rest, and I was training much less.
But then in the days leading up to this race I put the 63:00 number out of my head because I was feeling good and something was telling me I could handle a faster pace. I didn't want to be stupid and go out crazy but I also knew that my body and mind would remember the effort that I could handle after so many half marathons.
Sometimes you just need to throw the numbers out the window and listen to your body. What is it telling you in training each day and over the course of your training? It takes a while to get to that point, so if you're a developing runner, numbers are good. Let the the coach interpret the numbers and make the changes in your training, but don't limit yourself.
If you're very experienced, it's like riding a bike, the body knows what to do. Don't limit yourself trying simply to be better than your best result, instead take each training session in as part of the whole plan. Use the numbers to make your training better, don't use them for validation of what you can or cannot do when you're out on the race course.
From PodiumRunner
Trending on Outside Online