Ritz on Running: Magic Happens
When training and focus come together with the right conditions, breakthrough races are possible. Dathan Ritzenhein recalls his best race ever.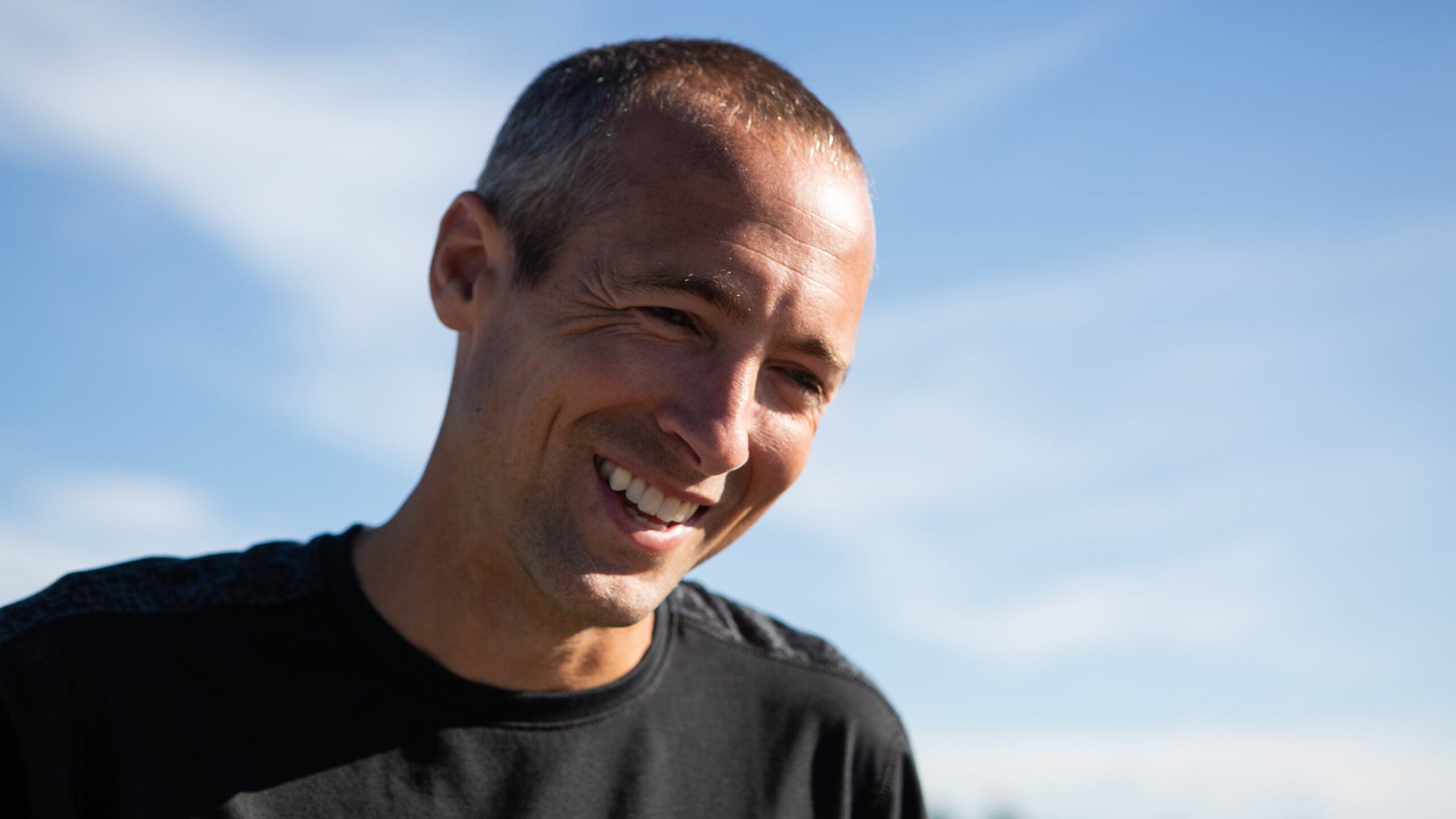 Heading out the door? Read this article on the new Outside+ app available now on iOS devices for members! Download the app.
This past week, I, like many others, was shocked to wake up and see that three American men had run 13:00 or faster for 5000m in the same race. Woody Kincaid ran a staggering 12:58, leading his two training partners Lopez Lomong and Matthew Centrowitz to huge PR's, both finishing in 13:00 flat (previous PR's, Lomong: 13:07 indoors, Centro: 13:20.06)
Under the lights, in an intimate setting on Nike's Michael Johnson track, it was the kind of performance that seems almost unexplainable. The race was jaw-dropping in part because, while Lopez and Centro are veteran world-beaters, many don't really know Woody's name. So, while all the times are incredible, they don't seem unreal for athletes who have the accolades of Centro and Lomong. But to see Woody, who has never worn USA color, take so much time off his solid-but-distant 13:12 best was really incredible—especially given it didn't happen on some grand stage.
A crisp Portland night.
A track in the forest.
A screaming crowd.
A train of men.

The goal, defined.
History, rewritten.#Portland5000 pic.twitter.com/4YwMvUa4iy

— TrackTown USA (@TrackTownUSA) September 11, 2019
The emotions of such a breakthrough were fresh in my mind. Just two weeks prior, on August 28, I had been reliving a similar breakthrough of my own as I celebrated the 10th anniversary of the day I broke the American Record for 5000m, running 12:56. Like Woody's performance, my run blew away some people, as my previous PR had been 13:16.
Looking in from the outside, performances like that can lead some people to search for "rational explanations"—like someone explaining away miracles or ghost stories. Immediately, people search for an easy answer: Is the track short? Were there illegal pacers? Could it be doping? But the truth of the matter is that mind over matter is a real thing. It may sound cliché, but super performances are possible.
If you have prepared well, believe in yourself and enter the arena with absolute focus, anything is possible!

10 years ago today was a day I will never forget. Breaking the American Record running 12:56 for 5000m in Zurich was a moment like no other I have ever felt. pic.twitter.com/PupN6HOzNB

— Dathan Ritzenhein (@djritzenhein) August 28, 2019
When I toed the line in Zurich 10 years ago, I was full of confidence and momentum. My training had been amazing. I had been healthy for a full year. I had an amazing aerobic foundation from my spring training for the London Marathon. And my new coach Alberto Salazar started having me do the fastest speedwork I had ever done in my life. These things all set the stage for me being in the best shape of my life.
But the wave I was riding was more than training and fitness: I was training and living in the moment. I didn't look down the road to where I wanted to be. I didn't stress over the next race or workout. I didn't really think about much of anything except getting the most out of each day of training.
I was happy in my life. My wife and I had a young daughter, I was in a new training group, and we were traveling the world. It was fun, it was exciting, and I was beaming with positivity.
I recall coming off the world championships 10k feeling like I was ready for something great.
We went back up to our training base in St. Moritz Switzerland and I just felt on fire. I had originally planned to run the 2 mile that week in Gateshead and then the 10k in Brussels a week later with a plan to try and run under 27:00 and break the then American Record. Then the 10k in Brussels ended up being cancelled and we made the decision to run the 5k in Zurich instead. It was a last minute move that ultimately paid off.
At the time I really wasn't considered much of a 5k runner. I had made multiple world championship and Olympic teams at 10k and never had much speed for the 5k. I had been running the marathon and it seemed like 13:16 PR might be as good as it would get. Given that, my instructions from my coach were clear: Go out in last and hold on for dear life. The assigned pacing of 60 seconds per lap was closer in pace to my 2 mile PR (8:11.7) than my 5k, so it was definitely going into the unknown. But I was strong and had the ability to concentrate.
Scroll to 1:11:25 in this Universal Sports' replay to watch the 5,000m in its entirety.
As the gun went off, I went straight to the back. Seeing each lap pass by at 61-62 seconds pressed my ability to stay calm. But I just kept saying to myself over and over just "stay calm and relaxed, don't lose contact."
We blasted through he first mile in 4:06 and came through 3k in 7:47. But something amazing started to happen around then. I don't even recall it happening, but soon I wasn't in last place anymore. My instincts took over and I maintained my same focused concentration. I started to pick off runners one by one. Before I knew it, I was moving into the top 5.
It was like a charge running through my body. I started to feel something special was about to happen. I was feeding off the energy of the 25,000 screaming fans and gaining confident in the fact that I was passing such world class athletes.
With two laps to go I started to realize I had a chance to break 13:00 minutes. I saw the clock at 10:56 with 800m to go and knew if I just maintained I had a chance. My next lap I passed more people and came through the line in 11:56. I had actually picked it up.
With the bell ringing I was closing on Kenenisa Bekele, the reigning Olympic Champion and World record holder. As I moved into second place on the backstretch he was only a few second ahead of me, and I started to harbor visions of passing the world's greatest runner.
I was running full out now and it was everything I could do to keep my legs moving. My lungs were on fire and I could feel the acid turning solid in my legs. Coming down the home stretch I was passed back by one runner but I willed my way to the finish line.
As I crossed the line I saw 12:56 flash on the clock. It felt like a bomb going off in my head. I was so ecstatic I could barely contain myself. I prayed, I cried, I stumbled around in disbelief and exhaustion. I had chopped 20 seconds off my PR and had run literally out of my mind. I could not believe it.
That race left plenty of people dumbstruck or skeptical. But as someone who was in it every moment, I knew it was just one of those special performances that we are capable of if we truly believe and don't hold ourselves back.
Last week, when I saw what Woody Kincaid and his Bowerman teammates did, I couldn't help but be reminded of how much mind over matter dictates the race. In listening to Woody's interviews you could tell he didn't know he had that in him. He wanted to give in many times, but the electricity at the track that night from the fans, his teammates and the setting gave him the ability to get the absolute most out of himself. Remembering so vividly my special night in Zurich 10 years ago, it was incredible to see Woody turn out his truly magical performance.
Ritz's Splits
August 28, 2009, Zurich Weltklasse Meet
200m: 30.9 [15th]
600m: 1:32.7 (61.8) [15th]
1000m: 2:34.5 (61.8) [15th]
1400m: 3:35.8 (61.3) [15th]
1800m: 4:38.5 (62.7) [15th]
2200m: 5:40.7 (62.2) [14th]
2600m: 6:43.5 (62.8) [12th]
3000m: 7:47.4 (63.9) [11th]
3400m: 8:50.3 (62.9) [9th]
3800m: 9:53.2 (62.9) [8th]
4200m 10:55.7 (62.5) [7th]
4600m 11:56.1 (60.4) [3rd]
5000m 12:56.3 (60.2) [3rd]
From PodiumRunner
Trending on Outside Online