Tyson Gay and the Fountain of Youth
Following the revelation that the American sprinter tested positive for a banned substance, reports have connected Tyson Gay with an "anti-aging" clinic in Georgia. Brian Alexander explains why doctors' offices, not locker rooms, are where the pros are scoring their dope.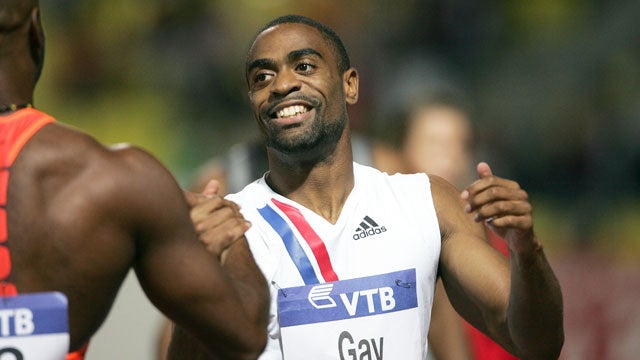 Heading out the door? Read this article on the new Outside+ app available now on iOS devices for members! Download the app.
Yesterday Sports Illustrated's David Epstein reported that sprinter Tyson Gay, who has apparently tested positive for a substance banned by the World Anti-Doping Agency (WADA), has been linked to an Atlanta-area chiropractor and "anti-aging specialist" named Clayton Gibson.
Just what Gay, 30, tested positive for hasn't been disclosed. It's rumored to be DHEA, dehydroepiandrosterone, a testosterone precursor that was once common in dietary supplements but banned in Olympic sports that, some believe, might have some of the muscle-building and recovery effects of testosterone.
It's also a common product in the anti-aging world, a sometimes murky, sometimes hyped realm of big promise and little delivery populated both by actual physicians and by people who act like physicians but aren't.
I've covered the world of the anti-aging subculture for about 20 years and can say that it's as close to an ideal source for hormones banned by WADA as any doping athlete could wish for.
When I attended a famous anti-aging clinic in Palm Springs, California for the Los Angeles Times Sunday Magazine, I left with strong recommendations to take human growth hormone and testosterone. When writer Stuart Stevens sought out a source for doping drugs for this famous Outside story he found an anti-aging doc and scored a raft of substances that could be used for doping.
But what, exactly, is anti-aging?
Once we start the inevitable downhill ride beyond 35 or so, wish fulfillment can become incredibly tempting. And where there's a wish wanting fulfillment there will be somebody happy to oblige. So there's always been anti-aging. Ponce de Leon went looking for it in Florida, and in the 19th century some brave souls ground up the testicles of animals and injected the mash in hopes of rejuvenating themselves. In the twentieth century, the rich and famous ventured to Clinique La Prairie in Switzerland to receive injections made up of cells from fetal lambs.
The popularity of modern anti-aging owes much to an outfit called the American Academy of Anti-Aging Medicine, or A4M. It was created by a couple of fellows named Bob Goldman and Ron Klatz, who sport MD degrees from the Belize-based Central America Health Sciences University – the same school that Tony Bosch, founder of the Biogenesis clinic in Miami that's been implicated in baseball's most recent doping scandal claimed as his alma mater.
A4M is mainly a promoter of trade shows and conventions. It offers the sheen of legitimacy by issuing its own "board certification" to doctors, chiropractors, naturopaths, dentists, pharmacists, and "scientists."
Klatz wrote a book in the 1990s called "Grow Young with HGH" that proved very popular (despite the fact that there's no proof at all that anybody has ever grown young by taking HGH). From then on, the practice of anti-aging medicine has revolved mainly around the provision of hormones.
It can be a good living. Because most insurance plans don't recognize "anti-aging," and because many people seeking out anti-aging practitioners aren't really sick, anti-aging is typically an all cash business with little actual medicine being practiced. The profits come from markup on the substances, often sold by the practitioners themselves.
And for true devotees, the cost isn't a one-time expense. Hormone therapy goes on and on. This clinic, for example, advertises starting prices for HGH at $500 per month, and testosterone for between $250 and $400.
Profits could be one motivation for anti-aging clinics to "treat" athletes. Or, some athletes may not tell a clinic they're competing and take the risk of testing positive on their own. Either way, practitioners do have an incentive to prescribe.
"Anti-aging" has become such a damaged brand in some circles that a few doctors who formally called themselves anti-aging practitioners now use words like "wellness" or "preventive."
In the 1990s, at anti-aging trade shows, I saw major pharmaceutical companies promoting hormones to attendees. That doesn't happen now, mainly because of government crackdowns. (HGH was approved mainly to treat dwarfism in children.) But HGH is still commonly prescribed. And, as any glance at "Low T" commercials during TV network news will show you, the idea of prescribing hormones like testosterone has gone mainstream.
In other words, most athletes don't necessarily need to use elaborate subterfuge with secret couriers and mysterious drop points of the kind exposed by the Lance Armstrong investigation. All they really have to do is head to their cheery anti-aging doc.
Brian Alexander is a frequent contributor to Outside, and a co-author of "The Chemistry Between Us: Love, Sex, and the Science of Attraction."