Ultramarathoner Jenn Shelton
She drinks hard, fights dirty, and runs 100 trail miles faster than any woman alive. Meet Jenn Shelton, ultramarathoning's new antihero.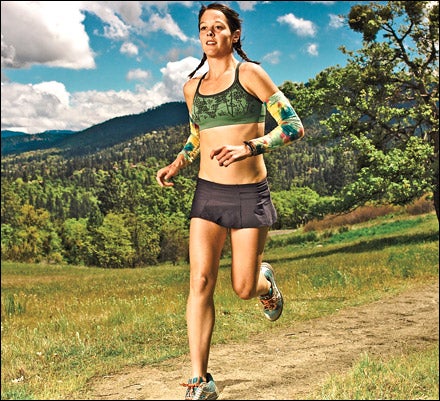 Heading out the door? Read this article on the new Outside+ app available now on iOS devices for members! Download the app.
JENN SHELTON'S biggest splash? Depends on how literal you want to get. There was the Rocky Raccoon ultramarathon, in February 2007, where she shrugged off a bloody nose and the swampy humidity of Huntsville, Texas, to run the fastest 100 miles ever recorded by a woman on dirt. Or there was the time, six months earlier, when she carbo-loaded beer and jalapeño pizza before the Vermont 100 and then left it all over the trail as she stumbled home in 29th place.
"I started running ultras to become a better person," Shelton told me when we first met. "I thought if you could run 100 miles you'd be in this Zen state. You'd be the Buddha, bringing peace and a smile to the world. It didn't work in my case. I'm the same old punk-ass as before, but there's always hope."
Those two extremes make the 25-year-old ex surf bum from Virginia Beach the one to watch in what could be the ultra showdown of a lifetime: the Western States 100, taking place near Lake Tahoe this June 27 28. The women's field is so studded with all-stars, it's eclipsed even the dramatic return of Scott Jurek, who's returning after a four-year hiatus. Leading the women's pack is Nikki Kimball, a three-time Western States winner who, until she got injured in 2007, was undefeated in every trail race of any distance for seven years.
But which runner is Kimball most worried about?
"None of us has more potential to pop off a really amazing race than Jenn," says the 39-year-old runner. "No one has her raw leg speed." Problem is, you can never tell which Jenn Shelton will show up. With her dark braids and elfin build, she looks like pure innocence notwithstanding the Bacardi 101 vampire bat she accidentally had tattooed on her right forearm. ("Truth in advertising," she said after learning that her bat was that bat.)
"DRINKING WITH JENN could be the craziest, most intense experience of your life," says Shelton's best friend, Jessie Polini. "She's insanely strong, and she'll try to fight everyone in sight." As a rugby player during her one year at the University of North Carolina, Shelton set a standard previously considered unachievable in sports: too wild for the rugby parties. "She'd get so nuts, guys on the men's team would wrestle her down and carry her back to her room," Polini says. "She'd be screaming, 'I'll be good now! I promise!' But they knew better." Shelton's rap sheet includes arrests for assault, public nudity, and whatever the charge is for frisbeeing a forest ranger's hat after getting busted for mountain biking in a wilderness area.
Her running career didn't even start until after she dropped out of UNC. Jobless, alone, and still a teenager, she became infatuated with Beat writers and Danish philosophers and headed cross-country to San Francisco to write poetry. She eventually rambled home to lifeguard on Virginia Beach. There, on a whim, she accepted a friend's challenge to run the Mountain Masochist, a notoriously hard 50-mile ultra through the Blue Ridge Mountains. She'd never even tried a marathon, so she turned where she always did when she needed advice: to her favorite chain-smoking alcoholics, Jack Kerouac and Charles Bukowski.
Her approach to trail running, Shelton says, came from Kerouac's The Dharma Bums. "Try the meditation of the trail, just walk along looking at the trail at your feet and don't look about and just fall into a trance as the ground zips by," he wrote. And her race philosophy comes from Bukowski: "If you're going to try, go all the way. There is no other feeling like that. You will be alone with the gods. And the nights will flame with fire."
Fortunately, Shelton has other talents to draw on. She's got nimble feet, great balance, and a quick stride from her time as a rugby player and state-champion high-school gymnast. These days she lives in Ashland, Oregon, where she sells running shoes, has no coach and few sponsors, and trains by rolling out of bed, eating a veggie burger, and running as far and fast as she feels like, which most days is about 20 miles. When she arrived at the Rocky Raccoon 100 in 2007, she had no pacer and no crew. She crashed on the floor of a friend's hotel room, then got up and smoked the competition with a time of 14:57.
"She's the best unsung runner out there," says fellow ultramarathoner Susannah Beck, who occasionally trains in Ashland with Shelton and Shelton's boyfriend, ultra ace Erik Skaggs. "I think she's aware that ultrarunning is kind of a goofy sport and winning isn't the most important or interesting thing about it."
"When I'm out on a long run," says Shelton, "it's just me and the movement and the motion. That's what I love just being a barbarian, running through the woods." For the record, Shelton says she's trying to tone it down; it's been years since her last legal snafu.
When it all comes together, the results can be astonishing. I saw Shelton at her worst and best in 2007, when she joined me and several other ultrarunners on an expedition into Mexico's Copper Canyon to race the legendary Tarahumara Indians. The area is a twisted maze of stone passages that provide natural cover to illicit pot fields and their well-armed guards. I played it safe on the weeklong trek into the canyon. Shelton drank like a teamster and, hungover along with her then-boyfriend, Billy "Bonehead" Barnett, got lost on a training run three days before the 50-mile race. They were crying and drinking from a mud puddle when we stumbled upon them near dusk, by sheer luck.
On race day, she showed up literally six seconds before the starting gun. Fifteen miles in, she tripped on a gnarly descent and crashed face first on the rocks. As she lay there, stunned and bleeding, five Tara­humara runners hurdled her one by one and disappeared down the trail. Serves me right, the sunburned, trail-weary Shelton thought. It was yet another fiasco. And then, just as Nikki Kimball fears could happen at Western States, Shelton struggled to her feet, wiped the blood off her face, and ran them all down.
Trending on Outside Online