Vasque Aether Tech Trail Runners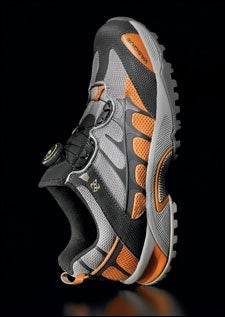 Heading out the door? Read this article on the new Outside+ app available now on iOS devices for members! Download the app.
Vasque Aether Tech Trail Runners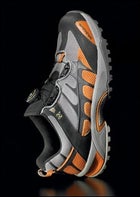 1. With its fully gusseted tongue and a smooth sock liner, the Aether Tech just fits great. The easy-to-adjust Boa Lacing System provides a uniform snugness all around the foot—no pinching or pressure points. The foot-sculpting midsole is made from just the right amount of soft, single-density foam to provide the ideal blend of cushioning and rock-hopping agility.
2. Solid rock, loose gravel, mixed scree, wet logs—it didn't matter. On every sort of trail, we found the multi­directional lugs were up to the challenge, without collecting pebbles or cramping the shoe's nimble handling or flexibility. It can also handle the heat: The tightly woven upper efficiently wicked away sweat, even during 90-degree runs in Moab.
3. Though light enough for fire-road tempo runs or extended climbs, the Aether Tech doesn't skimp on protection. Supple plastic sidewall reinforcements protect the breathable mesh upper from scrapes, while the toe is shielded with a soft yet stub-proof rubber toe cap. Quick fit tip: Our narrow-footed testers found the heel cup a touch wide.
12.2 oz; $115 vasque.com
Saucony ProGrid Triumph 5 Running Shoes
Spring Forward
Saucony ProGrid Triumph 5 Running Shoes
1. The Triumph is like the best hotel mattresses: soft and springy but not mushy. Articulated outsole lugs and a five-layer sandwich of foam, rubber, and thermoplastic in the heel absorb the impact of each foot strike while retaining a remarkable responsiveness. And thanks to its forward-leaning tilt, the Triumph rolls uninhibited through its gait at any speed.
2. With the plush interior and pillowy tongue, running in this shoe is "like walking barefoot on shag carpeting," remarked one tester. It's snug, too, courtesy of flat laces (that never came untied) and a rubber arch band that stabilizes the midfoot without clamping. The extra security translates into speed—tempo runs were a breeze in this moderate-mileage trainer.
3. A surprisingly reactive thermoplastic plate transforms heel-strike energy into toe-off spring. And though it's not especially light for a neutral shoe, the Triumph feels surprisingly smooth and buoyant on the fly. Our testers chalked that up to its gram-conscious design, e.g., the use of denser midsole parts only where absolutely necessary.
11.5 oz; $120 saucony.com
Trek Madone 5.2 Road Bike
Ride and Seek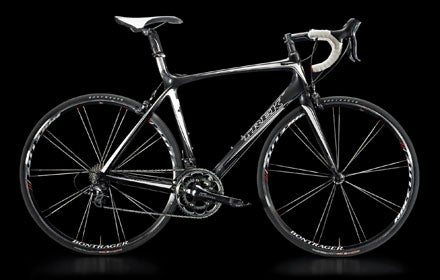 1. Want race-proven? Trek's all-new Madone is available in three levels of carbon (White, Black, and Red). Because the top-tier Red frames weren't done in time, Alberto Contador won last year's Tour de France on a mid-level Black frame, exactly like the one shown here.
2. Stiffer bottom brackets mean more efficient pedaling. By engineering the Madone so that crank bearings fit into the frame, rather than on the outside, Trek delivers the widest bottom-bracket junction in the industry. The design also requires fewer parts, which saves weight.
3. Integrated seat masts deliver a more tuned ride quality. But they have to be sawed off—irreversibly—to fit the rider. To get around this, the Madone uses a cap that slides over the seat mast, combining the benefits of integrated designs with the adjustability of traditional posts.
4. Shimano's lustrous new Ultegra SL component group is only seven ounces heavier than Shimano's flagship Dura-Ace but at a fraction of the cost. Given that Ultegra already came close to Dura-Ace performance levels, SL will satisfy all but the most finicky of riders.
5. A new fork design eliminates sharp angles, meaning a continuous curve to the carbon threads for better strength and road feel. Trek also claims 39 percent more vertical compliance over the previous Madone, meaning a frame that devours road chatter.
16.2 lbs, 56cm; $3,680 trekbikes.com
Ibis Mojo SL Mountain Bike
Find Your Niche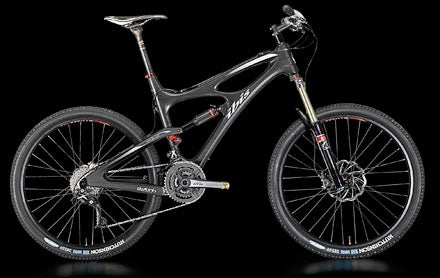 1. The Mojo SL won this year's award for one simple reason: It defies all categories and excels in every condition. It's light enough to race cross-country, but with 5.5 inches of front and rear travel, it's cushy enough for anything a sane rider would ever descend.
2. In cyclingspeak, SL stands for "superlight." By strategically replacing aluminum bits with carbon fiber, Ibis has pared its already svelte Mojo frame to just 4.93 pounds, including shocks. Our complete tester weighed in at 21.8 pounds, lighter than many hardtails.
3. Ibis didn't let the drive for light weight get in the way of aesthetics. With its swoopy curves and organic shaping, the SL attracted loads of covetous stares out on the trails. And the cool rubberized paint protects all that beauty from rocks and trail debris.
4. The new DT Swiss XR Carbon shock felt more supple on small bumps than comparable shocks. Paired with the proven dw-link design, which counters pedal bob and keeps the suspension fully active under braking, it delivered a smooth, fluid response, even on rocky terrain.
5. Our SL was decked out with a Shimano XTR drivetrain, Magura Marta SL hydraulic brakes, an Easton carbon seatpost and handlebars, and a Stan's ZTR355 tubeless wheelset. In three months of riding, nothing failed. Ibis calls this opulent group WTF—short for, well, you know.
21.8 lbs, L; $6,400 ibiscycles.com
Nokia N95 8GB Mobile
Field Units
Nokia N95 8GB Mobile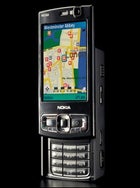 1. Introducing the rare smartphone that earns the title. Most do-it-alldevices compromise one system for another, but the N95 shines as both multimedia and communicationdevice, with Wi-Fi, GPS, and FM to boot. And the intuitive setup makes operation a snap: Slide the panel up for the keypad and down to control audio or switch the screen to horizontal for viewing photos and video.
2. The price may sting a little, sure, but bonus features abound onthis cool dual slider. The camera (which sports Carl Zeiss optics and an LED flash) shoots five-megphotos and 30-frames-per-second video. The audio player really delivers on sound, and the stereo speakers are, well, impressive. Result? Our testers often left their cameras and music gadgets at home—a first.
3. Too many hybrid phones are appallingly bad at actually doing the whole "phone" thing. Not this one. Quad-band versatility means you can take it to the ends of the earth. No matter where we used it—from Canada to Kenya—we got top-notch reception and lost very few calls. Throw in a quickly and easily navigated interface unmatched by any other device and we have a winner.
4.5 oz; $780 nokiausa.com
Rudy Project Zyon Sailing Sunglasses
Light Sabers
Rudy Project Zyon Sailing Sunglasses

1. Rudy has taken LCD-obscuring polarization down just four notches, to 96 percent. It's enough to kill glare but also let you see the screen on your iPod, phone, etc. Developed for sailors who need to filter out reflected light and still read electronic gauges, it's great for all watersports.
2. Photochromic, polarized, and Rx-able lenses mean anybody can play on land or water in everything from low light to searing brightness while their shades adjust from nearly clear to super-dark. Primo optics reveal wonderful detail and depth, even with a color-neutral gray tint.
3. Gales may howl and photons attack, but snap-on side shields provide incredibly complete protection from peripheral glare and wind. Even without the shields in place, oversize lenses ride close to the cheekbones, and the brow-hugging design shuts out overhead sun.
4. Bendable nylon temples and adjustable metal nosepieces tweak the fit to perfection. Though light and comfortable, these babies hang on tight. And moisture actually increases security: Hydrophilic rubber gets stickier when wet. For the roughest conditions, there's a floating lanyard.
5. Stellar lenses aside, the rest of the construction is grade A, too. Every metal component is made of corrosion-fighting stainless steel. And the look is so sharp and salty, this ultra-techy performance number qualifies as street wear, especially in the optional matte black.
$250 rudyprojectusa.com
Nikon D3 Camera
Sharp Shooters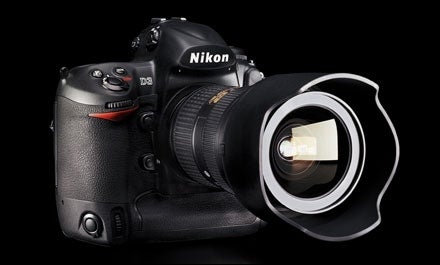 1. A paradigm-shifting camera, the D3 has a new sensor with incredible low-light sensitivity that, with a high-speed shooting rate (nine frames per second) and a new autofocus system that locks on to moving subjects like glue, can make images that were literally impossible to capture before now.
2. Most DSLRs can shoot at up to 3200 ISO. But until now, noise, or digital grain, rendered the images unusable. With the D3, we regularly shot at 6400 ISO and higher, capturing perfectly clean images—sans flash—in situations where the camera would previously have stayed in the bag.
3. Photographing action sports is a dream. The D3 can create 64 JPEGs in just over seven seconds. A new, 51-point autofocus tracks moving subjects—like the skiers and mountain bikers we shot—using color information, yielding more tack-sharp images than any other camera we've tested.
4. The full-frame sensor matches the dimensions of 35mm film, so images now reflect a lens's total field of view. More space per pixel means images with amazing detail, realistic color, and low noise. Nikon even designed a super-wide 14–24mm zoom (pictured, $1,800) for the D3 body.
5. Dual card slots allow simultaneous recording of RAW and JPEG files—great for quick editing. A built-in mike and speaker record and play back voice memos tagged to individual images. Rubber gaskets seal the body against weather, and key buttons are smartly placed.
$5,000 nikonusa.com
Eagle Creek Take 2 ORV Trunk 28
Strong Grips
Eagle Creek Take 2 ORV Trunk 28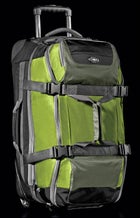 1. If there's parity in reincarnation, this two-in-one trunk will be reborn as a tank. It easily passes dress code at luxe hotels, but its 420- and 1,680-denier fabrics, brawny wheels and housings, and beefy bumper guards and kick plate are meant for rough stuff. A ten-day tour of Spain and several ski-trip sorties later, this 12-pound brute is still in showroom condition.
2. With space split between a detachable, 3,000-cubic-inch duffel and a water-resistant, 3,050-cube main bin, it's easy to separate fresh from foul. Topside, collapsible dividers and two zip pockets divvy sport-specific and après clothing. Beneath, the main eats up boots, collapsible poles, etc.—all of it always accessible via a drop-down door. And you can wash the interior.
3. Big knobby wheels and a two-position handle system ensured high clearance and precise steering on Madrid's streets and gravel park paths. And on several quick weekend detours with only the essentials aboard, the removable duffel carried like a shoulder bag and had ample space remaining for too many bulky souvenirs and a couple of bottles of local hooch.
$320 eaglecreek.com
Marmot DriClime Catalyst Shell
Second Skins
Marmot DriClime Catalyst Shell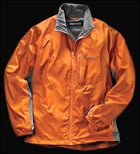 1. An eco-conscious makeover of one of Marmot's most popular pieces for the past 15 years, the redesigned Catalyst won over nearly every tester. An outer polyester fabric kept out blasts of wind, and the soft recycled-polyester liner stayed cozy even while wicking sweat. Our favorite update: Stretch-fabric panels on the sides that increase the jacket's mobility and breathability.
2. The Catalyst is up for anything—testers bagged fourteeners, backpacked in Yellowstone, climbed in Moab, and biked through B.C. in it. It's not waterproof, though its DWR treatment does repel drizzle, and it breathes surprisingly well for such a toasty jacket. We usually wore it by itself in cool weather, but thanks to a trim, athletic cut, it pairs well with a waterproof shell.
3. In addition to being highly versatile and sensibly priced, the Catalyst is also cut from sustainable materials. The face fabric is 100 percent recycled polyester, the warm liner is 80 percent recycled, and the stretchy side panels and shoulder inserts are 88 percent. True, it might not stop global climate change, but it's still a laudable move toward sustainability.
13 oz; $110 marmot.com
New Balance 850 Hiking Shoes
Foot Joy
New Balance 850 Hiking Shoes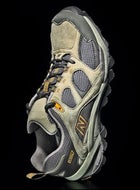 1. The 850 simply fit and felt better than all the rest. Its deep heel pocket and snug waist created a tailored fit, and the toe box never felt confining. A web of dual-density plastic sandwiched in the midsole supports the arch and keeps the shoe from buckling yet still allows the forefoot section to bend easily. Or, as one tester put it, "It's perfectly balanced."
2. Portions of the 850's outsole are carved away to lighten the shoe, and the crescent-shaped tongue doesn't bite into ankles. Down low, the sole is upturned at the heel and forefoot, allowing for smooth landings and swift takeoffs. Weighing just 14 ounces, it's ideal for hiking with lighter loads, although we felt no aches or pains during modest runs.
3. Nubuck leather and synthetic armoring shrugged off run-ins with rocks and roots. A coated plate of foam between the outsole and midsole prevents punctures without adding weight, and the outsole's siped lugs are as durable as they are grippy. And thanks to airy mesh panels that extend all the way to the toe, our feet didn't suffer in warm weather.
14 oz; $85 newbalance.com
The North Face Primero 60 Backpack
Haul of Fame
The North Face Primero 60 Backpack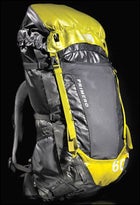 1. No gimmicks here. The North Face's new X-Radial suspension is the real deal. The secret is a lightweight aluminum, X-shaped frame that's reinforced on the top and bottom to deal with heavy loads (up to 55 pounds) and actually pivots at the center of the X, which means the pack moves along with your body as you stride forward, instead of just sticking to your back.
2. The Primero forgoes all the extra heft of complex mesh suspension systems and instead relies on simple injection-molded EVA foam padding—like the stuff used to make Crocs—with vents on the back and lumbar regions. While not as airy as the best mesh systems, the EVA felt comfy on nearly every tester's back—and doesn't suck up any back sweat (or odors).
3. It's virtually waterproof. The hood and sleeping-bag compartment are both made with waterproof fabric and welded seams, and the rest of the pack is cut from highly water-resistant material. Everything we crammed in the 3,650-cubic-inch (60-liter) Primero stayed dry, even in a downpour. Need more room? There are 65-, 70-, and 85-liter versions. The 65 is women-specific.
5 lbs; $270 thenorthface.com
Marmot Aura Tent
Home Sweet Dome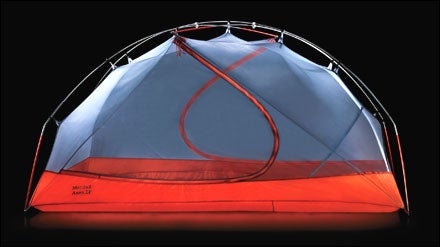 1. The Aura is downright spacious (35 square feet), with two doors and two big vestibules. It's plenty sturdy, easily withstanding 50-mph winds without guylines. And light: The Aura flirts with the four-pound barrier, the two-person freestanding tent's equivalent of the four-minute mile.
2. Talk about usable space: Four people can share a meal inside without hunching over. Angled knee joints do the trick down low, while the Aura's unique configuration—two offset poles terminating above the doorways instead of joining in an X—hoists the walls.
3. Setting up the unorthodoxly designed Aura the first time is far from intuitive. But don't worry. Once you figure it out, you can put it up in a flash. Bonus: The Aura's DAC NSL aluminum poles aren't finished with environmentally nasty phosphoric and nitric acid.
4. The 100 percent mesh canopy affords clear star-gazing in dry but buggy weather and eliminates condensation when the fly goes on. And when skies went gray, testers stayed dry (thanks to steep, drip-free walls)—and positive (thanks to a cheery orange hue).
5. Testers praised Marmot's trademark Stake Tape—strips of webbing with a line of pre-cut slots. They eliminate ounces and tangles when staking out the corners and vestibules. Easy, now: We carelessly tore a few slots trying to achieve a perfectly taut pitch.
4.4 lbs; $300 marmot.com
Sierra Designs Verde 20 Sleeping Bag
Sacks of All Trades

1. It's partly recycled, yes. But the Verde won this year's award because of how it performed in the field. It's all about the fill: The Verde's insulation (Climashield Green) is "continuous filament," meaning it won't clump or shift—and create cold spots—as old-school synthetics do.
2. The insulation and shell fabric are spun from recycled soda-pop bottles.The liner fabric consists of coconut husk and recy-cled plastic. The drawstring cordlock is made out of recycled, reground plastic. The only things that aren't? The zippers and velcro, for durability reasons.
3. The Verde is lined with Cocona, a yarn made with activated carbon fibers from coconut shells, which can be used to weave fabric from recycled products and excels at wicking away moisture and fighting odor. It works. "The bag feels drier and fresher than others," remarked one tester.
4. There's a chest pocket, removable leashes to keep you from sliding off your pad in the middle of the night, and a pillow sleeve. The downside is that all those features—and the bulkier insulation—add up. The Verde is nearly a pound heavier than other 20-degree synthetic bags.
5. An efficient, athletic cut and ergonomically tailored footbox and hood reduce the need to heat up the dead air spaces. The women's version, the Déjà Vu (as in, these materials have already been seen once before), is cut fuller in the hips and has more insulation in the footbox.
3.6 lbs; $180 sierradesigns.com
KayakPro Nemo Sea Kayak
H2Aaahh

1. Developed by five-time Olympian and world champion Grayson Bourne, the Nemo is the ultimate fusion of race and touring readiness. After weeks on the water, testers found it has the optimum mix of speed and comfort for everything from high-intensity training to all-day touring.
2. Unlike most mass-market boats, which are designed for slower speeds, the Nemo's knife-blade bow is calibrated to be most efficient at 6 to 7.4 knots. And you can tell. On Vermont's Lake Willoughby, our kevlar model accelerated in a dozen strokes and tracked like a cruise missile.
3. The flat cockpit rim and deck allow total freedom of movement, whether you're training or touring. Scalloped side cutouts in the cockpit accommodate close strokes, which minimize yaw, the side-to-side movement (or slop) that robs a paddler of forward momentum.
4. Our prototype tracked so straight that it was difficult to turn back toward home. KayakPro improved production models by adding a longer rudder, which purists will hate but intermediate paddlers won't be able to live without. It's not retractable but will give if it hits a rock.
5. In a true race boat, outfitting is secondary. Not here. The Nemo comes with a comfy fiberglass seat, dual hatches (they're a bit tricky to open but completely watertight), bulkheads, deck lines with recessed fittings, carrying handles, GPS mounts, and a gas-pedal-style rudder.
35 lbs, 17'11.5″x21.5″; $3,700 kayakpro.com
Walden Retro Wing Swallow Surfboard
Shred-Ready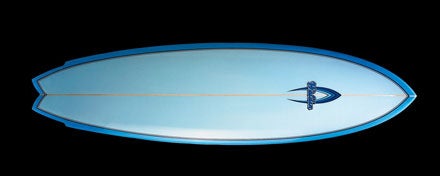 1. Equipped with five fin boxes, the Walden works as a thruster or quad. Our 6'4″ test model carved up small waves best as a quad. And when the surf jumped up, we popped out the back two fins and added one in the center for a thruster setup that was fast but steady on steep drops and bottom turns. The board is versatile enough for any wave.
2. The board's outline evolved from shaper Steve Walden's 1970s Dyno Eagle twin-fin fish. At 2.75 inches thick, the Walden has plenty of flotation to help you paddle into big waves early and milk waist-high junk you could normally ride only with a longboard. And with its double-concave hull, it even blew through hollow sections of ten-foot surf in the Maldives.
3. This board also proved extremely maneuverable, especially when ridden as a quad—that's two graduated fins on each side. Whether we were carving up small waves, cranking a big turn off the top, or just trying to switch directions to stay with a mushy wave, the Walden responded quickly and correctly, just like a good board should.
5'8″–6'10"; $650 waldensurfboards.com