In Stride
What It Takes to Finish the World's Toughest Ultra 20 Consecutive Times
Hardrock veteran Kirk Apt has logged 2,010 miles and 680,000 feet of vertical ascent through the San Juan Mountains since 2000. Here's how.
Courtesy of Kirk Apt(Photo)
Heading out the door? Read this article on the new Outside+ app available now on iOS devices for members! Download the app.
On July 11, human anomaly Kilian Jornet smashed the six-year-old course record at the Hardrock 100 Mile Endurance Run. Despite Jornet's unbelievable speed, Coloradan Kirk Apt, who finished in 39:38:51—nearly 17 hours behind Jornet—received the loudest applause at this year's awards ceremony.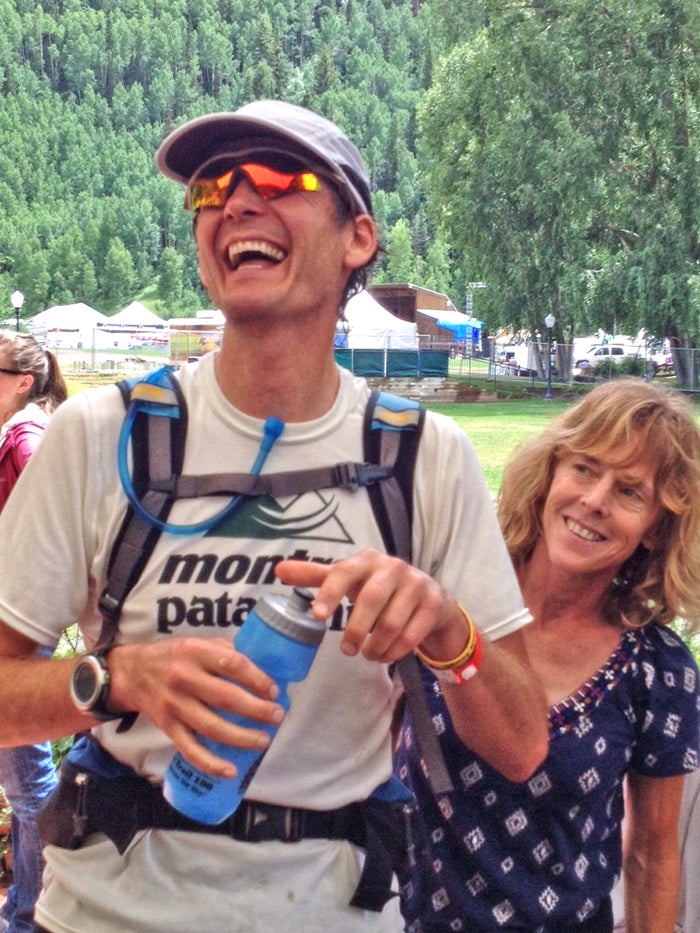 That's because the 52-year-old—who broke the course record in 2000 with a time of 29:35:00—kissed the Hardrock for the 20th consecutive year, a new record. The race was his 48th hundred-miler since 1991; that's an average of 2.1 hundreds per year, and he's managed to show up healthy and fit to all of them.
In an era when elite ultrarunners drop out as soon as the smallest thing goes awry, Apt is the exemplar of what determination and perseverance can accomplish: a level of lifetime fitness unknown even to the most famous and revered professional athletes.
We caught up with Apt at his home in Grand Junction to see how 20 years of Hardrock is even possible.
OUTSIDE: When did you start running ultramarathons?
APT: I actually don't remember; it was probably a year or two before my first hundred, which was Leadville in 1991. In 1990, I paced my friend Greg Brunson at Leadville. The next year, we reversed roles, and since then I've lost count of how many times he has paced me in my 48 total hundreds. Probably close to 20, including Hardrock again this year.
What initially drew you to the sport?
The simple love of running in the mountains and the challenge of resetting the edge of the envelope physically, mentally, emotionally, and spiritually. 
Who was instrumental in you getting hooked on the sport?
In addition to Greg, my early mentors include Steve Mahieu, Charlie Thorn, and John Cappis. 
You dropped from your first attempt at Hardrock in its 1992 inaugural running due to food poisoning. Was that a formative experience?
Maybe, in the sense that the experience solidified the feeling that I really don't like not making it to the finish line. That remains my only hundred-mile DNF.
You finished Leadville before you first ran Hardrock. Did that prepare you for the 100.5-mile loop through the San Juans?
Oh, it was so different than Leadville, and I was still quite low on the learning curve. There was so much uncertainty before the first Hardrock; we wondered whether it could be completed in 48 hours. I remember going into the run with a healthy dose of fear and respect. Certainly it was beneficial to have the 100-mile experience of one race, but Hardrock is a very different experience than other hundreds.
What memories do you have from your first Hardrock 100 finish, or have they all blurred together?
I do remember my first Hardrock. As for gear, I had the whole house with me, a huge backpack. I wasn't even experienced enough to think I knew what to expect. My plan was to go out and see how it came to me. That first finish line was very special. I remember running super conservatively and feeling huge elation running into the finish, which was down by the gazebo and courthouse [in Silverton, Colorado] back then. It made up for the disappointment of the DNF the year before. 
What was winning the 2000 race like for you?
We were living in Boulder that year, and it was a low snow year. So, just great training in the Front Range. I certainly didn't go into it with a "win or bust" attitude, but I knew I was super fit.
I did my thing through the race and found myself in the lead. We were going counterclockwise that year, and I got to Chapman aid station [mile 82] feeling pretty good and thought, "I've got a shot at winning this." I'm really not competitive by nature, so I had to convince myself to go for it because it was a once-in-a-lifetime chance. It was a big mental effort to keep myself pushing.
I had the best running day of my life on probably the best day to have it. That was the high-water mark of my lifetime fitness.
Being able to show up at Hardrock for 20 straight years and fit enough to finish such a tough course is a level of lifetime fitness most people can't achieve. How do you do it?
Luck. Also, because I've made Hardrock the focus of my year, all my training and other prep has been all about getting to the start line in the best position to be successful. I try to have a healthy lifestyle, eat well, get regular bodywork, train smart. I also take time off when necessary. And I stay positive.
What has been the key to your training?
I now train at really low intensity. I don't have any problem walking if a climb is working me. My [slowing] times kind of reflect that.
For me, it's just been the long run. Time on my feet. I don't care how much ground I cover or how fast I'm going. I do try to get as much terrain [vertical gain] in as possible. May and June are the key times, but you can't always get up high with snow in Colorado. I just do what I can.
When I was more competitive, I was underemployed, so I had more time to train. My partner, who is also a runner, and I have been together for almost 20 years. We don't have kids. She's key to keeping me on track with my training. 
Have you had any injuries along the way?
About five to eight years ago, I realized that my adrenals were kind of shot. That really had a hand in increasing my finish times at Hardrock. I worked with a naturopath doctor, got regular acupuncture, and was on multiple herbal adrenal-health supplements. Eventually that fixed it. Three years back, in the spring, I started to roll my ankle a lot—worse than usual. I ended up having to wear an air cast every time I ran for a year.
What's your diet like?
I eat mostly vegetarian, but certainly not completely vegetarian. Dinners are always centered around a gigantic pile of steamed vegetables. I also eat beans and quite a few eggs for protein. 
What keeps you motivated year after year?
Well, there's nothing I'd rather do than spend all day on my feet in the mountains. Motivation hasn't been an issue.
Lead Photo: Courtesy of Kirk Apt