Sweat Science
What We Can Learn from Roger Bannister
The world's first four-minute miler has died, but his approach to the sport should live on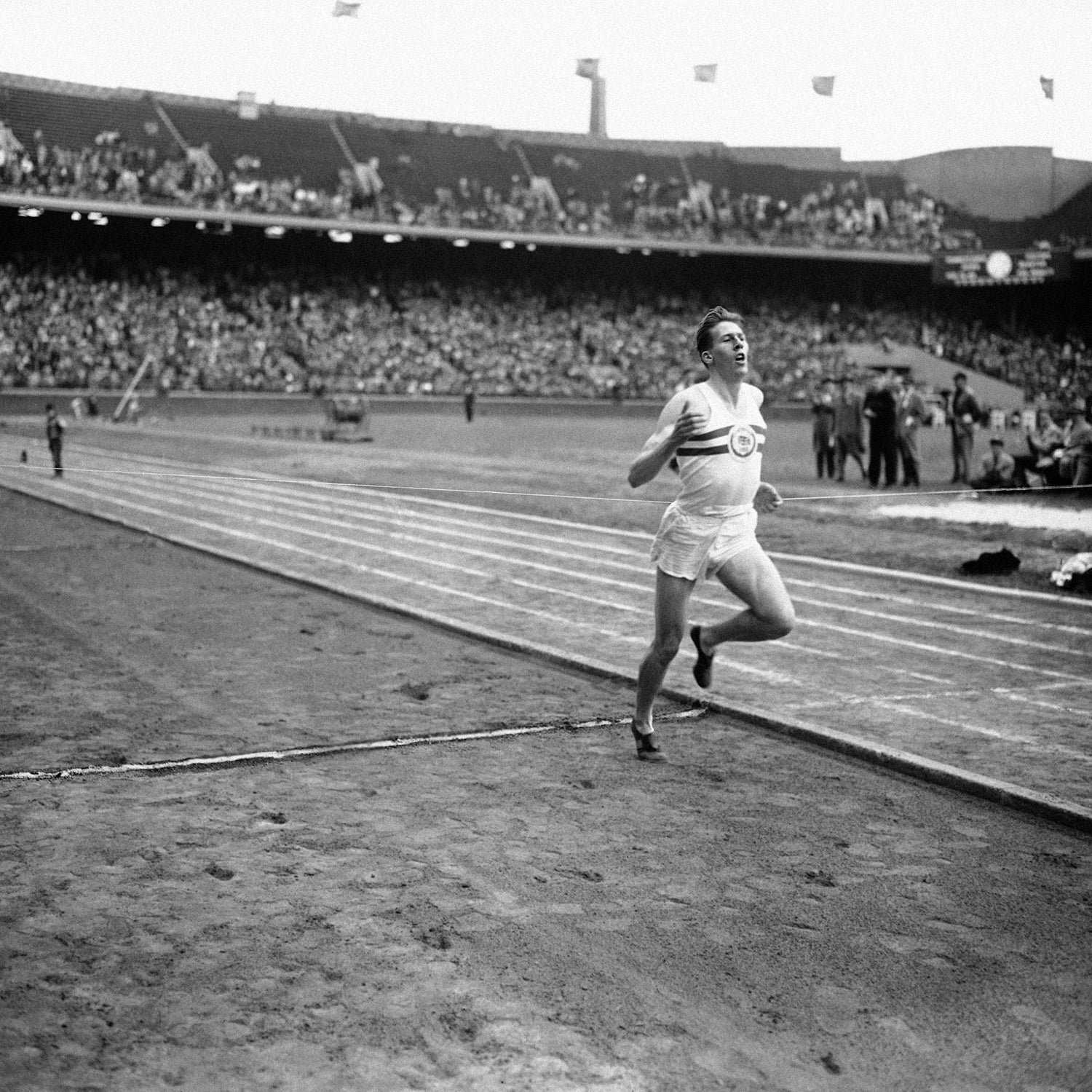 Heading out the door? Read this article on the new Outside+ app available now on iOS devices for members! Download the app.
One of many surprises, when I showed up for my first meeting with the cross-country team at the University of Cambridge in the fall of 1997, was that we didn't have a coach. Instead, the team had elected a "training secretary" the previous spring—a member of the team who would set the workouts and guide our training for the year. As a grad student miler newly arrived from Canada, where I'd trained with a very regimented university program and qualified for my first national team a few months earlier, the word that leapt to mind was "amateur."
That moment of gentle culture shock has been on my mind as I process the news that Roger Bannister, the Oxford medical student who famously ran the first sub-four-minute mile in 1954 while training during his half-hour lunch breaks, died on Saturday at the age of 88. Bannister's reputation as the "last amateur," in a sport that has faced scandal after scandal in its modern, professionalized incarnation, is more complicated than the stories told about him sometimes suggest. But over the past few years, I've found myself more and more convinced that we should all strive to be more amateurish.
The fairy-tale world of Oxbridge sports that I encountered when I arrived in England was strikingly similar to the world I'd read about (repeatedly) in Bannister's 1955 autobiography, The Four-Minute Mile. Bannister, as secretary and then president of the Oxford University Athletic Club, had been responsible for organizing the team's competitions and had led the charge to fund and build the first modern track in Oxford—the very track where his most famous race later took place. The sport was still mostly student-run when I arrived in Cambridge. Before competitions, we slept in youth hostels or in someone's parents' basement. Even at the national university championships, the cross-country course had to be changed at the last minute one year because the farmer had plowed the field where we expected to run.
Bannister, who retired from running at the age of 25 and went on to a career as a world-renowned neurologist, was often quoted lamenting the decline of this sort of amateurism. "We felt that we belonged to a tradition that was dying," he told Sports Illustrated in 1999. "I don't mean the tradition of British privilege. In fact, I came from quite an ordinary background and attended Oxford only because I won a scholarship. No, the tradition was of running and working—and while you were studying, being part of a team."
I've always taken Bannister's nostalgia with a grain of salt. First, there's no doubt he was in a position of tremendous privilege, merely in having the leisure to indulge in his hobby. And there's also something distinctively Oxbridge in the desire to appear as if he wasn't trying that hard. He says as much in his autobiography: "I know that I developed the pose of apparent indifference, to hide the tremendous enthusiasm which I felt for running, from the day I set foot in Oxford." In reality, Bannister's four-minute attempt required extraordinary effort and planning, involving—highly controversially—the unprecedented use of pacemakers to lead him through the first three laps, and a coach, Franz Stampfl, whose role he tended to downplay. And Bannister was highly attuned to the latest physiology: his paper on the effects of running with supplemental oxygen was published just a few months after his four-minute mile.
The counterfactual scenario often discussed about Bannister is what would have happened if he had won the 1952 Olympics, instead of coming in fourth. Would he have followed through on his stated plan of retiring? But to me, the more interesting question is: What would Roger Bannister's running career have been like if he'd been born a decade later? By 1966, the world record was 3:51.3, set by a teenager named Jim Ryun, who was already training at a volume and intensity that Bannister could never have fathomed. If Bannister was sincere about his motivations for running and his desire for a balanced life, he would never have been able to compete with the talented and hard-striving generation that followed him. But would he have still chosen to compete in the sport? And would he have gained just as much enjoyment from pushing his own barriers, even if those personal thresholds didn't write him a place in history?
Obviously I don't know the answer to this question. And it may seem like I'm setting things up to conclude that Bannister's approach to sport was only made possible by his lucky timing—coming of age at a time when training knowledge was finally advancing after the privations of the war, but before the rest of the world had a chance to take this newer, more rigorous approach to training to its logical conclusions. But the truth is, from everyone I've read about Bannister, I suspect he would have gone about things the same way, even if the circumstances were different.
I'm not arguing here that we should all agree to train no more than half an hour a day, or ban prize money from sports. But whenever I reread Bannister's autobiography—which I did most recently just last week, while writing this column—I'm reminded of what I took away from my three years of running at Cambridge. In that lightly structured, amateur environment, none of what you do is imposed by an external authority. You choose how hard to train; you choose when to back off if you're getting burned out. You decide what motivates you to run. In these respects, it's a lot like… well, the entire rest of your life. I think going through that experience is one of the reasons I'm still running and competing, two decades later.
For me, Bannister will always epitomize this "amateurish" approach to sports. We'll remember him because his greatest day on the cinders happened to coincide with a round-number time over an arbitrary distance. But we'll also remember him because he reminds us that sports were a game and a journey of self-knowledge before they were a profession. "The aim is to move with the greatest possible freedom toward the realization of the best within us," he wrote in 1955. "This is the quest of a lifetime, and sport plays only a small part in it."
---
My new book, Endure: Mind, Body, and the Curiously Elastic Limits of Human Performance, with a foreword by Malcolm Gladwell, is now available! For more, join me on Twitter and Facebook, and sign up for the Sweat Science email newsletter.
Lead Photo: AP Photo/WMW