In Stride
The 2018 Boston Marathon Was Perfect Chaos
Non-elites on the podium. Crazy clothes. Mid-course pandemonium. The race gave running a much needed shake-up, if only for a day.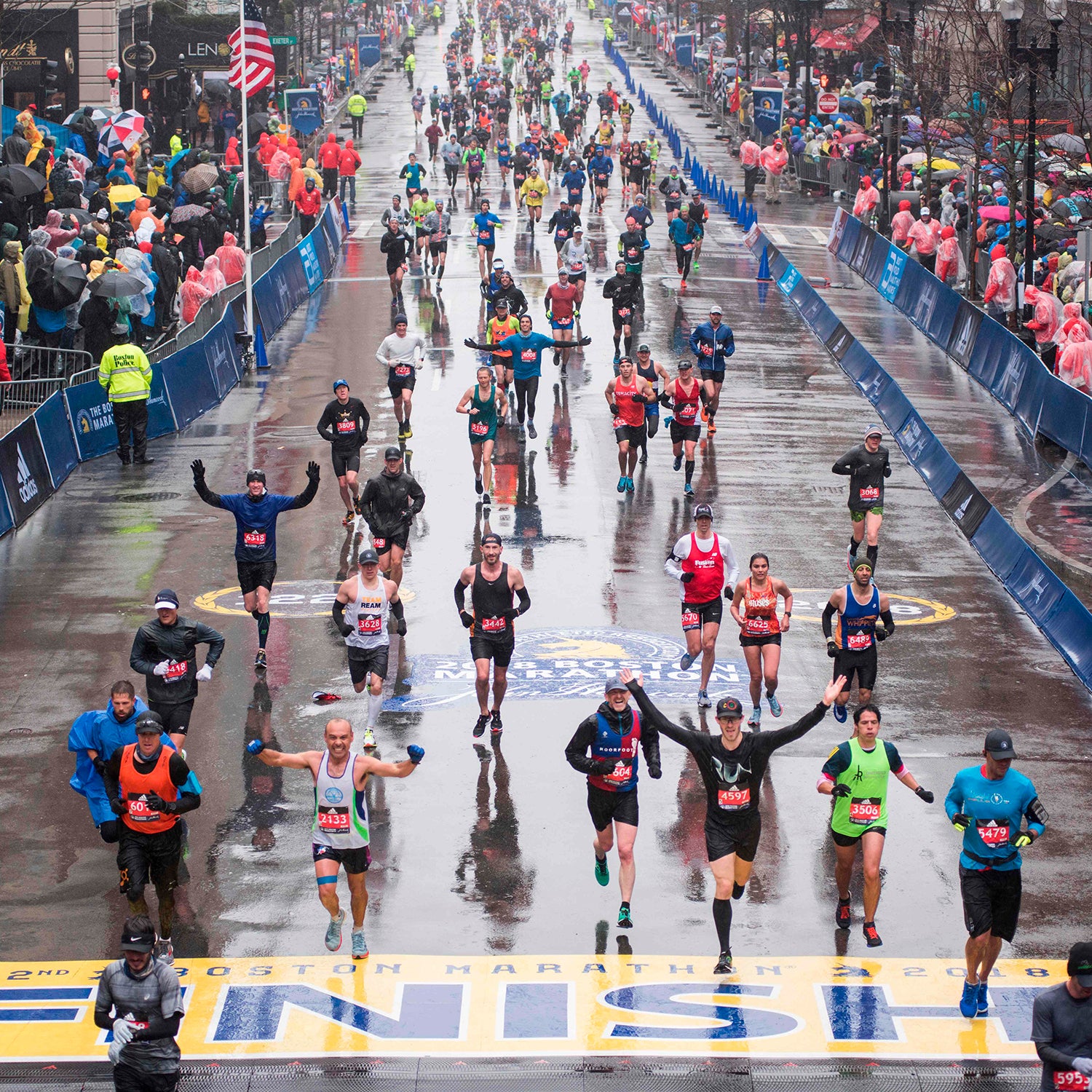 Ryan McBride/AFP/Getty(Photo)
Heading out the door? Read this article on the new Outside+ app available now on iOS devices for members! Download the app.
I've never enjoyed watching a TV broadcast of a race more than Monday's Boston Marathon. I'd be lying if I said that this wasn't partially due to the fact that I was in a warm, dry place and not attempting to run 26.2 miles in the freezing rain. It also didn't hurt that two of pro running's most sympathetic characters ended up pulling off outrageous upsets. It was a total joy to watch 34-year-old Desiree Linden celebrate the biggest win of her career and become the first American woman to win Boston in 33 years. Meanwhile, on the men's side, Yuki Kawauchi of Japan, also known as the "citizen runner" who isn't sponsored and has a full-time job, outlasted a field of world-class superstars. Both of these improbable victories felt straight out of the parallel universe of a Disney sports movie where virtue is rewarded and nice people finish first. 
However, no individual triumph at the 122nd Boston Marathon could eclipse the spectacle of the event itself. There was just too much going on. In a sport where so many races feature an extended period of monotony before one bold move by a favorite decides the outcome, Boston 2018 was a weird and wild ride from start to finish. And thank goodness for that. 
Even the clothes were a story. Watching the elites "warm up," minutes before the start in Hopkinton, one was struck by how many pro runners weren't shedding their jackets—highly unusual for a sport in which athletes do all they can to eliminate any unnecessary weight or wind resistance. The sleeves of defending champ Geoffrey Kirui's white windbreaker would billow in the 20-30 m.p.h. headwind throughout the course of the day, creating an unfortunate parachute effect. Linden and Shalane Flanagan, who finished in seventh place, stayed zipped up all the way to the finish. Meanwhile, Galen Rupp's face was obscured by a bandana as if he had plans to rob a stagecoach somewhere along Route 135. Given all the sartorial eccentricity, it was somewhat ironic that Kawauchi, who has raced half marathons in a three-piece suit and in a panda costume, went with the traditional split shorts and singlet look.
But if Kawauchi's fashion wasn't noteworthy, his race tactics certainly were. On a day when the conventional running wisdom dictated that it would be absolute suicide to take the lead early and bear the brunt of the gale-force winds, Kawauchi not only took the lead, but jetted out at sub-world record pace for the first mile, opening up a huge gap between himself and the rest of the field. The pack reeled him in a few miles down the road, but Kawauchi put in surges throughout the morning, to the bafflement of the commentators. 
"Somewhere within 5K or maybe 10, somebody is going to hand this gentleman a piano to carry—this is too fast," NBC Sports Gold's Larry Rawson said in response to Kawauchi's opening gambit.  
However, on a day that saw 23 DNFs among elites, (including bandit-mode Galen Rupp, who apparently suffered symptoms of asthma and hypothermia) Kawauchi never gave in. For the longest time, it looked certain that pre-race favorite Kirui would triumph, especially after the latter ripped through the Newton Hills to give himself a one-and-a-half-minute cushion at 35K. But then, suddenly, it was Kirui who was handed that piano. When he surrendered his lead to a (once-again) surging Kawauchi with just over a mile to go, there was no fight left. Such was the chaos of the day that Kawauchi later said that he didn't even know he was winning until just before he broke the tape.  
The women's elite race began a little more predictably, with the pack shuffling out of Hopkinton in a tight phalanx. But you knew something was up when Linden and Flanagan appeared to be chatting early on.  
"Honestly at mile 2-3-4, I didn't feel like I was even going to make it to the finish line and I told her during the race, 'If there is anything I can do help you out, let me know as I might just drop out,'" Linden said of her mid-course communication with Flanagan in the post-race press conference.
In what has been the most talked about incident of the race (and yet still, in my opinion, hasn't been talked about enough), Linden made good on her offer when she intentionally dropped back to help Flanagan rejoin the pack after she made a quick porta potty stop around halfway. We've never seen something like this in a major marathon before and likely will not see it again: a runner slowing up to help a struggling comrade and then going on to win the damn race. Somebody, please, give me a tissue.
And then Linden did it again. Somewhere around Newton, she figured she'd help fellow American Molly Huddle try to close the gap on Ethiopia's Mamitu Daska, who was clinging to a half-minute lead. Huddle tried to go with Linden, but, as she explained in a post-race interview, she was effectively paralyzed by the cold and "just couldn't move."
Linden, on the other hand, was moving pretty well. Daska would drop out. Linden would win by over four minutes.
All in all, Boston 2018 will go down as a glorious subversion of the marathon world order—pro running's own Midsummer Night's Dream. The lion's share of pre-race hype, including my own contribution, was all about Flanagan, Huddle, and Jordan Hasay, who was an eleventh-hour scratch. Linden was an afterthought. But at least she was part of the discussion. Not so the second place finisher, Sarah Sellers, who is an Arizona-based anesthetist and had to pay her own entry fee. Third place went to Krista Duchene, a 41-year-old mother of three from Canada. Sellers and Duchene won $75,000 and $40,000, respectively. 
In the age of hyper-professionalization, this kind of stuff isn't supposed to happen anymore. If the big marathon story of 2017 was the Nike-sponsored Breaking2 Project, a meticulously controlled, closed-to-the-public attempt to get a few superstars to run obscenely fast in perfect conditions, Boston 2018 was the perfect foil for such elitism. It was as though the marathon gods summoned a mid-April tempest just to remind us that the event isn't supposed to be about the sterile pursuit of arbitrary records.
The order will likely be restored at this weekend's London Marathon. (Or not?) Times will be fast. A decisive second half move will decide the race for one of the favorites. Civilian runners won't crash the podium. For an enthusiast like myself, it'll be still be fun to watch. But nothing compared to Boston.
Lead Photo: Ryan McBride/AFP/Getty
Trending on Outside Online