Pregnant Runners Should Be Able to Defer Race Entries
With so few women in ultrarunning, we should be doing everything we can to encourage female participation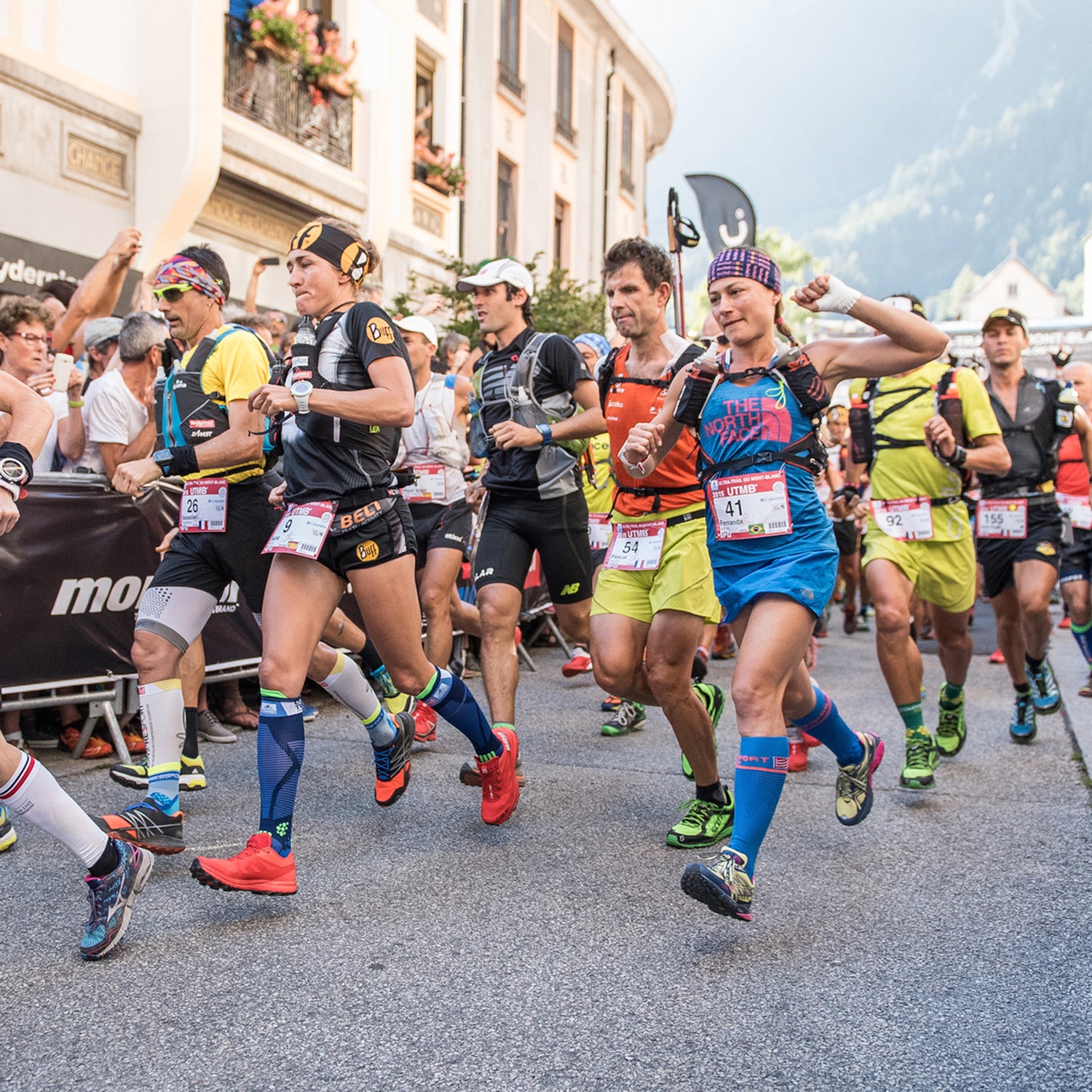 Heading out the door? Read this article on the new Outside+ app available now on iOS devices for members! Download the app.
For many runners, the Ultra-Trail du Mont Blanc (UTMB) represents the pinnacle of mountain racing. Runners are required to circumnavigate Mont Blanc through three countries, covering 105 miles and 32,000 feet of elevation gain within a time limit of 46.5 hours. It takes years of training and competing to earn enough points from qualifying races to even enter the lottery, which offers approximately a one in four chance of earning a coveted spot.
When I ran UTMB in 2013, in a field of 2,500, I was one of only about 220 women. I was disappointed with the low numbers, and I worried it would take away from the experience. But the support from spectators was overwhelmingly positive. The crowds seemed to ring their cowbells a little harder and cheer a little louder whenever they saw a woman coming up the path. It made me feel like a complete badass. I came away from UTMB feeling supported and encouraged as a female ultrarunner, and I was optimistic that the number of female runners would continue to grow.
My outlook changed after talking to a friend who entered the UTMB lottery this year with the hope of finishing in the top ten. When she registered for the race, she was also trying for a baby. She got lucky twice—but when she asked the race directors for a one-year deferral because of her pregnancy, she was denied.
UTMB does have a deferral policy, but it's only available to injured runners. Those who take advantage of the policy must qualify for the race again, but they can skip over the lottery once they qualify. As a UTMB representative explained over email, the policy was introduced to prevent injured runners from racing to the detriment of their health. The race directors understood that, for many, earning a spot at UTMB is a once-in-a-lifetime experience, which might push some injured runners to race out of fear that they would never get another chance. It's absurd that pregnant women aren't offered the same option.
With so few women in this sport, race directors ought to be doing whatever they can to encourage female participation.
Women are disproportionately underrepresented in this sport, but when it comes to races like UTMB, female participation is particularly abysmal. This has nothing to do with lack of ability or interest. Women still shoulder more of the household duties compared to men, which makes it more difficult to devote the necessary time to complete the qualifying races. Time constraints aside, it can be intimidating for many women to break into such a male-dominated sport. With so few women in ultrarunning, race directors ought to be doing whatever they can to encourage female participation. At the very minimum, they should be removing unnecessary obstacles that prevent them from participating.
Lizzy Hawker, a five-time female UTMB champion and now a director of her own race, agrees that UTMB's policies are unfair. "If we want to encourage women into the sport of endurance running, then accommodating the physical implications of pregnancy is important," she told me over email. "It would be great to encourage someone to return to the sport instead of putting up more barriers."
Some argue against deferrals for pregnancies because of the administrative burden it places on the race directors to review the medical documentation and keep track of the priority registrations from year to year. However, for races that already provide deferrals for injuries, this doesn't carry a lot of weight. The number of female ultrarunners of childbearing age that might become pregnant between registration and race day is infinitesimally smaller than the number of male or female ultrarunners who become injured during that same period. Others suggest that if deferrals were allowed for pregnancy, then what about other reasons, like military service or a death in the family? They argue that making an exception for pregnancy could eventually make it impossible to draw the line. But unlike these other examples, pregnancy only affects women—how about drawing the line at gender discrimination?
I reached out to Catherine Poletti, one of the race directors of UTMB, to understand the reasoning behind the policy. According to Poletti, there is a major difference between runners who become injured and women who become pregnant. "When you wait for a baby, you choose it," she said. "When you have an injury, there is no choice." In Poletti's view, the biological differences between men and women do not warrant special treatment. "We need to accept what we are," she told me. Furthermore, she pointed out that the rules are published and are clear. No one is obligated to register, and those who do must accept the guidelines.
Pregnancy is not a simple matter of choice.
Well, that solves it. I suppose all of us runners with uteruses should schedule our fertility in the off-season so it doesn't affect our racing. Or maybe we should ask our partners to get pregnant instead. Failing that, perhaps we should just make sure to build our dreams around races with liberal deferral policies.
Pregnancy is not a simple matter of choice. All sorts of possibilities, including accidents and surprises, come into play. Even for couples who make a conscious decision to try for a baby, it isn't something that can be scheduled—it can take years to get pregnant, and women cannot be expected to put their lives on hold in the meantime.
We need to go beyond equal treatment to arrive at true equality. Sometimes, groups of people must be treated differently to correct the unbalanced circumstances. In this case, the cowbells need to be rung a little bit harder, and the cheers need to be a little bit louder. To move closer toward equal participation for women in ultrarunning, race directors must take into account the physical circumstances of pregnancy. UTMB, as one of the most preeminent and iconic races of the sport, should be setting a leading example. Women should not have to choose between being badass ultrarunners and badass mothers—they should just get to be badass.
Stephanie Case is a competitive ultrarunner, a human rights lawyer, and the president and founder of Free to Run, a running charity that supports young women affected by conflict.
Lead Photo: Strava/Matt Trappe