Why Is He Still Running?
Noah Davis takes a look at Wade Barrett's transition from professional soccer player to semi-serious ultramarathoner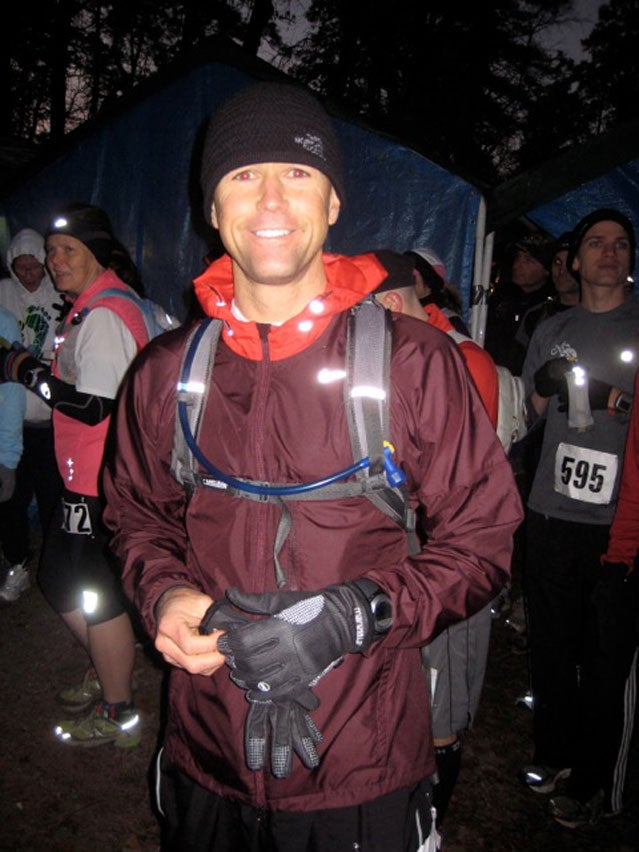 Heading out the door? Read this article on the new Outside+ app available now on iOS devices for members! Download the app.
The average soccer player can run more than six miles over 90 minutes. Wade Barrett runs 100 miles in 18 hours and 17 minutes. Wait, what? That's because Professional Soccer Player Wade Barrett has morphed into Good, Potentially Great Ultramarathoner Wade Barrett.

Wade Barrett running a 50-mile race.
Barrett, who retired from Major League Soccer's Houston Dynamo in 2009, had a successful soccer career. The 5'8″ Virginian was MLS's best left back in 2002, spent a few seasons in Europe as a member of Danish club AGF Aarhus, and captained the Dynamo to two consecutive league championships in 2006 and 2007. In retirement, however, the diminutive Barrett is tackling a different challenge: ultras. The 36-year-old stayed supremely fit during his 12-year soccer career, but his distance running ambitions only became serious at the tail end. Perhaps counterintuitively, Barrett—currently an assistant coach with the Dynamo—thinks all the running actually hurt him on the field. 
"In the last few years of my career, I did more running in the offseason and I really enjoyed it," he told me during a phone interview the night before heading to El Salvador for the Dynamo's CONCACAF Champions League match with FAS. "I felt really, really fit, but my body changed a little bit. I lost a little bit of weight. I got leaner. I'm not sure those things were great for my soccer career. You really need power in your legs, and distance training is not what a professional soccer player needs."
But by that time, Barrett had accomplished what he wanted to in the sport he played since he could walk. He was ready to move on to the next phase of his life. "I had retired from being a professional athlete," he said, "but I still had athletic ambition." Enter ultras. In the winter of 2009, the player-turned-runner-turned-ultrarunner tackled a 13-mile North Face Challenge and the 50k Seashore Nature Trail (4:28). The next year he completed a 50k North Face (5:03) and knocked 24 minutes off his Seashore time. Consecutive Rocky Raccoons came after, first a 50-mile in 2011 (7:06; fifth place), then the full 100 miles in 2012 (18:17). He finished 13th out of 218 competitors.
WHY WOULD SUCH AN accomplished soccer player want to keep running? For one, it's not really the same thing. There is plenty of moving around in soccer, but it involves long periods of slow jogging punctuated by quick bursts (hence the need for explosive power). Six miles over 90 minutes figures out to 15 minutes per mile, but Mexican star Chicharito reached speeds in excess of 20mph during the 2010 World Cup. Soccer is slow, slow, sprint, slow, slow, sprint, repeat. 
Ultramarathoning, on the other hand, is basically slow, slow, slow for an almost unfathomably long time. The 100 miles over 18-plus hours that Barrett ran breaks down to roughly 11-minute miles. Most people could run at least one 11-minute mile. The difficulty comes in doing it over and over (and over and over) again. Ultrarunning is more mind over matter than anything else.
Which is really why Barrett runs. He does it for competition against himself and doesn't have designs of being one of the best. With 14-month-old twins at home and a demanding day job as a coach—not to mention those brutally hot Houston summers—training time is limited. But still, he says he was "gutted" not to hit his target of 17 hours at the 2012 Rocky. Thirteenth overall is pretty darn good—he would have placed sixth if he ran as fast as he wanted—so it's not hard to see Barrett growing more serious.
Scott Weber, a 25-year veteran of ultra coaching, put Barrett's time into context: "He ran 38 percent slower than the winner of the race." Then again, it was Barrett's first 100, and it takes three or four to determine a runner's ceiling. Weber noted the former soccer player's "very fast" 50-mile time and his excellent 50k run as positive signs. Plus, his soccer background could help in ways that go beyond a lifetime of conditioning—but maybe aren't suited to straight ultramarathon running.
"I would be looking at very technical trail runs where his agility and his ability to move side to side, to jump, his fluidity," Weber said. "Something like the H.U.R.T. 100-Mile in Hawaii, which is extremely technical. It's an awful trail. Muddy. Roots. Rocks. Just tears people up. That might be something that Wade might excel at, versus the Rocky Raccoon, which is basically a flat 20-mile loop with some occasional roots. It doesn't have any specificity to what he's done before."
Scott Jurek, whose book Eat and Run chronicles his transition from Nordic skier to ultramarathoning elite, also thinks Barrett's soccer past translates well to ultras. "That burst that happens on the uphill climbs," Jurek said, "knowing you're going to have to work harder at that moment, is similar to when you have to sprint to cover a player or get to the ball."
And finally, there's simply the reality of Barrett's elite-level athleticism. "They are generally physiologically superior," another coach, Matt Hart, said of professional athletes. He added that men with Barrett's background have spent years developing mental toughness, too. In ultras, discipline and the ability to deal with the lowest of the lows can be more important than any athletic gifts.
BARRETT HAS THE PHYSICAL tools, the mental capacity, and the body type to be an elite ultramarathoner. Although betting men would pick against him doing so because of his full existence. Repeated 100- to 200-mile training weeks take too much time away from the babies, the family, his coaching job, and the rest of his life. For the most part, Barrett is racing for and against himself. The anonymity is fine with him. He occasionally gets recognized on the course—he usually races near Houston and some of the newspaper photographers know him from Dynamo games—but he's happier being another face in the crowd. "I was a professional soccer player a few years ago, and I don't want to be thought of as that anymore," Barrett said. "I actually really enjoy that I've carved out a different identity for myself."
Even without—and partially because of—the intense year-round training that characterized his soccer career, Barrett turned himself into a skilled ultrarunner. Finishing a 100-mile race is an accomplishment; finishing 13th in a field of more than 200 is kind of outstanding. And it sounds like he's just getting started.
"I've been humbled by every distance I've attempted," he said. "But, you know, there's something about runners that they just kind of enjoy that challenge."
Noah Davis (@noahedavis) is a freelance writer living in Brooklyn.
Lead Photo: Courtesy of the Houston Dynamo