Why Rory Bosio Is the Runner to Beat at the Endurance Challenge Championships
The long-distance phenom obliterated the competition at her last race. And it may be because she's not just faster, but happier, too.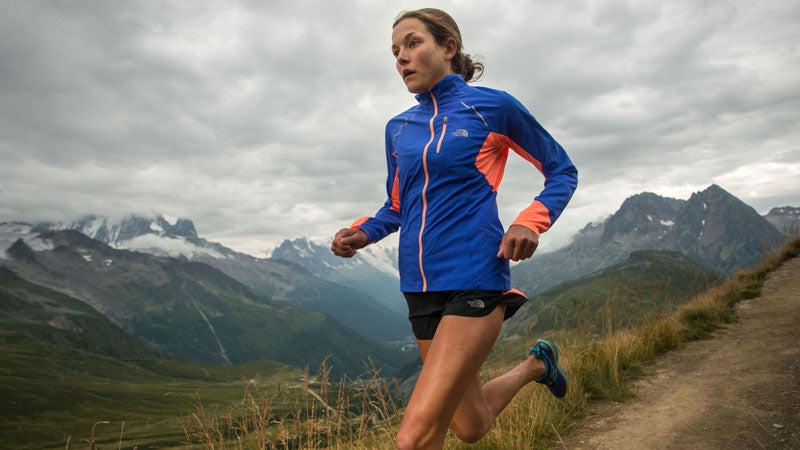 Heading out the door? Read this article on the new Outside+ app available now on iOS devices for members! Download the app.
If you're one of the ambitious few looking to punch ultrarunning phenom Rory Bosio's training program into your GPS/smartypants-training device, grind it out by the numbers and, wham, run 104 miles in 22 hours, 37 minutes—her course-demolishing record at the Ultra-Trail du Mont-Blanc (UTMB) this past August, when she beat all of the women and most of the men—well, save yourself some embarrassment and bail out now. Bosio's is a path you will be both physically and metaphysically unable to follow. That's because Bosio does not consider running 100 miles suffering. Longhaul runners may be able to replicate her mileage, but not her blissful mindset. They'd have to throw away all the numbers along with the idea that ultrarunning is synonymous with suffering.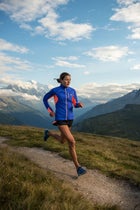 On Saturday, many, if not all, eyes will be on Bosio, 29, a favorite to podium, or perhaps flat-out win, against a talented and deep women's field at The North Face Endurance Challenge 50-Mile Championships, in San Francisco's Golden Gate National Recreational Area. Modest and often irreverent, Bosio downplays her competitive nature. But her resume tells a slightly different story, including her breakout win at UTMB, and four top-five finishes at Western States 100. She also, despite claiming she's slow in the short stuff, nabbed second-place at 2013's Way Too Cool 50K, and fourth at the very competitive Lake Sonoma 50-Mile. One doesn't accrue credits like that by accident: Success requires a lifelong commitment to equal parts joy and deviance.
Bosio, who lives in Truckee, California, is five-foot-nine, with broad shoulders and long, thin limbs. She wears smart-looking tortoise-framed glasses except when running ("I don't do much reading during the race," she says). She favors capris, wears her hair in a schoolmarm ponytail, and looks like a Smith graduate who plays tennis at the club and can really rock a sweater set. But the stereotypes disintegrate when she starts to talk, as she did recently in the lead-up to the Endurance Challenge.
Outside: Can you run in the mountains around Truckee now or is there snow? Do you crosstrain?
Bosio: Yes, one can run now in Truckee, and yes there is snow. But not much. Post-holing is great cross training. I unexpectedly did it for two hours last week. It's even more enjoyable when you're mentally unprepared for being out twice as long as planned.
How long was your recovery from UTMB?
A week? I didn't record it in the travelogue. Probably because I didn't have a travelogue. I was doing a hybrid hike-run-take-naps-on-trailsides style of running for a while.
Describe your toughest week of training for UTMB? Toughest training for TNF 50?
I'm not tough like beef jerky. I'm more marshallowy. It's all a slice—some days just require more effort. For UTMB, I spent a lot of time just experiencing new trails and going out for long, rambling runs [When pressed, this is 6 to 8 hours of running, followed by 2 to 3 hours wine/cheese]. For TNF, I've been like Spicoli from Fast Times—slacking [Translation: about 80 miles/week].
Does fitness from UTMB carry over to TNF?
No. Yes. Maybe. I'm ambivalent towards this.
Do you train differently for a 50-mile than a hundred?
Yes. Not as many really long days and maybe more attempts to quicken the pace. Usually these are only attempts, not successes.
TNF 50 doesn't have required gear: Will you carry a pack for this one?
Negatory morning glory. Just a handheld water bottle.
How will your gear/crew stops be different from UTMB? Will you see your crew more frequently?
I don't have a crew for this race, just friends who might pop up here and there. I also don't do drop bags because I'm lazy and can eke by (to use a frequent crossword answer) without it.
LAZY, EKER, PART-TIME post-holer—okay, sure, but when push comes to shove, Bosio is capable of straight-up problem solving.
Example: At the highest point on the UTMB course, Bosio's big headlamp died, as expected. Problem was, the smaller backup headlamp had been turned on in her pack and it, too, soon blinked out, leaving her alone, cold and in total darkness, yawning chasms inches to the right. Her numb fingers fumbled with the spare batteries. Without too much fuss, she remembered the iPhone in her pack, the one with the flashlight app. She managed the two-hour technical descent by holding the phone out in front of her.
"I was worried I'd fall and wreck the phone," she said. "I'd only had it a month, and it was expensive."
On paper, Bosio is from Truckee, but in practice, she comes from a happy place just left of sanity. A typical Bosio-ism—"I didn't lose my toenails at Western States: I know where they are."  Though she's sponsored by The North Face, she maintains her three-day-a-week job as a pediatric emergency room nurse because the laser focus on her small patients provides a balance to the hours of aimless wandering in the mountains. She practices yoga daily, all varieties—a "yoga polygamist"—and is reputed to be a great dancer, which is to say exuberant, expressive, and experimental.
Bosio is also a history buff. While putting in long hours on the trail, she says, she often occupies her mind with the struggles of pioneers, like the ill-fated Donner caravan, since she trains on the same mountain trails. Such thoughts, while not exactly comforting, do help, putting her self-imposed feelings of fatigue, cold, and pain in perspective.
Lead Photo: Tim Kemple