Yesterday at the Marathon
How can a sports writer cover a tragedy?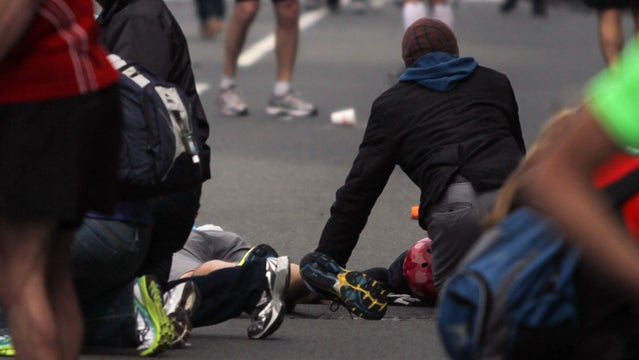 Heading out the door? Read this article on the new Outside+ app available now on iOS devices for members! Download the app.
A lot of people have already written about the bombs at the Boston Marathon. What it was like to be at the finish line, and what the bombs maybe mean. So this will be short: I wasn't very close to the finish and I don't care about what any of it means. Maybe I'll care more later but I'm too upset right now.
I was in the ballroom at the Fairmont Copley Plaza Hotel watching the race on two big televisions with most of the press corps. When the bombs went off I was half listening to a conversation between Barbara Heubner and Marc Davis, who work for the Boston Athletic Association. The bombs sounded like bombs. Marc waited a second, and then went outside. When he came back, his face was ashen and he said that there had been two explosions, and that we were on lockdown. Nobody in, nobody out. Someone else in the ballroom yelled "lockdown confirmed," which was chilling and gives me chills now.
And—I didn't really know what to do. I'm not a police reporter and I've never covered a crisis. I didn't know whom to talk to. An editor I know suggested I try to get outside to see what was going on and my first reaction was that I wasn't sure I wanted to be outside. A couple minutes later I tried, but I didn't try very hard.
Several years ago, I read an interview with Steve Coll, I think, who said that in chaotic situations, or in disaster situations, it's useful for reporters to start making lists of what they see. There wasn't anything for me to list. I was indoors, in a windowless room, watching TV. Not that I couldn't write anything—Bonnie Ford has written a really good story, and she was stuck in the press room just like me. But I think I felt like, there are people who have covered stories like this before, and I didn't want to get in their way. Let the real professionals do their thing. That's the first time I've ever had that feeling.
That's not really what I want to write about. A couple hours after the bombs went off, I got up to go to the bathroom and I saw three soldiers sitting in a hallway. They were dressed in fatigues and looked like they'd run the race with packs on. Two had their heads down, and the third was sitting on the floor, with a look on his face that I can't describe well. I want to say the look was 'not again,' but I don't know anything about him—whether he'd ever been in combat, or even whether he had been over by the finish. But make of this what you will: After I saw those guys sitting there, and for the rest of the afternoon, I had a lot of trouble keeping my composure.
The other thing is that the people who were blown up look like me. They are runners, many of them. A lot of the men are my age. They were dressed like I dress. The women were dressed like my girlfriend, or my sister. Yesterday morning I spent a couple hours hanging out where the first bomb went off, at the tail end of the BAA 5K and the BAA Mile, which I wrote about. I got a big coffee at the Starbucks at 755 Boylston and sat on the sidewalk in the sun and drank it. When I finished I walked by Marathon Sports, where I worked one summer during college, and climbed up on the finish-line bridge to watch the miles. I lived in the Back Bay for two years. I've walked that stretch of sidewalk—from one of my old apartments, it was on the way to the Copley T station and Finagle a Bagel—hundreds of times.
A couple of years ago I was near a bad boating accident and saw a young woman almost lose her left leg. A bit like today, I just watched as other people took care of her. The bombs seem to have blown at leg level, a terrible thing at a marathon, and the pictures I've seen remind me of the boat accident. Not so much the gore, but the strangers applying tourniquets and giving comfort. I'm sure I'm not alone, but I can't stop thinking about those people. And those strangers, who are heroes. I hope someone is able to tell them they're heroes.
Peter Vigneron is a freelance writer living in Boston.
Lead Photo: AP