Shake It Off
With the help of an NBA star, our man tries out two new fitness tools: a vibrating plate and the TRX Suspension Trainer.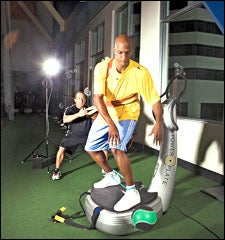 Heading out the door? Read this article on the new Outside+ app available now on iOS devices for members! Download the app.
Chauncey Billups

Hess and Billups work the Power Plate
IT'S NOT OFTEN that you find a dreadlocked bodybuilder, an NBA All-Star, and a part-time jock working out together, but that's exactly what was transpiring last December at the Forza Fitness and Performance Club, in Denver. The unlikely trio included Steve Hess, strength coach for the Denver Nuggets; Nuggets point guard Chauncey Billups; and yours truly, a below-the-rim writer trying to keep pace as the pros schooled me in two of their latest training tactics.
Hess, who's five foot four and nearly as wide, was fired up about two new tools: the Power Plate a vibrating platform with handles and the TRX Suspension Trainer, which is essentially a redesigned version of gymnastic rings. The TRX, designed by a Navy SEAL in 1996, is now part of the conditioning regimens of more than a dozen NBA teams; the seven-year-old Power Plate is favored by high-end gyms like Athletes' Performance and celebrities like Sting.
The Power Plate doesn't seem the most likely tool for athletes like Billups, a former NBA Finals MVP it reminded me of a 1950s belt massager, the vintage fat blasters that plump execs would stand on, hoping to jiggle off extra ballast. But Hess, a current Colorado state bodybuilding champ, has been using it on the Nuggets for the past several years. The vibration causes your muscles to contract, increasing the load of a given exercise, and numerous studies suggest vibration training can improve power output.
I was dubious. The scientific literature included some cautionary notes: "Vibration exposure over several years may contribute to low-back pain and other musculoskeletal injuries," noted a 2005 review in the Journal of Strength and Conditioning Research. But Hess believed that the results of vibration training spoke for themselves. He barked Billups through a circuit of squats, lunges, and chest presses. Afterwards I asked Billups if he thought this thing was a gimmick. "It's for real, man," he said. "I use it all the time."
It was my turn next. When I stepped on the platform, my teeth started chattering. My 15-minute circuit included squats, chest presses, and some twisting movements while holding a medicine ball. When I was finished I staggered for a minute before regaining my land legs.
The TRX Suspension Trainer was more straightforward. It consists of two handles at the ends of adjustable straps, secured to an overhead anchor like a chin-up bar or door frame. Hess had me run through another circuit, comprised of core-killing moves like the "suspended atomic abducted pushup" (SAAP). This involves suspending your feet in the TRX straps, pulling both knees to your chest, and finishing with a push-up. "C'mon, freak!" Hess yelled. "You got it! One more! You're a superfreak!"
Hess somehow got five SAAPs out of me, and his Tony Little meets Rick James shtick worked on Billups, too, who doubled my number. At six foot three and 202 pounds, Billups is a stout point guard, but he still gets battered by bigger opponents. "You get knocked around a lot on the court, so I need to be solid when I'm in my stance," he said. "That's why I do this."
Unlike the Power Plate, which starts at two grand, the $150 TRX seems likely to become a fixture in my routine. I took one home it bundles up into a small pouch and it was a cinch, literally, to set up. Most of the exercises suggested in the training booklet were intuitive. It's about the most effective portable gym I've ever seen.
Once our workout ended, Hess's hyperactive coaching gave way to circumspect observation. "These things are just tools," he said, "but they're an integral part of any program. You've got to know the individual, and to figure out what they want to do. For Chauncey, it's those first explosive steps."
My needs are a little more general, but it was enlightening to see a pro and his coach train with such intense focus. Sure, guys like Billups are genetic freaks superfreaks! but I got a glimpse of how hard they work. Maybe I don't have the God-given attributes of an NBA All-Star, but I have at least one cool new training tool in the kit and enough inspiration to put it to good use.