10 Insane Obstacles From Tough Mudder's Design Challenge
An expert look at the most feasible—and nuttiest—submissions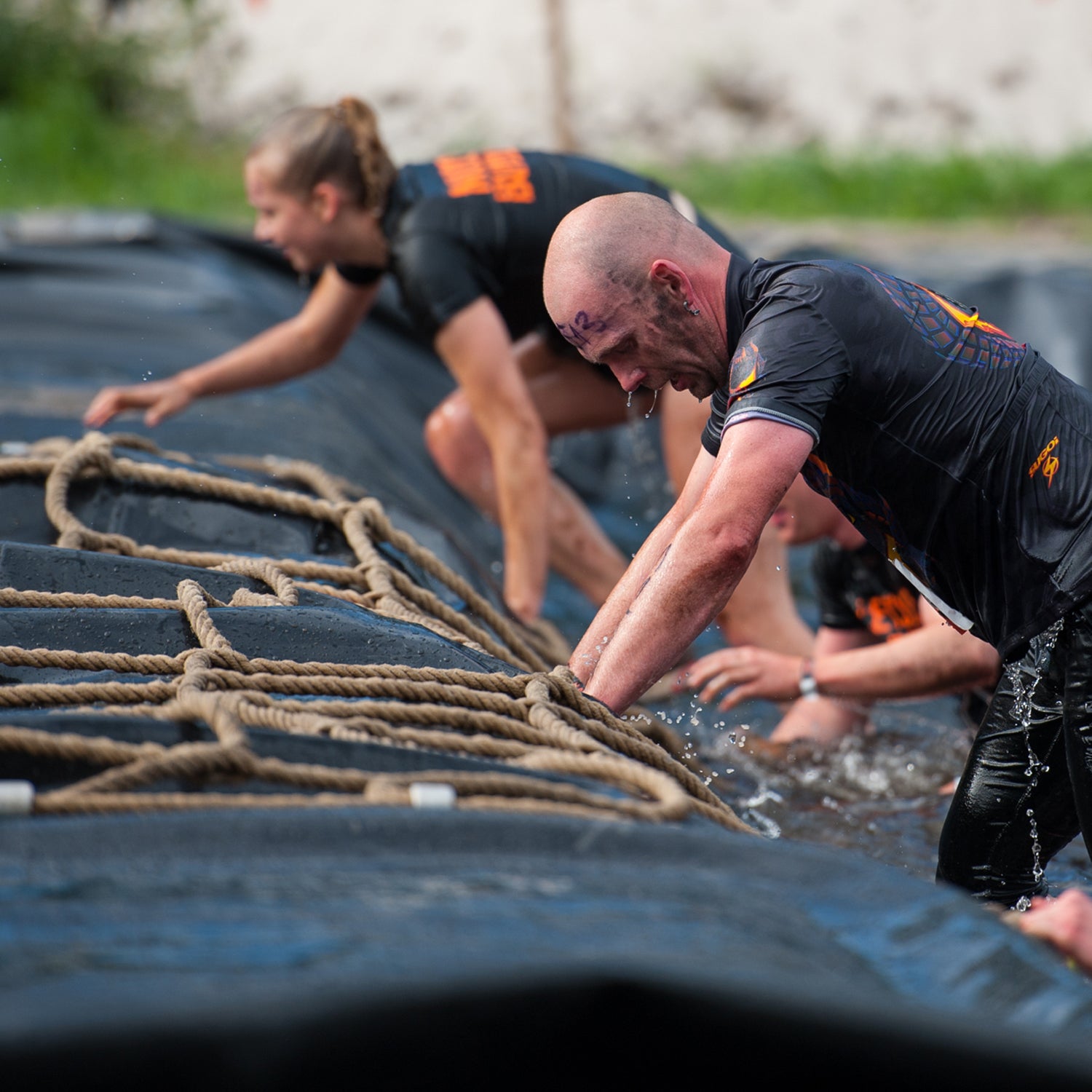 Heading out the door? Read this article on the new Outside+ app available now on iOS devices for members! Download the app.
Over the last month, Tough Mudder has encouraged fans to submit ideas for potential obstacles as part of their Extreme Obstacle Design Challenge, and the results were—how do we say—wonky. They ranged from what you'd expect to see on Wipeout (goofy, padded) or American Ninja Warrior (upper body FTW!) to some truly masochistic and downright creepy contraptions. 
Which obstacles will actually make it in? Safety, build-ability, and the potential for bottlenecking competitors are the three main things TMHQ is likely considering, says Paul Mitas, a 17-time Tough Mudder finisher who, in 2011, had three designs in the top 10 of a similar contest. After that, "the difference with Tough Mudder over every other OCR is it's team-oriented," he says, so an obstacle that facilitates teamwork might win favor. (The official rules state the winner will be selected based on "creativity, enthusiasm for the Tough Mudder brand, originality, and the degree to which the design is reflective of the image of the Tough Mudder brand.") 
But there's also a psychological challenge. "The fear factor's always got to play a part," Mitas says. "If it doesn't make people stop and think about it for a minute and kind of make them cringe, then the designer's missing a big part." 
The Challenge closed on July 20 with 243 entries, and Tough Mudder just released its top 10. But, for your consideration, here are our favorites—a healthy mix of the absurd and realistic.
Reflux: Most Promising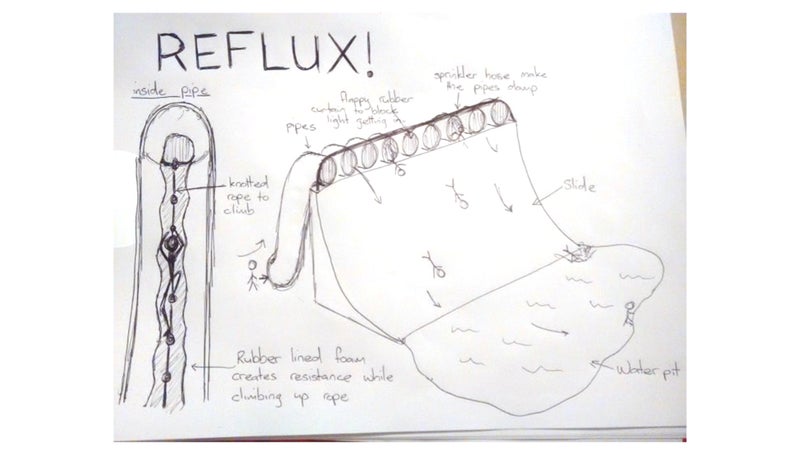 Reflux is "a little different than everything else," Mitas says. But the foam inside the pipe would have to go. "What if you get a bigger guy in there and he gets stuck two feet up into the tube?" 
Monkey Hang: Easiest to Execute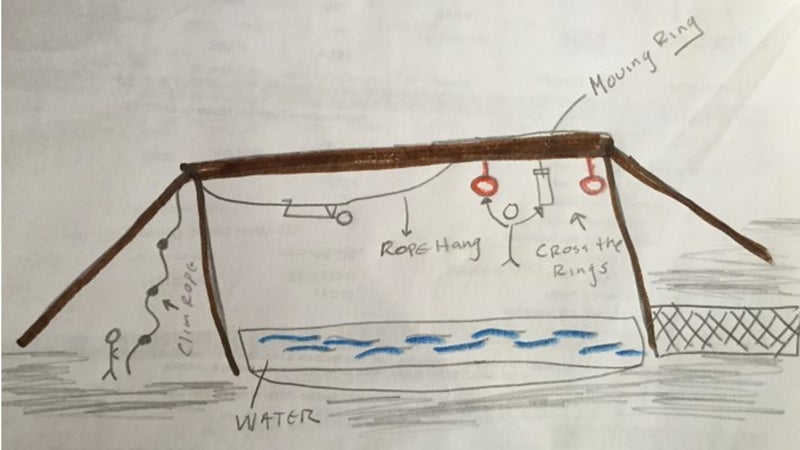 Mitas sees promise in the crudely-drawn Monkey Hang. "I think it would be a bottleneck, but still pretty cool and relatively simple to build."
Car Wash/Mud Bath: Most Likely to Go on Wipeout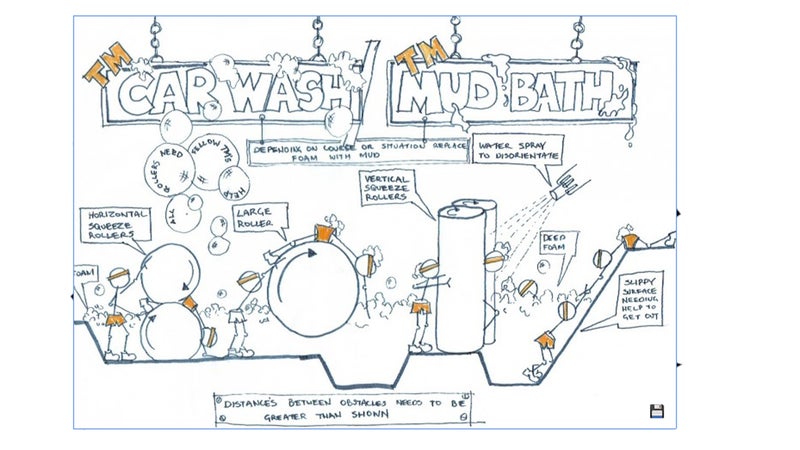 "Just for safety's sake, rather than going over the roller then dropping into a pile of people" runners would have to go under, Mitas says. "It could also be tough to build." But he likes it for the fun factor. "It looks cool." Bonus points for excellent cartooning.
Tunnel Surprise: Most Easily Modifiable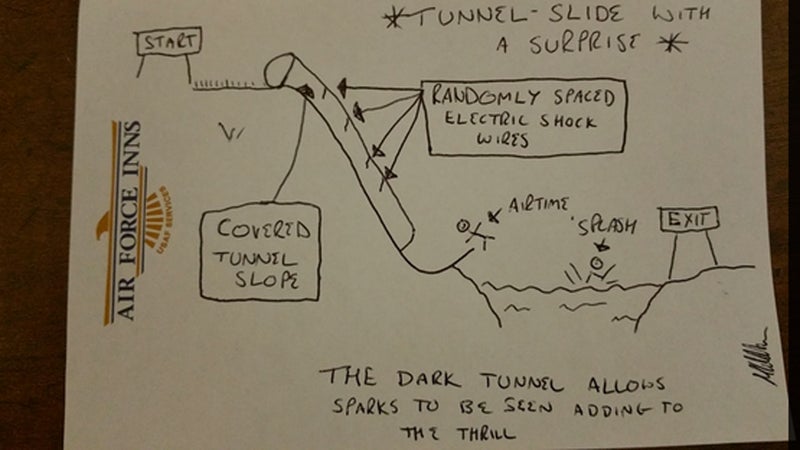 This one might induce claustrophobia and adds electricity to the mix. "A lot of people are over the idea of getting shocked, though," Mitas says. "But it wouldn't be a huge deal to take that piece out of it."
Barbell Hell: Most Plagiarized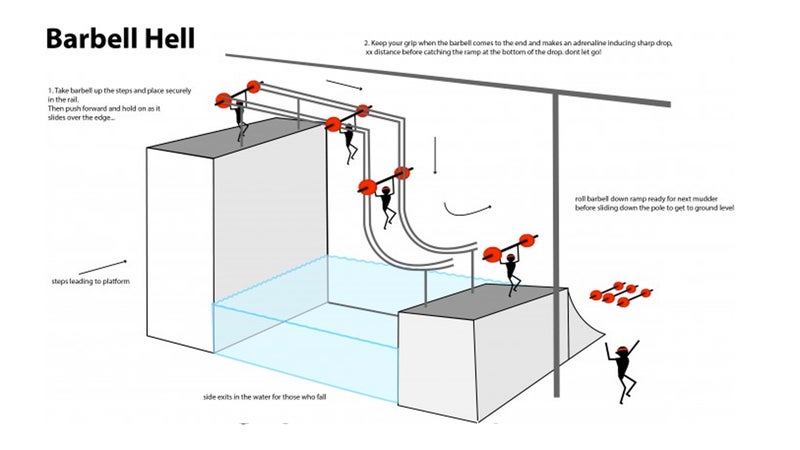 Looks simple, but then there's the problem of barbells falling on people. "Unless there's a way to attach the barbell to the rails," Mitas says. It's possible; the American Ninja Warrior obstacle Big Dipper is basically Barbell Hell without the airborne metal problem.
Beaverschmüt: Least Effort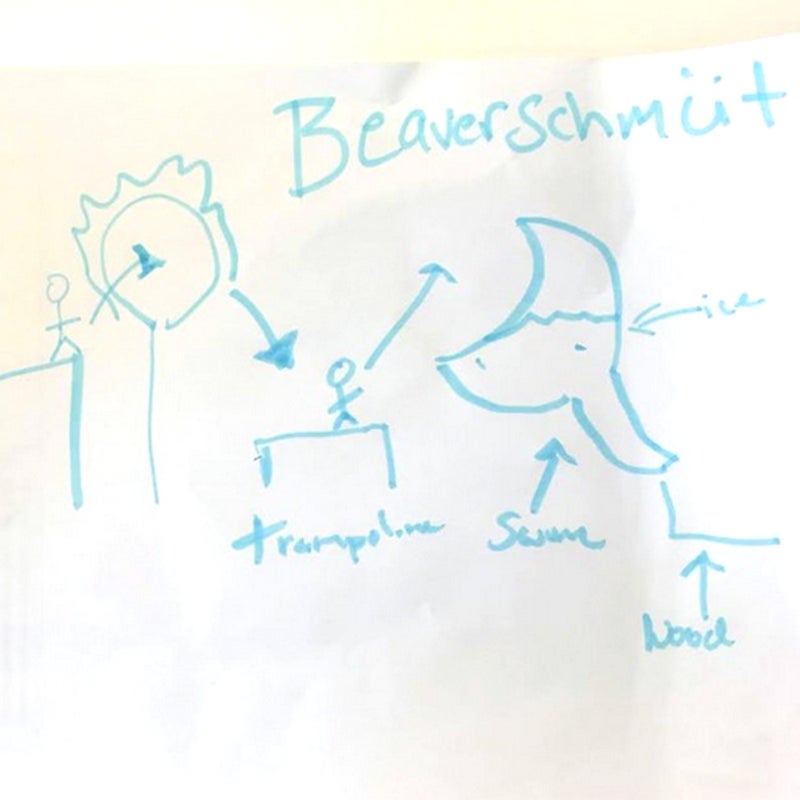 Least amount of effort, most fun name.
Blind Sided: Darkest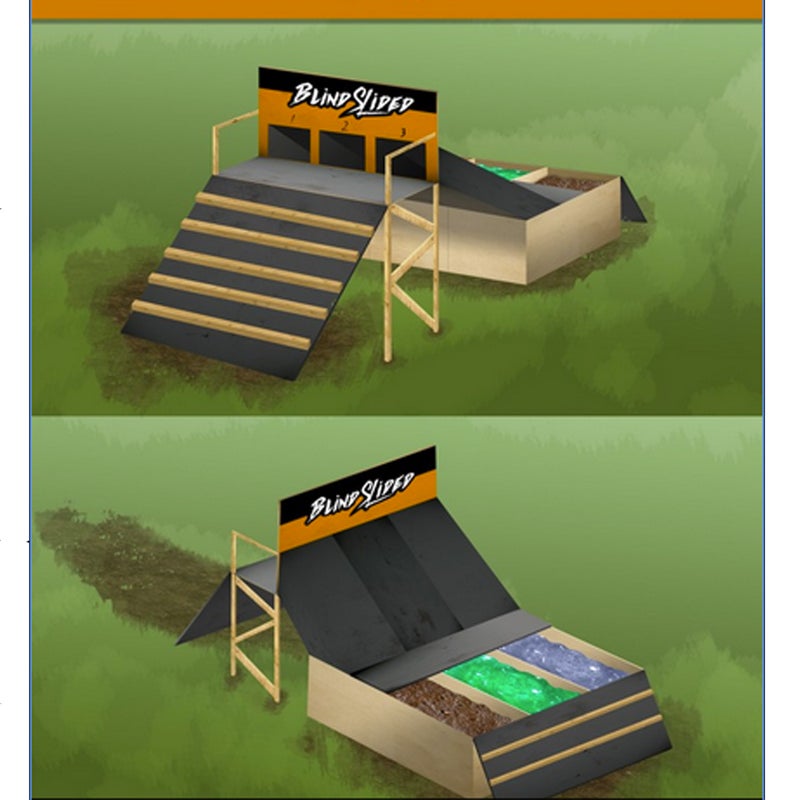 This top-10 finalist preys on the fear of the unknown, plunging unwitting runners into ice and electricity. No mercy.  
Deep Water Solo: Most Outside-y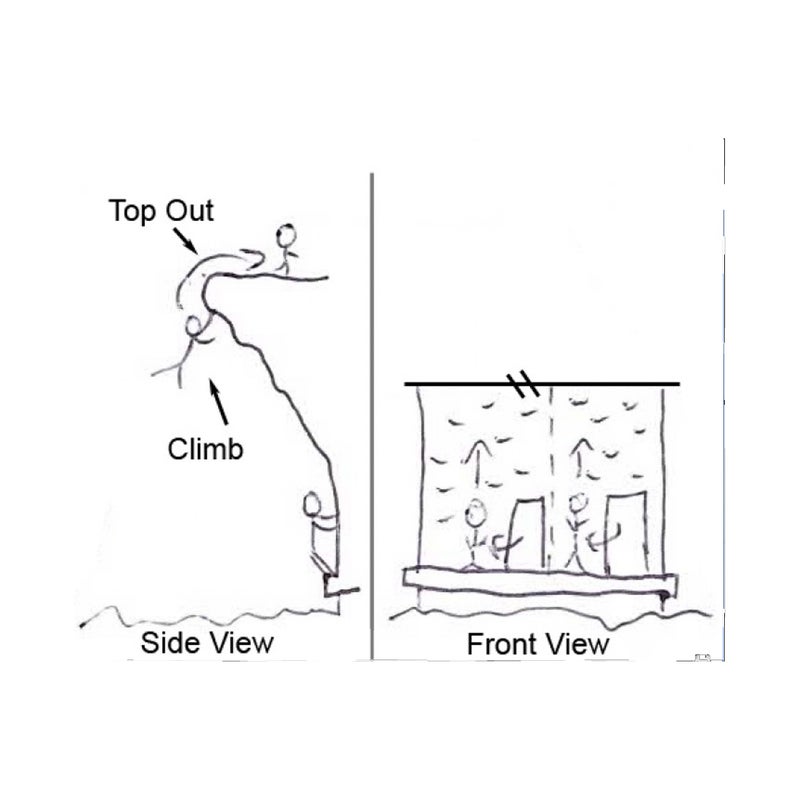 This one appeals to us most. Who wouldn't be psyched to try deep-water soloing in front of a crowd?
The Danger Chamber: Most Masochistic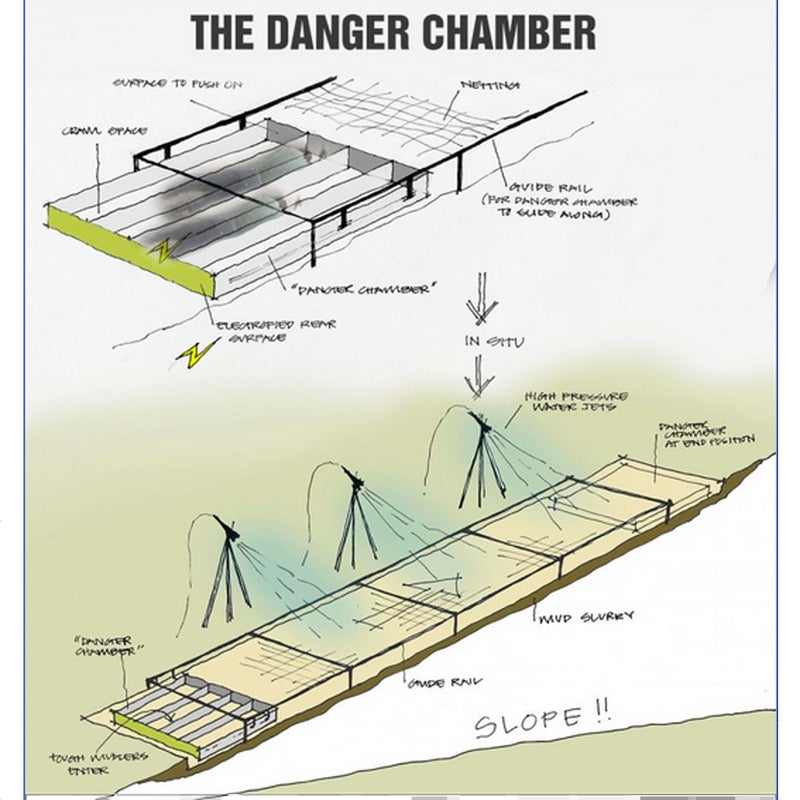 Combining teamwork, darkness, claustrophobia, and electrocution, this top-10 finalist may be one of the most torturous obstacles submitted. Sure to cause a bottleneck when every team argues about who's going last.
Ladders of Success: Most Creative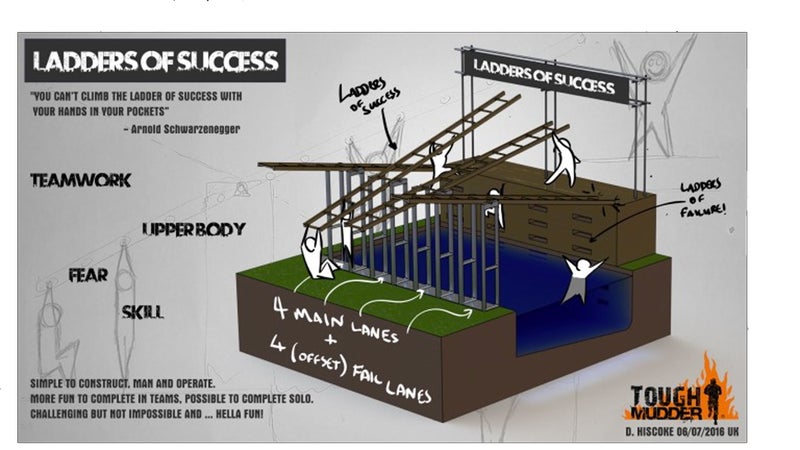 If creativity gets top ranking from TMHQ, this one takes the mud cake. Combining teamwork, fear, upper-body strength, and ladders of failure, this one is justifiably in the top 10. 
Tarzan: The Peer-Voted Winner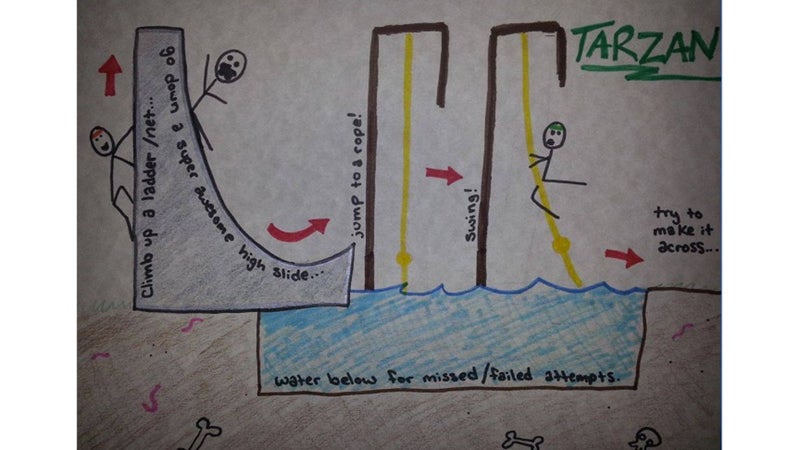 Tarzan was the contest's frontrunner at the close of voting. Combining a super awesome high slide with two rope swings, the build seems simple enough. "After feasibility and safety, TMHQ is going to look at how much fun it's going to be," Mitas says. From that perspective, Tarzan might just win after all. 
Lead Photo: Philipp Schulze/Associated Press