The Most Explosive Ultimate Frisbee Player
Beau Kittredge is fittest athlete you've never heard of. Here's what a day in his life looks like.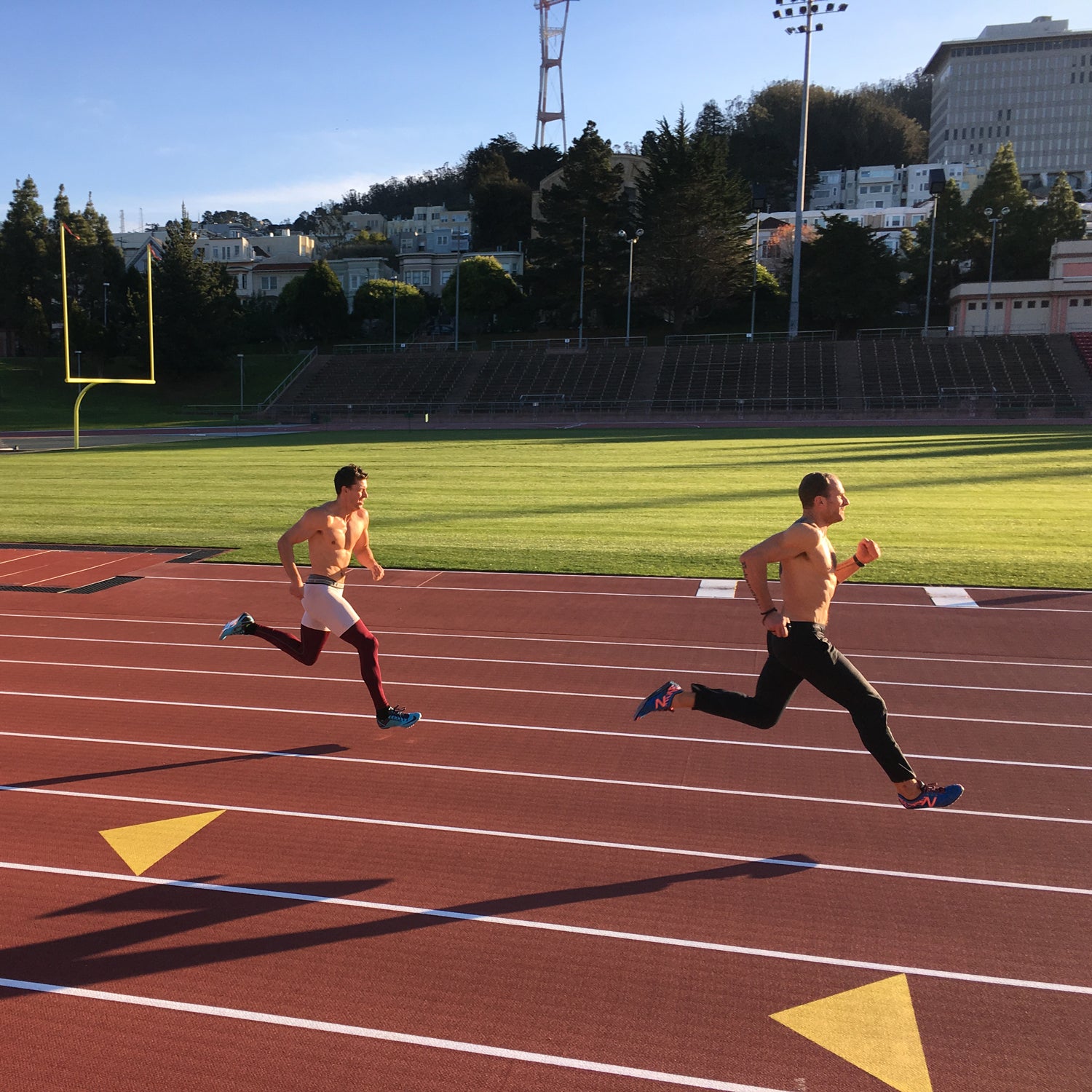 Heading out the door? Read this article on the new Outside+ app available now on iOS devices for members! Download the app.
When you think of insanely fit athletes, who comes to mind? Odell Beckham? Lindsey Vonn? CrossFit Games champ Mat Fraser? What about Beau Kittredge, the two-time American Ultimate Disc League MVP? No? Well, the Alaska-born, San Francisco-based ultimate player might just be one of the fittest athletes alive. 
The 6'4", 205 pound 34-year-old boasts a 47.4 second 400-meter sprint, 39 inch vertical, and an engine that can cover up to 20 miles in a single game. We recently caught with Kittredge, who plays professional for the San Francisco Flame Throwers, to learn how he optimizes his day.
Beau Kittredge Is a New Brand of Hero

After decades of being thought of as a pseudo-sport for longhairs, ultimate Frisbee is attracting elite athletes who are landing professional contracts. One of them is Beau Kittredge, who looks like an NFL wide receiver, sprints like an Olympian, and jumps like Jordan.
---
9 a.m: Wakeup, Stretch
"I naturally wake up around 9 a.m., drink a glass of water, and take a multi-vitamin," says Kittredge. He'll then stretch for about five minutes, focusing mainly on his hamstrings via seated and standing toe touches. "They're the weakest link in my body," he says.
9:30 a.m: Morning Stroll
"After I stretch, I walk awhile to get my body moving," says Kittredge. He usually strolls to work—he's an entrepreneur who sets his own hours and mainly develops mobile video games—or even just around the block for 20 minutes. He says the low-intensity, low-impact work gets blood flowing to his muscles, helping him recover from previous games and workouts, and feel more energized for the day. 
10 a.m: Breakfast 
A creature of habit, Kittredge eats the same breakfast ever day: A bagel with a couple eggs and vegetables, like avocado, onion, cucumber, or tomato. He chases the bagel sandwich down with a Soylent, a 400-calorie drink that delivers 21 grams of fat, 20 grams of proteins, and 37 grams of carbs. Amazingly, Kittredge doesn't consider this a lot of food. "I don't like to eat too much for breakfast," he says, "because a few hours later I'll do a track workout."
11:15 a.m: Get Up
At work, Kittredge avoids being deskbound for too long. "If I sit for too many hours in a row, my front chain of muscles gets tight," he says. "So, every hour, I'll get up, walk around, and maybe stretch for about five minutes." This kind of intermittent low-intensity exercise and mobility work has huge dividends in building and maintaining Kittredge's movement quality and preventing injuries, he says. Once he sits, he'll often place a lacrosse ball under his hamstrings or glutes. 
1 p.m: Track Workout
Known for his speed, Kittredge's track workouts, which he does four days a week, are the focal point of his off-season training. "We do two different track workouts: a speed one two days a week, and a tempo workout two days a week," says Kittredge. Speed days develop Kittredge's top end—his 400-meter sprint PR is 47.4. "We'll warm up with stretches for a few minutes then do agility work," he says, like shuttle runs with cones, or quick footwork with ladders. Those drills typically last about 10 minutes. He'll then run 150 meters at 95 percent of his top speed, rest, then repeat until he sees a drop in speed. "We do 150s about three times," he says. Then Kittredge reduces the distance to around 120 meters and sprints at 95 percent effort. He rests and repeats until speed falls off again. "Then you drop it to 80 meters, and finally one more time to 50 or 60," he says.
"In all, we usually do about three 150s, three 120s, three 80s, and maybe two 60s," he says. "You don't want to feel your muscle burning or a change in your form." This method cuts out ugly sprints with bad form, allows you to generate peak power, and results in better training adaptations.  
His second track workout centers around tempo runs, around 200 meters. "These mimic how you feel when you're exhausted and still running," he says. Kittredge and crew will do the same warmup and agility drills from sprint day. Then, he'll pick a goal time to cover the 200-meters. "For us, that's 27 or 28 seconds," he says. Then he'll run, and rest two minutes. That's one round. He'll do 8 rounds. "Each run gets progressively harder as you get tired," he says. 
2:15 p.m: Lunch
For Kittredge, lunch is typically a turkey sandwich eaten at his desk. "I don't really track my nutrition," he says. "I'm just constantly trying to get in more calories and drink more water." Given Kittredge's size, age, and regular workouts, he requires around 4,000 calories each day. He'll slam Clif Bars or shot blocks between major meals to hit that.
4:15 p.m: Yoga
"I hate yoga, but I think it's a necessary evil," says Kittredge, adding that he practices yoga three days a week and when he misses it, he tends to get injured. "I usually do vinyasa or Bikram, which will destroy you—an hour and a half doing the same routine in a heated room, it's quite miserable, but it gets my muscles super loose," he says. 
6:00 p.m: Dinner
For dinner, Kittredge mostly sticks to a formula: meat, vegetables, and a carb. It's the specifics—spices, variety, and preparation—that changes. "Most nights we do either Indian or Thai," says Kittredge. Two of his favorites: chicken curry with rice and vegetables, and noodles with chicken and vegetables. 
8:00 p.m: Weights Workout
Three times a week, usually between track days, Kittredge will hit the weight room after dinner. "In season, we lift lighter and faster, because we don't want to overstress ourselves and risk injury," says Kittredge. "But in the off-season, we build ourselves up." Kittredge focuses on heavier lifts, increasing his speed, power, and durability.
After a five-minute warmup, he'll pair a heavy, compound lift like barbell back squats with an explosive move like box jumps. Doing those back-to-back elicits what scientists call "post-activation potentiation," a phenomenon that allows you to generate and build more explosive power, according to a study in the Medicine and Science in Sport and Exercise. "I'll load the bar with about 80 percent of my max, do five reps, and then immediately do five box jumps onto a two-foot box," he says. "They're high impact, so you want to make sure you're doing it well, with good form—the goal isn't to finish fast," he says. He'll do three sets, then move onto single-leg exercises.
"Single leg stuff is great for us because we can't cheat and use one side more than the other," equalizing strength, filling gaps, and improving his balance, he says. He'll do the same post-activation potentiation method on one leg: single leg squats or dumbbell split squats followed by single leg hops over cones or onto a box, landing on one foot and balancing. Three sets of five reps for each superset is ideal, he says. "The method is a great way to build some quickness and muscle in a way that is athletic muscle."
Then it's onto structural work. Kittredge works his core with toes-to-bars and hanging windshield wipers (three sets of 10-to-15 reps) and lateral band walks (three sets of 20-to-30 feet of walking in each direction). "Keep the muscles around our hips strong is important because we do a lot of lateral movement in our sport."
He finishes the workout with a couple upper body exercises. "We only do bodyweight stuff, though, like pushups and pullups" says Kittredge. "We don't want much bulk up top." 
9:30 p.m: Eat More
"I suck down a protein drink then lay on the couch for a while until I can move," says Kittredge. His blended protein shake contains a scoop each of whey, branch chain amino acids, creatine, a multi-vitamin mix, and frozen fruit.
11:00 p.m: Bed
Kittredge hits the sack at 11, but spends a couple of hours tying up loose ends from the day's work. "I usually fall asleep by 1 a.m.," he says. Waking up at nine o'clock gives him eight hours of sleep a night—an ideal number for an athlete. 
Lead Photo: Courtesy of Beau Kittridge