4 Apps to Help You Compete Any Day of the Week
A growing list of apps and tracking units allows you to challenge riding buddies and strangers alike.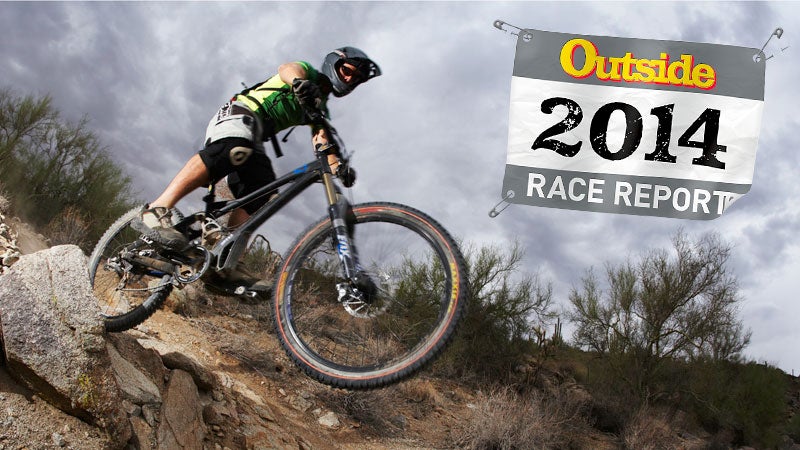 Thomas Northcut/Getty Images
Heading out the door? Read this article on the new Outside+ app available now on iOS devices for members! Download the app.
From cycling to swimming to (zombie) running, use these apps to see how you match up to your peers.
Strava
The Basics: Friendly competition can be the best motivation. That's the concept behind Strava, a mobile app that creates segments from users' cycling and running routes, then ranks times on a leaderboard.
Quick Start: Each segment has a route map, elevation info, and a fastest user. Badges are awarded for personal bests; create your own segments by recording a run or ride on the app via GPS and sharing it.
Best For: Strava is great for challenging yourself against others, but it's also a good way to find new rides or runs. A robust platform keeps track of leaders and lets you message others (and give props) from within the app.
Price: Free. Upgrade to Premium ($6 per month or $59 per year) and get detailed analytics like Suffer Score, the amount of effort expended based on ride distance, speed, and heart rate. Android and iOS; strava.com
---
Endomondo
The Basics: Keeps track of distance, time, and other metrics for activities like runs, rides, swims, even windsurfing. There are similar apps—Runtastic, Runkeeper, and MapMyFitness, to name three—but Endomondo gives you the most features for free.
Quick Start: Offers detailed, customizable audio feedback on pace, heart rate, and other stats during a run or ride, and you can have it updated as often as you like. Allows you to compete against others on user-submitted routes or race yourself.
Best For: The most useful features are the real-time cues that help you beat your best. Pep Talk lets friends and family send encouraging messages during a run. When you're slogging through your first marathon, it's the perfect motivation.
Price: Free. The Pro version ($5 per month) offers interval-training programs and deeper customization to help you top your personal best on a given route. Android, iOS, and others; endomondo.com
---
My Asics
The Basics: My Asics is all about race prep. A series of algorithms offer customized plans that evolve as you progress (or hit a wall).
Quick Start: Plug in the race's distance and do a baseline run; the app will estimate your ready date and work backward to create a custom plan. As you train, the app determines your progress and adjusts workouts accordingly.
Best For: This app is pretty bare-bones—there's a compass instead of a map—but the special sauce is in the algorithms. Asics claims that 78 percent of runners who follow its plans achieve their goal.
Price: Free. But we recommend using it in tandem with an app like Endomondo for route tracking in real time. Android and iOS; myasics.us
---
Zombies, Run!
The Basics: A training app disguised as an audio-based game that lets you, yes, outrun zombies on more than 100 missions. The conceit is a little hokey, but focus on the game and you'll pay less attention to your burning lungs.
Best For: Choose a half-hour or one-hour run, and the game prompts you to run faster to grab supplies or slower to rescue people. Every once in a while a pack of zombies will give chase: go hard to ditch them. The app saves your stats.
Quick Start: Basically game-ified interval training, and we recommend using it that way—with headphones, lest others hear cues like "They're right on your tail, don't look back!" Enjoy your own soundtrack between attacks.
Price: Four bucks—and worth every penny. Also available is Zombie, Run! 5K Training ($2), an eight-week program for beginners. Android and iOS; zombiesrungame.com