The 5 Rules of Off-Season Fitness
Training through the coldest, darkest, snowiest days of the year tests the depth of your motivation and commitment. It's time to revise your winter program.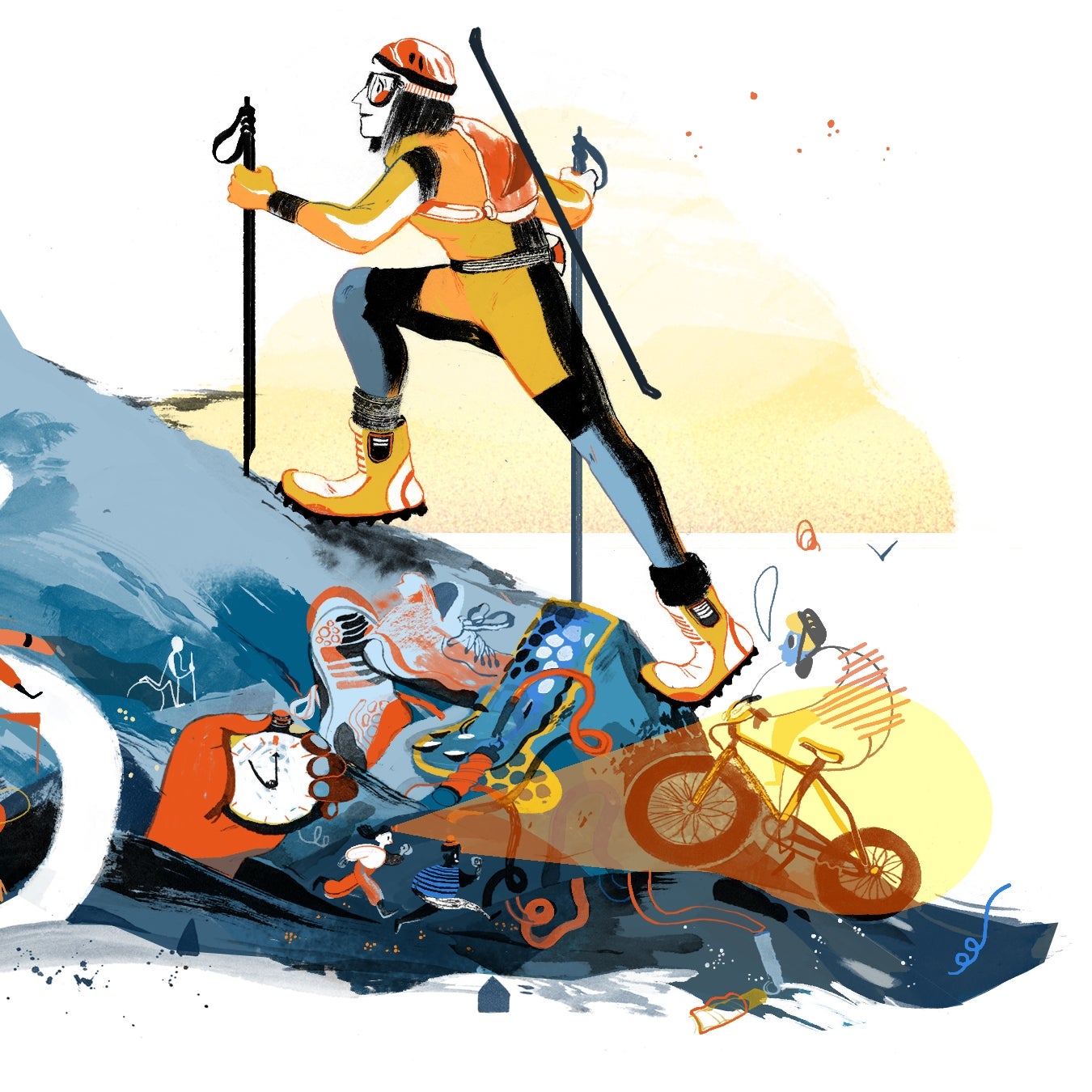 Heading out the door? Read this article on the new Outside+ app available now on iOS devices for members! Download the app.
Last year, I took up the awesome, punishing, Europhile winter sport of ski-mountaineering racing, aka skimo. Maybe you've heard about this. You hoof it up big, snowy mountains on tiny skis, then schuss down them while wearing, essentially, a leotard and goggles. The sport is so hard that, at times, trying to hang with fitter, faster opponents, I'm certain my heart is going to jackhammer through my ribcage. 
This torturous new pastime has required me to revise my winter fitness program. It's been several years since I've taken any kind of endurance racing seriously (as a younger man, I'd dabbled with triathlon and mountain-bike racing), and lying around binge watching Breaking Bad, waiting for powder days, doesn't cut it if I want to survive, let alone be competitive at skimo. But you don't need to be ski-mountaineering to need a little boost of training motivation this time of year. Any athlete will tell you that training through the coldest, darkest, sometimes snowiest days of the year is tough and tests the depth of your motivation and commitment. Which is why it's helpful to have some ground rules:
Rule No. 1: Set a Goal
It's the Cardinal Rule, really. Set a goal, ideally something ambitious enough to scare the peppermint bark out of you. A forty-mile backcountry ski race does that pretty well.
Goals are the wellspring of motivation, but not all of them entail hammering a sub-9-hour Grand Traverse, or nabbing a podium age-group finish at the Birkebeiner. 
Rule No. 2: Establish Measurable Targets
Set targets, even if they seem modest or soft, acknowledging that your workouts are just one part of a more complex conditioning system. Maybe you need to sleep better or spend a month overhauling and optimizing your nutrition. Maybe your winter plan is to sit down with a stack of reading material and hone your mental fitness by learning everything you can about the mindset of champions. Maybe it's more existential, like stepping back, taking stock of your athletic activity, and asking if it's enriching your life in the way you want and need it to.
    
This period of reflection and self-assessment can serve you in many ways. Are you so driven by attaining results that you're chronically injured, sick, or beat down? Has your single-minded obsession caused you to neglect other important parts of your life—emotional, financial, familial, spiritual? Are these peripheral deficiencies negatively impacting your performance? Is dragging your sorry butt out of bed for a pre-dawn tempo run about as desirable as a root canal
Rule No. 3: Prioritize Enjoyment over Pleasure
Mihaly Csikszentmihalyi, the author of Flow: The Psychology of Optimal Experience, makes an important clarification between two often conflated words—pleasure and enjoyment. Pleasure, he argues is "passive, receptive, relaxing." It's watching The Art of Flight while drinking beers with your bros, and fantasizing about hucking air like Travis Rice. Enjoyment is diligently training yourself to actually do it. Enjoyment can be pleasurable, but often is not. It's doing hill repeats until you can top out with the lead group. Experiences are genuinely enjoyable, says Csikszentmihalyi, when "your body or mind is stretched to its limit in a voluntary effort to accomplish something difficult or worthwhile." 
Rule 4: Adapt
If you're a warm-weather athlete—a climber who covets Indian Creek in September, a trail runner jonesing for high-country dirt—your winter plan may require modification. Consider the fat bike, for example. Born from long-haul sub-zero suffering (See: Iditabike, Alaska's), this snow-stomping rig has become all the rage among riders who are using it as a fun alternative to stay on the bike, and off the indoor trainer, until spring.  
Rule 5: Five Minutes
The last rule is the five-minute rule. This is not limited to the dark months, but it is particularly applicable to them. Let's say you are running a marathon in May and you've mapped out a program that requires dutiful mileage, a handful of intervals, and some track work. The five-minute rule maintains that, no matter how you feel or what the weather, you get out and spend at least five minutes performing your workout. Think of it as a way to break the gravitational pull of comfort and complacency. If, after five minutes, you are not feeling it, you have permission to bail (but try giving yourself another five first). Woody Allen said 80 percent of success is showing up. The five-minute rule ensures you show up. 
When it's dropping below 20, or blowing 30, it's worth remembering that a job well done, a race well run, is often the result of months, or years, of consistent effort. Great performances, PRs, and sick tricks rarely, if ever, take place off the couch. Remember this if the goal you've established matters to you. It will keep the motivational fires burning hot all winter.