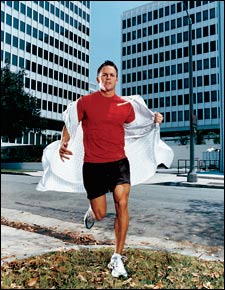 Heading out the door? Read this article on the new Outside+ app available now on iOS devices for members! Download the app.
BROKEN BONES, TWEAKED KNEES, torn tendons: In days of yore—say, last year—these injuries would've promptly ended your season of biking, running, or hoops. Not anymore. Doctors are now shifting toward minimally invasive surgical techniques and natural healing stimulants that not only get you back in the game in top form but, in some cases, cut your healing time in half. "Research has become focused on aggressive rehabilitation," says Chris Ingersoll, a professor of sports medicine at the University of Virginia, in Charlottesville. "The goal is to speed people's return to the level they were at before their injury."
The Self-Repairing Athlete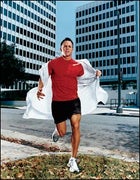 QUICK FIX: leave this gown behind and get back in the game – sooner.
Now available or coming soon to an OR near you: the six procedures detailed below.
THE SHOULDER | Torn Rotator Cuff
OLD SCHOOL: Attach the ripped tendon—one of four that connect the shoulder and arm—to an anchor screwed into the upper arm bone.
NEW SCHOOL: Secure the torn ligament with a double row of anchors via minimally invasive arthroscopic surgery.
PROS: Athletes can follow an aggressive rehab schedule—lifting heavier weights sooner and with more range of motion—with reduced risk of another tear.
CONS: The procedure is technically difficult; risks include tangling up the suture or misplacing an anchor.
THE BACK | Degenerative Disc
OLD SCHOOL: Fuse vertebrae together, curtailing pain… and mobility.
NEW SCHOOL: Replace the deflated disc with a plastic one sandwiched between two metal plates.
PROS: Unlike spinal fusion, the artificial disc allows for mobility of the spine. CONS: The implant's life span is unknown. Worse case scenario: A second surgery may be necessary after a few years.
THE KNEE | Torn Cartilage
OLD SCHOOL: Replace the torn cartilage with a whole piece from a cadaver.
NEW SCHOOL: Specially engineered collagen fibers inserted into the joint allow new cartilage to grow.
PROS: There's actually less risk of infection or disease transmission than with a human-tissue transplant.
CONS: It could be years before the FDA approves it for general use in the States.
THE HIP | Worn-Out Joint
OLD SCHOOL: Replace ball and socket with a metal-and-plastic prosthetic via highly invasive open surgery.
NEW SCHOOL: Replace hip joint with a ceramic prosthetic in a procedure that requires only two three-inch-long incisions.
PROS: Advocates claim that the operation can slash recovery time in half.
CONS: Critics charge that there's no substantive evidence of a reduced rehab schedule.
THE SKELETON | Broken Bone
OLD SCHOOL: Stick injured appendage in a plaster cast; wait months for the bone to heal.
NEW SCHOOL: Inject a pastelike cocktail of calcium phosphate and a bone-growth-promoting protein into the fracture.
PROS: The therapy may cut recovery time by one third or even one half—a boon to any athlete looking to salvage the season.
CONS: It's still in human trials and won't be available to the public for several years.
THE SKELETON | Shattered Bone
OLD SCHOOL: Graft and seal the fractures with bone extracted from the hip and locked in place with rods and pins.
NEW SCHOOL: Wrap a thin sponge—made from cow collagen soaked in a manufactured human protein that stimulates bone growth—around the break.
PROS: Surgeons no longer need to harvest bone from your hip (ouch!), plus, perhaps, a 50 percent speedier recovery.
CONS: The procedure still requires a major surgery to insert the pins and rods to hold the bones in traction.