Can I Use CrossFit to Train for a Marathon?
I've read about CrossFit adherents who have run marathons using just the exercise program's strength and conditioning regimen. Can I really train for a race using CrossFit alone?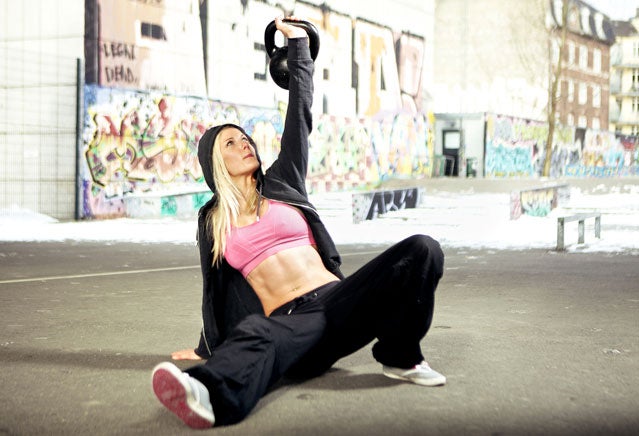 Heading out the door? Read this article on the new Outside+ app available now on iOS devices for members! Download the app.
The idea that you could run a marathon using a solely CrossFit-based training regimen probably came from reading CrossFit blogs like this one, in which avid CrossFitters claim to have completed incredible endurance feats, like running 80 miles in 24 hours, training with CrossFit's "Workout of the Day" alone. But just because someone has done it doesn't make it a great idea. The lack of sport-specific training can set you up for overuse injuries, like Achilles tendonitis or plantar fasciitis.
"You could take a CrossFitter and have them run a marathon and they could do decently well," says Brian MacKenzie, the founder of CrossFit Endurance, a sport-specific training regimen popular with CrossFitters who compete in endurance sports. "But is that the optimal way to do it? No."
What is the optimal way? That is the question that has pitted CrossFitters against traditional runners since CrossFit's inception in 2000.
MacKenzie's CrossFit-inspired regimen, for example, preaches high-intensity, low-volume, skill-based training as the optimal path to endurance success. Running coaches, including San Diego's Jon Clemens, whose runners have competed in the Olympic marathon trials, say that slow, long-distance running is the backbone of a successful marathon training plan.
"Running long is essential to generating physiological changes within the body," says Clemens. It'll teach your body to burn fuel more efficiently, and to recruit slow-twitch muscle fibers, for example. "The body must know not only the pounding associated with running that volume of race, but also it needs the strength inherent in the number of steps taken in preparation," Clemens says.
Depending on your goal time, Clemens may incorporate a long run of more than three hours into your training regimen. CrossFit Endurance, on the other hand, typically maxes out at a 10-mile time trial, claiming that a higher mileage regimen will break down the body, decreasing strength, power, speed, and muscle mass.
Clemens agrees with MacKenzie that you could get through a marathon doing only CrossFit, and that it can be a good supplement to a marathon training program. But CrossFit alone won't help you maximize your capabilities at that distance. To do that, you must run long. Exactly how long is still up for debate.