How a Halfpipe Champion Makes Working Out Fun
How halfpipe skier Cassie Sharpe stays on top after winning Olympic gold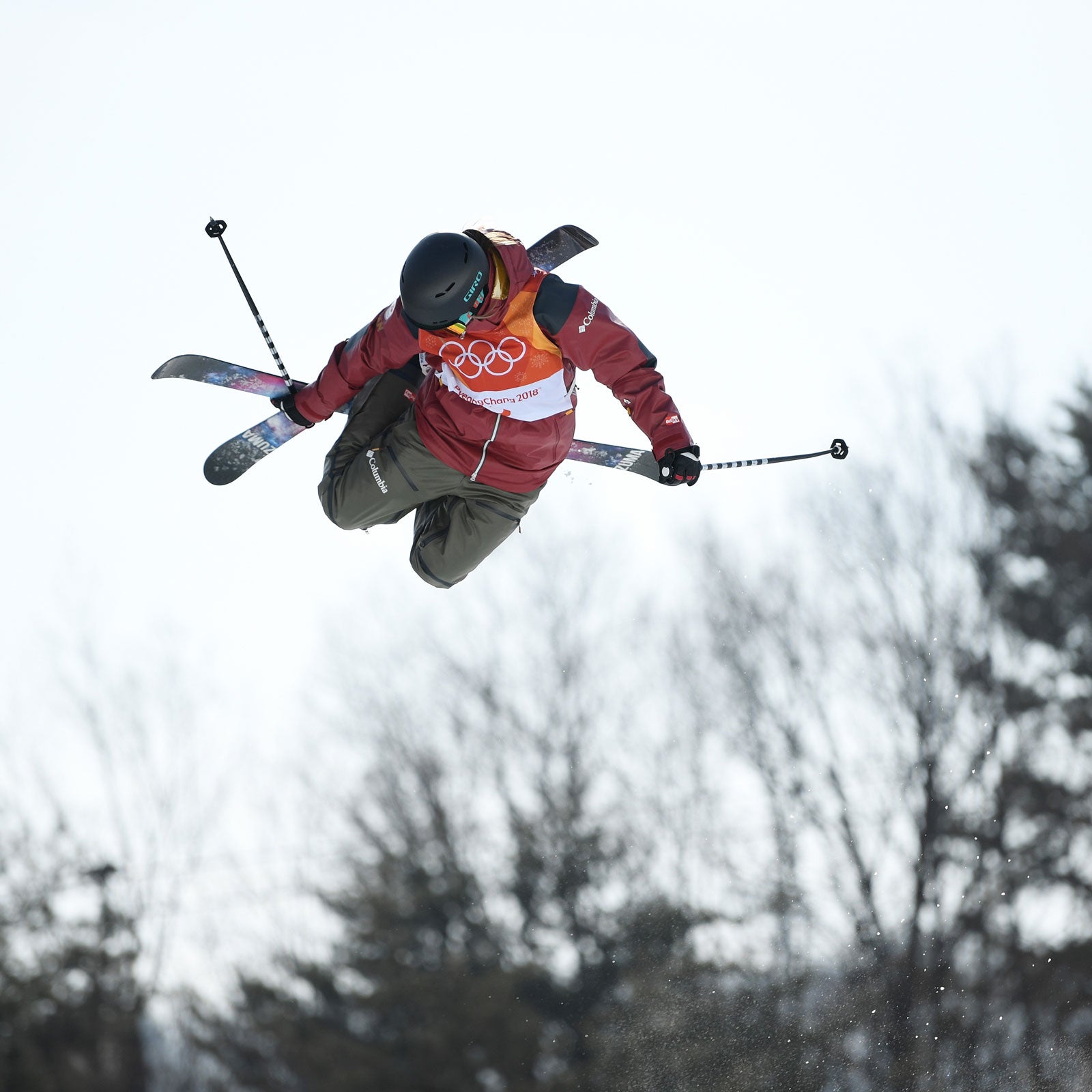 Heading out the door? Read this article on the new Outside+ app available now on iOS devices for members! Download the app.
When Canadian skier Cassie Sharpe won gold in ski halfpipe at the Pyeongchang Winter Olympics, she showed a global audience what the freeskiing world already knew: She was going bigger than the other athletes and landing tricks that no one else was trying. The 26-year-old was the first woman to throw a cork nine in competition and holds the record for the highest amplitude out of the halfpipe.
Sharpe, whose dad ran marketing and business operations at Vancouver Island's Mount Washington ski area, started skiing at age 11, well before pipe became an Olympic sport in 2014, because she wanted to be on the mountain with her brother. Since she joined the Canadian National team in 2014, her combination of power, technical skills, and willingness to pioneer tricks in competition has dramatically raised the bar for women's pipe skiing. She is often compared to pioneering pipe skier Sarah Burke, whom Sharpe credits with paving the way to her gold medal.
Even in Olympic off years, Sharpe will likely be topping podiums at events like the X Games and the Dew Tour. But you don't launch yourself 15 feet above the pipe without putting in a little work. Here's how Sharpe trains in and out of the gym.
Turn Work into Play
Sharpe says she skis best when she's having fun. Same goes for working out. When she's home in Vancouver, she'll go to Pilates regularly. In summer, she's out hiking and backpacking in the mountains north of the city and road biking around town. She stays in shape by staying in motion.
Midseason, training gets more serious—but Sharpe says the Canadian National Halfpipe Team makes even the most grueling workouts interesting. They just got back from a training camp in New Zealand, where they practiced 360s and 180s on a slackline set up in the gym, which helped them dial in coordination and balance. "The coaches had to tell us to stop," Sharpe says.
Don't Skip the Gym
When Sharpe first joined the team, she dreaded going to the gym. She still hates lunges, which she calls "the bane of her workout existence," but she's learned to love Olympic lifting, particularly for its efficiency. "You do it really quickly, but you can gain a lot of strength," she says. "I don't know what made me change my mind about the gym. Maybe I was seeing progress, or maybe they forced it on me and I started to get brainwashed."
The team coaches create a specific program for each athlete based on their individual needs. Pipe skiing calls for strength to absorb the compression of hard landings, along with explosivity and balance. The team will do exercises like hang cleans, which strengthen hips, legs, and shoulders at the same time; hex bar deadlifts, a full-body lift that works core strength; and exercises like box jumps that incorporate functional movement.
Exercise Your Brain
Sharpe feels less stressed going into this winter with the weight of the Olympics off her shoulders. But competing in events like the X Games in January comes with a big spotlight—and plenty of pressure. The Canadian Olympic team has a dedicated sports psychologist, and Sharpe says the team's emphasis on mental fitness helped her realize how important it is to care for herself emotionally.
"Whenever I come home from competing, I make sure I have a night with friends to blow off steam," she says. Sharpe says she particularly relies on her boyfriend, Justin Dorey, for support and advice. A former member of the Canadian freestyle ski team, Dorey retired after sustaining too many concussions, and Sharpe says he offers her healthy perspective on when to push it and when to take a step back.
Listen to Your Body—and Adapt
Injuries don't necessarily have to sideline you if you're careful. "Leading up to the Olympics, I was dealing with a partially torn meniscus—I had surgery after the Olympics—so I had to manage that injury through the season. That meant taping my knee every morning and spending an extra 20 minutes stretching and warming up," Sharpe says. Trainers and physical therapists helped her figure out how much she could push it without further injury to the meniscus. That meant adapting her halfpipe run and changing her body mechanics to reduce stress on her injured leg. "Anytime I'd land my left 900, I'd get this crazy electric zing through my left leg. I had to teach myself how to land that trick right-foot heavy but still stay balanced through it," she says. "I wanted to be out there training and doing all my tricks, but I had to make sure I was taking care of myself."
Never Stop Learning
Competitive halfpipe skiing is all about progression, so this winter, Sharpe is trying to add new tricks to her run and learning to do her standbys in the opposite direction. "I have to learn how to ride backwards up the opposite wall that I usually do," she says. "I feel like a beginner again." That's where mental training and the benefits of visualizing comes in. "It's just repetition, really, it's just mileage," she says. "I try to remember how hard it was to learn the first time and remember that this time it's going to be twice as hard, because now I have so much muscle memory." That applies even if you're not an elite athlete competing for a top score. Learning new skills and shaking up familiar ones—like fly-casting with your nondominant hand or learning a new grab on skis—encourages neural plasticity, helping your brain stay sharper longer.
Lead Photo: Matthias Hangst/Getty Images