Is CrossFit Killing Us?
The CrossFit backlash is in full swing—led by a long list of injured participants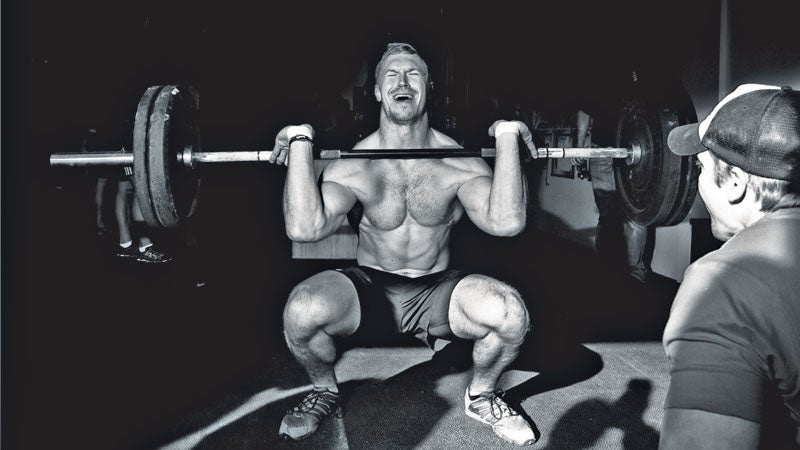 Tim Banfield
Heading out the door? Read this article on the new Outside+ app available now on iOS devices for members! Download the app.
Editor's Note: (1/15/2020) The 2013 study mentioned in this article was later retracted for falsifying the percentage of participants who dropped out of a CrossFit program because of injury. The author of the study subsequently resigned from the Ohio State University. And in December 2019, a judge ruled in favor of CrossFit in a federal lawsuit the company brought against the National Strength and Conditioning Association (NSCA), the organization that publishes the Journal of Strength and Conditioning Research. The judge determined the NSCA "deceived and continue[s] to deceive the public and consumers regarding the safety and effectiveness of CrossFit training" and ordered the organization to pay CrossFit a terminating sanction of $4 million after determining it interfered with the lawsuit's discovery process.
---
IN JULY, nearly 300,000 people tuned in live on ESPN2 to watch 26-year-old Rich Froning and 31-year-old Samantha Briggs win the Reebok CrossFit Games, the last two standing after out-muscling 138,000 global participants in three rounds of competition. For their efforts, which included CrossFit mainstays like burpees and deadlifts, Froning and Briggs walked away with $275,000 each and the title Fittest on Earth—at least according to CrossFit.
Buoyed by the games, CrossFit's high-intensity workouts have exploded in popularity. There are now roughly 10,000 CrossFit-branded affiliate gyms—or boxes, as they're called—around the world. But behind the competitive, puke-inducing workouts is a growing list of injured participants, many of whom suffer from telltale injuries: slipped disks, torn rotator cuffs, knee tendinopathy. Neither the American College of Sports Medicine (ACSM) nor any other association tracks injury rates, but Robert Hayden, a Georgia chiropractor and spokesman for the American Chiropractic Association, says he has noticed a rise in CrossFit patients over the past two years. "Among my colleagues, we often share the anecdotal observation that CrossFit is good for our practices," says Hayden.
Blame the nature of the training. Most Workout of the Day routines (WODs, as CrossFit disciples refer to them) include Olympic lifts like squats and power cleans, which require near perfect form to prevent undue strain. Newbies rarely have the stamina or guidance to maintain that form. Combine that with the high number of reps and it's a recipe for injury.
400%: The increase in CrossFit Games participants since 2011.
"If you have a preexisting condition—an old ACL tear, tendon damage, or a slipped disk—this kind of exercise will bring it to the surface," says Hayden.
This isn't the first time CrossFit has been in the injury spotlight. Early on, it earned a reputation for being so intense that it could induce rhabdomyolysis, a potentially fatal condition in which muscle tissue breaks down and is released into the bloodstream. But this time the focus is on musculoskeletal issues. This summer, the Journal of Strength and Conditioning Research published a study showing eye-popping fitness gains among CrossFitters, with participants in a ten-week program boosting their VO2 max by roughly four points. But the study also revealed a troubling statistic: 16 percent of the 54 participants had quit the program due to "overuse or injury." In 2011, the authors of a study published by the ACSM advised soldiers to avoid CrossFit, citing "disproportionate musculo-skeletal injury risk."*
In both cases, CrossFit representatives waged a counteroffensive. Reacting to the military findings, CrossFit's chief scientist, Jeff Glassman—father of CrossFit founder Greg Glassman—wrote a 92-page rebuttal that attributed the rise in injuries in part to fatigue from the war on terror.
In CrossFit's defense, the organization goes out of its way to warn people that if they can't maintain proper technique, they should back off. But backing off is a hard sell for many participants, who view the workouts as a competition, especially now that the CrossFit Games are so popular—participation is up more than 400 percent since 2011.
"This year it seemed like everyone at my box was getting ready for the local competition," says 32-year-old former college gymnast Emily Carothers, of Maple Valley, Washington, who finished 23rd at this summer's games. "Many of them were pushing themselves harder than they should have."
Perhaps that's the root cause. Practicing good technique, working around your weaknesses, and staying within your limits doesn't always happen when you're stampeding to beat the next guy. If, however, you approach CrossFit as a sport, complete with cycles of increased workloads and periods of rest and recovery—not to mention an off-season—you can develop a much healthier approach. Carothers already treats it that way.
"I've been doing CrossFit for three and a half years, and I've only had one injury, to my hip," she says. "When I was in college, I had nine surgeries in four years. As far as sports are concerned, CrossFit looks pretty good."
Corrections:
(09/21/2023) A prior version of this article stated that the U.S. military in conjunction with the ACSM advised soldiers to avoid CrossFit.
From
Outside Magazine, Dec 2013
Lead Photo: Tim Banfield