Erin Densham's Road to London
Two years after undergoing surgery to correct a debilitating heart condition, the Australian triathlete is poised to qualify for the Olympics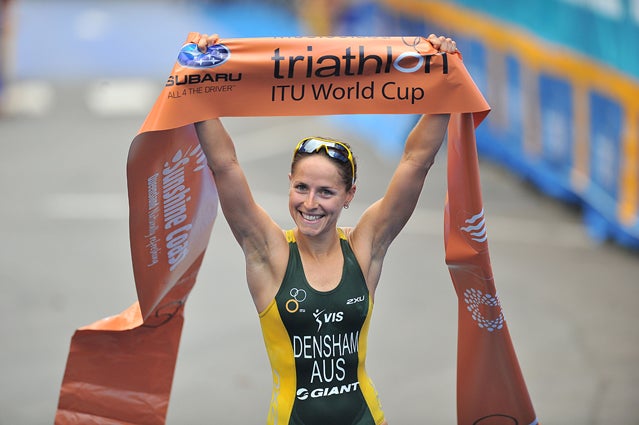 Heading out the door? Read this article on the new Outside+ app available now on iOS devices for members! Download the app.
Fresh off wins at the Mooloolaba Triathlon in March and Sydney's World Triathlon series in mid-April, Erin Densham finds herself making a surprising bid for Australia's Olympic team. Why surprising? In 2009, Densham, now 27, battled a supraventricular tachycardia, or a racing heartbeat, that forced her to drop out of several major competitions and eventually required surgery. Now healthy, Densham is a strong contender for one of two remaining spots on Australia's three-woman triathlon squad, which officials expect to finalize in late May. She plans to race at World Triathlon series events in San Diego and Madrid later this month.
You had a rough year in 2009 with mononucleosis and heart problems. What happened?
2009 is when my supraventricular tachycardia started to become more frequent. I ended up being rescued after diving into the water at the Des Moines Hyvee Triathlon. I saw an array of doctors as I was presenting health conditions far beyond just a heart problem.
I had a heart operation in December 2009, which was the beginning of my road to recovery. My heart certainly felt different after the operation. This was the hardest period of my life, but I took training slowly, and mostly it was a trust and confidence issue. I had to be confident in the fact that the operation was a success and I didn't have to worry about going into tachycardia again.
How are you doing now?
I've become incredibly sensitive to my body. I know when something doesn't feel right and I can make a decision from there as to what direction I take with my training.
What was it like to win the ITU World Triathlon race in Sydney?
It was a nice feeling. I grew up just outside of Sydney so my family was there, and also friends from school. I felt more pressure going into that race having won Mooloolaba. Pressure from the outside and also from myself. I know there were people out there who thought Mooloolaba was just a one-off win. So it was nice to go out there, be able to come away with a win and put that race to rest.
Do you think your win in Sydney will secure your selection for the Australian team?
I was an outside chance for London coming into this year, and even after my win in Mooloolaba, I probably still was. I knew that I would have to win in Sydney, as well, to have a chance at selection. So that's what I set out to do, and managed to pull it off. But it all comes down to how the selectors want to exercise their discretion.
How did you first get into racing?
I originally started out as a swimmer, and I always did quite well at running in school. I thought that it wouldn't be too hard to ride a bike. I did a local club race in my teens and smashed the 200-meter swim, then struggled through the 12-kilometer bike race and the 2.5 kilometer run. I can't remember exactly what I was feeling during or afterwards, but I went back for more.