Get in Ski Shape
The snow is already falling across the country. You don't want to hit the slopes this year unprepared.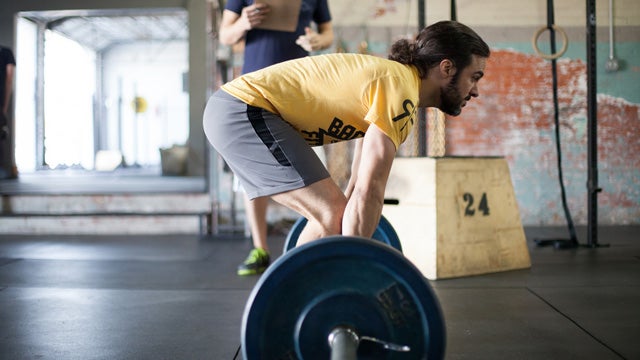 Heading out the door? Read this article on the new Outside+ app available now on iOS devices for members! Download the app.
According to pro skier and personal trainer Pip Hunt the best way to get in shape for ski season is to already be in shape. "I believe in training and staying active year round," she says. "Trying to get back in shape after a considerable amount of time of sucks." Hunt, who spent six years competing on the Freesking World Tour, and is a trainer at Jackson Hole-based Wright Training—owned by Crystal Wright, another FWT mainstay—knows a lot about ski-specific training. You need a baseline of strength and endurance but, now that snow is starting to fall, Hunt says you should start challenging yourself aerobically and building the big muscles that'll get you down the hill.
1. Build strength in your posterior chain.
There's a reason skiers are know for their butts. The muscles in the back of your body, like your glutes, hamstrings, lower back and lats, power you downhill, keep you stable in uneven terrain, and give you explosivity in bumps. "A strong posterior chain is essential to any movement, whether you're skiing, hiking, or mountain biking," Hunt says. "Don't be afraid to challenge yourself with weight." To train the posterior chain, work on squats, deadlifts, lunges, and pushing weight overhead. Or try a Wright Training favorite, Leg Blasters: 20 squats, 10 lunges on each leg, 10 jumping lunges on each leg and 10 squat jumps. 
2. Stretch your capacity for aerobic work.
Skiing requires both stamina (injuries happen most frequently when you're tired) and short burst aerobic output. To build capacity for both of those, Hunt has her clients do high intensity interval training, and keep their heart rates elevated for 15 to 30 minutes. She mixes this part of the workout up, rotating between short sprints, and longer sustained efforts. On your own she says you can get equally good results from running hills, or doing intervals on a treadmill, but that pushing yourself, and keeping your heart rate high is key. "Eight 20 second sprints on a treadmill with 30 second of rest is way more effective than chugging along for 10 minutes." 
3. Train your whole core.
Balance is a big part of skiing, and a lot of that comes from your core. Hunt saves core work until the end of workouts, when other muscles are tired. "Finish with a circuit that challenges the core as a cylinder," she says. "Target the front through sit-ups, sides and obliques through rotational exercises—think Russian wists, bicycles, windmills— and the back through back extensions or weighted back extensions. Then train isometric strength through planks, v-sits, and supermans. 
Lead Photo: Adrian Valenzuela