The Pros' 6-Week Plan to Achieve Total Health
Ready to play your way to total fitness? We thought so. Kick-start your transformation with a visionary six-week approach to bringing body and mind together for strength, stamina, and your best performance ever.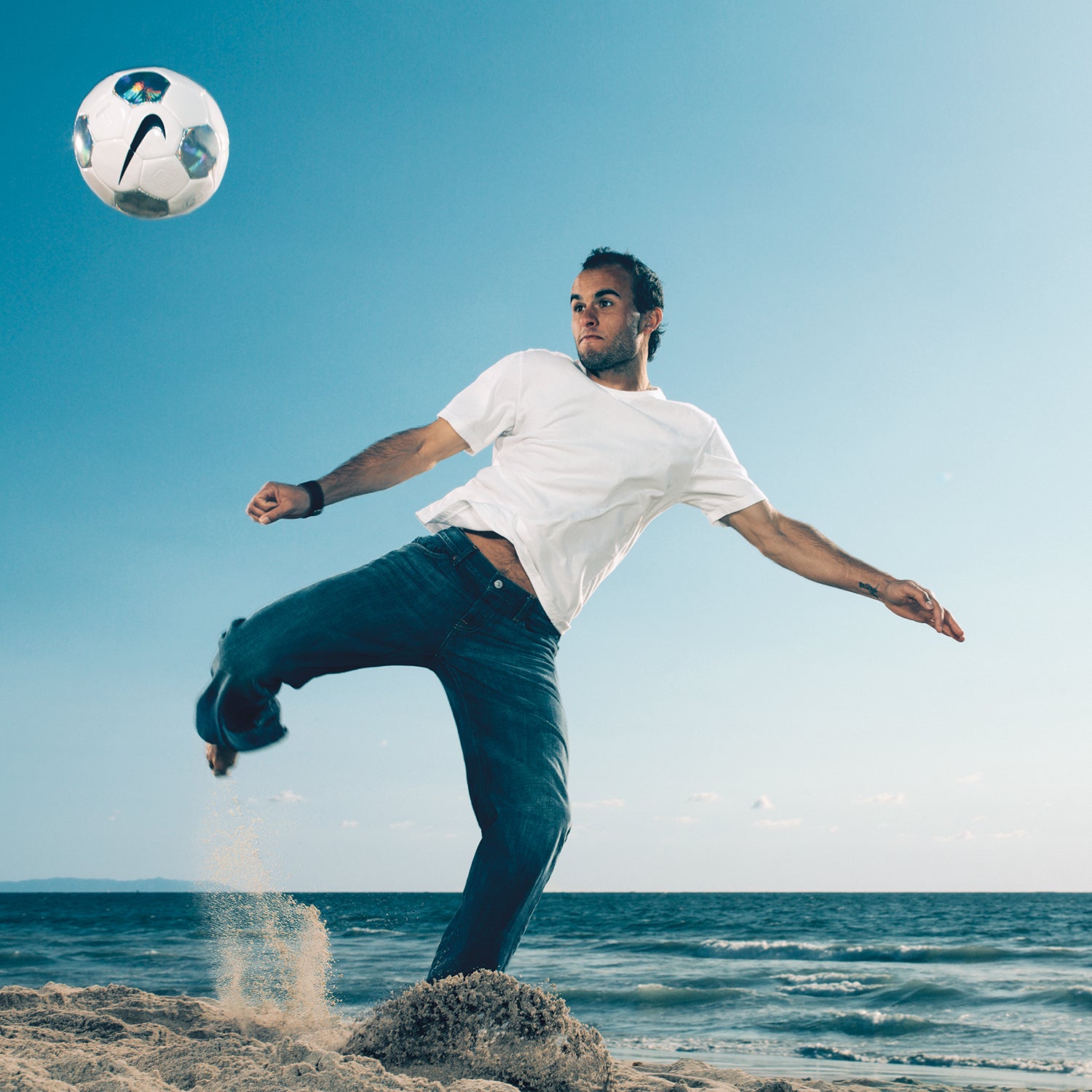 Heading out the door? Read this article on the new Outside+ app available now on iOS devices for members! Download the app.
Total fitness. It sure sounds great, but what does it mean? That was our big question when we gathered some of the nation's top coaches, trainers, athletes, nutritionists, and wellness experts to start building a breakthrough strategy for the Outside athlete. Surprisingly, the answer proved to be relatively simple: Total fitness means you can play harder, travel farther, and live longer. Even better, achieving it isn't all that complicated. The key is a balanced approach to sports and health based on five pillars: body, mind, nutrition, active recovery, and (the point of it all) adventure.
In the pages ahead, our all-star team rolls out the complete plan to get you there fast. Yeah, you'll sweat a lot, but the reward is an explosive new you that can perform on the trails, waves, or playing field at a level you never thought possible.
---
The Maverick
It's time you listened to Vern Gambetta, whose revolutionary methods reshaped the world's greatest athletes.
—By Paul Scott
Vern Gambetta wants you to pay close attention. The 59-year-old coaching legend is going to tell you how to get the absolute most out of your body—and this time he wants everybody to get it right.
Gambetta's approach is called functional training, and it's based on a smart and basic principle: Athletes need to train movements, not muscles. Instead of common gym routines that isolate individual muscles—like biceps and hamstring curls or knee extensions—functional training favors exercises that get you on your feet and replicate the multidirectional full-body motion of sports. Rather than sitting on a bench to pull or push a weight-machine bar, you'll be forced to keep your balance and engage entire muscle groups in coordination—which is exactly how they work in the real world, whether you're rock-climbing or hitting home runs. And because functional training stresses the link between your upper and lower body, you'll engage and develop your core—the locus of strength for all movement.
If this sounds familiar, it's because Gambetta pioneered functional fitness some 15 years ago. A former college decathlete, he was coaching track at UC Berkeley in the late seventies when he took part in biomechanics research conducted by Nike at nearby Shriner's Hospital. To his surprise, he learned that many of the common assumptions of machine-based strength training were false. (Quads are used to control descent, for example, not straighten your leg.) Over the next decade-plus, Gambetta began rethinking training protocols while working with the NBA's Chicago Bulls and designing new routines as a trainer with baseball's White Sox. Then, in 1991, he started offering functional-training seminars to other elite trainers. Their response was to junk many of their weight-lifting machines and persuade skeptical clients to take up seemingly old-school programs employing medicine balls, dumbbells, and resistance bands. The athletes reaped greater speed, more wins, a reduced injury rate, and less burnout.
"Vern is the master," says Jim Richardson, women's swim coach at the University of Michigan. "We used to do a lot of isolated-muscle-group movements, but after Vern came along, our athletes were immediately fitter."
"The foundation for what I do today is based on Vern's writings and those of his close colleagues," says Bill Knowles, who coached Hannah Teter, gold-medal winner in the snowboard-halfpipe competition at the 2006 Winter Olympics. "We train movements, we keep feet on the ground, we use few weight-lifting machines. It's dumbbells and balls and bands." University of Florida track coach Dan Pfaff credits Gambetta's influence for his success in coaching American Olympic high jumper Amy Acuff and Canadian Olympic sprinter Donovan Bailey.
Unfortunately for recreational athletes, though, as Gambetta's ideas trickled down to amateur gyms, they were chopped up, hybridized, and dumbed down—"15 minutes to flat abs with an inflatable physio ball!"—with no regard for a critical underpinning: Functional fitness works only as an interrelated series of exercises. As Gambetta sees it, there's little sense in trying to develop core muscles on an unstable ball before you've developed them on two feet. It's a point that he's been hammering lately in feisty postings on his blog, www.functionalpathtraining.blogspot.com, and a major theme of his seventh book, Athletic Development, an illuminating summation of his system due out this fall from Human Kinetics. "Functional training has become a buzzword for a bunch of chaotic stunts," says Gambetta, who lives in Sarasota, Florida. "It means somebody who carries a physio ball or giant rubber band and does a bunch of funny exercises. Athletes need a systematic approach that keys in on the basic motions of human movement."
What's missing from the abbreviated functional-fitness workouts peddled at many gyms is meaningful sequencing. "Progression is everything," explains Steve Myrland, a former strength coach for the University of Wisconsin who collaborated with Gambetta to develop agility workouts. "You need to ask, What am I going to do today? How does it relate to what I did yesterday? How does it relate to what I'm going to do tomorrow?"
In other words, you can't just toss a medicine ball and go back to your tired old workout; you need to commit to a whole new paradigm for the long haul. "I started training like Vern a long time ago," says Myrland. "I said, OK, I'm going to put the bands on and do the goofy monster walk. People will look askance at you for a while. And then they'll ask if they can train with you."
Be forewarned: Real functional training can be humbling—expect to be sore—and Gambetta's system requires that you adhere to a constantly evolving workout. But once you take up his six-week challenge (laid out in the pages ahead), you won't just look like a pro; you'll perform and last like one. Now let's get started.
---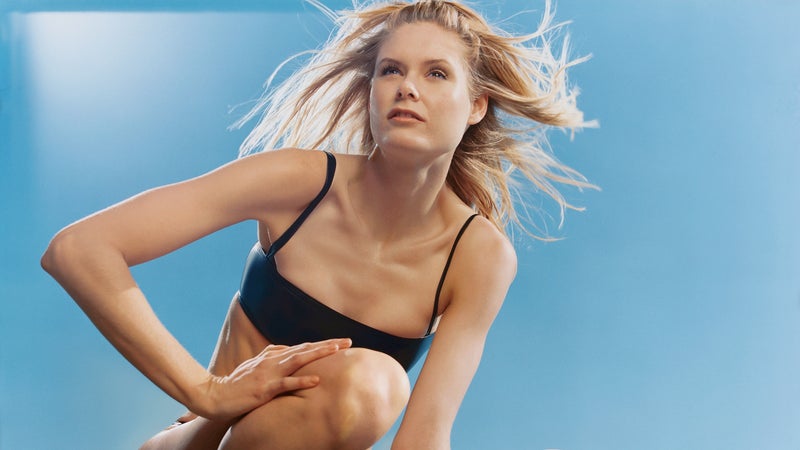 The Body Reborn
Build a Badass: Gambetta's functional-fitness approach primes you for unmatched performance.
—By Paul Scott
When tackled with sustained focus and intensity, a comprehensive functional-fitness regimen can bring about amazing advances in strength, agility, flexibility, endurance, and speed. And when your workout is as varied and evolving (read: fun) as the Gambetta-designed program detailed here and on the following pages, you'll never find yourself bored or dreading the next one. His three two-week cycles (see below) mix things up with eight integrated elements—from circuit training to strength work—and follow a strategic progression. Spending about an hour each workout day, you'll get stronger and faster right off the bat by training your whole body, not just one muscle at a time, via moves in the three planes of athletic motion: rotational, side to side, and front to back. Just stay on your feet and make it pay off.
1. Warm-Up
To prep your body, Gambetta prefers controlled multidirectional movements. These two exercises energize everything, not just your legs and heart. Finish with 25 paces each of high skips, side shuffles (running laterally without crossing your legs), and high-kick backpedals (kicking heels to butt while moving backwards). 
Top Gear: Reebok 6lb Medicine Ball, $30; www.rbk.com
1A) Walking med-ball rotation: 20 paces forward and backwards.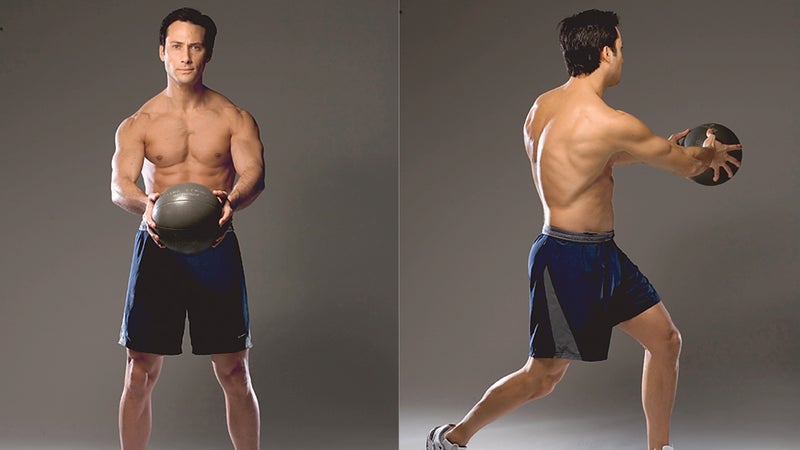 ---
1B) Lunge & reach: 2 each forward, right, left, and 5 & 7 o'clock.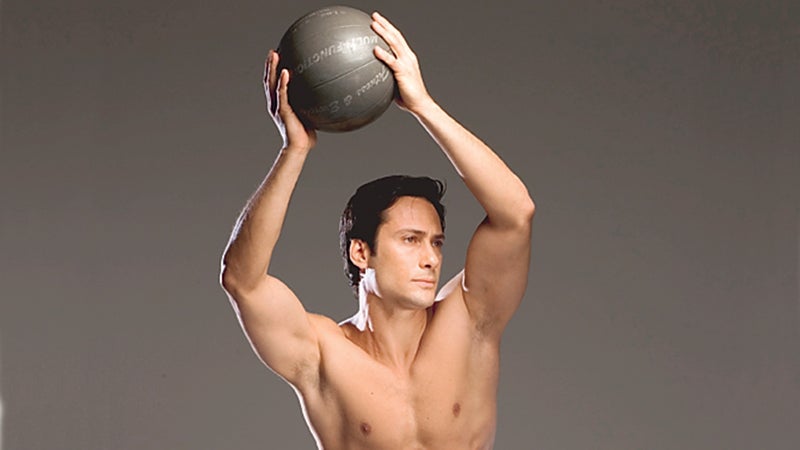 2. Remedial
Remedial work is designed to address a fact of sedentary modern life: atrophy. These drills develop essential connective strength, so you can take on the more complex exercises to come with greater control and less risk of injury. Try to keep your toes pointed forward, if you can. Finish with one ten-second single-leg squat per leg. 
Top gear: Perform Better Mini-Band, $3; www.performbetter.com
2A) Walk: 25 paces forward, backwards, right & left side shuffle.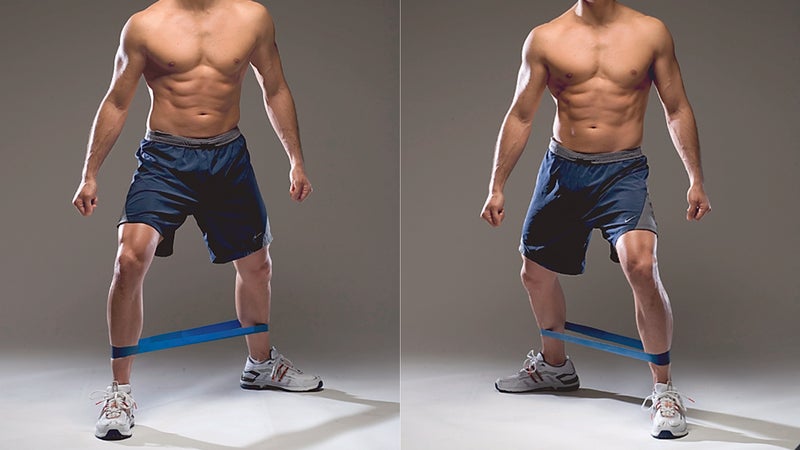 ---
2B) Monster walk: 25 paces.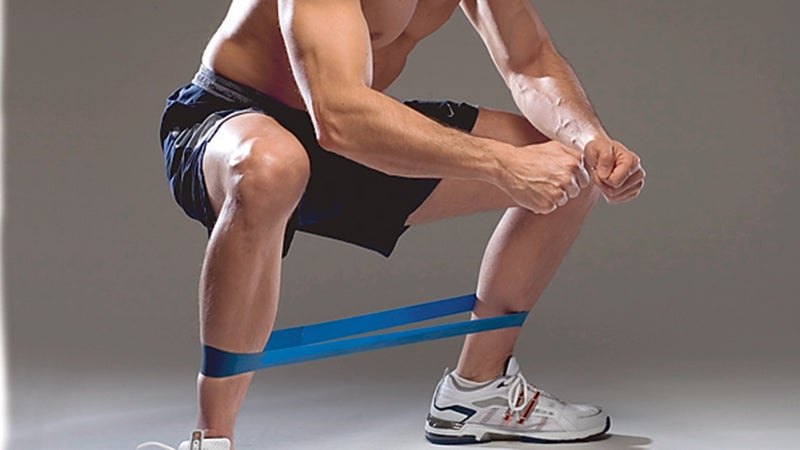 3. Circuit
Intersperse each 30-second set of each exercise—body-weight squat jumps, med-ball sit-ups, lunges, incline push-ups, med-ball sit-ups—with 30 seconds of rest and one minute of the aerobic drill of your choice. Complete 2 circuits; add 2 each cycle.
4. Active Rest
On rest days, do just that. On active-rest days, don't just lie around; make a point of doing tai chi or yoga, getting a massage, or trying something new. (See "Boost Thyself," below.)
5. Core
Working with a six-pound rubber (and therefore bouncy) medicine ball through these rotations and throws will strengthen your core, develop dynamic flexibility, increase your range of motion, refine coordination, build force-absorption strength, and boost explosive power. Remember to keep your eyes on the ball and let your trailing heel turn freely.
5A) Wood chop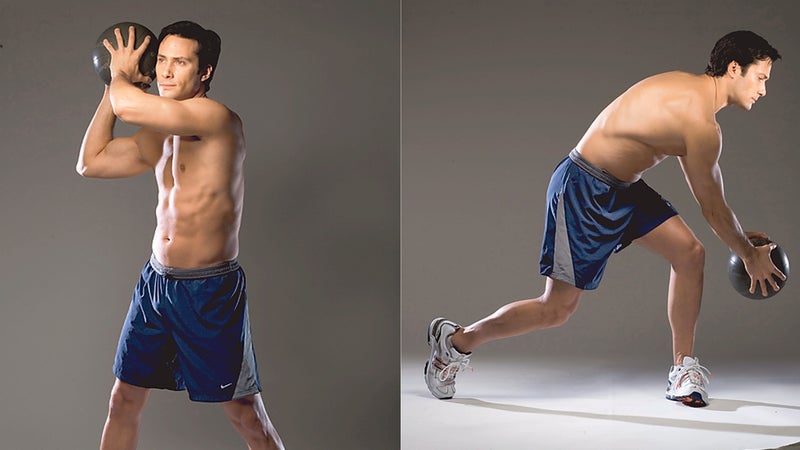 ---
5B) Sit-up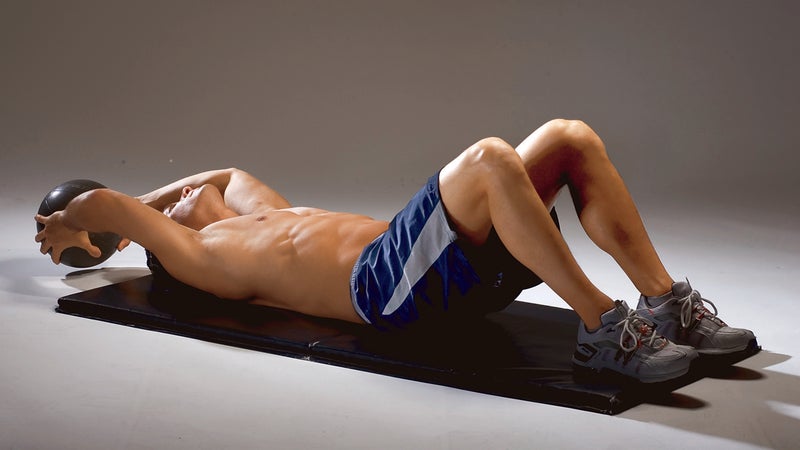 ---
5C) Overhead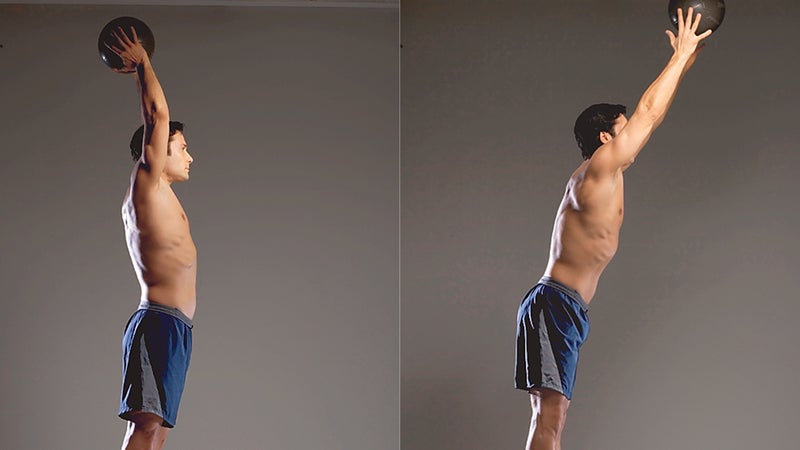 ---
5D) Chest pass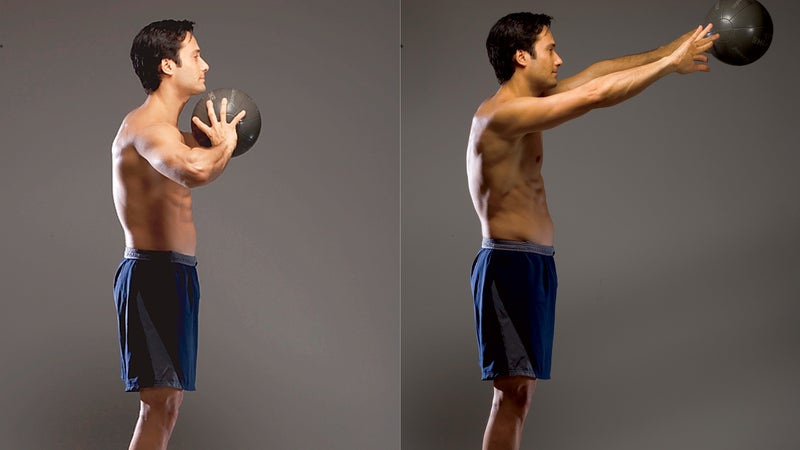 ---
5E) Over the back: Throw as high as you can.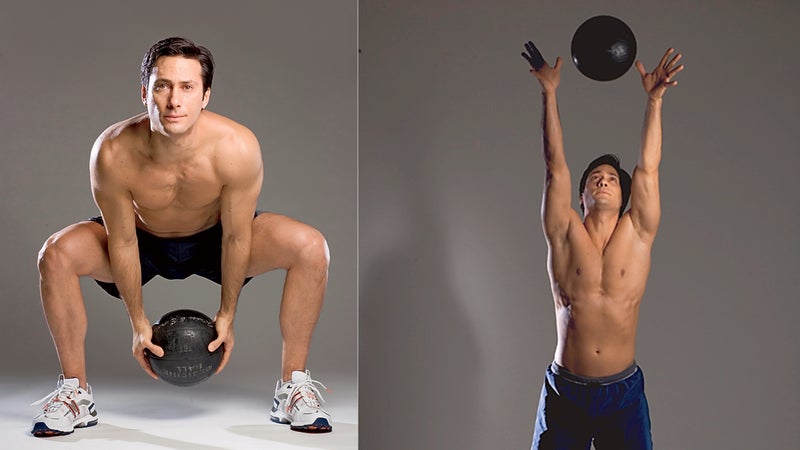 ---
5F) Squat & throw: Let ball bounce, no pauses.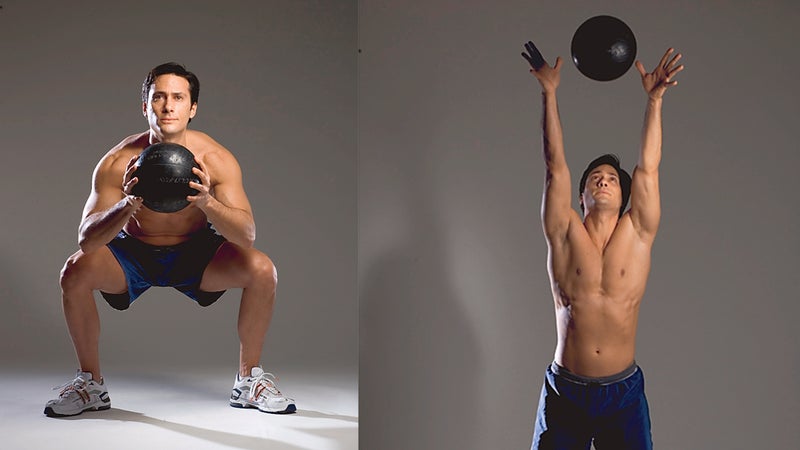 6. Agility
Whatever the athletic pursuit, superior agility and focus will set you apart. Ladder drills—using a simple ten-rung ladder grid laid out on the ground—hone both. Do 3-4 reps of each, keeping your feet close to the ground and stepping lightly. 
Top gear: Agility Ladder Basic, $40; www.jumpusa.com
6A) One-in: Run through, placing one foot inside each box.
6B) Two-in: Run through the ladder, placing both feet inside each box.
6C) Lateral two-in: Facing perpendicular to the ladder, shuffle through sideways, placing both feet in each box. Alternate left and right on approach.
6D) In/in out: Standing to the left of the first box, place your right foot, then left, inside; step to the right side of the box with your right foot, step forward into the next box with your left, and then place your right there as well; then, with your left foot, step out of the box to the left; continue through.
7. Strength
Gambetta prescribes high reps with low weight (meaning greater control) over big heft. Using dumbbells each weighing 10 percent or less of your personal poundage corrects strength asymmetries and allows joints to move freely and with less risk of injury. Body-weight exercises, like pull-ups and squats, are also incorporated. On days that call for dumbbell pull-overs, finish with dumbbell rows, following the same schedule.
7A) Dumbbell high pull: Explode up, then shrug.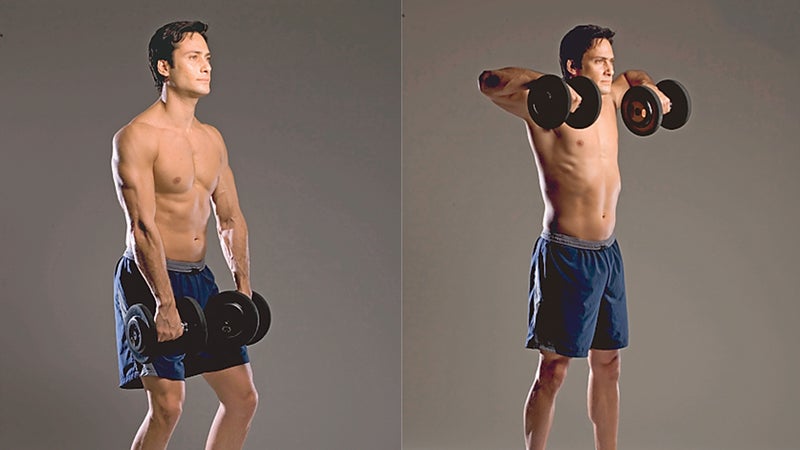 ---
7B) Dumbbell squat to press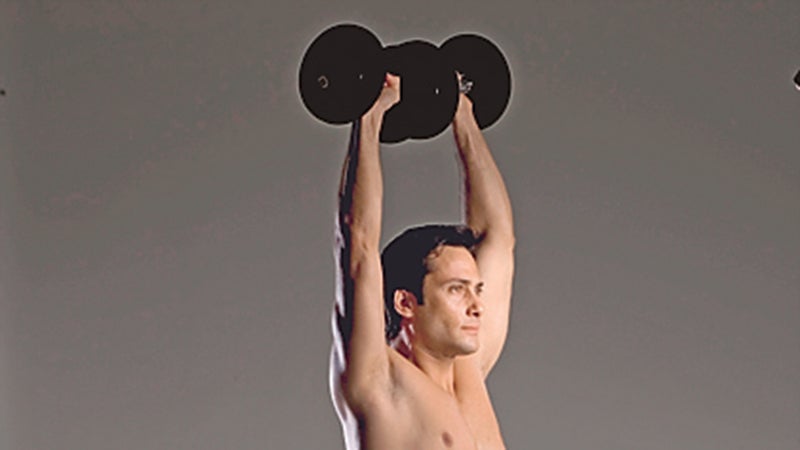 ---
7C) Squat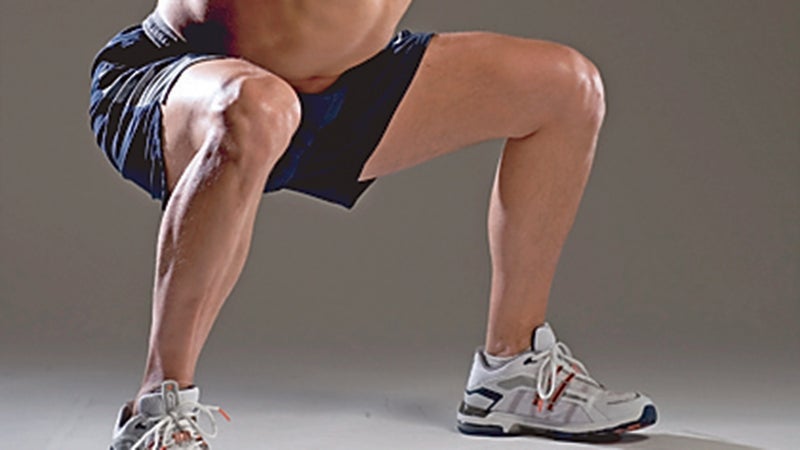 ---
7D) Step: Weight forward.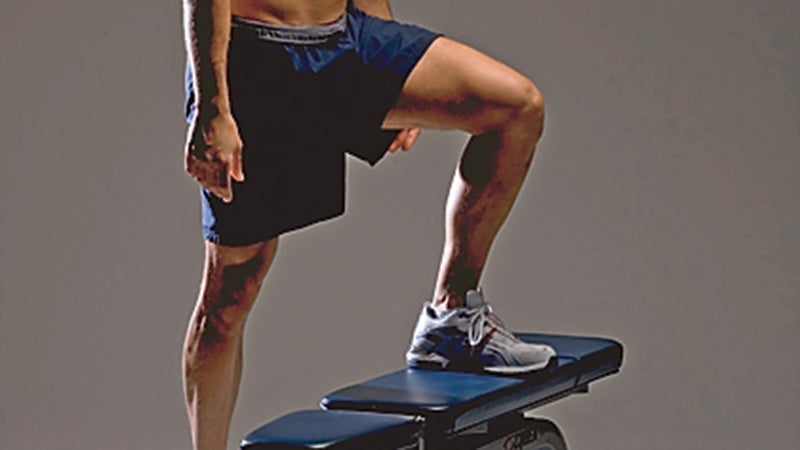 ---
7E) Incline pull-up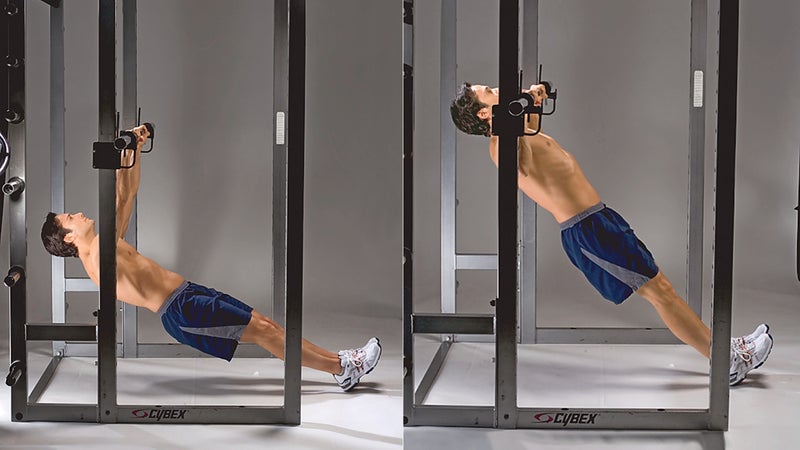 ---
7F) Incline push-up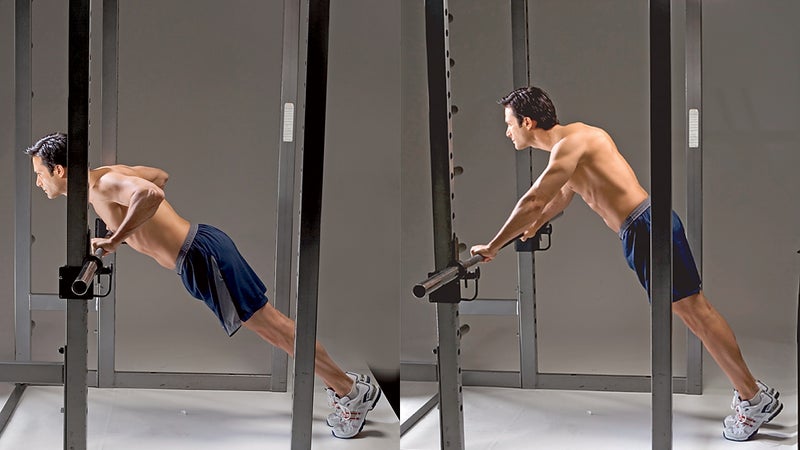 ---
7G) Dumbbell pull-over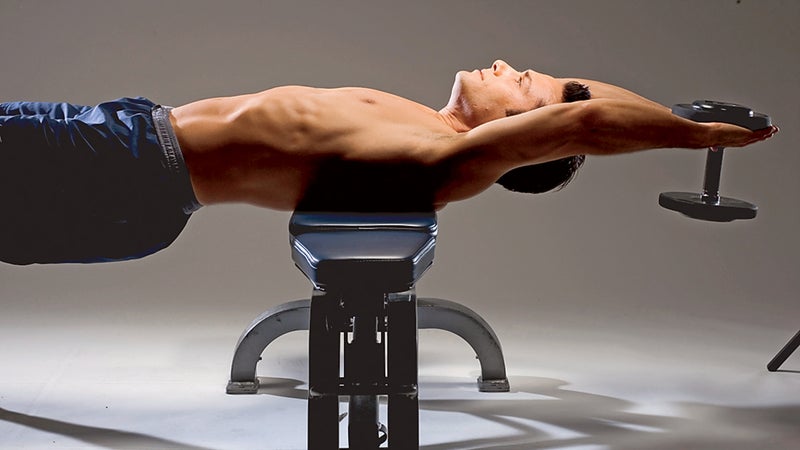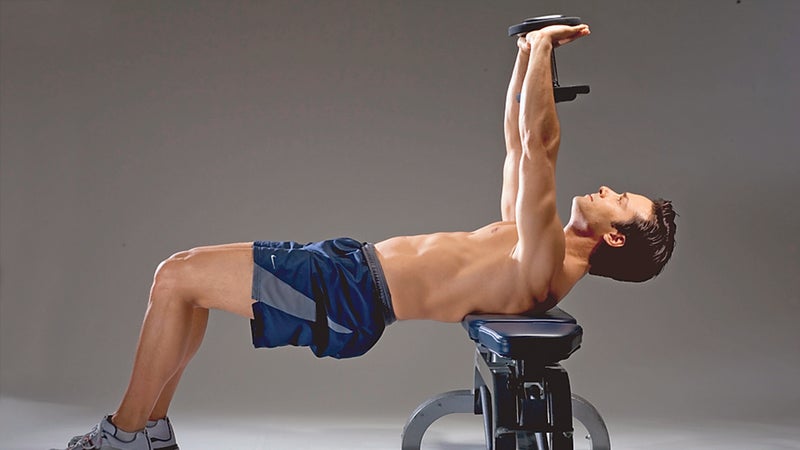 8. Aerobic
Speed, power, and aerobic efficiency are vital components of functional fitness. Extensive-tempo running exercises done at 70 to 80 percent of max exertion amp strength and coordination. Intensive-tempo work done at 80 to 90 percent makes you faster.
Extensive
8A) 30: Run for 30 seconds, then jog for 30. Finish with a ten-minute cooldown run. Weeks 1 & 2: 9 reps; week 3: 12; week 4: 15; weeks 5 & 6: 18.
8B) Fartlek: Jog for 20 minutes, evenly mixing in 12 half-to-two-minute hard runs throughout. Run duration is your call, but push yourself.
8C) Speed: Run for ten seconds, then jog for 90. 1-3 sets of 6-8 reps (add one set and rep each cycle).
Intensive
8D) 15/15/15: Jog for 15 seconds, run for 15, then sprint for 15. 4 reps; add 2 each week.
8E) Hill/stairs: Run 100 yards up a moderately sloped hill, or run up some stairs for 15 seconds. Walk down. Hill: 6 8 reps; stairs: 10.
Six weeks to ultimate fitness: the Vern Gambetta plan
Monday
Week 1: Warm-up / Remedial / Core 5A & 5B: 1X10 each way / Aerobic 8C / Agility / Strength 7A: 3X6; 7B: 3X8; 7C: 3X20; 7D: 3X20 each foot
Week 2: Rest
Week 3: Warm-up / Remedial / Core 5A & 5B: 1X10 each way / Aerobic 8C / Agility / Strength 7A: 4X6; 7B: 4X8; 7C: 4X20; 7D: 4X20 each foot
Week 4: Rest
Week 5: Active rest
Week 6: Rest
Tuesday
Week 1: Warm-up / Remedial / Aerobic 8A / Strength 7E: 3X10; 7F: 3X12; 7G: 3X8 / Core 5C & 5D: 1X20
Week 2: Warm-up / Remedial / Core 5A & 5B: 1X10 each way / Aerobic 8C / Agility / Strength 7A: 3X6; 7B: 3X8; 7C: 3X20; 7D: 3X20 each foot
Week 3: Warm-up / Remedial / Aerobic 8A / Strength 7E: 3X12; 7F: 4X12; C: 3X8 / Core 5C & 5D: 1X20
Week 4: Warm-up / Remedial / Core 5A & 5B: 1X10 each way / Aerobic 8C / Agility / Strength 7A: 4X6; 7B: 4X8; 7C: 5X20; 7D: 5X20 each foot
Weeks 5 & 6: Warm-up / Remedial / Core 5A & 5B: 1X10 each way / Aerobic 8C / Agility / Strength 7A: 5X6; 7B: 4X6; 7C: 5X20; 7D: 5X20 each foot
Wednesday
Week 1: Active rest
Week 2: Warm-up / Remedial / Aerobic 8D / Strength 7E: 3X10; 7F: 3X12; 7G: 3X8 / Core 5C & 5D: 1X20
Week 3: Active rest
Week 4: Warm-up / Remedial / Aerobic 8D / Strength 7E: 3X12; 7F: 4X12; 7G: 3X8 / Core 5C & 5D: 1X20
Week 5: Warm-up / Remedial / Aerobic 8A / Strength 7E: 4X12; 7F: 4X15; 7G: 3X8 / Core 5C & 5D: 1X20
Week 6: Warm-up / Remedial / Aerobic 8D / Strength 7E: 5X12; 7F: 4X15; 7G: 3X8 / Core 5C & 5D: 1X20
Thursday
Weeks 1 & 2: Rest
Week 3: Rest
Week 4: Warm-up / Remedial / Core (any 2)
Week 5: Active rest
Week 6: Rest
Friday
Week 1: Warm-up / Remedial / Core 5A & 5B: 1X10 each way / Agility / Strength 7A: 3X6; 7B: 3X8; 7C: 3X20; 7D: 3X20 each foot
Week 2: Warm-up / Remedial / Aerobic 8E
Week 3: Warm-up / Remedial / Core 5A & 5B: 1X10 each way / Agility / Strength 7A: 4X6; 7B: 4X8; 7C: 4X20; 7D: 4X20 each foot
Week 4: Active rest
Week 5: Rest
Week 6: Warm-up / Remedial / Core (any 2)
Saturday
Week 1: Warm-up / Remedial / Core 5C & 5D: 1X20 / Aerobic 8B / Strength 7E: 3X10; 7F: 3X12; 7G: 3X8
Week 2: Warm-up / Remedial / Core 5E & 5F: 1X6 / Agility / Strength 7A: 3X6; 7B: 3X8; 7C: 3X20; 7D: 3X20 each foot
Week 3: Warm-up / Remedial / Core 5C & 5D: 1X20 / Aerobic 8B / Strength 7E: 3X12; 7F: 4X12; 7G: 3X8
Week 4: Warm-up / Remedial / Core 5E & 5F: 1X6 / Agility / Aerobic 8E / Strength 7A: 4X6; 7B: 4X8; 7C: 5X20; 7D: 5X20 each foot
Week 5: Warm-up / Remedial / Core 5A & 5B: 1X10 Each Way / Agility / Strength 7A: 5X6; 7B: 4X6; 7C: 5X20; 7D: 5X20 each foot
Week 6: Warm-up / Remedial / Core 5E & 5F: 1X6 / Agility / Aerobic 8E / Strength 7A: 5X6; 7B: 4X6; 7C: 5X20; 7D: 5X20 each foot
Sunday
Week 1: Warm-up / Remedial / Circuit
Week 2: Active rest
Week 3: Warm-up / Remedial / Circuit
Week 4: Rest
Week 5: Warm-up / Remedial / Core 5C & 5D: 1X20 / Aerobic 8B / Strength 7E: 4X12; 7F: 4X15; 7G: 3X8
Week 6: Rest
---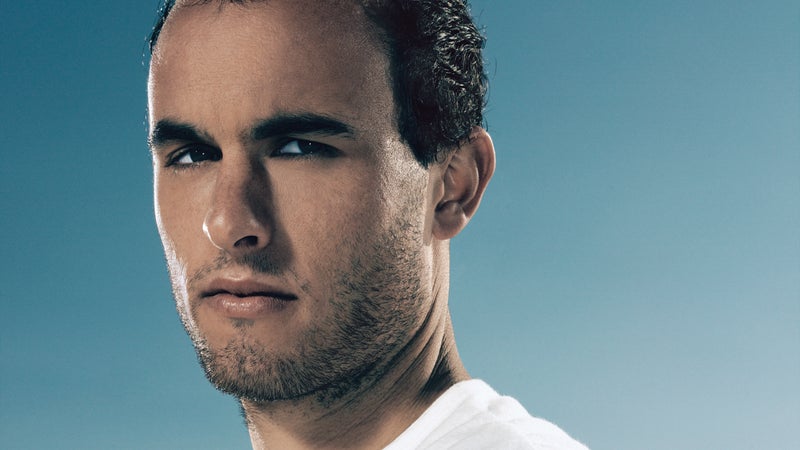 Action Hero
How did Landon Donovan become the best player on America's rising World Cup team? By teaching his body to endure more than he ever thought possible.
—By Dave Gardetta
If you were a 20-year-old soccer phenom in the summer of 2002, poised to turn the American game on its head, a good place to show up would have been the World Cup finals in Japan and South Korea. As a billion or so fans watched worldwide, dark-horse team after dark-horse team took kamikaze runs at the sport's big battleships. France's hopes were sunk by Senegal. South Korea knocked out both Italy and Spain. And a formerly unimportant soccer concern known as "the Americans"—who'd placed 32nd out of 32 countries in World Cup '98—scored three goals in 36 minutes to defeat fifth-ranked powerhouse Portugal. The U.S. made it to the quarterfinals—their best showing since 1930—thanks in large part to that 20-year-old: a forward from Redlands, California, named Landon Donovan, who scored more than a quarter of the team's goals in his World Cup debut.
Four years later, Donovan is one of the highest-paid soccer players in America, owing to his reported $4.8 million contract with the L.A. Galaxy. But Major League Soccer is still far from mainstream: The league is composed of just a dozen teams, with a smaller fan base than figure skating. And even as the MLS's unofficial ambassador, Donovan is by no means a household name—yet. Only outside the country is the quick forward widely recognized as the megathreat he is: America's greatest hope for victory in the 2006 World Cup, which kicks off June 9 in Munich.
If soccer players reflect their national character—the flamboyant Brazilians, the Germans with their iron discipline—then Donovan is a poster boy for both hard-boiled American ingenuity and our insatiable desire for self-improvement. Sure, he's got style, with his silky gait and fondness for soaring horizontally through the air, but what sets Donovan apart isn't flair or technical prowess; it's speed and fitness. He's spent the past four years developing an endurance-training strategy that capitalizes on his natural assets and—as a nice perk—ramps up his ball-handling skills.
Donovan designed his regimen around the situation he fears most: getting the ball but not having sufficient energy reserves to score. In a 90-minute soccer match, players can manage a strong running game for the first hour, but sometime between the 61st and 75th minute, their metabolic machinery tends to discombobulate, and they simply run out of breath.
This is where Donovan's Kenya theory comes in.
"The Kenyan runners who always win marathons never jog," says Donovan. "Ever." At five foot eight, he's small-boned and compact, with the intelligent smirk of a seasoned pro. "They always run at 90 percent of capacity, teaching their heart and body to endure." So Donovan never jogs. Instead, he trains at 80 percent of his maximum heart rate until he's exhausted, running through obstacle drills, lifting weights, and teaching his body "recovery endurance" through a sequence of sprints and rests. Then he chases all that with a team scrimmage that lasts up to 90 minutes.
This ability to push yourself to the brink of collapse and then recover quickly is essential for aerobic endurance, but Donovan has seen even greater benefits: Now that he no longer worries about his wind petering out, he can focus on the field, and his technical skills have improved as a result. "Soccer's a mental game," he explains. "To keep your concentration, to make the plays, you need equilibrium between the cardiovascular, the muscular, and the mental."
Natural talent comes in handy, too. Raised in Southern California about an hour east of L.A., Donovan was five when he scored seven goals in his first youth-league game. In 1999, at 17, he graduated from high school and went to play for Germany's Bayer Leverkusen pro team. At the time, the MLS was just three years old and notorious for being the globe's worst league; the only way to earn a living playing soccer was to cross the Atlantic. After spending a miserable year warming the bench, Donovan came home to join the MLS's San Jose Earthquakes in 2001. In 2005, he joined the Galaxy.
Back on home turf, he discovered that peak form isn't just about scoring goals; it's about experimenting with fitness strategies and making your own rules. "When I finally did yoga for the first time this year," Donovan says, "there were chubby guys in the room kicking my ass. Yoga is intense; it's muscular. But there is nothing better than flexibility." He's also become a food autodidact. Raised in the era of carbo-loading and pasta parties, Donovan has renounced monomaniacal food-group consumption for a more well-rounded menu of fresh fish, fruit, and broccoli. "I found out Michael Jordan ate a 20-ounce steak before each game," he says. "This year I started balancing carbs with protein before a game and I've had unbelievable energy every time I step on the field."
The star is finding balance off the field, too. After six years away from home, Donovan has settled back into a familiar SoCal routine, living in a Manhattan Beach bungalow with his fiancée, 29-year-old actress Bianca Kajlich, and their three dogs and cat. He dreams of soccer—and putting the dark-horse Americans on the map. "In countries like Brazil, the best athletes are playing soccer," he says. "Meanwhile, in America, the best athletes are playing football, basketball, and baseball. Soccer isn't close to its potential yet, and that's where growing the game comes in.
"I keep in mind that famous Joe DiMaggio quote," he adds. " 'Always swing for the fences at practice in case the kids are out there.' "
---
Five-Star Fuel
Trim the flab and generate all-day energy by tuning your menu to your metabolic clock.
—By Monique Ryan
We've all seen those guys who spend $400 on a bike seat four ounces lighter than their old one, only to have five pounds of fleshy love handle roll over their shorts when they sit on it. Extra weight slows you down, whether it's in your gear or on your body. But it's not only how much you eat that determines what's stored and what's burned; it's how you eat. Downing too much at once—think of a typical dinner—is like trying to overfill your car's gas tank. That's why nutritionists have been trying for years to free us from the tyranny of three meals a day. To dial in your meals and snacks at the right time, you have to understand the ebb and flow of your body's metabolism and fuel demands, then put that knowledge into practice with an eating plan that makes the most of it. Follow our guidelines below and the schedule on page 80 and you'll have the engine and energy stores for whatever comes your way.
Know Your Metabolic Flow
Your body requires hundreds of calories a day just to breathe, pump, and process at rest. Referred to as your resting metabolic rate, this daily burn is a direct function of your weight, particularly muscle mass, though genetics also plays a role. But your metabolism gets little boosts throughout the day from factors as varied as exercise, stress, and temperature. Even digestion itself provides a small spike.
Muscle Mass: No factor has a greater impact on your resting metabolic rate than muscle mass, since muscles are constantly burning calories. Strength training provides a metabolic boost by building muscle, which can help offset the decline in metabolism that comes naturally with age.
Exercise: A focused hour at the gym easily adds a few hundred calories to the outbox of your energy-balance equation. Combine cardiovascular and strength training for a steady metabolic burn.
Sleep: When you sleep, your metabolism falls by about 10 percent. But maintaining core body functions (heart, brain, lungs) drains your liver of its carbohydrate supply, and by morning your fuel gauge is on empty. Eating breakfast revs up your metabolism and helps you think more clearly by restocking your glucose—your brain's main source of fuel. It's this daily flux that makes meal timing so important. Replenishing with steady eating throughout the day maintains glucose levels and staves off hunger.
Timing Is Everything
While the best meal timing is different for everyone, there are a few important considerations. "After eating, we sustain a normal blood-glucose level for about three hours, four hours at most," says Dan Benardot, a sports nutritionist at Georgia State University's Laboratory of Elite Athletic Performance. Then hunger sets in, and you eat inflated portions. "But a single meal may exceed your body's capacity to optimally handle that amount of calories at one time," says Benardot. As a result, the excess calories go to storage (as fat), not fuel (in the muscles and liver).
Breakfast: Don't skimp. This meal sets the tone for the day, so make it count. Whole grains, fruit, and skim or soy milk are a winning combination, and can even be supplemented with protein, such as egg whites or peanut butter.
Lunch: Eat on time and look for a balanced intake of lean proteins, whole grains, a few veggies, and healthy fats.
Dinner: This shouldn't be a feast but, rather, a nutritious finish to round out your day.
Snacks: Midmorning and midafternoon eats fight the hunger pangs that can wreak havoc with your lunch and dinnertime choices and portioning. Also, when you go for longer periods without eating, your body switches from using fat and carbs as your primary fuel sources to burning up your hard-earned muscle as well. So smart snacking can actually help you maintain all-important muscle mass. As always, though, keep it healthy: "Snack" and "candy bar" are not synonyms.
Before Exercising: Food intake should be timed to your workouts. If you can't stomach a real breakfast before a morning workout, down a small glass of juice, a banana, or an energy bar. Make sure that your evening workouts run on good fuel by eating something a few hours beforehand.
All-Day Hydration: A good nutrition plan involves a hydration strategy. Don't worry about how many glasses or ounces you're drinking throughout the day, and don't worry about making it all water. Flavored waters and juices are fine. You know you're properly hydrated when your urine is pale to clear.
Myths
1. Eating after 8 P.M. Promotes Weight Gain 
Wrong. As with any other time of day, it's fuel demands, food choices, and portions that count.
2. Morning Workouts Should Be Done on an Empty Stomach
Nope. Unless you've taken in a bit of fuel before you exercise, you won't be able to push your body nearly as hard. So, from a conditioning standpoint, you're missing out.
3. Frozen Vegetables have Fewer Nutrients than Fresh Ones
Not necessarily. Produce can be stored for only so long before it starts to lose nutrients. Vegetables frozen immediately after harvest will contain more nutrients than ones that have spent a week in your crisper.
4. 98 Percent Fat-Free Means Just 2 Percent of Calories Come from Fat 
Wrong again. Those numbers refer to weight, not calories. Because a gram of fat contains more calories (nine) than, say, a gram of protein (four), the percentage of calories from fat can be much higher. Make sure you read the labels.
---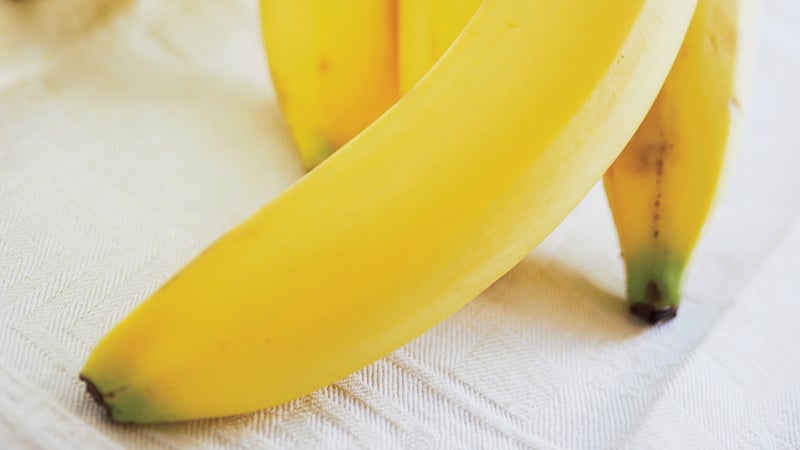 The Day In Food
An hourly plan to keep you fit and fueled.
2,500 Calories
For a 160-pound man who exercises about one hour per day
7 A.M.
3/4 cup granola 
8 oz soy milk 
1 cup berries 
8 nuts 
3 egg whites
10 A.M.
6 oz yogurt 
12 nuts 
1 medium fruit (like an apple)
1 P.M.
5 oz lean protein (from sources such as poultry, fish, or very lean red meat) 
2 slices whole-grain bread 
4 slices avocado 
8 oz carbohydrate-rich soup (beans, rice, or noodles) 
1 cup raw vegetables
4 P.M.
1 medium fruit 
1 oz pretzels
7:30 P.M.
6 oz lean protein 
1 cup steamed vegetables 
2 servings whole grains 
4 tsp mono-unsaturated fat (from sources such as olive oil, avocados, or almonds)
9:30 P.M.
1 cup fruit 
1 cup frozen yogurt
2,000 Calories
For a mildly active man who wants to lose weight or an active woman
7 A.M.
1 cup oatmeal 
8 oz skim milk 
1 cup berries
6 nuts
3 egg whites
10 A.M.
6 oz yogurt 
12 nuts
1 medium fruit
1 P.M.
3 oz lean protein
2 slices whole-grain bread
3 slices avocado
8 oz carbohydrate-rich soup
1 cup raw vegetables
4 P.M.
1 medium fruit 
6 whole-grain crackers
7:30 P.M.
5 ounces lean protein
1 cup steamed vegetables
1 serving whole grains
3 tsp mono-saturated fat
---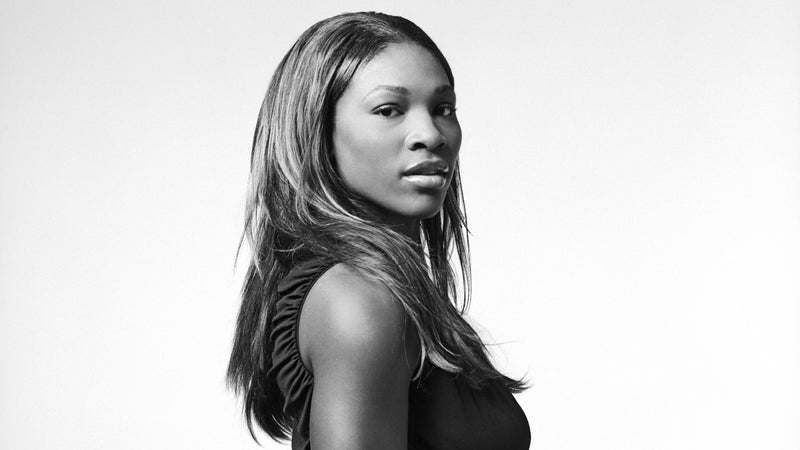 Boost Thyself
Get off the couch and recharge the right way with active recovery.
—By Adam Skolnick
It happens to every athlete: You finish a workout and, instead of feeling invigorated, you contemplate checking into a nursing home. But while rest can be restorative, the surest methods to recover your mojo—and bolster your bod against sports injuries—don't involve beers and TiVo. Active recovery is an essential part of any conditioning plan. And as an increasing number of pro athletes are discovering, the best treatments for staying on top of your game come from the realm of alternative health. The trick is matching the cure to your complaint.
Yoga
Try if: You've lost your groove and feel mentally fatigued.
How it works: Developed in India, this ancient combination of postures (asanas) and breathing techniques (pranayama) has run rampant in the States for a reason: Nothing beats it for mind-body wellness. Asanas include seated twists and hip openers to reduce lower-back tension, standing postures to strengthen quads and calves, abdominal work to build core strength, and inversions to develop the upper body and improve coordination. Deep breathing throughout elevates oxygen flow, centering your mind and increasing circulation and flexibility. "Most sports increase tension in muscles and joints," says Ashley Turner, an L.A.-based yoga instructor who leads retreats for surfers and snowboarders. "Yoga wrings that tension out."
Frequency: Two 90-minute classes a week.
Who does it: Serena and Venus Williams, Kevin Garnett.
Acupuncture
Try if: You're suffering from acute or chronic pain.
How it works: This 5,000-year-old form of Chinese medicine is lauded for its effectiveness at reducing pain and swelling, loosening tight muscles, and improving circulation. After a preliminary exam, the acupuncturist will insert cactus-spine-thin needles—which typically go an eighth- to a half-inch deep—at precise points along the 12 energy channels, or meridians, to clear "blockages" thought to be linked to discomfort and disease.
Frequency: For acute pain from an injury, three sessions a week for two weeks; for general wellness, once a month.
Who does it: Shaquille O'Neal, Matt Hasselbeck.
Pilates
Try if: You don't trust your limbs after an injury.
How it works: A hybrid of yoga and calisthenics, Pilates is based on the concept that a strong core is the key to full-body stability. Using spring-tension machines (sounds scarier than they look), you'll elongate and strengthen big muscles like the quadriceps and glutes, tone the local muscles in your shoulders, and build abdominal and pelvic strength. "When your core is integrated with both your global and local muscle groups," says Santa Monica, California, instructor Marcee Friedman, "they'll work together in a balanced way, which stabilizes your joints and helps you move more efficiently."
Frequency: For injury recovery, three times a week; for maintenance, once a week.
Who does it: Curt Schilling, Tiger Woods.
Rolfing
Try if: You keep getting injured.
How it works: Developed in the fifties, Rolfing is a manipulation of the fascia tissue, the cartilaginous substance that surrounds muscles. By using a variety of firm and gentle hand-pressure techniques to elongate the fascia throughout the body, Rolfers enable the skeleton and muscles to slip back into their natural alignments so you can move the way you're supposed to. The result: You'll suffer fewer injuries and heal faster. Even better, "athletes get a bump in performance because their whole body works better," says Jeffrey Maitland, former team Rolfer for the NBA's Phoenix Suns.
Frequency: For optimum alignment, ten 90-minute sessions over the course of ten weeks.
Who does it: Randy Moss, Phil Jackson.
Tai Chi
Try if: You feel underpowered and unfocused.
How it works: This ancient Chinese martial art consists of linked, slow-motion poses—one-legged stands, twists, and kicks—that teach you to quiet your mind and utilize the natural flow of energy, or chi. "Instead of isolated motions, you'll move from your core and thus harness more power with less effort," says Jeff English, a Santa Fe, New Mexico–based tai chi and tennis instructor. You'll also learn to concentrate on your breathing so you can turn off all that distracting inner dialogue—"I should have worn my other shoes!"—and focus on the task at hand.
Frequency: Two to three times a week with an instructor, then solo once you have the moves down.
Who does it: Yao Ming, Jet Li.
Thai Massage
Try if: You're toasted from a major competition.
How it works: Passed down by Buddhist monks, Thai massage blends elements of acupressure (acupuncture with fingers) and yoga. Think of it as intensive stretching class, except that your teacher moves your body for you while using his thumbs, hands, elbows, knees, and feet to dig into your key pressure points. "The simultaneous stretching and compression increases energy flow and range of motion, soothes tense muscles, and eliminates toxins," says Kimberly Call, a Thai-massage therapist and instructor in San Francisco. You might feel like a puppet, but you'll rebound that much faster.
Frequency: A two-hour session after intense training or competition.
Who does it: Rochelle Ballard.
---
Mind Mastery
What's the difference between the pros and the poseurs? Believing you can.
—By Joe Lindsey
"I don't think natural athletes exist," says K. Anders Ericsson, a professor of psychology at Florida State University and co-editor of Expert Performance in Sports. It's a bold statement, but after 25 years of researching how we sharpen our skills in athletics and a broad range of other fields, including music and academics, Ericsson has concluded that elite performers aren't born, they're made.
That doesn't mean we all have what it takes to be the next Lance or Tiger. DNA perks like longer legs or an abnormally large heart offer some athletes significant advantages. But Ericsson and a number of experts in other fields argue that few of us make the most of what we've got. The problem, whether we're surfers or skiers or golfers, is that we pick up the basics quickly, then hit a plateau where getting better starts to feel much harder. At this point, we assume we lack the innate talent to make it to the next level and submit to a future of mediocre performance.
"Ninety-nine percent of people, once they learn how to do something, stop improving," says Ericsson, who claims that competency in many recreational sports can be reached in as few as 50 hours. The secret to elevating your game to the point where you're winning instead of just playing, he says, is simple: practice. Which, as most of us tend to forget, is different from just participating. Practice requires the sort of frequent and diligent skills repetition that we usually ditch once we get comfortable with a sport's basics. Play pick-up basketball three days a week and you'll coast along with little progress; take the time for ball-handling, rebounding, and jump-shot drills and you might become the king of your local court. The good news is that it doesn't take very long Ericsson claims that expert-level skills are attainable in as few as 200 hours.
Based on analysis of dozens of studies looking at such topics as how people become faster runners, smarter chess players, and even use strength training to alter their muscle-fiber type (from slow-twitch to fast-twitch), Ericsson has devised a simple strategy for improving your skills regardless of your game called Deliberate Practice (see "Going Up," below). This type of disciplined approach is what makes the difference between the Lairds and the left-behinds.
And you can practice your own way, too. Brazilian-born pro skateboarder Bob Burnquist, 29, had never heard of Deliberate Practice, but he seconds the concept. He's mastered an astounding repertoire of complex, stylish moves by breaking them down into steps and then repeating them over and over and over in his daily skating. "When I make a trick, that doesn't mean I've learned it just that I did it," says Burnquist. "You've learned it when you can do it every time. That's when the muscle memory is created."
For Burnquist, the key to developing any kind of elite skill is passion. "I grew up asthmatic, but I wanted to skate so bad, nothing else mattered," he says. "Once you find something you love, that's when nature I'd say even providence begins to work for you."
Going Up
Professor Ericsson's Keys to Deliberate Practice
Set a Goal: Identify a specific skill you want to improve say, your tennis backhand or a kayaking roll.
Practice: Design a detailed plan for improvement. Break the skill into its components, then address them in a logical progression of drills (e.g., foot position, racket grip, stroke), perhaps with coaching guidance.
Critique: Analyze your advancement. If you're not getting better, consider a new practice plan or a new coach. Don't move on to a new skill until you've reached a consistent success rate.
---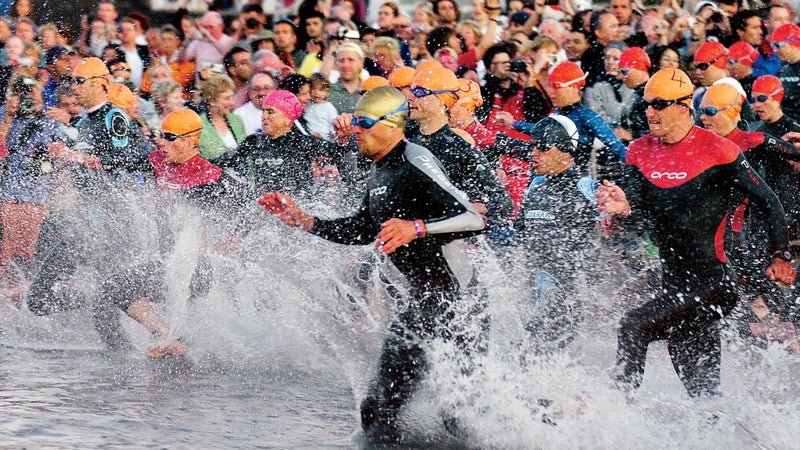 The World Awaits
Take that unbeatable new body on tour at one of these global competitions.
—By Kimberly Lisagor
July 1
South Africa: Big Five Marathon
The official start time for this hilly run through 46-square-mile Entabeni Private Game Reserve depends on the whereabouts of the resident lions, who have a habit of lingering around the starting line. Rest assured that the 30-plus armed park rangers will keep the toothy kitties at bay. $140; Albatros Travel, 011-45-36-98-0000, www.big-five-marathon.com
Difficulty: Challenging
Crash here: Albatros will book weeklong stays at the Wildside Tented Camp or the more luxurious Lakeside Lodge. $1,390 per person (camp), $1,490 per person (lodge); 011-27-12-470-5300, www.entabeni.co.za
July 29
Hawaii: Rim Run
As you race around the Big Island's Kilauea caldera, don't be alarmed by the heat-blasting steam vents. They're a common occurrence in Hawaii Volcanoes National Park, where the ten-mile course takes you from road to trail to lava flows. $40; Volcano Art Center, 808-985-8725, www.volcanoartcenter.org
Difficulty: Moderate
Crash Here: At the park-adjacent Volcano Rain Forest Retreat, follow the mossy trails to cedar guest cottages, some outfitted with private outdoor soaking tubs. Doubles, $140–$260; 800-967-8222, www.volcanoretreat.com
October 21
The Caribbean: Bonaire Ecoswim
Thoughts of snoozing under palm trees on one of Bonaire's beaches will rev up your flutter kick as you freestyle with some 100 other racers along the island's coral-fringed coastline. The 10K, 5K, and one-mile out-and-back courses pass through the clear and often deep—more than 600 feet in places—waters of the Bonaire Marine Park, home to sea turtles, clown wrasses, and octopuses. $75; Aqua Moon Adventures, 954-821-3294, www.aquamoonadventures.com
Difficulty: Challenging
Crash Here: The Deep Blue View B&B resembles an opulent Mediterranean villa. Doubles, $150–$295; 011-599-717-8073, www.deep-blueview.com
January 6
Italy: La Ciaspolada
In the winter of 1973, 18 snowshoers staged a 5K race through a Dolomite-rimmed valley in northern Italy's Trentino province to commemorate the long-gone era when ciaspoles (snowshoes) were the only mode of transport. Today, the route still begins on the Val di Non plateau in the town of Romeno and finishes in Fondo— and the tradition has caught on: Last year the number of participants topped 6,000. $10; Società Podistica Novella, 011-39-463-830-180, www.ciaspolada.it 
Difficulty: Easy
Crash Here: The Hotel Stella delle Alpi, a friendly pension with spectacular views of the surrounding valley. Doubles, $55–$68; 011-39-463-880620, www.stelladellealpi.it
February 9–10
New Zealand: Speight's Coast to Coast
Our advice for tackling this grueling four-stage adventure race across the South Island? Leapfrog it with a friend. Stage one is a two-mile warm-up run followed by a 34-mile bike. Next: an unrelenting 20-mile trail run over Goat Pass. After cycling downhill nine miles, stage three serves up 42 miles of paddling, including a stretch of Class II whitewater in the Waimakariri River Gorge. End with a 43-mile cycle cruise to the finish at Sumner Beach, a surfers' haven just outside of Christchurch. $506; Speight's Coast to Coast, 011-64-3-348 3282, www.coasttocoast.co.nz
Difficulty: Strenuous
Crash Here: The Wilderness Lodge Arthur's Pass offers plush accommodations with private hot tubs. $220–$424 per person; 011-64-3-318-9246, www.wildernesslodge.co.nz
March 24
Honduras: Bay Islands Triathlon
This Caribbean-island triathlon bills itself as a four-sport race: "swim, bike, run, relax." To help you embrace the final event, Roatan's lively palapa-style bars along West Bay beach offer fruity rum cocktails and reggae. But first you'll have to swim a 1.5K in bathtub-warm water, bike a 40K on steep asphalt roads, and run a 10K along shady dirt trails and paved back roads. $95; Bay Islands Triathlon, 888-634-8776 (ext. 11), www.bayislandstriathlon.com 
Difficulty: Challenging
Crash Here: Snag a two-person beachfront (and air-conditioned) villa at the Mayan Princess Beach Resort for the racer's discount rate of $176. 011-504-445-5050, www.mayanprincess.com