All Systems Go
Travel can be a minefield of fatigue, jet lag, strange food, and fitness regimens shot to hell. It doesn't have to be that way. With our road-warrior plan, you can fight back—and win.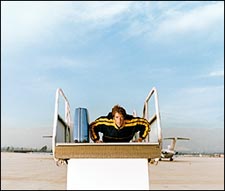 Heading out the door? Read this article on the new Outside+ app available now on iOS devices for members! Download the app.
BUYING A TICKET to the far side of the planet is easy. But before you hit the good stuff—wild adventures, amazing landscapes, exotic cultures, and fresh encounters—you've got to cope with the inevitable stress, exhaustion, and disorientation of getting there. Happily, a flurry of emerging strategies, new research findings, and time-tested wisdom is converging toward a bulletproof plan of action designed to minimize travel's downside and maximize your dream trip.
Jet-Set Yoga
To see the secrets of escaping the agony of economy class via a flash-animated in-flight yoga program
CLICK HERE
Health And Fitness For The Traveler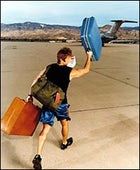 TICKET TO RIDE: A short preflight jog helps you sleep en route—so you'll feel better when you get there.
Health And Fitness For The Traveler

SCHEDULED MAINTENANCE: Push-ups will keep you fit anywhere.
RAMPING UP
Don't wait until the boarding call to start your journey on the right foot. A smart pre-departure checklist can make or break your crucial first day in transit.
— Paradoxically, starting out tired will help you arrive energized. Go with the recommendation of Ken Husband, of the Berkeley, California-based tour company Backroads: "Go for at least a one-hour bike ride, or other workout, right before your trip. Then get on the plane tired and sleep like a baby." Expedition climber Conrad Anker advises pulling an all-nighter: "I stay up all night before departing to increase my chances of falling asleep on the plane."
— Sleep medication can be your friend. Dr. William Forgey, author of Traveler's Medical Resource, recommends a mild prescription sleep aid like Ambien. "It's short-acting, so there's no hangover, which makes it excellent for travelers."
— Try a melatonin supplement; it's the same hormone that your body uses to adjust your circadian rhythm. "If you're traveling from west to east, take half a milligram of melatonin the night before your flight to advance your body clock," says Dr. Jian M. Ding, a neuroscience specialist at East Carolina University. "When traveling east to west, take it during the day."
— Make the terminal your low-key gym by turning your wait into a gentle workout before you amble down the jetway. Stretch or walk, but don't just sit there. That's what the plane's for.
IN-FLIGHT INSIGHT
Don't be a passive passenger. Staying active and food-smart is just as important at 30,000 feet as it is at sea level.
— Recent concerns about the danger of deep-vein thrombosis (DVT)—potentially fatal blood clots that can form in the legs after prolonged sitting—underscore the importance of keeping limbs limber and blood flowing. Any kind of stretching and movement is fine, but customized yoga moves can be done right in your own cramped seat. Self-massage is another option. Doug Friman, a top-ranked U.S. triathlete, puts a bar with three wooden rollers in his carry-on. "I run it over my legs after napping," he says.
— Everyone knows you should drink lots of water when airborne to counter the plane's moisture-sapping environment, but not many realize that one key benefit is—pardon the expression—immunity-bolstering snot. According to Dr. David Martin, chairman of marathon development for USA Track & Field, "in that dry environment, you need H2O to produce mucus, which helps prevent viruses picked up from your hacking seatmate from making you sick." And, of course, rich airline food is probably best avoided. Martin tells his runners to nibble on slices of apples and pears throughout flights lasting longer than a couple of hours. "Your stomach is used to a three-meals-per-day routine," Martin says. "By eating every couple of hours, your body no longer knows that it's missing a meal."
BEYOND ARRIVAL
The first hours and days in-country are the most critical part of the rest of your journey; managing this transitional period is essential.
— Sweat first, snooze later. "After resetting your watch," says former U.S. Olympic marathoner Keith Brantly, "commit to staying awake until bedtime." To help you fight sleep and acclimatize faster, do some kind of light exercise on day one. As Martin explains, "a run will help return you to a normal lifestyle pattern and sync your body to local time."
— When in doubt, don't drink the water. "Just because the hotel is clean and modern doesn't always mean the tap water is friendly," says mountain guide Dave Hahn, who uses bottled water even to brush his teeth. Meanwhile, wash your hands more often than a doctor making rounds; and pack an antibacterial gel, like Purell.
— Finally, resume your exercise regimen as soon a possible, but dial it back and take it easy. Book hotels with pools or gyms and consider squeezing a jump rope into your duffel.
Stick to all of the above and you'll be primed for job number one: having a certified kick-ass trip of a lifetime.