Get Your Game On
Pass the summer splash test with these rowdy water fitness contests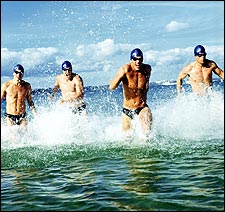 Rhydian Lewis/Getty
Heading out the door? Read this article on the new Outside+ app available now on iOS devices for members! Download the app.
In these sweltering months, every river, lake, and ocean beckons with a simple and refreshing promise: a soaking good time. Listen up, swimmers, boaters, and surfers: We're here to add even more fun to your agua sports and fitness regimen. We've got five insouciant competitions that will polish your water skills—and supply far more fun than playing Marco Polo in your neighbor's pool.


Whitewater Kayaking
The Game: Sure, meandering down a calm stretch of river is idyllic and all, but it can get old fast. Kill the boredom with a classic game of KEEP-AWAY by using your paddle as a racket and slapping a tennis ball around with your kayaking mates. "The ball seldom goes where you want it to," says Wayne Dickert, instruction manager at the Nantahala Outdoor Center, in Bryson City, North Carolina, "so you'll have to paddle across the river or upstream to chase it—or your opponent—down." You'll learn to navigate with dexterity, a skill that's hard to pick up when your kayak is set on "float."
The Rules: You need at least two teams of two, with everyone wearing helmets—because nobody likes getting whopped upside the head. Commence play by trying to start a paddle volley with your teammate. (The key word here is try.) Your goal is to keep the ball moving between you and your mate while the other team tries to poach it. If rapids appear, we recommend that you tuck the ball and focus on the task at hand—namely, the hydraulic dead ahead.
Swim Smarter
To improve your speed and endurance in the water and get tips for perfecting your form
CLICK HERE
.
Open-Water Swimming
The Game: Whether it's a triathlon or a straight-up race, the start of any open-water competition resembles a rugby scrum: You have to keep your cool and maintain your stroke rhythm while other people pummel you. Lance Watson, an elite multisport coach for Carmichael Training Systems, in Colorado Springs, Colorado, recommends THE SCRUMBLER, a game that mimics the starting line's mosh-pit conditions.
The Rules: Grab three to five friends and set off as a group across a lake or pool at an average pace. Immediately, do your best to foul one another's rhythms: Swim over legs, mash your elbow into someone's back—in short, treat it like an aquatic game of bumper cars. Warning: Try to avoid taking a foot to the chin. The object is to move forward, not to drown one another. Continue for about 130 strokes and then rest. If you're still all friends, repeat. After a few rounds, you'll be ready for any race—or a brawl at a swim-up bar in Cancún. Whitewater Rafting
The Game: A good rafting crew relies less on deft paddling skills than on teamwork and boat awareness. Mark Fixter, a whitewater guide with River Odyssey West, in Coeur d'Alene, Idaho, likes to use THE TRUST WALK—a balancing drill performed right after he launches a boat—to size up how well his clients will work as a team, and also to get 'em wet.
The Rules: On a flat stretch of water, have a crew of at least six stand up on the sides of the raft, side by side in a circle, with arms linked. Slowly begin to move along the edge in one direction; the goal is to rotate around the wobbly raft without the circle becoming unlinked—or somebody tumbling into the drink. "In order for it to work, everyone has to move at the same pace, calmly and smoothly," Fixter says. "It's rare that a crew can make it around once." Even if everybody swims at some point during the walk, the drill isn't a wash. "At least you'll know who will be the first to fall out of the boat in the rapids," says Fixter. But if you succeed, consider yourself and your crew dialed for the whitewater ahead.