Heavy Mettle
Triathlon is booming, with hundreds of events being added to the calendar each year and thousands of goggle-eyed newbies lining up to swim, bike, and run for the first time. But only one race still really matters. Greetings from the Ironman World Championship in Kona, Hawaii, ground zero of America's multisport madness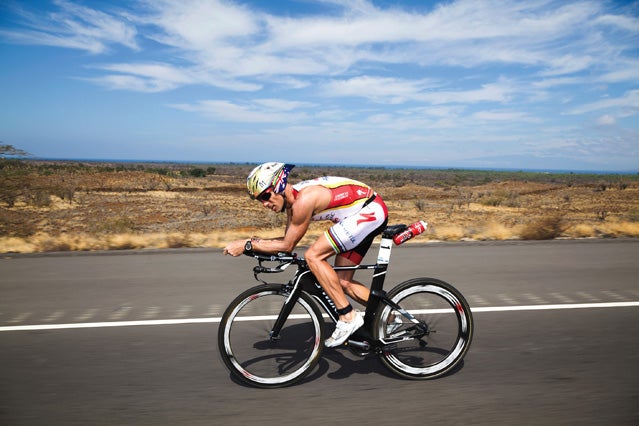 Heading out the door? Read this article on the new Outside+ app available now on iOS devices for members! Download the app.
ARRIVING, YOU SEE THEM, the Iron People, cycling on Kona's Queen K Highway in one-piece triathlon suits and aero helmets, these pilgrims' ceremonial clothes. The Outside Magazine, January 2012" target="_blank">Ironman World Championship is the hardest major race in the world: 2.4-mile swim, 112-mile bicycle ride, 26.2-mile run, all in the shadeless tropical heat. Yet the event is filled with unlikely apostles: mothers of young children, three-limbed amputees, octogenarians, all ticking Kona off their otherwise divergent bucket lists because of a fascination for what's difficult. Because marathons have been ruined by people who think it's fine to walk. Because life is too easy and Everest is too far away.
Chrissie Wellington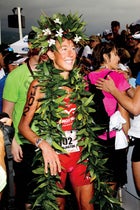 Just-crowned Ironman world champion Chrissie Wellington
Scenes from race day

Scenes from race day
Scenes from race day

Scenes from race day
Scenes from race day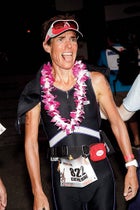 Scenes from race day
Scenes from race day

Scenes from race day
Scenes from race day

Scenes from race day
Scenes from race day

Scenes from race day
The Ironman was not supposed to be for everybody. It was supposed to be for nut jobs. Twelve people finished the first, in 1978. Fifteen people competed in the second. Then, in 1982, Wide World of Sports aired pretty, limby, 23-year-old Julie Moss stumbling like a newborn giraffe across the finish line—muscles spent, personifying the ­limits of what's possible—and the race jumped. These days, each of the 27 worldwide Ironman events sells out in minutes. Ironman Asia-Pacific sold out in five. The inaugural Ironman U.S. Championship (in New York City and New Jersey) sold out in just over 11. The 60,000-plus race slots available in 2012 won't begin to slake the demand.
The 1,855 berths at the Ironman World Championship are the most coveted. The event takes place in early October on the kona—translation: leeward—or dry side of Hawaii's Big Island, in the mellow tourist town of Kailua-Kona. The swim is out and back from Dig Me Beach, a horseshoe of sand just off Alii Drive, Kailua-Kona's main street and the course's finish line. Both the bike and the run take turns through town, then head north on Queen K Highway, just inland from the island's west coast, where the monot­ony of the black lava fields is broken only by racers' names spelled out in small pieces of white coral. Athletes qualify for Kona by placing at the top of their age groups in earlier Ironman races, but the organizers do make a few exceptions. Two hundred people win slots through a lottery. Four buy auctioned spots on eBay. (Highest bid in 2011: $60,100.) The pro field includes 51 men and 33 women. Hopefuls crave slots at Kona like sinners aching to be saved.
"I needed this," racer 1136 told me on Wednesday, three days before the Saturday race start, as we were standing in the lobby of King Kamehameha's Kona Beach Hotel, the de facto race headquarters. "I needed to become the plot." To reach this point, she'd paid the $650 registration fee plus a hefty scrip in tears—a job quit, a 401(k) depleted, a marriage strained—all for the chance to cover 140.6 miles over 10, 12, maybe 17 hours and end just a few yards from where she'd started, back on Alii Drive, just past the big banyan tree.
The Ironman, in his elected habitat, is not hard to spot: he has a visor, shaved legs, no body fat, compression socks, very little clothing, maybe a tattoo of the World Triathlon Corporation's copyright-protected M-dot logo. The Ironwoman—though in the vernacular, she too is an Ironman—is not a cougar, exactly, more like a cobra: ripped, sinewy, focused, sometimes hissing, "We can do whatever you need to do, honey, ­after my bike is racked." Most arrive nearly a week early to acclimate and bask, turning Alii Drive into Burning Man for Type A++ folks, the ultimate active vacation for people who like their daily workouts detailed (3 hr bike, including 6×12 min @ 95+ RPM, HR zone 3), each training session captured, quantified, uploaded, and analyzed, all the better to achieve. Must-do items before the event include the Underpants Run (ostensibly to make fun of Europeans, who once roamed the island in Speedos, but clearly a chance to strut disrobed), a swim out for a free cup at the Coffees of Hawaii catamaran, trolling the expo, maybe scoring a little cattle colostrum (yes, colostrum, the hyper-nutrient-rich liquid from a mammal's breasts after pregnancy, to boost the immune system and abet recovery), and generally reveling among other people who understand what the hell you're talking about when you say nutrition is the fourth discipline of triathlon and who don't think it's weird that you're strolling around wearing your heart-rate monitor and not much else.
    
THE DAYS LEADING UP TO the race are a frenzy. By Thursday, Alii Drive is choked with a thousand-plus hardbodies shopping for skin suits, Garmin watches, Reynolds wheels, and PowerTap power meters. The Iron families descend on Lava Java. The Iron Prayer services start. ("I can do all things through Christ who strengthens me," Philippians 4:13.) That morning, Dave Scott, six-time Ironman world champion and coach to Ironman queen Chrissie Wellington, drives his son, Drew—who is 21 and for two more days an Ironman Kona virgin—north along Queen K Highway and inland up to Hawi to scope the bike course.
"In here keep it smooth, relax your toes," Scott Sr. says as we pass the airport, eight miles outside town.
A little later: "Here you're 20, 40 miles into the race, and the novelty of being in an Ironman begins to wear off."
In Hawi—a spacey metropolis of about 1,000 people, with avocados for sale in self-serve baskets by the side of the road—the highest point of the race, Scott overshoots the turnaround. ("I haven't been up here in a long time.") His phone is ringing nonstop: athletes stressing over minutiae, his teenage daughter, his sister, his ex-wife. "I'm ­going to die of a heart attack from ­emotional ­distress," Scott says a few hours later as he parks in town. And this is even before the welcome banquet begins behind the King Kam hotel, a sort of revival meeting for endurance freaks, with fire-­eaters, hula dancers, and blaring rock ­anthems. The World Triathlon Corporation is hell-bent on inspiring. It's as if Disney took over AA. The emcee calls Ken Glah, who's competed in 27 consecutive Ironman Hawaii races, to stand for the crowd. Soon after: Lew Hollander, on his 22nd Kona start, at age 81.
The message: You will do this. Ironman will change your life.
Friday, the day before the race, is reserved for neurosis and vegging. "Some athlete's ­going to call me and say, 'We didn't talk about if I'm going to take my right shoe or left shoe off first,' " Jesse Kropelnicki, coach to pro Cait Snow and others, jokes outside Huggo's restaurant. (He'll try to dodge the question, lest someone takes off a right shoe first and ­decides 20-plus hours a week of training have come to naught.) Mirinda Carfrae, the ­defending women's champion, sits in her condo, in front of a fan, watching ­Jersey Shore. Luke McKenzie, another Australian pro, punctuates his naps with snacks. By dusk, Alii Drive is deserted. No more panic training, not even for the most compulsive. Each of the 1,855 athletes' bikes is racked. The town is still until 4 A.M. Then, almost in unison, 1,855 slumbering hardbodies rise from their beds.
THE MORNING DAWNS solemn to trance music and helicopters. Families snap "before" pictures of loved ones, sure they'll be transformed. Sally Crawford, 64, sits on the lawn in front of the King Kam with her husband, two daughters, and two granddaughters, all in matching green team Crawford shirts. "When you run out of energy, we will be your energy," one daughter says to her mother. Then she adds, "Not that that would ever happen to you."
By 6:15, everyone's race numbers are stamped on triceps and calves. The pros collect on Dig Me Beach, the men focused as Delta Force operators; Wellington, disarming as ever, waves to the crowd. The start line is 400 feet out and patrolled by half a dozen paddleboarders and kayakers. The age-­groupers stare to sea, waylaid for now on the pier. The pro cannon fires; 84 red and blue caps take off. Then the masses file down the wide cement steps to the sand.
"Nine hundred and seventy Iron virgins here, only for a little while longer," blasts the ever present emcee. Racers take a few last nips of Gu, dance to the Hawaiian mele hula drums, cross themselves. Still sitting on a rock at 6:50 is Dustin Brady, ­number 1556, one of the last men in the water. A ­Shimano rep, he knows he hasn't trained nearly enough. But last year his fiancée died—­metastatic breast cancer. He promised her he'd do an Ironman, get himself healthy. He tucks an urn of ashes against the small of his back, then swims out to the paddleboards just in time for the 7 A.M. gun.
The race is nearly impossible to watch. To keep track of the bike segment, official spotters fan out along Queen K Highway. Injured triathlete Amanda McKenzie, a spotter and the wife of pro racer Luke McKenzie, offers color commentary: "Wow, that's brave. White shorts." But even with the jokes, the lava fields out here are existential and lonely. They say the Ironman World Championship tells you what you're made of. Mark Allen, six-time champion, hallucinated the face of his ­future shaman while racing. Heather Fuhr, who started 15 times as a pro, says, "It's all about managing your thoughts." Kona is paradise and it is hell. The course is beautiful, cruel, multipartite, and long. Maybe you can swim like Andy Potts, the first man out of the water. Or maybe you can bike like Chris Lieto, who leads the pack of 30 men up to Hawi and down again. But if you can't put it all together—if you push too hard too early and, in the term of art, blow up; if you can't knock out a 2:50 marathon—not even the spotters really care.
MIDRACE, JULIE DIBENS is crushing the women's field. At mile 38, around 9 A.M., Carfrae, the defending pixie, trails her rear wheel by nine minutes. Wellington is back 12.
Standing on the shoulder of the highway, looking as consequential as a speck in space, one of the spotters shouts to Carfrae, about Wellington, "She's behind you!" (Carfrae has never beaten Wellington.)
Carfrae, hunched over her aero bars, looks even smaller than five-three. She swivels her head and mouths, "She is?"
At 11:45 A.M., when the first riders shoot down past a crossroads called the hot ­corner, about a block from the transition zone on the pier, the day is starting to shake ­itself out. Craig ­Alexander, 38, is in second place, but he runs his first mile in 5:35. He looks smooth and on fire. Meanwhile, Wellington has ­overtaken Carfrae. They're both 15 minutes behind Dibens, but as expected, Dibens blows up spectacularly at mile eight of the marathon—even before she's finished her turn through town and headed back up Queen K Highway—cramping so badly that she's rushed to the hospital, as her husband tweets, "in a flashy car."
At seven hours and 45 minutes into the race—during the most punishing heat of the afternoon—Alexander, a.k.a. Crowie, has a commanding lead. In his bright yellow sneakers, he's cranking out a stream of six-minute miles, a faster pace than most spectators can hold for 100 yards. With a few miles to go, his race against the field is over. He's now chasing the world record, set in 1996. Crowie's quads may be screaming, but his face is handsome as ever, an impassive soldier's mask. On Alii Drive, the crowd starts hooting and blowing conch shells. The victor's pain does not evaporate, but with ­euphoria it does recede. Crowie crosses the finish line at 8:03:56 and then slumps to the ground—the world record broken, leafy garland on his head. His wife joins him, sitting on the blue carpet. His two young children climb into his lap. "I wish everyone in the world could feel what I felt in that last mile," Crowie tells the assembled. Later, in private, he says of his family, "At the end of that day, they're the only ones you want to see."
Other men trickle in. Andy Potts, the first American, throws a shaka and then, delirious, starts walking back toward the racecourse. Marino Vanhoenacker, world-record holder in the Ironman distance (set this year at Ironman Austria), places 36th, not aided quite enough today by what one spectator called "the field's most aerodynamic nose." The volunteer "catchers" help the racers finish with dignity, one under each armpit, preventing embarrassing falls. Shortly before the nine-hour mark, Wellington, age 34, arrives, victorious, Union Jack flying over her knock-kneed run. She's crying and a bit disoriented, and can't seem to land the winner's garland on top of the sunglasses she's tucked in her hair. As always, she smiles her happy-go-lucky smile. But make no mistake: Wellington is a killer. She's won each of the 13 Ironman races she's started, and she's been narrowing the gap between the male and female winning times, down from between 9 and 11 percent in most track-and-field events to just 6 or 7. "This race means more to me than ­anything," ­Chrissie, as she's known to all, says to the gathered. For a good ten minutes, she lingers at the ­finish line, hugging people: her parents; Carfrae, who arrived less than three minutes after Wellington; the catchers; the race orga­nizers; her boyfriend, the triathlete Tom Lowe. She loves it here and clearly hates to leave, even for a shower. Before going, Chrissie grabs the mic one last time. "I want to say to my coach, Dave Scott: I just need two more wins here and I'll catch you up."
THE FINISH-LINE RUSH of age-groupers starts late afternoon. Between 4:30 and 5:30—ten and a half to eleven and a half hours into the race—an Ironman is minted every six seconds. Yet even in the bustle, the finish line is deeply personal, a crossing over. Like door hosts at the pearly gates, the catchers ask athletes orienting questions. ("What's your name?" "Where did you qualify?") Then they are escorted back to the transition zone, where each new Ironman is doused in ice ­water and offered flat Coke; deposited, if need be, in the medical tent (IVs and ice baths for the worst off); or taken to the Shangri-La of the King Kam's lawn. This truly is the after­life for triathletes: adoring families, pizza and ice cream, 60 volunteer masseuses, and white-sheeted tables available for free ­massage. Each Ironman here has tested himself in the birthplace of his sport, on the same course and the same day as the pros. As one explained the masochistic allure, "When you override those feelings of fatigue, you realize anything is possible."
The real Ironman fervor is saved for the end, 10 p.m. to midnight, and the race's last finishers. The mood on Alii Drive is Pentecostal. The throng, now a thousand thick, grows more heated and more ­ecstatic as the night wears on. Everyone admires Chrissie and Crowie. But they are not us. Most days we do not sprint to the finish and break the world record. Most days we are the people still out there 15 or 16 hours into the race. The people persevering. The ones who don't feel as hard or as invincible as they'd like to be. The people who've had a tough day.
At the corner of Alii and Hualalai, just up from the finish, styles of suffering are on display. The race passes through this spot three times—once on the bike, twice on the run. Here, in the dark, late at night, some people shuffle, rigid as robots. Others grimace. Most are bent at the waist. Nobody is elegant, ­nobody is lovely. But there is grit and grace.
Nearing midnight, the race cutoff, ­Chrissie and Crowie return to the finish line to dole out Ironman leis. The inspirational rock and hip-hop are deafening. PR flacks wheel out suitcases of swag, then run up and down the racecourse throwing T-shirts, PowerBars, and water bottles, frothing up the crowd. The whole town is cheering, maxing, ­ecstatic. Chrissie eats a hamburger and dances; it feels like a giant rave. Eventually, the emcee tells the assembled that three 80-year-old men are approaching, each running within a few minutes of the other. Alii Drive goes wild. Tomorrow morning the steeliest—or perhaps just craziest—of the Iron People will be back out on Queen K Highway, in M-dot tattoos and compression socks, running and riding in the heat. But for now, everybody knows why we have come: not to prove ourselves but to believe.