How Can I Achieve "Balance" While Crushing It in Sport?
We caught up with Jesse Thomas to chat about how he holds it all together and to learn about some of the practices underlying his success both on and off the course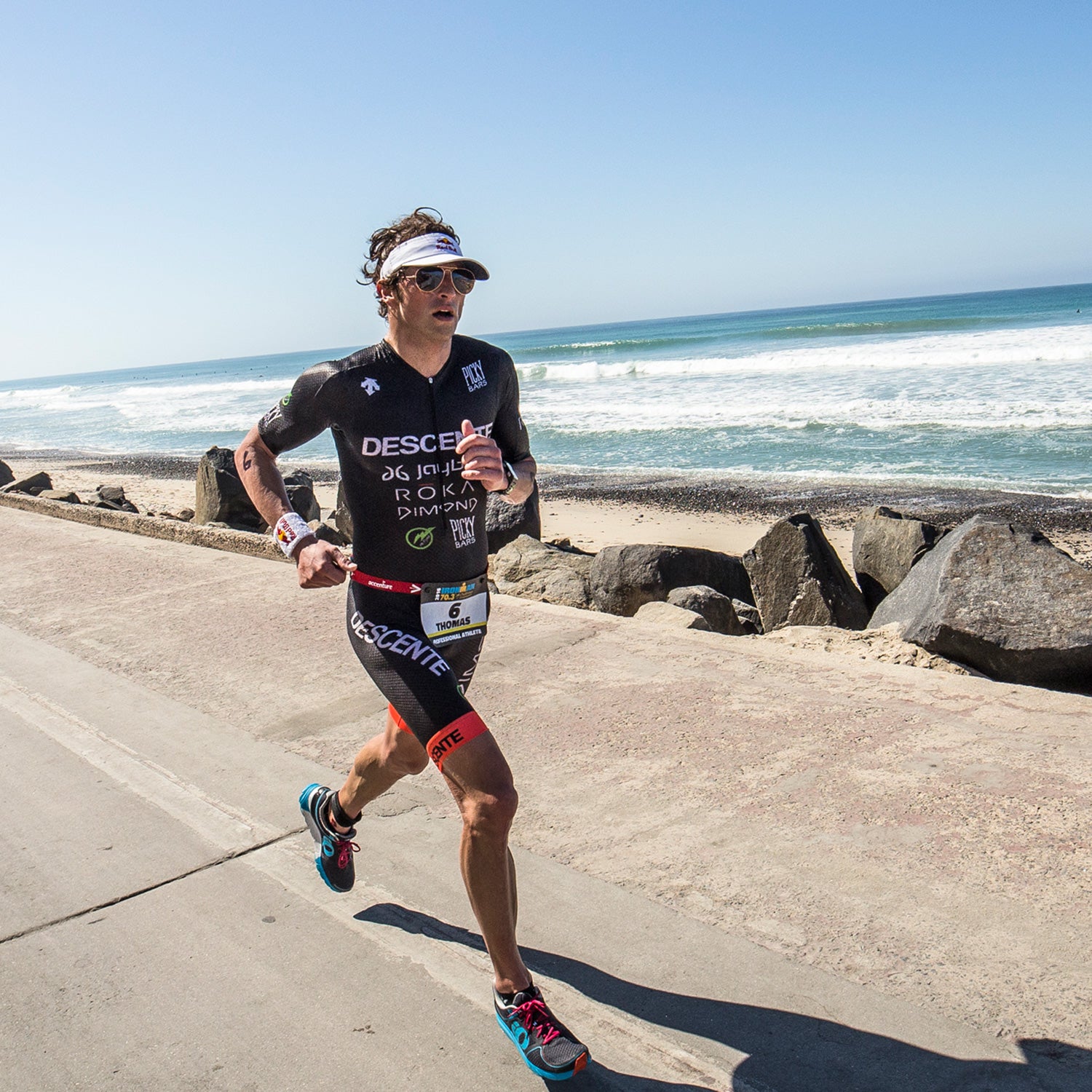 Heading out the door? Read this article on the new Outside+ app available now on iOS devices for members! Download the app.
On April 30, 2016, in Bradley, California, Jesse Thomas handily won the iconic Wildflower Triathlon for the sixth consecutive time, a remarkable feat in sport where many top pros struggle to simply stay healthy for six years. When he isn't winning prestigious races, the long-course triathlete from Bend, Oregon, works as the CEO of Picky Bars, a "real food" energy bar company he co-founded with his wife, Lauren Fleshman, and Stephanie Bruce, both pro runners. It's fair to say that Thomas—who's also a new dad and writes for national triathlon magazines—is a modern-day renaissance man.
We recently caught up with Thomas to chat about how he holds it all together and to learn about some of the practices underlying his success both on and off the course.
Favorite Workout: There is nothing I look forward to more than a long trail run. I grew up running trails. It's at the core of my athletic identity.
Training Across Three Sports: My wisdom here: get a coach. A good coach takes the thought out of things so that you, the athlete, need only to focus on executing workouts. Out of all the money I've spent on triathlon, hiring a coach is by far my best investment.
Cross-Training: I do strength work three times a week. I also got into Nordic skiing this past winter. It took about four to six sessions to get the hang of it, but after that, skiing served as a great winter workout.
Eat Mostly Good: When it comes to daily nutrition, I aim for a B-plus or A-minus. I'm good—limiting processed foods, avoiding sugar, eating mindfully, not stuffing myself—but I'm not perfect. I still splurge every now and then and enjoy ice cream and beer. I never go full-out A-plus. That kind of rigidity and restriction just isn't sustainable.
Racing Weight: There is a fine line between being fit and being too light. I think endurance athletes tend to fall into a trap of focusing too much on weight when they should be focused on fitness and race results. Athletes who are too light are often sick and injured. I've raced anywhere from the low 150s, back when I was running in college, to 180 pounds in triathlon. I compete best in the low 170s, which is pretty big for this sport, but it works for me.
Fueling: I eat during any training session that lasts over an hour. I own an energy bar company, so, yeah, I eat a lot of Picky Bars! 
Speaking of Picky Bars… I started training seriously for triathlon at the same time I was finishing business school. I was eating 5,000 to 6,000 calories a day and having stomach issues. Lauren and her friend Steph tried to create an energy bar made of real foods with optimized sports nutrition (for example, four-to-one carbs to protein, easily digestible, etc.). They nailed it. We started giving them to friends and selling them in our small community in Bend. We kept expanding and eventually contracted with a manufacturer. We recently entered into an agreement with Trader Joe's, our first major national partner.  
On Writing: I started my blog as an undergrad, and it kind of took off from there. That led to opportunities writing for magazines. I love it! I guess it's a good lesson to follow what interests you.
Working with Sponsors: Don't ask what your sponsors can do for you. Ask what you can do for your sponsors. Unless you are top five in the world, race results are not that significant. It's much more important that you can tell a compelling story and reach potential customers in fun, meaningful, and creative ways.
Becoming a Father: Having a child has given entrepreneurship and triathlon so much more meaning. It's an entirely new kind of motivation: it's no longer just about me, but about providing for someone else. There are probably easier ways to increase motivation, but, man, having a kid does the trick.  
Juggling it All: Every day, there are at least ten things I feel like I should do. Realistically, I only have time for four or five of them. It really forces me to prioritize. Although it's taken a while, I've learned to be OK with not doing everything, with letting some stuff slip. I've also become really good at asking for forgiveness.
Achieving Balance: On the one hand, you could say that my involvement in triathlon makes Picky Bars worse off and that my involvement in Picky Bars makes triathlon worse off. Maybe. But I don't think so. I actually think it's more of a total package where everything kind of integrates for the best result. And it's nice to have different things going on. Picky Bars is an escape from triathlon. Triathlon is an escape from Picky Bars. Writing is an escape from everything. Plus, this ensures that if I get hurt, I literally do not have the time or space to feel sorry for myself. Perhaps that's the most important reason for an athlete to be invested in other interests.
Lead Photo: Jeff Brockmeyer/Red Bull Content