How Can I Go from Office Worker to World-Class Athlete?
Sarah Piampiano left a high-powered investment banking gig to train for triathlons full time. Five years later, she's a champion. Here's how she did it.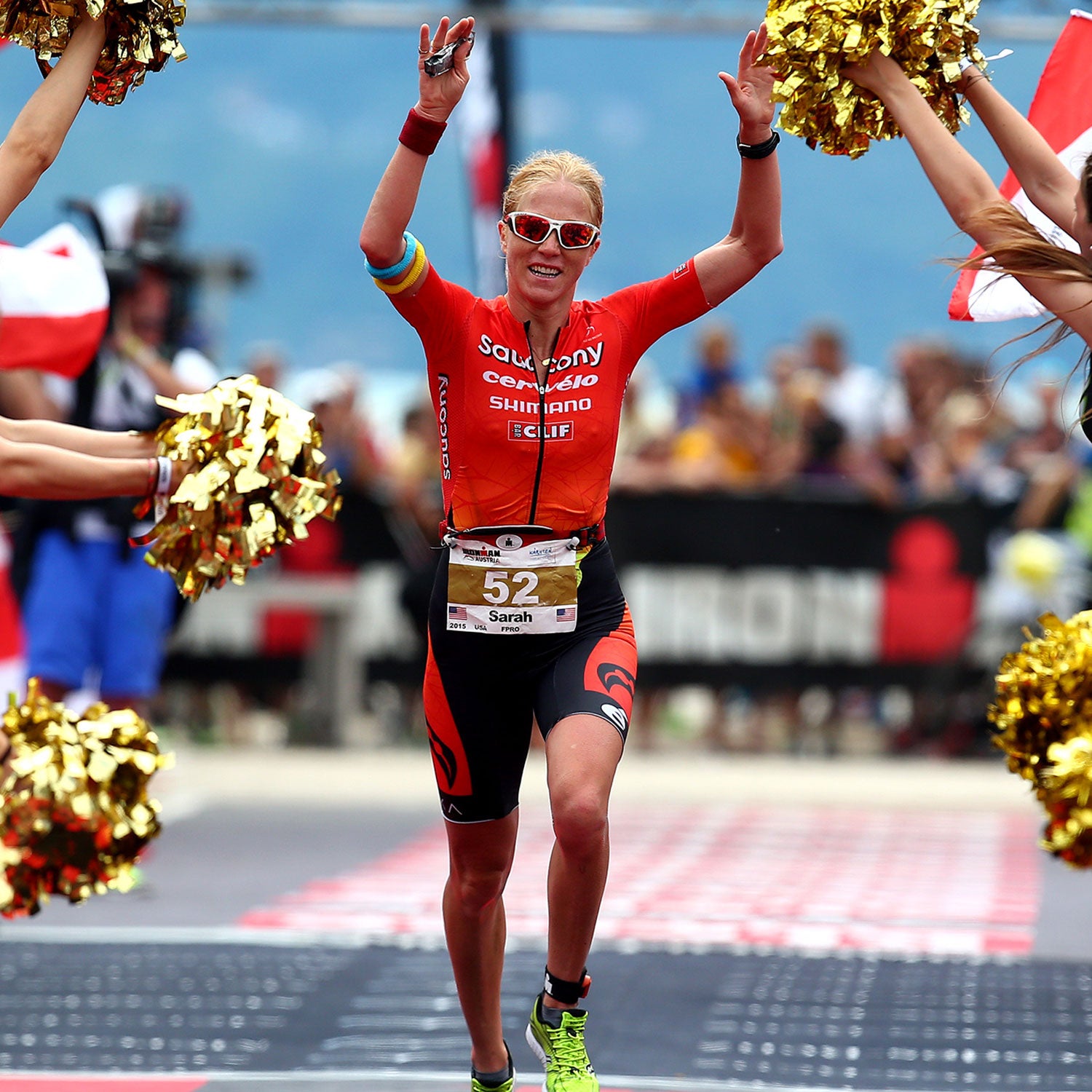 Heading out the door? Read this article on the new Outside+ app available now on iOS devices for members! Download the app.
When I met triathlete Sarah Piampiano outside a coffee shop in Oakland, California, this past summer, she was wearing a necklace with an emblem that read, "Believe." This fits the 35-year-old Piampiano well—her unwavering self-belief transformed her, in five years, from a chain-smoking investment banker to a top contender at this October's Ironman World Championships in Kona, Hawaii. In advance of the big race, I sat down with Piampiano to learn how she ascended to the highest triathlon ranks. 
Believe in Yourself
There is such a difference between asking yourself, "Oh gosh, can I do it?" and saying "I'm going to do this." The former breeds self-doubt and almost always stifles performance. The latter sets you up to go all-in and have no regrets, even if things don't pan out.
When I was looking for my first coach, well before I had any remarkable results, Matt Dixon asked me what I wanted out of triathlon. I looked down and told him I wanted to be a world champion. He told me to look him in the eye and say it again, so I did. Matt's coached me ever since and I haven't veered from that mindset.
Pick a Favorite Workout 
On the bike: a six- or seven-hour ride, including four one-hour repeats of 45 minutes at Ironman effort and 15 minutes at half-Ironman effort. Running: a two-plus hour run with the last 40 minutes at slightly faster than Ironman pace. Swimming: I really dislike swimming. 
Play to Your Strengths
I'm not a great swimmer. For a while, I tried really hard to close the gap and focused so much time and energy on improving in the water. But then my coach and I had a shift—instead we focused on building my strengths, becoming so strong on land that I could come out of the water last and still win big races. 
Eat Well and Often
Outside of oatmeal in the morning, I don't eat much starch or sugar, opting instead for lots of protein and fat. That said, during training and races I consume tons of carbs. I take an energy gel every 20 minutes during every workout that lasts an hour or more. Even during an easy 70-minute run, I'll consume three energy gels. I also follow every workout with a high-carb recovery drink.  My diet is much more about when I eat certain things as opposed to what I eat. Needless to say, I perform well on lots of carbs.
Indulge Guilty Pleasures
I love ice cream. That's perhaps the best part of living in Northern California. There are plenty of great ice cream options. 
Practice Like You Play
In training, it's all about simply showing up and starting every workout. If my body doesn't come around and start to feel good after a 20-minute warm-up, then I'll scratch the intensity and keep everything easy. You've got to be willing to listen to your body and adapt. 
In racing, I think the biggest cause of fatigue is poor fueling. That's part of why I consume so many energy gels during training. Do I really need three gels during an hour run? Of course not. But I'm training my gut. You can't just expect your stomach to work well on race day. 
Train Self-Control
Being a professional triathlete is about pushing through pain in training and racing, and avoiding temptations like eating junk food, going out, drinking. Still, you can only go so many days with such immense willpower. For me, that number is 90. Ninety days of complete focus. So I save it for when it matters, during my build up to the World Championships. Throughout the rest of the season, I'm not so rigid. 
Nail the Little Things
Success is the sum of small efforts repeated day in and day out. Don't get overwhelmed by big goals. Focus on nailing the little things. 
Embrace Setbacks
Early in 2014, I sustained a hairline fracture in my femur. Because the injury occurred in a spot with lots of soft-tissue attachments, I couldn't even cross-train for a month. I embraced the opportunity to live normally. I ate everything, went out late, and watched television. It was actually kind of nice. But then the itch came back. I think rather than push, push, push, it's okay to back off after an injury and let the passion come back naturally, instead of trying to force it. 
Take Risks 
This wasn't completely reckless. When I first started training for triathlons at the end of 2009, I was working 90-hour weeks as a Vice President at HSBC [an investment bank]. After about two years of seeing considerable improvement in my race times, I asked my boss if I could go down to 30- to 40-hour weeks. I'm very grateful that they were supportive.
Then, about a year later, after an incredible season that included being the top American amateur finisher at the Ironman World Championships, I decided, "I'm really going to do this." Walking away from a stable, good income wasn't easy, but my belief was greater than my fear.
The Right Lifestyle Matters 
I went from having my own plush Manhattan apartment to living with three roommates. I quit smoking, something I'd tried to do many times before. I guess I never had a motivation as strong as being a world champion. Late nights at the office or out partying were replaced with early bed times to ensure 8 to 10 hours of sleep. Ninety-hour weeks at my desk were replaced with 30-hour training weeks. 
…As Do Your Genes 
I was a national-class runner and ski racer in high school. But when I went to college [at Colby College, in Waterville, Maine] my focus shifted to academics. I still ran on the cross-country team and skied, but athletics were second to academics. 
Fast forward seven years: I finished my first triathlon—after having done nothing athletic since college and using a broken-down bike—in three hours. Not bad for the Olympic Distance race [swimming 1.2 miles, riding 24.8 miles, running 6.2 miles]. So I guess you could say I'm blessed with good genetics.
…And Hard Work
I had two older brothers growing up and they didn't baby me. I had to fight to be involved in anything, there was no opportunity to show weakness. Looking back, I think that really shaped and solidified my drive to be the hardest worker I can be. 
Lead Photo: Charlie Crowhurst/Getty Images