How Can I Overcome Fear to Get the Most Out of Myself?
You can't. But you can channel it and grow from it.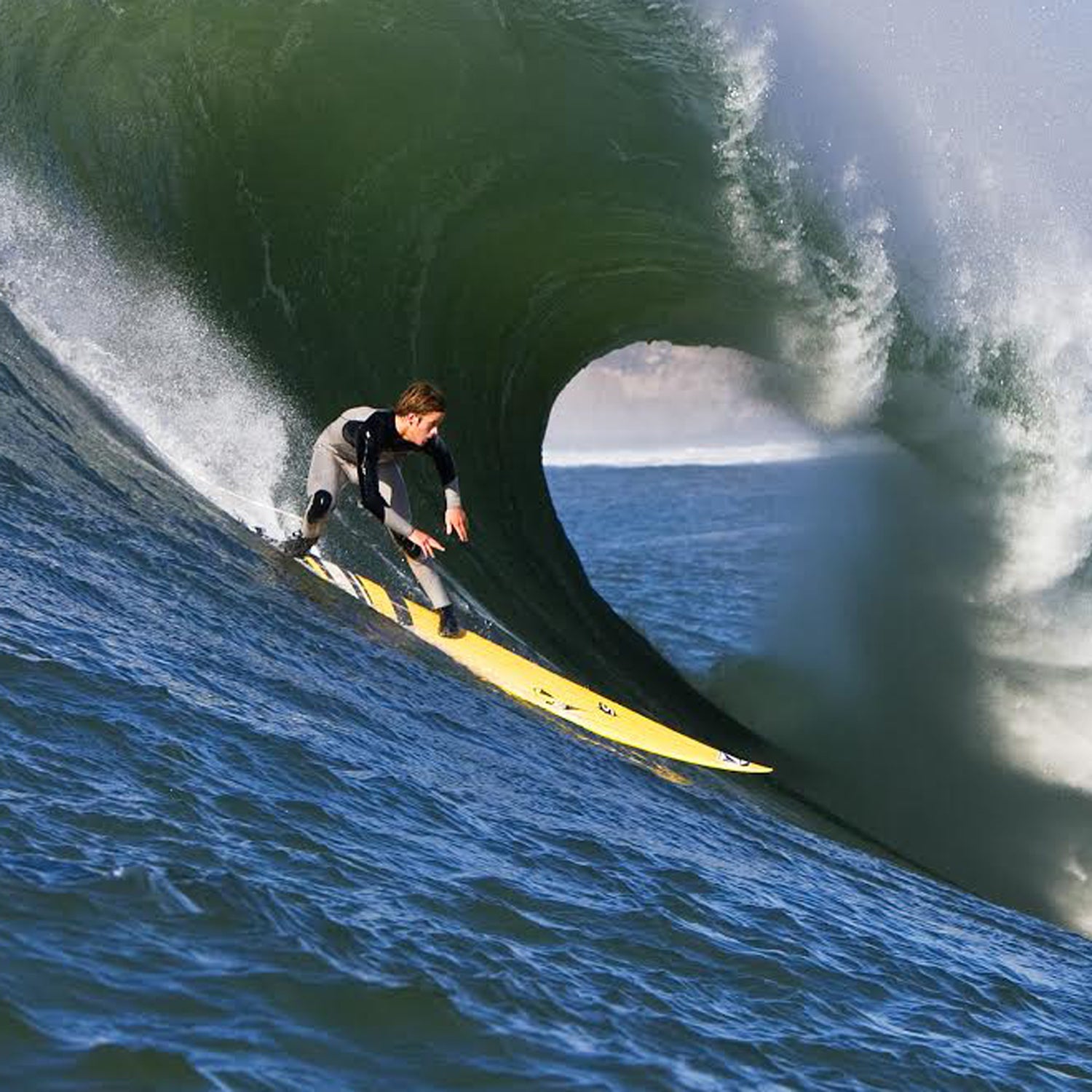 Heading out the door? Read this article on the new Outside+ app available now on iOS devices for members! Download the app.
At the prestigious Titans of Mavericks big-wave surfing competition in Half Moon Bay, California, on February 12, Nic Lamb cemented his status as one of the best big-wave surfers in the world. The 27-year-old from Santa Cruz, California, won the event, gracefully riding waves equivalent in height to three-story buildings. While Lamb's most recent performance on the water may have appeared otherworldly, it was grounded in a meticulous approach to training and a bulletproof mindset that he cultivates day in and day out.  
We caught up with Lamb to learn more about how he prepares his body and mind for peak performance. 
Train Your Whole Body 
I surf as much as possible—just about every day. I also train in the gym three to five times per week. Since surfing doesn't isolate specific muscles, neither do I. I will say I pay particular attention to my feet. There is so much focus on training the "core," which of course is important, but it's my feet that ground me.
Trust Your Coach
I don't have a favorite workout in the gym. I don't even think about my workout. I just show up and do what my coach, Nick Curson, tells me to. Having this kind of trust in a coach is key. It removes the mental weight of needing to think about your workout. Instead, you can devote your full focus to showing up and executing. 
What You Put Into Your Body, You Get Out of It
I place a lot of emphasis on my diet. You are what you eat, and in the case of meat, what you eat, eats.  My diet is centered on loads of produce and free-range, grass-fed meat. I meet just about all of my nutritional needs from natural foods (i.e., I don't use sugar-laden energy drinks or gels). I start the day with three eggs and a breakfast bowl full of fresh berries, chia seeds, and almond butter. My lunch and dinner almost always consist of a high quality protein with vegetables and whole grains. I keep it natural and simple.  
Earn Your Celebration
I don't understand people that go out and drink just because it's the weekend. It's like, really?  What are you celebrating, the fact that you survived the week?  I'm not against having a good time, and I'll totally pop a bottle of champagne, but only when I actually had to work for it. It's good to have to work for something. 
Fear
I feel fear all the time. I never try to ignore it. Instead, I use the heightened sensations to my advantage. Back in the hunter-gatherer days, right before a big kill, our species probably felt the same way I do before riding a big wave. You can pull back, or you can push through. Pushing through is courage. Pulling back is regret. The choice is yours. 
Get Uncomfortable
It's only when you step outside your comfort zone that you grow. Being uncomfortable is the path to personal development. It is the opposite of complacency. 
Meditate
I meditate every day. It is a very important part of my approach to surfing and life. It helps ground me, and it helps me choose to be courageous when I feel fear. 
Turning It Off
One of the hardest things for me is to "turn it off" at the end of the day. Rest and recovery is really important, and I know that, but it doesn't mean shutting down comes easy. 
It's a bit paradoxical, but for me, the pathway to rest is giving it my all. I know that if I did everything I could that day to develop myself not just as a surfer, but also as a person, I'll feel content and have a much easier time relaxing and sleeping. Did I bring my best self to my workouts?  Was I fully present?  Did I read? Was I good to others? The more of these questions I can answer "yes" to, the easier it is for me to rest. In other words, the best way to find contentment is to give it your all. 
Lead Photo: Tony Canadas