How Can I Prepare for My Race at Altitude?
I'm racing the Leadville Trail 100 this August. I live at sea level, so when should I go up there to race my best?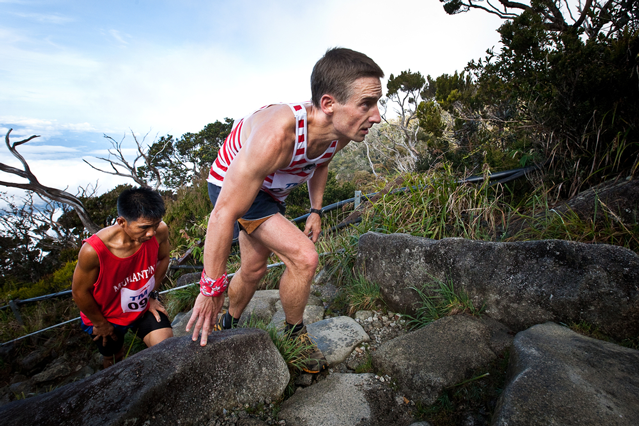 Heading out the door? Read this article on the new Outside+ app available now on iOS devices for members! Download the app.
At just 5,000 feet above sea level, the body makes physiological changes to adapt to the lower concentration of oxygen in the air. The LT100 starts at 10,152 feet and maxes out at 12,424 feet, so you're right to be concerned about how your body will handle the jump in altitude from your home. Ideally, you'd arrive as long as you can before race day to allow yourself to acclimatize. Experts estimate that most people fully acclimatize after living at altitude for about three weeks.
What does "fully acclimatize" mean?  There are two big changes your body will undergo, says Meaghan MacNutt, a Canadian researcher who spent four months trekking in Nepal to study acclimatization: ventilatory and cardiovascular.
When you rise in altitude, the ventilatory system compensates by adjusting your respiratory rate, and how your breathing is controlled. "The breathing system changes much faster than the changes in your blood," MacNutt says. "Within one to two days at lower altitudes [above 5,000 feet] you'll be as acclimatized as you're going to get."
The cardiovascular system, however, takes about three weeks to fully adjust, depending on how high you go. (The higher you go, the longer it takes.) Within 12 to 24 hours of arriving at altitude, you'll likely have to urinate often because your body is flushing water from your blood in order to increase the concentration of oxygen-carrying red blood cells. It'll take several weeks for the body to produce more red blood cells and increase plasma levels back to normal—the effect professional athletes are after when they train at altitude.
One study found that athletes who spent 14 days training at altitude had the least decrease in VO2 max and the greatest stamina when racing at about 7,700 feet.
You probably don't have several weeks off to hang out in Leadville and acclimatize unless you're a pro, but that's okay. Macnutt says she found that people who had previously experienced being at altitude seemed to acclimatize quicker when they returned than those who experienced altitude for the first time, though the reason may be more psychological than physiological.
If you can plan a few training weekends at altitude before your race, it may help reduce your chances of experiencing symptoms of altitude sickness, including nausea, headaches, and insomnia. It might also help reduce any anxiety you may have about racing across the sky.