How Can I Stay Fit While Flying?
Long flights and car trips wreak havoc on my body. How can I reduce the stress of travel and keep up with my current exercise routine?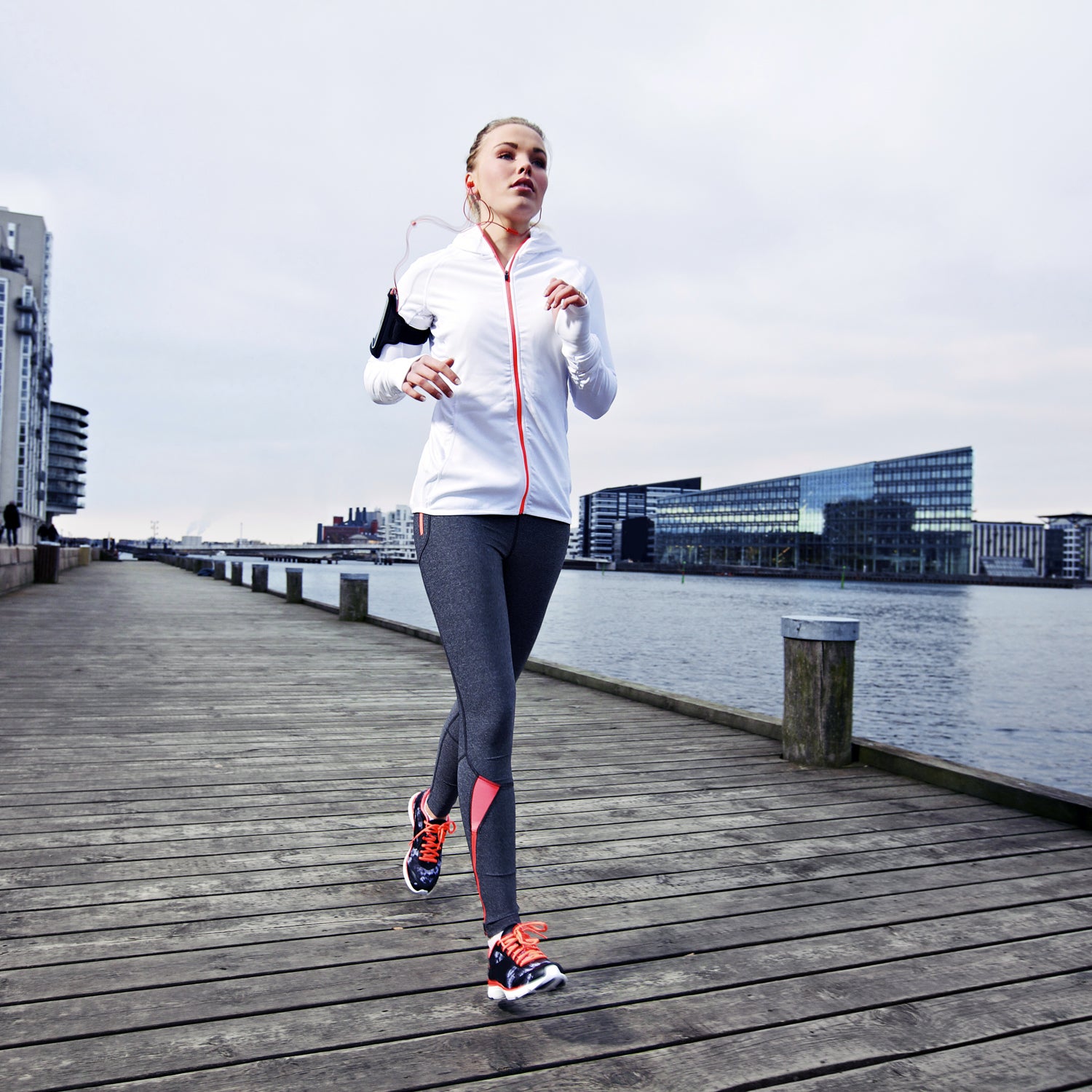 Heading out the door? Read this article on the new Outside+ app available now on iOS devices for members! Download the app.
For starters, you could hire Nike to redesign your private plane for you. The athletics company joined forces with aviation design firm Teague to develop "The Athlete's Plane," a concept fit for a (theoretical) pro basketball team. It includes extra-large, fully reclining seats; compression sleeves that plug into the plane's circulation system; biometric sensors that provide feedback to coaches; and big-screen TVs for analyzing plays.
What's that? No private plane? In that case, you could follow some actual advice from athletes, coaches, and fitness experts who've done their fair share of traveling and competing away from home.
Shift Your Timing
As tempting as it may be to do a really hard workout the day before traveling—you know, so you can kick back and relax while you're away—you're better off taking a recovery day before your depart. "Do that long run or that intense weight-room routine two days before you fly or take a long car trip," says Ironman coach Matt Dixon of PurplePatch Fitness. Dry pressurized air, cramped quarters, and hours spent sitting can compromise recovery and leave you feeling extra sore.
For the same reasons, it's also important to wait a day or two after travel for intense workouts, and then to ease gradually into harder efforts.
Spike Your Beverage
Everyone knows to take an empty bottle through security and fill it up once you get to your gate. But fitness pros go one step further. Dixon advises athletes heading to a competition to bring protein powder for their water. "It keeps them hydrated and gives their muscles extra fuel." And it's much better fuel than most airplane snacks.
If you don't need to fuel for an athletic event, try an electrolyte mix. It adds calorie-free flavor, plus nutrients like potassium and magnesium, to your water. "I tend to cramp in small spaces, so I bring small packs of electrolytes with me when traveling," says Olympic medalist and Houston Dash soccer player Lauren Sesselmann.
Nail the Landing (and Takeoff)
In Nike's conceptual Athlete's Plane, seats are designed not just for reclining, but also for elevation of tired legs. "It was interesting to learn just how much swollen legs and feet can affect athletes, and how much propping them up can improve circulation," says Teague creative director Philipp Steiner. That's something that all travelers can employ, he adds—if not on the plane itself, then in the airport or at their final destination.
Dana Santas, team yoga trainer for several NFL, MLB, NBA, and NHL teams, recommends legs-up-the-wall pose, "or at least propping the legs up with a pillow to raise them above the heart while laying down," for two to ten minutes as soon as possible after landing. Pack a towel and you can even do this at your gate during layovers—or, depending on where you are, in the airport's yoga room.
Compression socks and tights help reduce swollen, sluggish legs, as well. "The evidence isn't clear whether compression actually helps during or after athletic activity," says Dixon, "but air travel is the one place it has been shown to make a real difference." Sesselmann's favorite brand is 2XU, and marathoner Deena Kastor always flies with Asics compression knee-highs. "Puffy ankles make me grumpy," she says, "so I always slip a pair on as soon as I sit down in my seat."
Watch the Slouch
One of the worst parts of flying is being stuck in one seat for hours at a time, but there are ways to negate the effects. Before you hit the road (or while you're waiting for the bathroom at the back of the plane), spine surgeon Kenneth Hansraj, M.D., recommends a double-armed doorway stretch: Brace your hands on each side of a doorframe, hands and arms at shoulder level. Engage your stomach muscles and straighten your back, then take one step forward and lean your upper body forward so you feel a stretch in your chest and shoulders. Hold for 30 seconds, relax, and repeat.
You can also avoid some of sitting's detrimental effects by not slouching or slumping forward, says Hansraj. (Good posture is crucial for fitness anyway, since it's always the most efficient position for your spine.) "In a car or on a plane, keep your head straight and not tilted up or down." Tilt the pelvis slightly forward, he adds, by placing a lumbar support or a rolled-up travel blanket behind your lower back. 
Exercise Your Mind
Travel can mess with your mental state as well as your physical one, both of which are important for athletes competing away from home. If you're traveling for a fitness event, use travel downtime to run through your strategies, says Dixon, and to visualize yourself succeeding.
After you've done that, tune into something that will help you keep a positive mindset. "My last go-to in air travel is downloading TED talks," says Kastor. "Being inspired by great minds is my strategy of choice for staying optimistic while traveling." May we also suggest saving some Outside Classics to Pocket before you head out?