How to Crush the American Birkebeiner
Essential race-day, gear, and training intel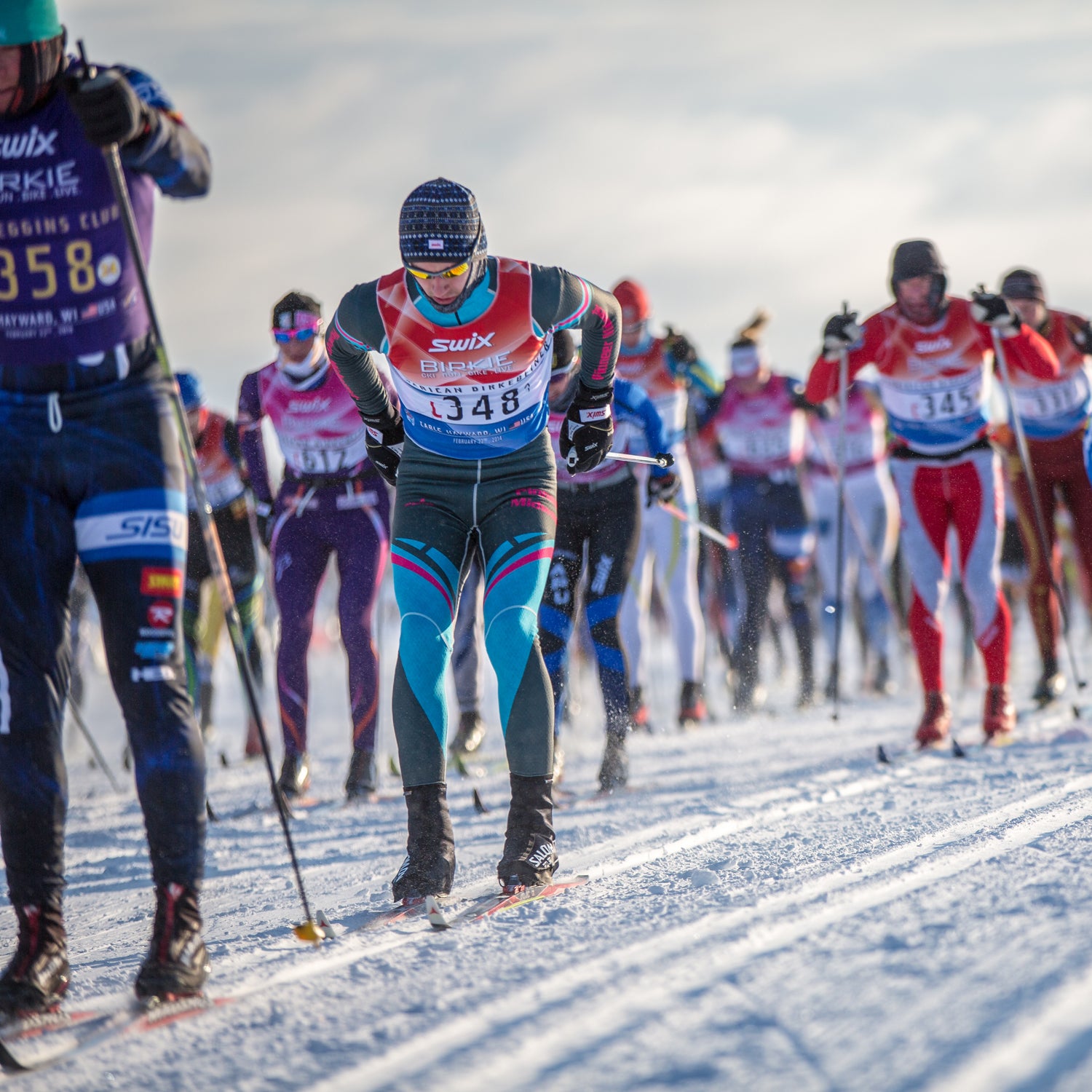 Heading out the door? Read this article on the new Outside+ app available now on iOS devices for members! Download the app.
The American Birkebeiner is an endurance bucket list staple. Founded in 1973 and nicknamed the Birkie, it's now the biggest cross-country ski race in North America with more than 10,300 entrants covering 30-plus miles of premium trails. "It's the Boston Marathon of skiing," says Dennis Kruse, VP of the American Birkebeiner Ski Foundation.
Unlike Boston, however, you don't have to qualify, though a good time from a similar distance race can bump up your wave start. So keep a Saturday in late-February open for rural Wisconsin's most memorable skiing adventure. Then roll into town ready to crush it, courtesy of the insider tips below from Kruse, and Olympian and nine-time Birkie finisher, Brian Gregg.
Lodging
The Birkie runs point-to-point from Cable to Hayward, Wisconsin, two towns with a combined population of around 3,000. That means there aren't enough hotels in the area to accommodate the 10,000-plus people Birkie surge. So here's what you do: contact the Birkie office to help find you a homestay.
"We keep a list of families in the area who are willing to take in skiers," Kruse says. Often for less than a hotel, you can rent a room. Even better, you'll get to see the area through a local's eyes, and make lifelong friends from around the world; don't be surprised if some speedy Norwegians occupy a room down the hall.
Race Selection
The main event is actually two: the 55K Classic and the 51K Skate. If you're not a seasoned skier, go with the skate, a technique that's a lot like rollerblading. "It's easier to learn to skate pretty well than it is to Classic technique," Kruse says. "You don't have quite the complexity of waxing, and the skate technique is faster."
That said, if you're a traditionalist with some mileage under your toe warmers, the Classic course is making a comeback. "Particularly in Scandinavia," Kruse says, "the classic skiing is considered the true form of cross-country skiing."
For skiers not ready for the long haul—the median finishing time for the Classic and Skate events is 3.5 to 4 hours—the 24K Kortelopet and the 13K Prince Haakon are held the same day.
Get Fit
Ideally, you'll practice on the Birkie course. It's open all winter. But if you can't swing it, practice hills. "There's this conception that if it's the midwest, it's flat," Kruse says. Don't be fooled. "It's constant up and down."
Specifically, "focus on being light up hills," Gregg says. "Think skiing on the balls of your feet and pushing your knees forward into your ski tips. If you're sitting back, you'll put a lot of load onto your quads and you'll feel it on the hills, especially in the second half."
And just like you would in marathon training, practice fueling, and get in a long ski a few weeks out. "At least three hours, or 30K," Gregg says. "You'll make sure your body is used to the endurance, and it's a great way to test out potential clothing choices."
Course Recon
You'll start at the airport in Cable, then follow along the Namekagon River for a flat 2.5 to 3K. Then you'll hit Powerline Hill, about a 1K climb up to the first aid station before you turn into the woods. You'll mostly ascend until you hit the highest point at the 13K fire tower. Once you're about halfway—when you cross the 00 Highway—the hills will get less steep and you'll generally drop in elevation. Until you reach Bitch Hill.
"There's some women dressed in costume, as the bitches of Bitch Hill," Kruse says. They may offer you a shot off of a ski. Take it; you don't have to go too much further, and you might want the liquid warmth. "The last 3K are on Lake Hayward and a lot of times there's a cold wind," Kruse says. Once you make it past that, you'll glide into town where main street will be packed with merrymakers and well wishers and cowbells and church bells will ring in glorious harmony. "It's exhilarating," Kruse says. "It's as exciting as any marathon finish in the world." Perhaps even more so, as you've spent most of this race out of sight of spectators.
Expect aid stations with the standards—bananas, crackers, electrolyte drink—about every 6K. The longest distance between stations is 9K between 00 and the next aid station.
Strategize
"Focus on being faster in the second half, and conservative in the first half," Gregg says. Once you hit 00, you can think about moving up. "The people who have the better races hold back that first bit."
Also, it'd be prudent to refer race-day questions to the guys and gals with purple bibs. They are the wisest of all Birkie skiers, having completed at least 20 Birkies.
Gear Up
"The last several years the Birkebiner has been pretty cold," Gregg says. Think zero degrees at the start, warming up to around 20 at the finish. That doesn't mean the year you do it will be so chilly, but better to come prepared.
Layer. Start with a wool base layer, Gregg says. It'll stay warm even if you sweat. If it's windy, opt for a version that's windproof in front. Then add lightweight ski pants or racing tights, and a lightweight wind-resistant vest or jacket.
Wear a buff. "It'll protect your ears and your neck, and you can remove it really easily or pull it back up," Gregg says.
Consider overmitt gloves. Like these from Toko Racing. They slide over your normal gloves and strap "so you don't have the bulk of having a big mitten, and it's easy to take off and put in your pocket once your hands warm up," Gregg says.
Toe heaters. Your standard chemical stick-on disposables will work. Gregg likes to put them on top of his toes.
Carry a backpack. Not everyone will, but it's nice to have a place to stash layers when you heat up.
Carry Vaseline or Dermatone. Kruse recommends either one to protect your skin against the drying cold.
Don't stress. Drop your skis off at New Moon Ski & Bike Shop in Hayward for a pre-race wax—one less thing to worry about.
Lead Photo: American Birkebeiner Ski Foundat